festival magic + my top 5 films seen at this year's KVIFF
ahoj all, i've been in the middle of summer camps (sotiredomg) just wanted to pop in after our annual trip to karlovy vary for the film festival. even if it took me all dang week to finish this post.
in case you're new around here: hi, i'm cynthia and i like to have film festival vacations in beautiful hilly spa towns where we get up at 6am to go stand in box office queues!
joking aside, we're getting into a real routine when it comes to this festival, but the most notable change this year is when we arrived to the box office on thursday shortly after getting in, we bought our friday tickets and then were asked if we would like to also purchase saturday tickets as well. normally this does not happen, as you're only allowed to buy tickets for that day and the next, but thanks to this little change, we had only two early mornings of queuing! it was incredible. lots of sleep, a good amount of relaxation.
this year was a little different too as we both agreed to only see three films a day instead of four or even five. i know this might seem like crazy talk to anyone who has not attended a film festival, but when our vacation is solely based around going to the festival… you see movies. i have found, however, that more than three films a day is too much. even though you might have the time in your schedule, by the fourth movie you're just sort of ready to go home and also not very able to synthesize and think and discuss the films. (the same reason why i never binge-watch tv shows)
so, three films a day it was. another change that we just figured out and will implement next time is actually spreading those three films over the entire day rather than watching the films, for example: at 13:00, then 16:00, and finally 19:00. this was our schedule for about two days of the festival and even though we had the morning to relax, it was rather difficult finding the time to power-walk across town to the next theater or barely having time to even grab a sandwich on the way.
every year gets more and more laid-back, and learning these little tweaks make it all the more enjoyable. besides the films themselves, i enjoyed (as ever!) trying all the different waters from the various prameny (springs) with my little ceramic sippy-cup (very characteristic of the spa-triangle region of the czech republic). on the hottest day of the year so far, sunday the 30th, we took a lovely walk in the forest south of the city right after buying our tickets that morning and it was such a nice way to have a break from sitting in the kino. we walked along a trail called the goethova stezka, and it was just really lovely. there are just countless trails around karlovy vary and i love exploring a new area every year.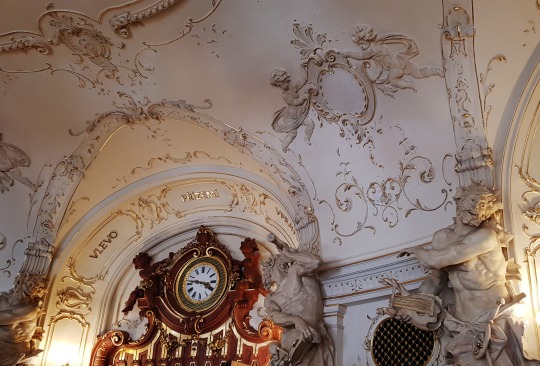 i also really enjoyed the photography exhibition on the first floor of hotel thermal, hanging out at the various pop-up lounges (like the mall.cz and ceska televize zones), and seeing my picture in the festival denik newspaper (above) one morning. who would've thunk. my biggest twitter moment since the time that michael b. jordan retweeted me. just let me bask in my fame… for one more minute. (megan rapinoe pose)
on the last night in vary after we got out of our last screening (a new german film, systemsprenger) at národní dům, we walked back from masaryka
street towards our flat near karlovy vary theater and the sky was just the most beautiful rosy, peachy hue. it was like magic was blanketing the city – so romantic. we found a wine bar nestled in a little alley and toasted to the start of july with glasses of prosecco. it seemed like one of those "european magic" moments, the sort of moment i remember from before i moved to europe. the sort of situation that makes you want to live there. a great end to a great festival.
lunch of the festival: one of the bowls from lékárna
(above), all the way up at masaryka 47
. after male bistro apparently closed earlier this year and baguette boulevard has long left the vary scene (sniffle), my tummy was aching for some veggie-friendly health food and lékárna
certainly filled the void. the spicy chickpea bowl with their house tahini, veggies and other deliciousness kept me going through a long travel day.
without any further ado, my top five films seen! i can highly recommend any one of these films if you get the chance to see them in the next year…
5) jan palach (2018, czech republic)
i feel like this film is basically a must-see especially for foreigners living in the czech republic who require a bit more background to fully take in what happened with jan palach during the prague spring (soviet invasion) of 1968. was very cool to get to see the cast and crew of the film as well at this screening.
4) a white, white day (2019, iceland)
if you have seen any icelandic films, you would know the brilliant ingvar sigurdsson (above) who kills it in this film like all the rest. the story takes place in a remote icelandic town – deals with love, loss, stages of grieving, pain manifesting in anger and destruction, and more. it's got to be the best icelandic film of the  year. the little girl who plays the granddaughter really makes the film, as well.
3) stitches (2019, serbia)
did you know that between the 1970′s and now, serbia has been dealing with a newborn-kidnapping crisis?  this conspiracy (who is doing this?!) that the government would rather like to keep under wraps has been surfacing in recent years, and that's generally what this movie is about: a mother (a seamstress) who will stop at nothing to find her kidnapped son, stolen from her at birth and sold to another couple by hospital personnel eighteen years before. it starts slow but certainly builds and has you hanging on every moment.
2) monos (2019, columbia)
i had a hunch this film would be good and it surpassed even my high expectations. basically, it's a loose lord of the flies scenario: eight kids, conscripted into the military are holding court on a stunning mountaintop living a life virtually away from all adults and are expected to watch over one milk cow… and one hostage: a forty-something american doctor. i don't know what else to tell you about this one besides just "see it", it's brilliant and nearly devoid of flaws.
1) parasite (2019, south korea)
another banger from bong joon-ho (did we actually expect anything else?) of previous films like the host, snowpiercer, and 2017′s okja. parasite somehow manages to be even more epic than those three. the director himself even stated that the less information you have going into the screening, the better and i'd have to agree, but prepare for what is a drama, thriller and comedy all in one. it premiered at cannes this year and won the palme d'or so that's sort of saying something. look out for this one!
see you next year, karlovy vary! and see the rest of you next week.
ps, past KVIFF accounts can all be seen here! it's a lifestyle.