A Local's Guide to České Budějovice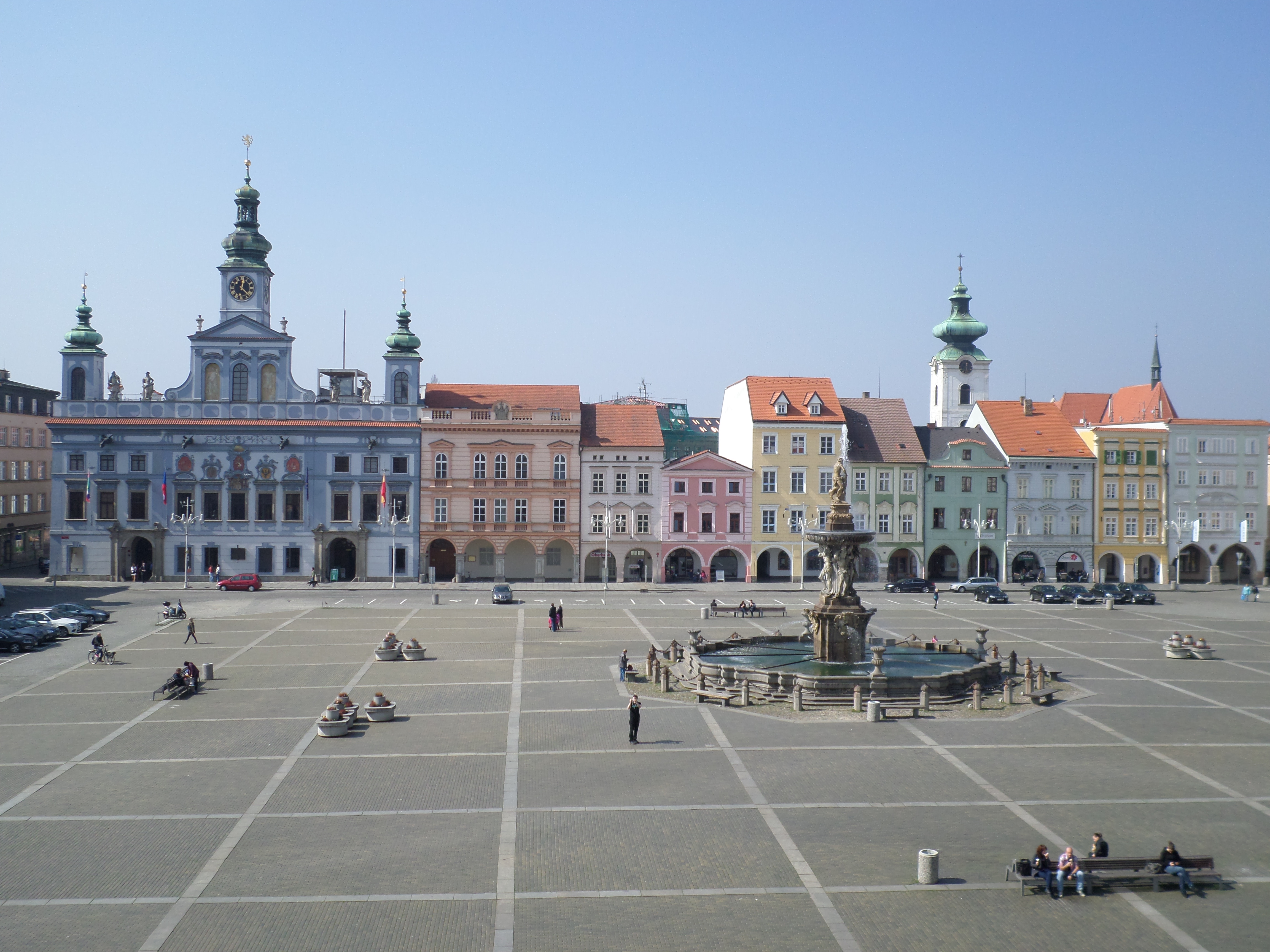 When I moved to Budějovice (international alias, Budweis) in 2013, there was almost no information online about this place, save for an extremely scant Lonely Planet blurb (and thank goodness for that!). Moving somewhere sight-unseen without knowing any information or what is actually there is a little unsettling, which is why I have for you this "visitor's guide to České Budějovice" (pronounced chess-kay bood-yay-yo-vit-suh), written by a "new local". As tourists have started to discover this city, more and more info is thankfully online, but I still present to you this guide I have written and keep updated.
Whether you are looking into studying here, moving here, or maybe even making it your base in South Bohemia to visit Krumlov, Třeboň, or the Šumava forest, I hope this guide might be useful to you. I will be keeping it updated for as long as possible. UPDATED FOR 2023
GETTING THERE
Two hours by bus from Prague (hourly, from 179kc), 1 hour 40 minutes by express train (runs often, from 219kc). Also a 2 hour train ride from Linz, Austria. Accessible from Brno by train only (every 2 hours, 4 hours 15 minutes from 315kc). 3.5 hours by private shuttle from the Salzburg/Salzkammergut region, with transfer to bus in Český Krumlov.
UPON ARRIVAL
From the bus station (atop Mercury Shopping Center) or train station (located across the busy Nádražní street from each other), catch a bus headed towards Senovážné náměstí or, more simply, cross Nádražní street to Lannova trida and walk west along this main pedestrian street until you reach a park with a view of the Black Tower, and there you are, in the city center.
STAY

Cafe Hostel. $ With one of the more happening pubs in the center on a perfectly picturesque cobblestone street, this place would be a top choice for a reasonably priced stay in the city and would certainly accelerate your love for this city right away. Panská 13
Grand Hotel Zvon. $$$ One of the finest (yet reasonably priced) places to stay in the city, located on the main square with fantastic views.  Náměstí Přemysla Otakara II. 28
Hostel Cuba. $ Party hostel and rum bar located in the heart of the north-of-center residential neighborhood, where the workaday of Budejovice live. Nová 18
DRINK

široko.  one of the best, all-around bars/cafes in town. fairly new, just having opened in late 2014, it's got friendly staff who care, a fantastic drink menu (scotch, cider, club mate, oh my!), and a clean, minimalist, modern aesthetic that is refreshingly unpretentious. široka 19
staré časy
. centrally located along the malše canal, you feel like you're hanging out in your really awesome grandparents' house with all the fun vintage bits and bobs scattered about. this is the real thing, and they serve černa hora beers including a great seasonal raspberry. lovely outdoor seating along the canal in the warmer months.  
zátkovo nábřeží 13
železná
panna. next door to the aforementioned
staré časy, this cafe and pub has a medieval feel to it for a good reason: it is in the bottom floor of a 700 year old tower (called the iron maiden, or
železná panna) that used to contain torture devices… pretty wicked. it's small, so arrive early and enjoy the cozy ambiance. zátkovo nábřeží 15
singer pub. pretty much the place everyone goes – an old international students' hangout. sort of quirky because of all the sewing machines strewn about the tables, and non-smoking. gets super loud and a bit crazy on the weekends, so the only time you'll find me there is a dark winter afternoon nursing a guinness or hoegaarden. good import selection, not the friendliest barmen, but not a bad place to meet new people.
česka 7
cafe U VÁS. our regular coffee haunt located in the town center in a modern (read: not old-world european), american-style coffee house atmosphere. the beans are good (la boehme) and they'll make you a single origin pour-over if you're into that. or a matcha latte. come for the bright, sunny atmosphere and the coffee. kněžská 28
hammond café. a cozy pub near the square that has regular music nights, like blues or open-mic night. i think it's my favorite place to grab a pivo and enjoy a chill evening, although i don't go there as often as i would like. 
česka 9
fér café. the only cafe (that is not in the main square) open on sunday, this place is charming and homey, serving light cafe fare, sunday brunch,  the usual cakes, and delicious beverages including the occasional special seasonal offer. i'm a big fan. try their homemade lavender or gingerbread lattes.
česka 28
café
datel. budejovice has a hip cafe! a cafe that can compete with the big metropolis of europe! café
datel is that for us. it's got a clean, modern aesthetic, brands of liquor and types of fancy sodas from berlin you can't find in any other budejica cafe, and friendly staff. they also happen to serve light brunch dishes  (ladies and gentlemen, we have brunch!) and some other good lookin' eats on a quiet, pretty street off of the main square. piaristická 8
žlutá ponorka. this bar with a name meaning 'yellow submarine', is by far the best cocktail bar we have here in budweis. and their cocktails are marvelous and fancy – just the place to go to grab a drink before something else, and they can make everything, even my beloved old fashioned. 
česka 66
studensky klub kampa. the new place to go to drink pivo among students and interesting international people in this new modern club building on the south bohemia university campus. nice outdoor space too! not convenient from the center, but if you're in the area, why not? studentská 29. take bus 3 from center, stop: jihoceska universita
klub malých pivovarů. this is the perfect place to go if you want to try some other czech beers besides urquell and budvar from smaller breweries around the country and locally. the prices reflect the specialty aspect, but definitely fun once in awhile! indoor space gets loud but great outdoor garden. friendly barmen, daily food offering. husova tř. 103, take bus 21 or 1 (u parku) or 20ish min walk from center.
EAT
brio. budejovice's premier italian restaurant and definitely the best italian food i've eaten in the czech republic. everything about this newly opened restaurant is top-notch from the food quality and taste to the caring (and english speaking) waiters and cooks. perfect place for a date or to bring family as you know you'll never leave disappointed. mains 200-300kc, riegrova 8. 
u tří sedláků
. located behind the more famous masne kramy, u tri sedlaku is what we call "budejovice's diner": they have a daily menu even on weekends and you know you'll leave happy and full with a czech dish, soup, and drink for about 100kc. if you're pinching your pennies but want to enjoy an authentic czech dining experience, this is the place. hroznová 488
masné krámy
. this czech restaurant is so famous that there are signs actually pointing out where it is (post office, police station, town center,
masné krámy!) and it's a solid place to eat czech food and drink delicious budvar beer. it used to be a meat market/butcher's area, and often times they have special theme weeks, like the annual january pig roast or slovak cuisine in february. krajinská 13
restaurant hotel zvon. arguably the best czech food in the city, definitely the best goulash in the city. the prices are similar to
masné krámy's but the repertoire is a bit different and seems a little less touristy and commercialized. 
náměstí přemysla otakara II. 28
born in london. newly opened in autumn 2015, this place is run by two friendly czechs who used to live in london. it's light, cheery, and serves killer drinks, deserts, and delicious lunch offerings. you can also find fish & chips and mushy peas on the menu! fresh, flavorful, and high-quality eats near the nádraží area, only a block from mercury centrum (bus station). they have a fantastic afternoon tea service if you order 24 hrs in advance. weekdays only, brunch often offered on public holidays. dvořákova 11
sushi house running sushi. known in europe as "running sushi", as of 2018 we now have a conveyor belt (genki) sushi joint and it is fab. they offer different menus, but for the conveyor belt, it's all you can eat (approx 460kc/per person for evenings, about a hundred crowns cheaper for lunch). i will be back again and again… when the pocket book allows, of course. pražská 24, at IGY
sushiko. now that we have sushi house and met (below), sushiko is my third choice, but for a long while, it was the only choice. as far as sushi restaurants go, this one is a good deal (prices similar to met) and it always tastes good. 
náměstí přemysla otakara II. 39
met (vietnamese restaurant). oh, i spoke too soon! in late 2017, we got our first real vietnamese restaurant and BOY is it good. they have both vietnamese specialties (like pho, noodle & rices bowls) as well as sushi. go early (and bring cash just in case their card system is down as it sometimes is) – it's a small place. 
náměstí přemysla otakara II. 32
indicka restaurace. THE BEST INDIAN FOOD this side of the himalayas, served up daily by friendly nepalese staff. the prices are fantastic (my favorite, paneer badam pasanda for 125kc) and lunch daily menus for even less (80-90kc). cynthia's favorite for a fantastic dinner out for the most reasonable price. shares an address with cafe datel at piaristická 8
hospůdka u divadla. fairly new to the budweis scene, this classy bistro near the theater is perfect for a pre-show dinner or a nice meal. upscale dining (steak, fish, pasta, seafood) with a czech twist (fish soup with trebon carp, served artfully). although the prices are the highest end for this city, it still is considerably lower than what you would pay for the same fare and experience in any bordering country. worth a stop, but make reservations for weekend evenings. dr. stejskala 13
ENTERTAINMENT
mighty bar velbloud. one of the only alternative rock clubs in the city, there's a variety of metal, punk, hardcore, and alternative local music going on here. not always great, but it's certainly better than no punk club at all. monthly gay and noise assault agency budweis nights. u tří ivů 4
k2 music club. a dance club on sokol island (where the pool is) that sometimes holds theme nights and has surprisingly cheap beer.  sokolský ostrov 1
highway 61 blues pub. located off the beaten path west of the center on the way to the university lies this lively pub in a residential neighborhood. live music with local rock groups every week, cheap beer… not bad for a low-key night of entertainment.  kijevská 1474 (take bus 3, stop: vysokoskolske kolej)
kino kotva. independent, old-style czech cinema showing some hollywood blockbusters , some czech films, some indie films, and often times various series' such as london metropolitan opera or classic films. ticket prices are low, no concession stand (but a cafe for before and after the show). it's kind of old school like that. english films almost always shown in original version with czech subs. lidická 2110
cinestar. the other "non-independent" cinema where there are many more films playing in many screens with a luxurious "hollywood" type feel. if you want a plush "big city" experience, to see the latest blockbuster, or simply want to mow down on a box of popcorn and a slushy while you watch your movie (a very new concept to CZ), cinestar is where to go. igy shopping center, pražská tř.
jihočeské divadlo. regional theater showing plays, musicals, and ballets in czech language. check listings to see what's on. doktora stejskala 19
komiks! club & bar. this is a new addition to the scene and i haven't yet been, actually, but they have been drawing some big name prague DJs and having some pretty interesting sounding events. worth a look! kněžská 12
SIGHTS & ATTRACTIONS
premysl ottakar II square. it's the most "square-square" in central europe and is truly a sight to behold, lined with pretty colorful old buildings and the stunning pale-blue town hall. you can spend an hour lingering on a bench, reading and eating an ice cream and remembering how lucky you are to be here in budejovice! don't forget to look for the stone!
the black tower. best spot for a bird's eye view of the town! climb alllll the way up the tower, you pay when you get to the top, located northeast of the square.
budvar brewery. so you know that budejovice's international name is budweis, right? as in the original budweiser? this is truly a beer town, and why not stop by and take a tour of the budvar brewery and enjoy a pint or two of czech republic's best tasting pilsner? (i swear i'm not biased, it really is the perfect pilsner) k. světlé 4
lannova třída. the pretty shopping boulevard of the city where you can find stores such as H&M, marks & spencers, tiger, and a bevy of smaller stores and shops that are still holding strong since the old days. bubbleology bubble tea, mcdonalds, and a decent kebap joint are here too. marvel at the prior store (halfway down) that looks straight from the 1970's, a hold-over from the communist days selling most anything and everything you need at very low prices. directly east of the square
letní plovárna. budejovice has a beautiful outdoor swimming pool and complex overlooking the vltava, with wonderful clean bathrooms, lockers, even a slide for the kiddos. it is my absolute favorite way to cool down in the summer- to spend the afternoon splashing around in the sun or laying around on the nice lawn. season usually open june-late august, 90kc entry, cheaper after 17:00.  sokolský ostrov 1
letní kino. just south of the old center after crossing the river, you will find the grounds for the outdoor cinema, which screens free films every summer about four nights a week, june through august. ale, pozor! only live action english speaking films are screened in original version with czech subtitles, all animated films are dubbed in czech and other foreign films are with czech subs only. (such is life for a czechpat) f.a. gerstnera 4
vanocni trhy (advent market). we have one of the best christmas markets i have been to in the czech republic, hands down. it is huge, it is beautiful, there are different czech christmas musical acts every night, and it's a great place to get into the christmas spirit. plus, you can walk all around the square and try to sample a punč

from every stand (harder than it sounds!) starts the friday before the first sunday of advent  until dec. 23rd.  full details here.
NEARBY PLACES OF INTEREST

hluboká nad vltavou. this disney worthy castle/chateau in the english windsor style is only about a 30 minute bus ride on the city or regional bus, north of budejovice and is certainly worth a stop if you're in the area! other ways to get there: walk/cycle north along the vltava river from vltava stred OR take the bus to hosin (instead of hluboka) and enjoy a gentle hour-long hike down to hluboka town. you can enjoy lunch, tour the castle, or simple spend an hour enjoying the lovely castle garden and grounds.
český krumlov. only 30 minutes (south) by bus, this UNESCO-awarded tiny medieval town is the second most visited place in the czech republic, and for a good reason: it's enchanting! a must-do day-trip if you go to south bohemia.
dívčí kámen. if you're a fan of fairy-tale castle ruins and walking along enchanted paths in the most beautiful bohemian countryside you ever did see, a day trip to these ruins makes for a wonderful day and a very memorable experience. bring a schnitzel sandwich for lunch and hang out with the resident goats! small entry fee, (take the train to holubov and follow the trail)
třeboň. czech republic's fish capital is only about a 35 minute bus ride east from budejovice! enjoy walking around the magnificent royal lakes (like the biggest one, svět, which takes about 3-4 hours to circumnavigate) or enjoy the square, the spas, and the fish restaurants.
holašovice. another UNESCO-heritage village in the area, this one known for its extremely well-preserved traditional farm houses in the old bohemian style. this town is small (so there's only about two roads, total) but is extremely peaceful. it's most fun at it's annual festival in june, otherwise it would take about twenty minutes to see.
still curious about české budějovice? here's a post called show me your neighborhood or a guest post i did highlighting my favorite things about where i live.