Living Through the Pandemic, One Year Out
It was nearly a year ago that the very first Coronavirus case showed up here in the Czech Republic. About ten days later, our lives would suddenly be disrupted when it was announced, after an emergency Tuesday morning parliamentary session that schools would close, effective the next day.
Those early times — from the end of winter last year through the spring, all of our lives changed. Everyone was scared and uncertain, and despite what we would consider now to be very low case levels, I did not meet with another soul for almost two months. Absolutely nothing in-person took place.
As spring gave way to summer, we saw cases fall even lower and we enjoyed a very normal summer here, last year. We even traveled abroad in August, something which I absolutely don't regret for a moment… because who would know how bad it all would really get.
Cases began spiking here in September and have got increasingly worse since then. The end of September was the first time I began to feel "on edge" again and that feeling has never left. "Lockdown Two" has felt a lot different, though. People here aren't as afraid of the virus as they used to be and are no longer locking themselves away at home; there isn't that same feeling of fear. On the plus side, I've become even more of an expert at finding cool things to see and experience thanks to my good friend, the Internet. (I truly cannot imagine how isolated I would feel here not being able to be instantly connected to people around the world!) Some people are visiting with friends in capacities that they deem "safe-feeling".
One year out since the virus reached Europe, things are absolutely worse than ever. Today, the Czech Republic tops the list for most cases per capita; deaths are higher here than almost anywhere else in Europe, and yet, people be feelin' okay. Corona is still all around us. I know of people who got the virus… twice. People who are Corona-positive are leaving their houses to take a walk in the evening because two weeks staying only in their house is allegedly, unbearably boring. Someone I know who was experiencing symptoms took their planned flight abroad for a vacation… and these are all people who I felt are intelligent, capable individuals.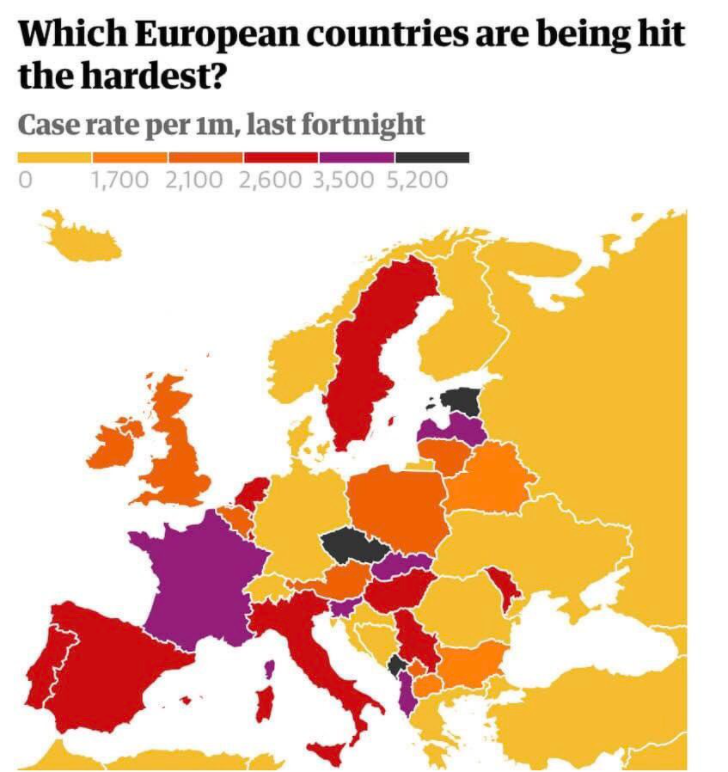 The messaging has been so blurry. I've been hearing for months about the strict rules certain US states and the UK has imposed. Sure, these regulations have been unpopular, but I am also seeing both of those countries start to open up and set dates this spring for when things might return to normalcy. As much as I am so happy for countries who are doing better for Corona, and I definitely am because we all have been through so much over the past year, it's starting to hurt. The virus response here, once internationally lauded, is now a huge shame. I'm starting to feel like a major downer for being "so neg" on Twitter about it. As a foreigner and guest here, I feel extremely uncomfortable with anything close to criticizing the local government… but when you do everything you can, socially distance, wear a mask everywhere, it hurts to see the cases worse than ever now. Some US states are opening, whereas starting Monday, we are having to wear medical-grade N95/FFP2 masks and free-movement is being tightened (leaving the house is allowed only for essential reasons), a restriction that hasn't been imposed since last March or April. Pre-schools, which I don't think have ever closed in the run of the pandemic, will be closed from March 1st. It feels like March 2020 all over again, but more painful because we've had a whole year of apparently not learning our lessons.
And yet, as grim a picture as this all paints, life here is really still okay. People are generally doing alright. I'm feeling happy and doing well, all things considered. I've just had a really nice, albeit busy week, and only when I get online do I start despairing. The weather in the past week has been spring-level sunny gorgeousness. Life is going on as a new kind of normal here… I simply hope that from today it will be with a new sense of urgency to eliminate this virus and really do what we can.
I guess it's because I, and perhaps many of us, have learned over the past year to think only day to day. Living in the now and not thinking much further than tomorrow helps a lot. There is no way to make any plans anymore, not more than a few days ahead of time, anyway. This way of thinking helps. It's sort of freeing.
Another thing, as I mentioned in my last post, is that I've been spending nearly all of my free time reading and studying this winter; something which I had not set any goal or intention of doing. It just sort of happened. Since the last post, I've even started doing a self-paced, just-for-fun philosophy course — something that I've long wanted to do. My pace of personal reading is higher than it's ever been even though work has been more time-consuming than ever. I suppose I'm just throwing myself into all of this, but that, along with living in the moment really helps me make sense of this strange time and find meaning for myself in all of it. Studying anything is my happy place and safe haven at the moment.
As well as studying or unplugging, dystopian literature also helps – it's good to know that things aren't really so bad. Books like Station Eleven, Moon of the Crusted Snow, and The Plague are good for putting things in perspective. I wonder if reading Camus's The Plague would be more interesting if we weren't in a pandemic? Would I still relate at all to it? Is it more meaningful now than it otherwise would have been?
I find myself relating with certain passages.
Without memories, without hope, they lived for the moment only. Indeed, the here and now had come to mean everything to them. For there is no denying that the plague had gradually killed off in all of us the faculty not of love only but even of friendship. Naturally enough, since love asks something of the future, and nothing was left us but a series of present moments.

Albert Camus
Of course a deadly plague is a bit different than what we are dealing with, but there are so many relatable passages.
Who knows about the spring? Who knows about summer? I don't care to think about it anymore. All's I know is that this weekend I'll be reading one of Plato's Socratic dialogues, meeting online with my book club, going on a nice walk to the store (to, er, find and purchase respirator masks) with my dog and partner, and it's really all about the current day anymore.
When in doubt, unplug and enjoy the day (in a socially-distanced kind of way). I hope everyone is faring well and I'm sure you have a lot of thoughts on our one year of "all this" as well. How is it where you are now? Share with me in the comments. Wishing you all good health and that you are finding the silver linings as winter ends.