My Up and Down (Will it? Won't it?) Vaccination Week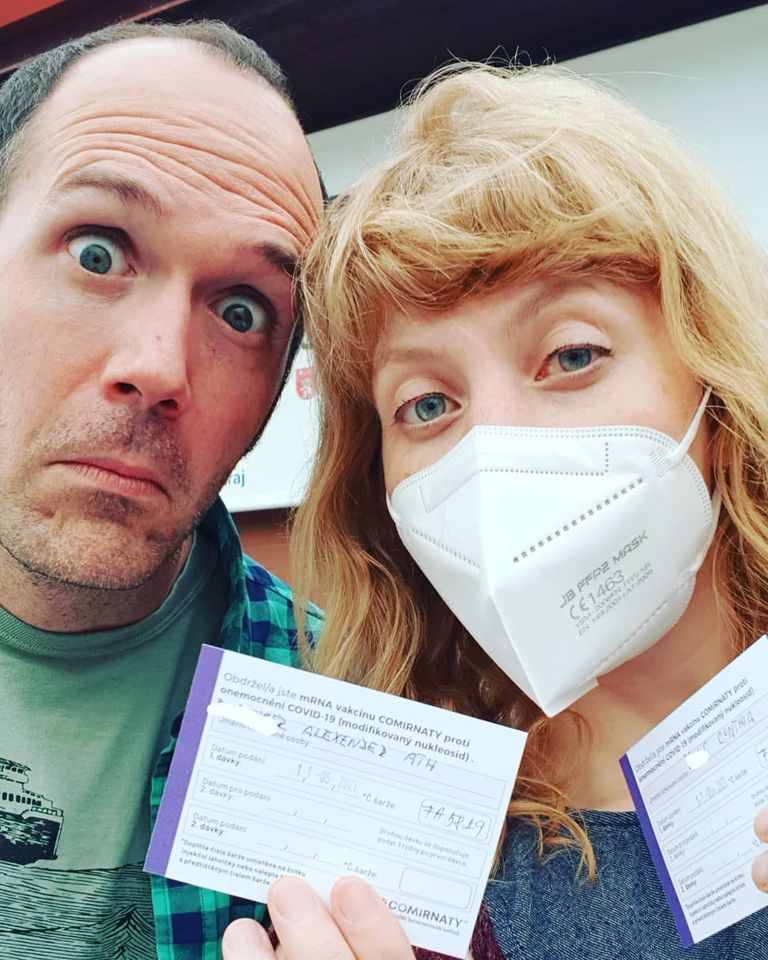 I have mentioned in what feels like every recent posts that the vaccination roll-out in Europe is sloooooow. In the Czech Republic up until now, it really felt like it could not be worse. Not even did it take until March before I actually heard of people I know getting vaccinated (then, just doctors or the elderly), there were reports left and right about how difficult it was for foreigners to get vaccinated. Whether it was that their foreign-sounding name didn't fit into the system, or their private health insurance (not the public state insurance that Czechs use) was not an option when registering.
I spent March and April in a sad sorry state seeing the rest of the world get vaccinated with no progress here and sight and planning my American #vaxpat escape. Primary school teachers were being vaccinated, but not secondary school or university. This also leaves out freelance teachers who work at a privately owned enterprise. Just when things started to look pretty bleak, there were reports of the EU obtaining millions of Pfizer/BioNTech doses and on the last day of April, a friend texted to inform me that university staff could register at the beginning of May.
It would not be that easy. It seems that every university department has different rules. Depends on the faculty, depends on the university, and in my case, the higher-ups weren't about to budge for a faculty member who was on a part-time contract. I walked out of that meeting feeling like I was going to cry and puke at the same time. I made desperate e-mails and texts to all the smartest people in town I knew.
The next morning, the morning before my birthday (which I had taken off work as a self-care gift to myself and literally while I was writing my last post), something turned up: I got the clearance from the powers that be! There was no reason to not have part-time teachers who work directly with students be able to register, and I'm glad that my supervisors and friends showed up and stuck out their leg for me. It would not be a relaxing day off like I had planned, but I was thankful for the free time to sort out everything and speak to friends to hear their experiences. I decided to book an appointment not in Budejovice but one of the other South Bohemian vaccination centers in a smaller town as I'd heard that I could get in faster there. (This was true!) Not being fully-vaccinated by mid-July would mean that our summer camps would surely be cancelled, and I'd certainly be nothing but a bundle of nerves on my flight to Seattle this summer.
I had a strange sense of anxiety the entire day of my first vaccination dose. I could barely sleep the night before. It wasn't so much nervousness, but perhaps just the not-knowing what was going to happen. Could Alex also get vaccinated alongside me? Would there be reactions?
The vaccination center was a well-oiled machine, to say the least. A few forms to fill out and explanations in Czech only, only slight problems entering my information into the computer – something having to do with my foreignness. Then they asked about Alex – is your friend here, too? Yes, yes, my husband who works with children as well is riiiight here. They were expecting him! He had been recommended for a vaccination as he works directly with children at primary schools (and will do so again starting this week), but couldn't register due to working for a private enterprise.
I was led into an Ikea-like maze with really impressive vaccination booths: a red "Čekate" sign and a green "Vystupte" sign which lit up at different intervals. My nurse was so kind! I have since heard that sometimes people are even mean to the nurses because they don't want to be vaccinated. Any kindness to the fine staff at these centers goes a long way. They're doing hero work!
I still couldn't believe it, nervously sitting in the waiting room afterwards, feeling more and more at ease with each Eurovision music video that would play when Alex came through the door, vaccinated. I still can't believe it. This was truly the best case scenario and a true belated birthday present – the present of my dreams.
Although one quarter of Czech residents have received their first dose, only a tenth are fully vaccinated. We still have a long way to go, although excellent news that 40+ residents may register from Monday (tomorrow) and a week or two after, they are expected to offer it to anyone 16+. If you aren't vaccinated yet but want to be – it's truly all happening and there shouldn't be long now! If you're on the fence, I can't recommend it enough. I don't know what side effects the second dose in June will bring, but for a slightly sore arm for a day, this experience is worth its weight in gold, so to speak. If you are eligible, do it. The benefits are numerous.
There's a spring in my step again, a glimmer of normality! I've already booked an overnight stay for next month, provided hotels and outdoor theaters are allowed to open. I'm starting to think about the good times I'll have seeing vaccinated friends and family in the US! This week I go back to the language school. May is always great, and this year is no exception.
To anyone still waiting endlessly for the promised vaccines to your country, I see you. Please don't lose hope. Things will start to shift. Do what you have to do get it. Make the calls you need, use your connections if you have any. Think about making an appointment in a smaller town if you live in a city. Be kind to nurses. Stand up for yourself and for what's right if you have to (because sometimes things that happen just ain't right).
Best May wishes to you all, and hope you enjoy the beautiful spring time. I see normality ahead of us, for once.