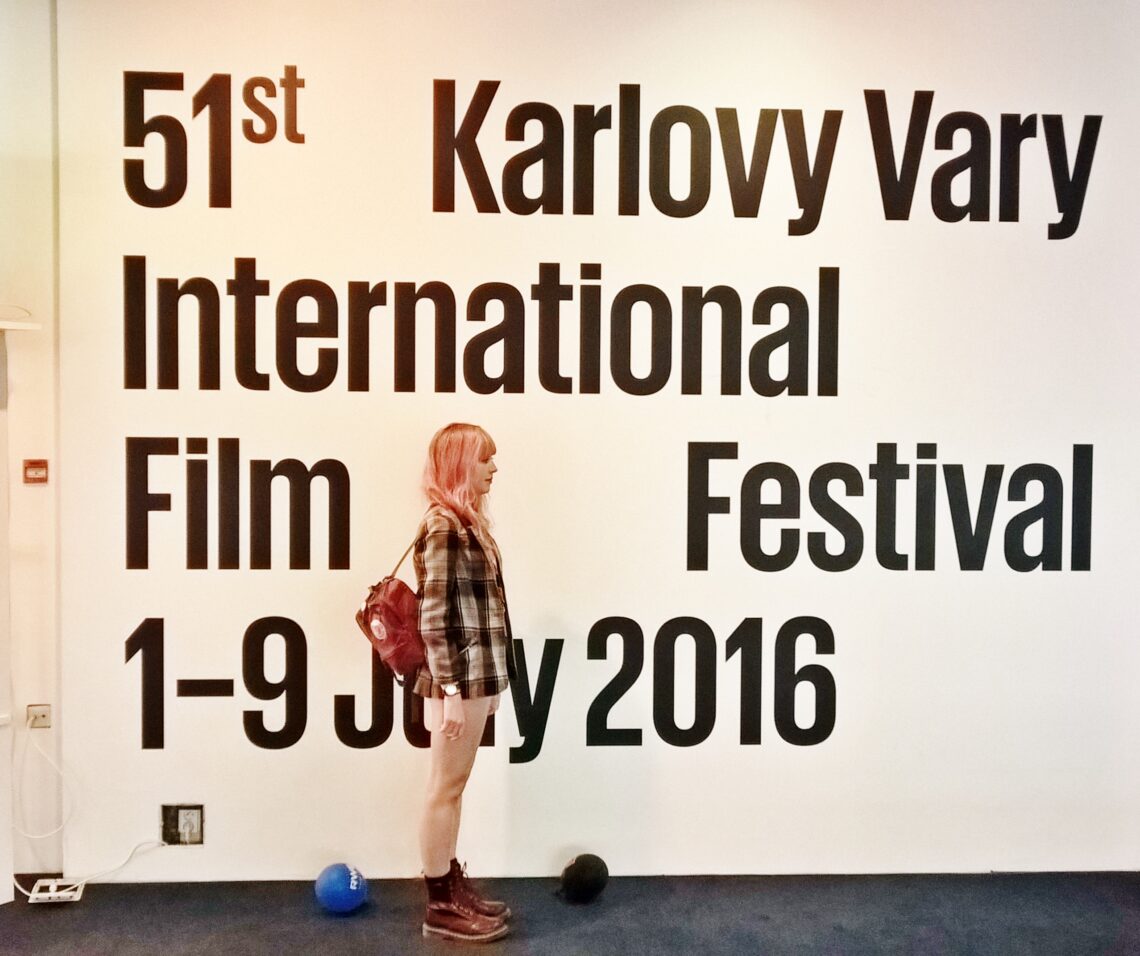 Looking Back on KVIFF: Film Festival Memories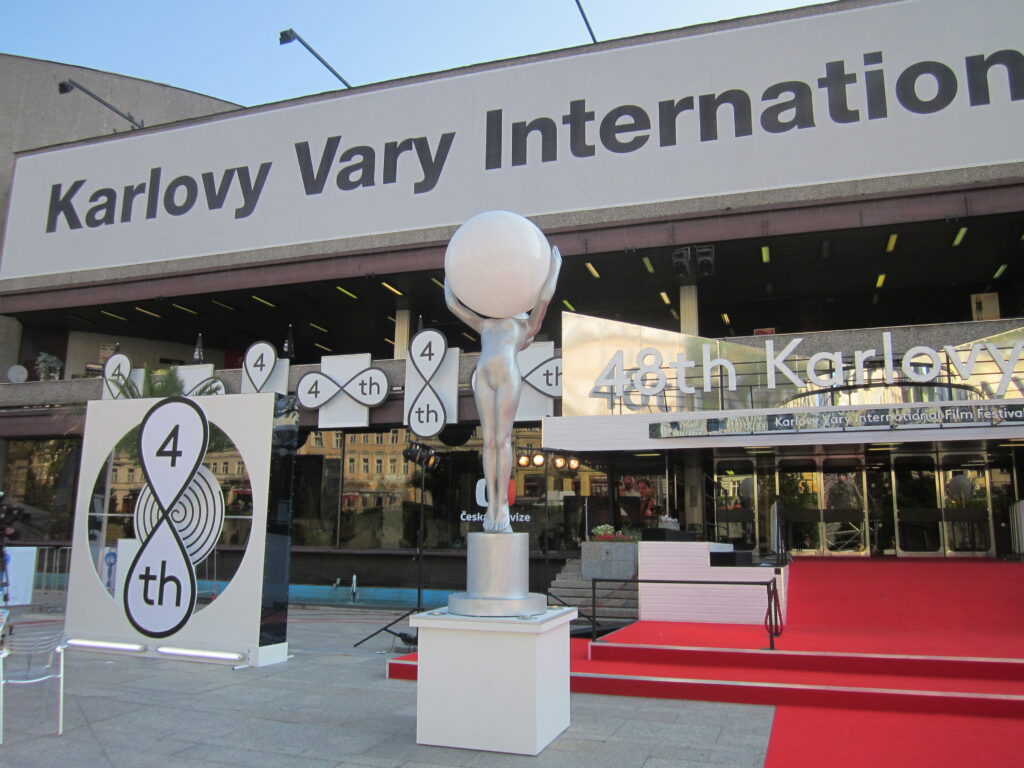 It doesn't really feel like summer in the Czech Republic for us without KVIFF – the Karlovy Vary International Film Festival. We've been attending nearly every year since we arrived here and as you may have guessed, they made the wise decision to cancel what would have been the 55th edition taking place this week.
It hasn't all been a no-film doom and gloom scenario, though. As I've raved about on social media, KVIFF participated in the We Are One Global Film Festival in late May, along with something like sixteen other festivals (such as Cannes, Venice, Toronto, Berlin, etc) and it was such an incredibly enriching experience to have seen so many great films during that two week period, even though the film festival atmosphere of togetherness was irreparably missing.
Lots of fun starting this week all across the entire country is the TADY VARY "festival", where the KVIFF programmers bring sixteen films to cinemas that they would have chosen for this year's festival. We went out the other night to our local kino for "opening night" (running into all of film-going Budejovice in the process) and were delighted that they kept the same pre-film traditions that are in place during the festival, such as showing the award winner vignettes, making it really feel like KVIFF. We nerdily led the charge with clapping at the appropriate times (yes, we are insufferable, how did you guess) and had so much fun watching Babyteeth, an incredible Australian film debut by director Shannon Murphy. I cannot say enough about this film besides see it if you ever have the opportunity. It is worth your time, a hundred times over. Don't watch the trailer or look it up, just see it.
(You too can experience Vary magic if you live in the Czech Republic, on until next Saturday, July 11th!)
Rather interestingly, the festival just announced they will be putting on a four day festival called "KVIFF 54 1/2", taking place in mid-November where they'll be showing thirty non-competition films that also would have shown at this year's festival in hopes of bringing back that magical festival feeling.
So in commemoration with many years of festival-going, we have compiled a few of our favorite festival memories of Karlovy Vary and KVIFF since 2013, in no particular order.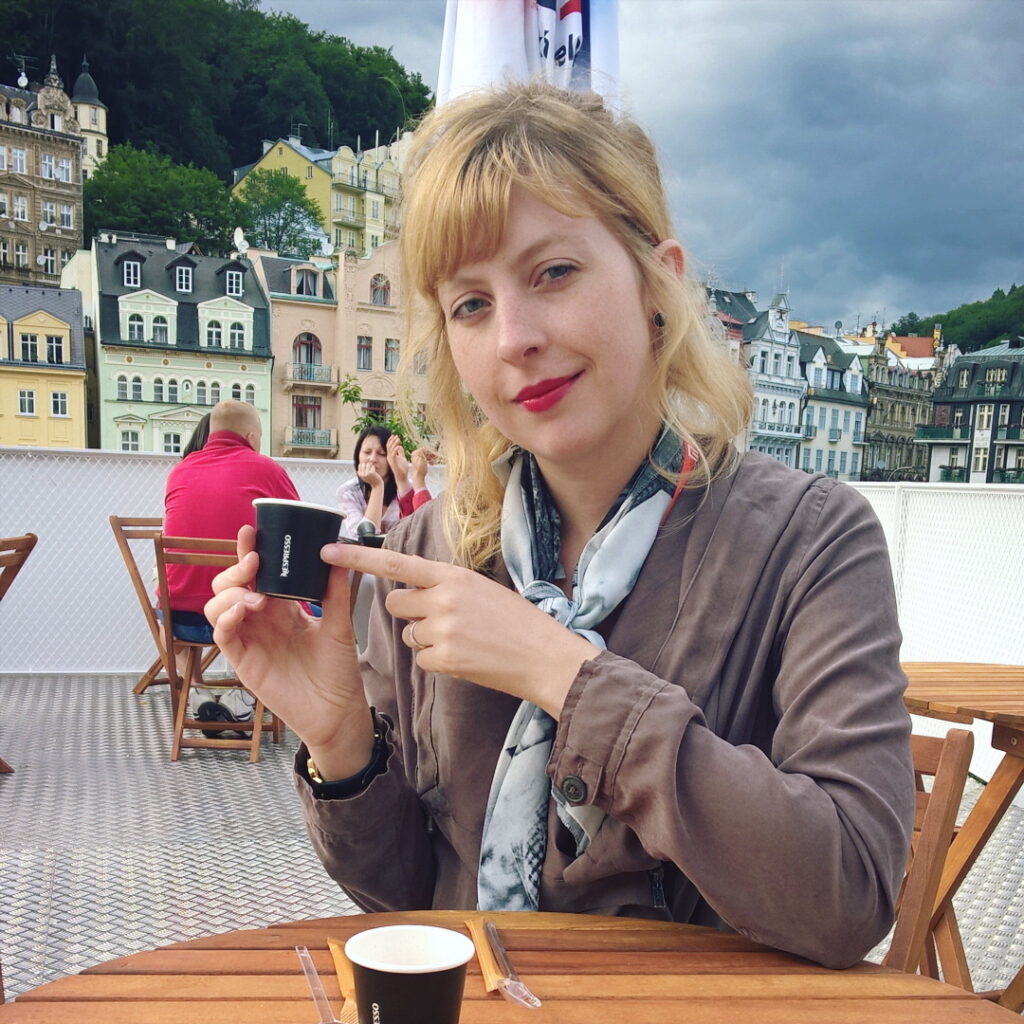 All of the Nescafe drunk over the years (official coffee of KVIFF) and replicating my George Clooney "what else?" moments.
The absolute buzzing atmosphere, teeming with festival-goers (but in a good way). After these years, I would be uncomfortable with seeing "normal" Karlovy Vary. Love that festival buzz.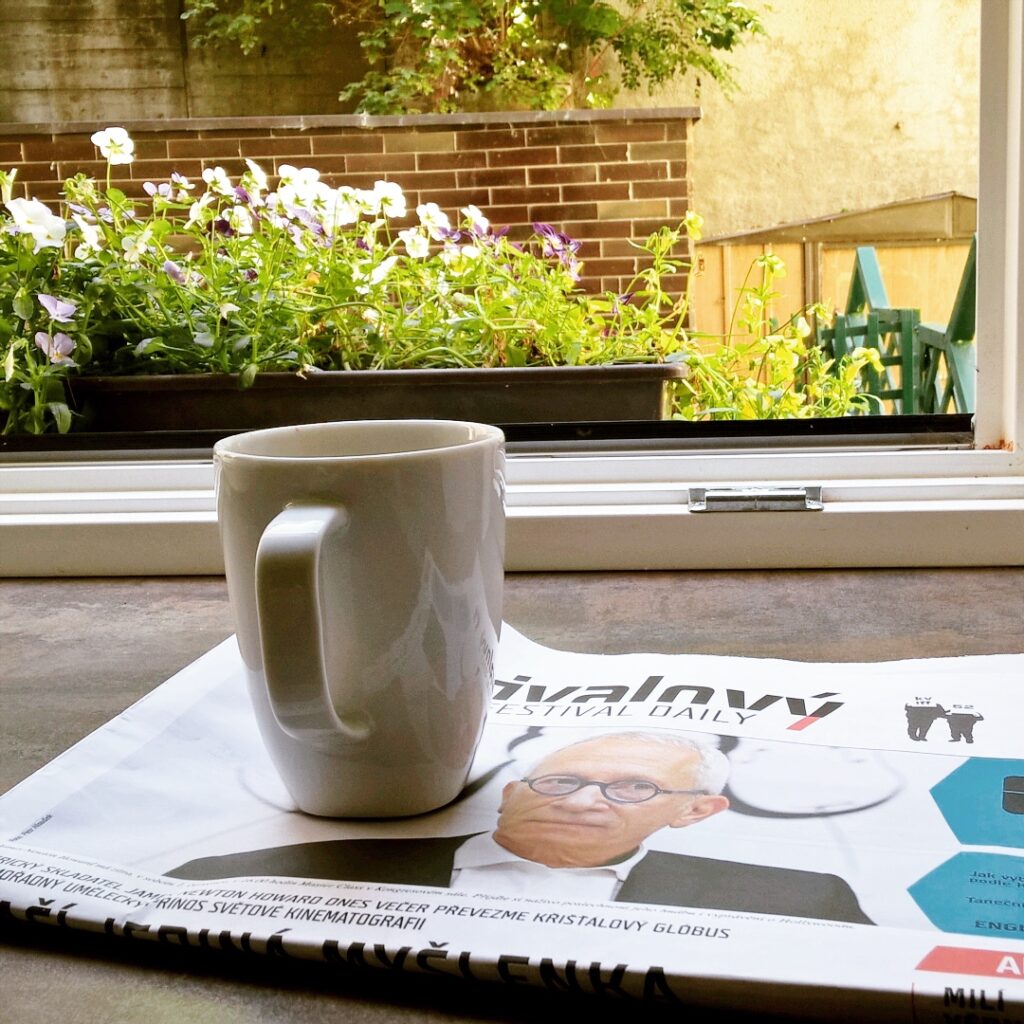 That time we stayed in the brilliant flat about two blocks away from Hotel Pupp and had the most relaxing week possible.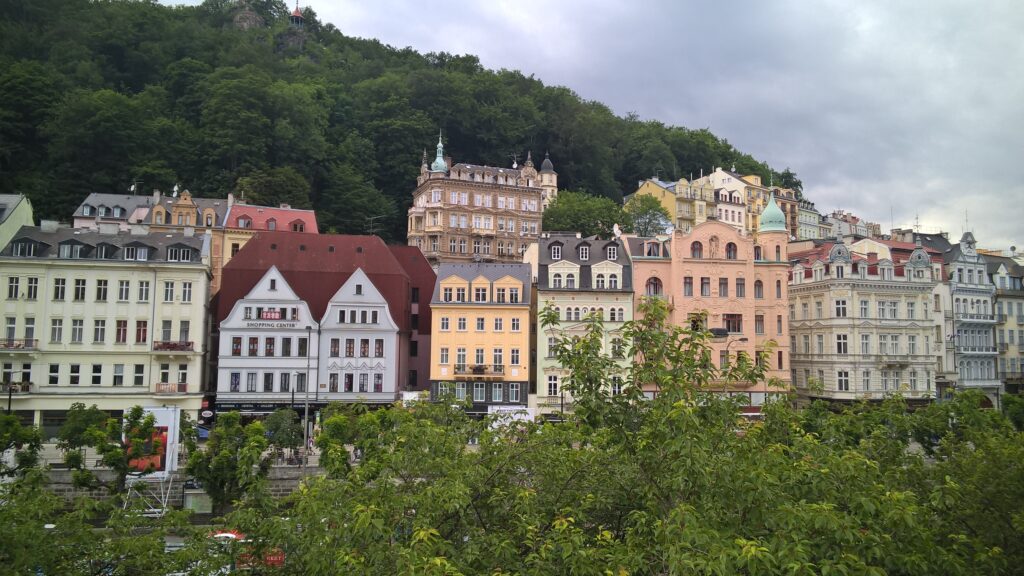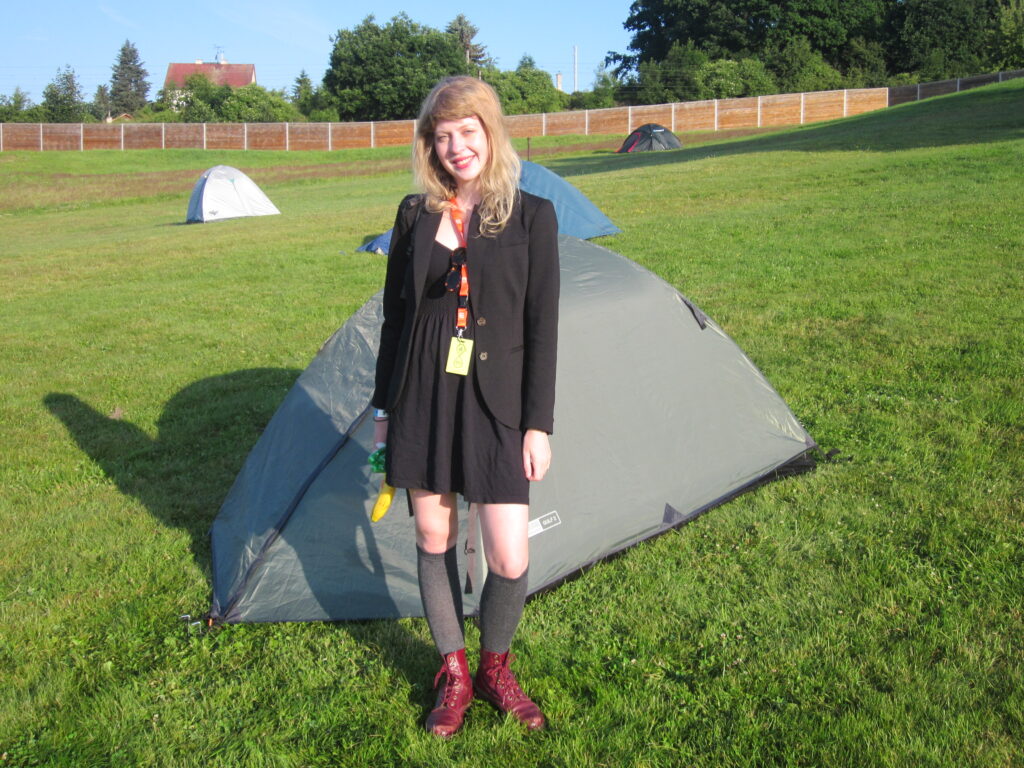 In contrast to the time we camped at the park campground (Rolava) and had to walk 45 minutes to and from the festival, napping between films on beanbag chairs in the second floor lounge in Hotel Thermal because we were film festival + camping level exhausted (where Alex was once captured in someone else's photo through a window and became Insta-famous for about ten minutes)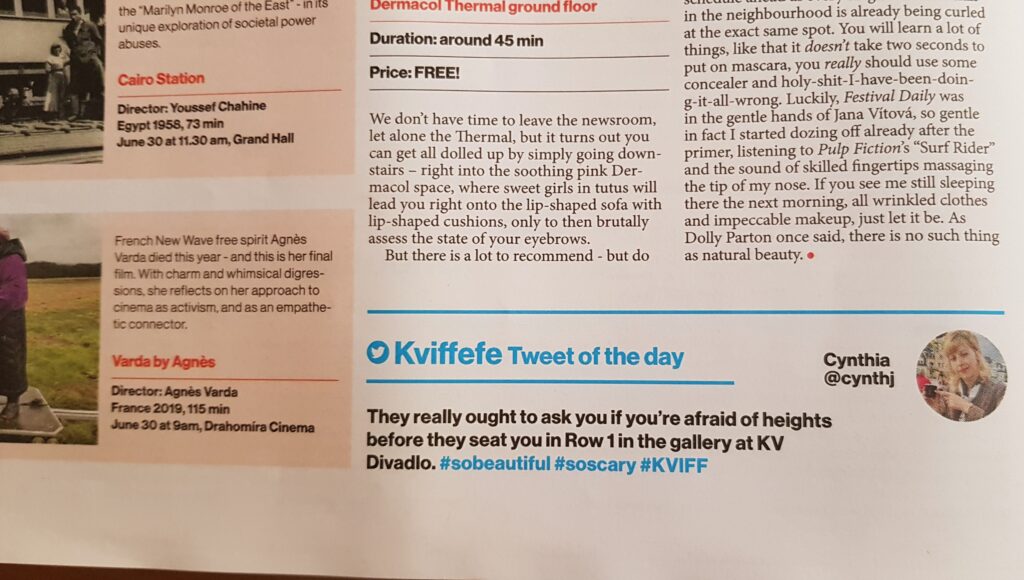 Last year's tweet inclusion in the Festival Daily newspaper – the balcony front row at the KV Divadlo theater is seriously frightening.
There was also a feel-good moment last year when I grabbed an extra Festival Daily newspaper to give to a stranger waiting in the box office queue with me and the next day he brought me one, absolutely no words exchanged. Festival-goer solidarity across languages.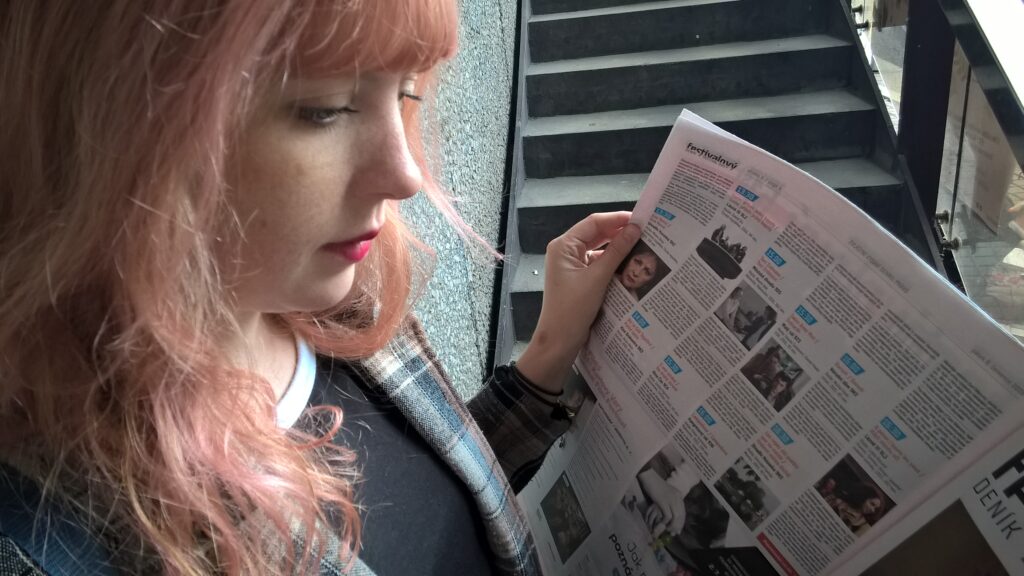 All of the wonderful moments of my life I've spent standing in box office queues, especially pre-7:00am. Yes, this is my vacation, why do you ask? Those quiet, bright Karlovy Vary mornings are always so special that I don't mind anymore.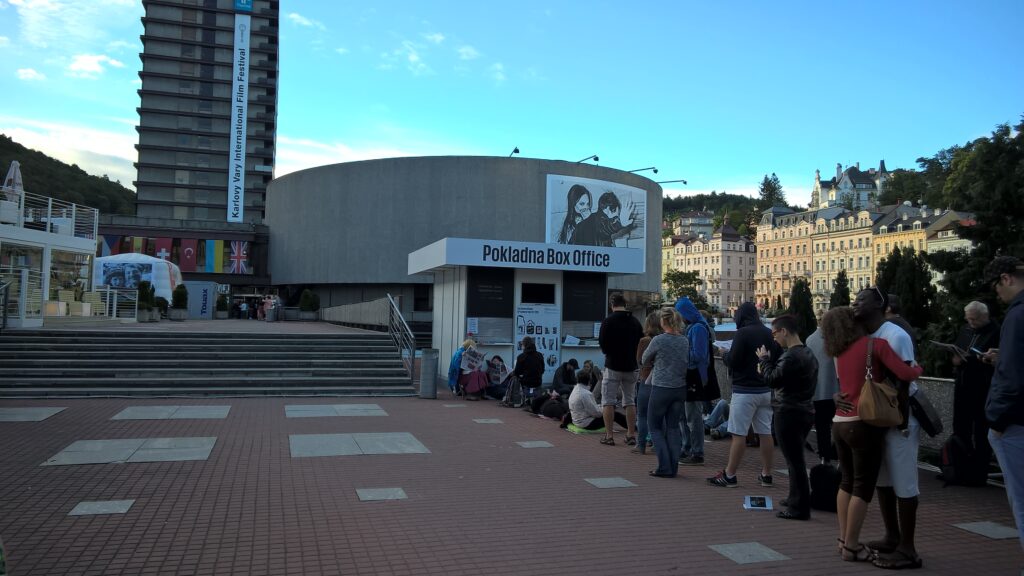 The Daniels (directors) forcing everyone to stand up from their seats and "shake it out" (move their limbs) before the screening of their film Swiss Army Man started.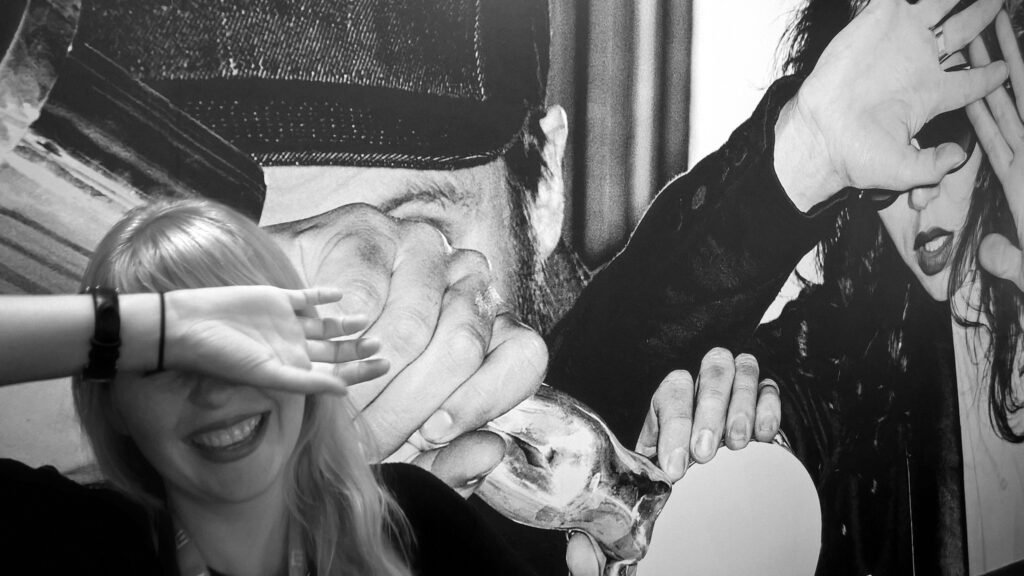 How delirious we were in 2017 from trying to do wayyyy too much and we realized we could never go to a film festival for that many days straight ever again.
The entire audience applauding for the guy who sets up the mic stand at Grand Hall. Every. Single. Time.
Seeing the crowds gather for Mel Gibson's opening night appearance and thinkin' "….nah" and went back to the flat to watch Euro Cup.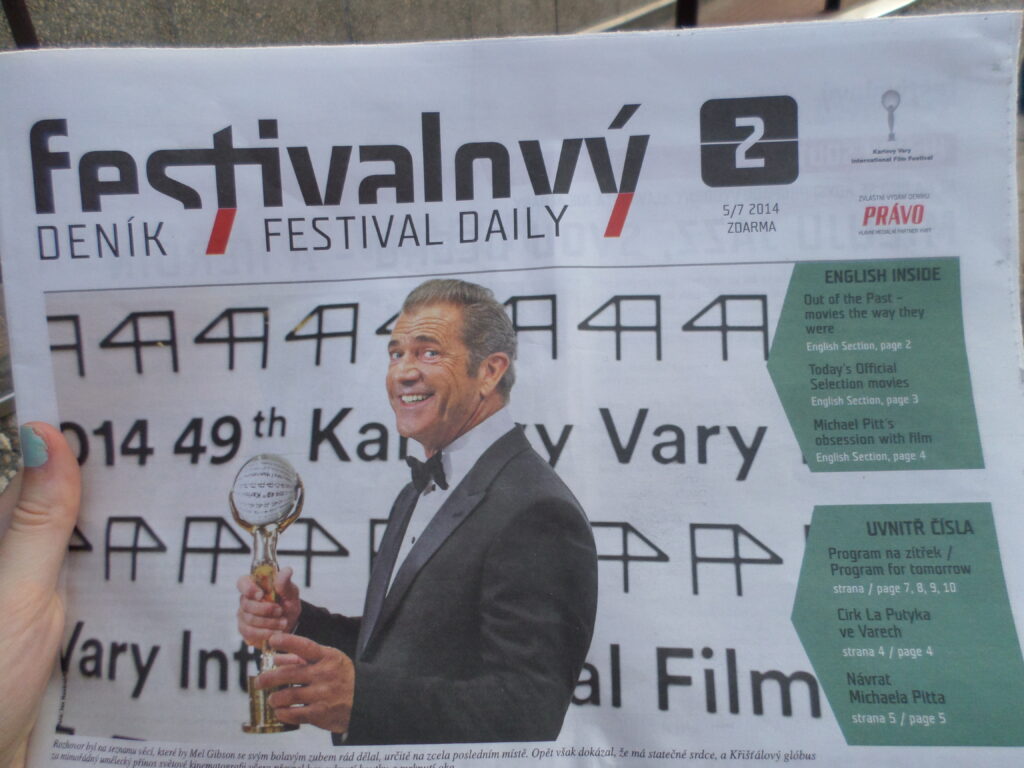 All the Bagueterie Boulevard sandwiches consumed – they were SO GOOD. Shout out to prosciutto with melon.
Something you'd only see at an extremely international film festival: a Q&A after a film with a Chinese director, being interpreted to Czech, then to English. (needless to say, it took a really long time)
Becoming total box office pros by the end of our first year and finding out exactly how to get all the movies we wanted.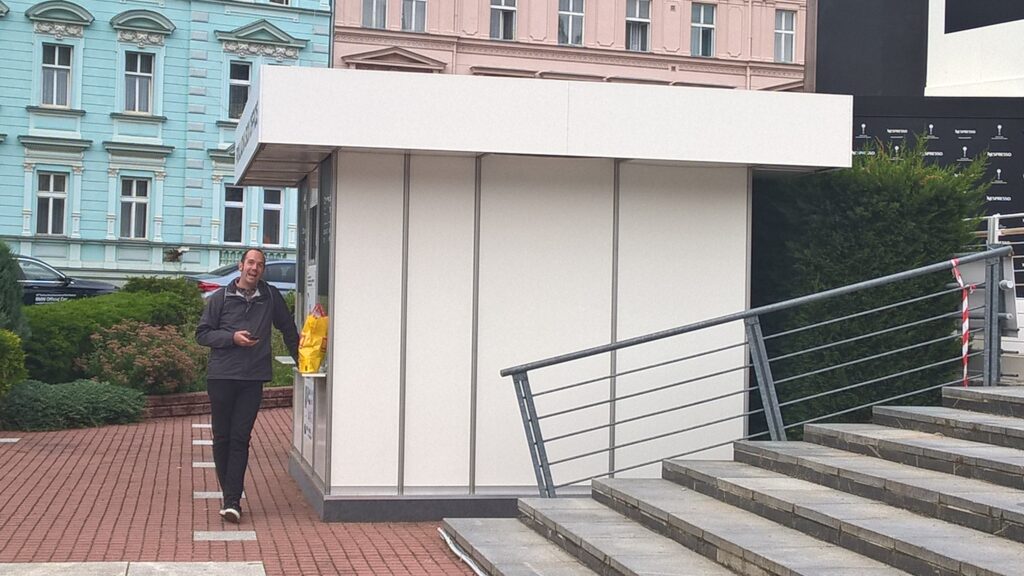 In complete contrast to our first year in 2013, walking in the box office door in the afternoon and hoping to get tickets to a film that same night (lol).
All the delicious, salty healing mineral water consumed from the natural springs located all over the town – best in the world. Now, each trip includes trying to find a pramen that I haven't visited before!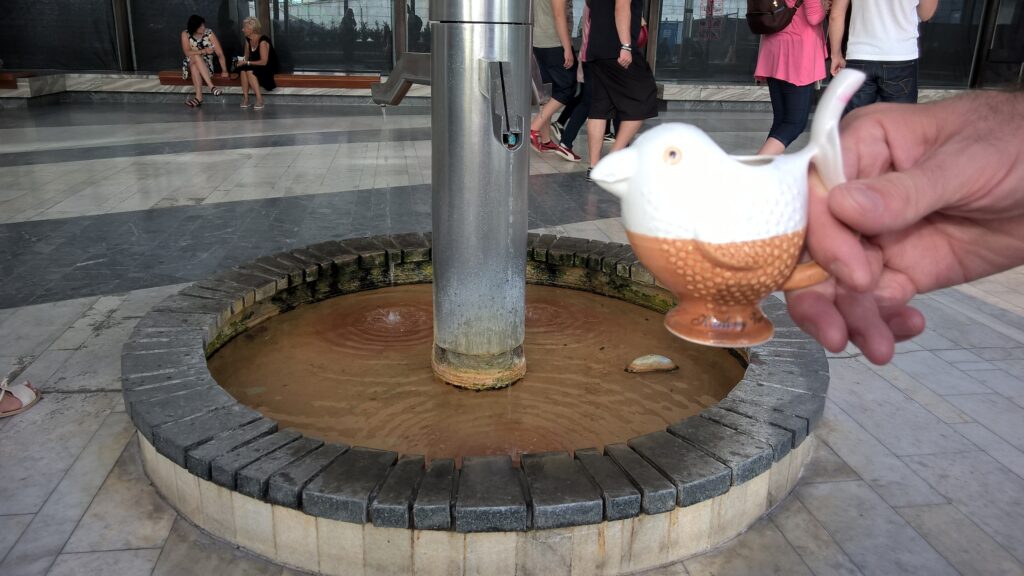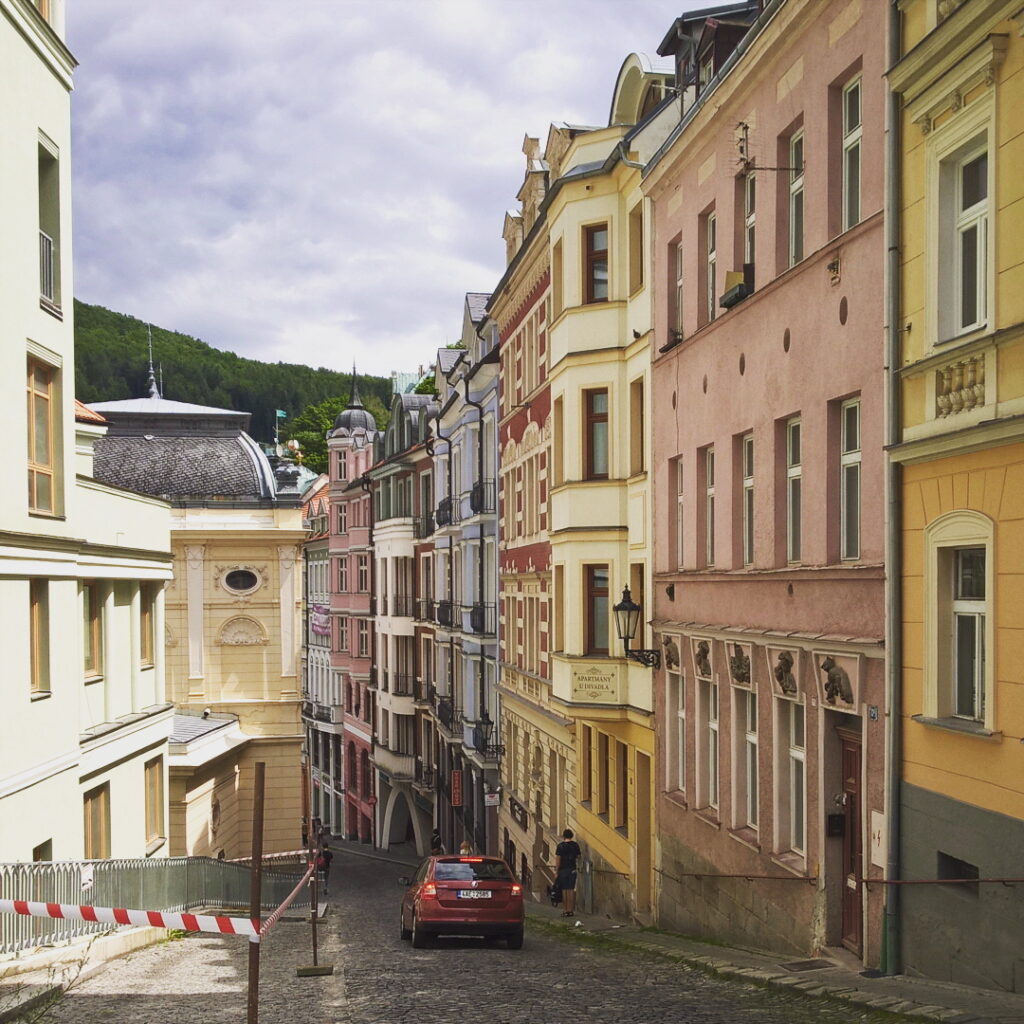 How absolutely stunning the town of Karlovy Vary is, festival aside.
Getting to explore Loket and Mariánské Lázně before the festival! Next stop for a future year: Františkovy Lázně! Northwestern Czech Republic is dazzling.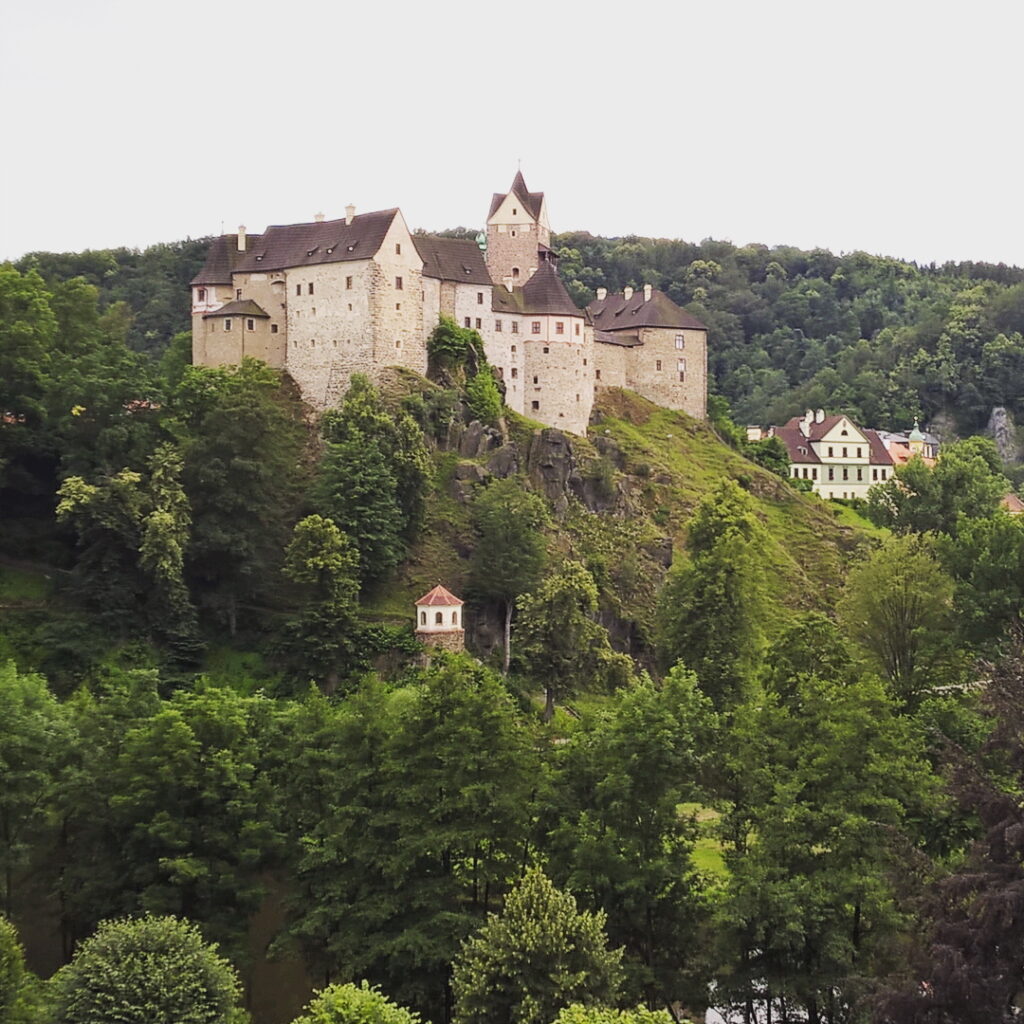 Seeing how much possible festival swag I can wear in one day.
Seeing how many films we can possibly see in one day. (the answer is five, but it is not a healthy day – we have since agreed across the board that three is the magic number for maximum relaxation and enjoyment)
All the absolutely amazing films we've seen – some favorites being: The Handmaiden, The Hunt for the Wilder People, Captain Fantastic, Monos, Parasite, '71, Jaula de Oro, Swiss Army Man, All These Sleepless Nights, and so many more.
Speaking of Parasite, the applause break during the first screening of the film (in 2019) that occurred directly after this scene in which the audience hooted and hollered with laughter is something that we have never before witnessed in the hundreds of times we've been to a cinema; only further proving that this scene (called "The Perfect Montage" by some) is perhaps the most masterful in modern film history and was absolutely deserving of all the awards it won.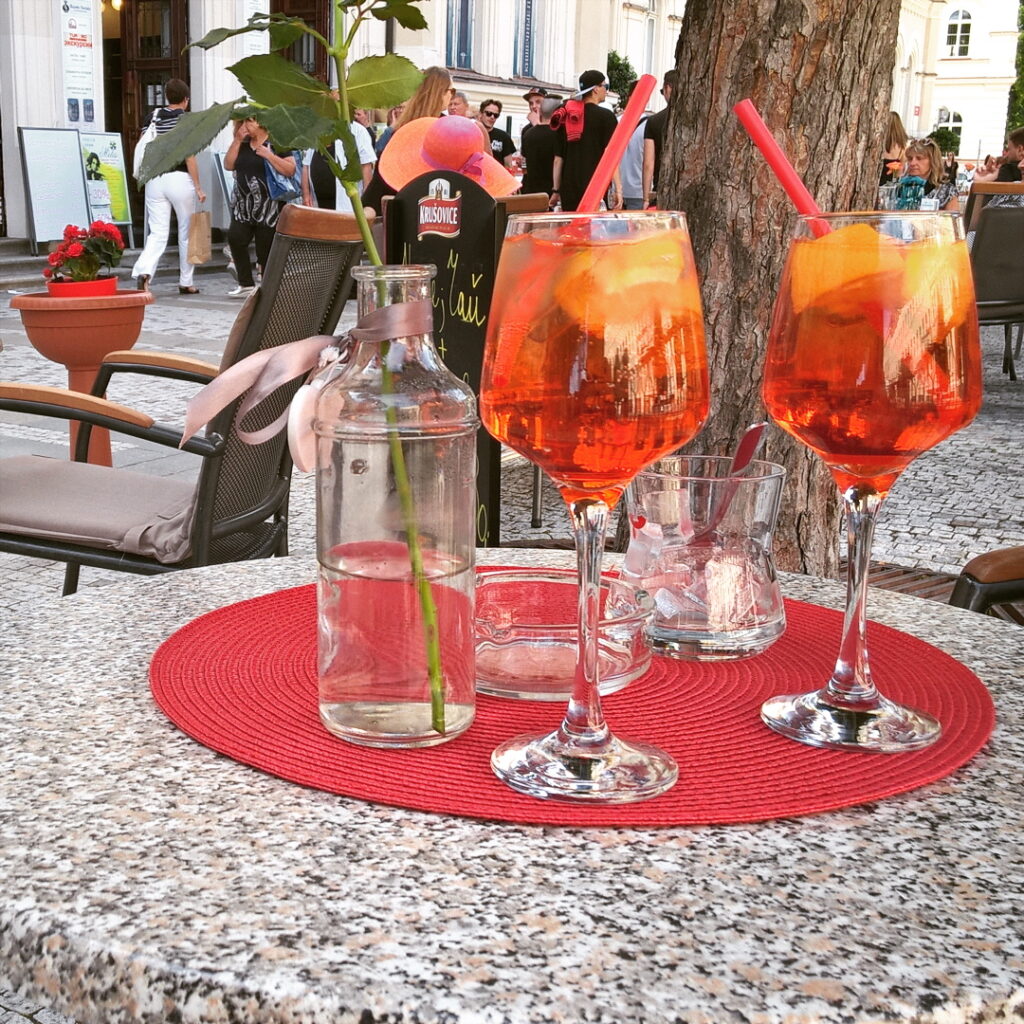 That time we decided to say "f it", skipped our screenings the rest of the day, went to a cafe and had Aperol Spritzes by the canal like a couple of fancy pantses, then went back to watch World Cup on TV. No regrets!
Similarly, that time we just saw two amazing films back to back and got rum drinks in a coconut sitting on the Vary "beach" near the river in lawn chairs, or last year on our last night how we found a wine bar tucked away on a tiny square, the way you only see in Europe and had glasses of Prosecco to toast the festival and welcome in July. That felt not just like a film festival vacation, but a real vacation.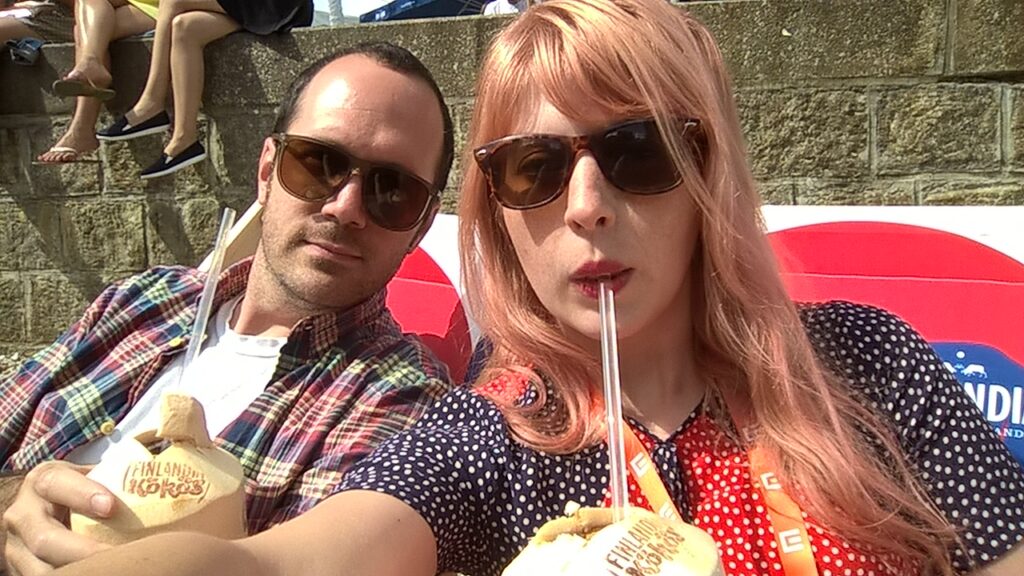 So here's to Vary – one of the most special international film festivals in Central Europe! It's a fun festival, it's got a lot of heart and I've been proud to be a part of its recent history. May the festival prosper into its 55th year next July and beyond!
PS, you can peek at all of my past KV reports and journals 2013, 2014, 2016, 2017 & 2019.