SIFF vs KVIFF; The Top 5 Films of 2013
it's way too easy to compare something that's new to something you know well, and i forced myself not to think like that and just to enjoy the moment. but, somethings can't be forgotten and i thought it would be an interesting "study" to compare these two very different film festivals. here are the main ways they differ.
1. festival passes mean very little. at SIFF, if you are a pass holder for 25 full days worth of film, you are one of the chosen few. you can get into any movie at any time and are generally looked at in higher regard than the rest of the festival goers. at KVIFF, everyone is a pass holder, because the fest is only 9 days. your KVIFF pass allows you to 3 tickets per day, and if you want to see more movies, you have to wait in the second rate pass holder line for as long before the movie as you can.
2. you have to plan your schedule veryyycarefully. it ain't no joke. you have to wait in the 8am box office line to get your tickets for the following day's films. sometimes they sell out in minutes, and you have to have a prepared list of back-ups or you'll screw yourself. if the movie is not must see or you don't get tickets in time, you can wait in the pass holder line before the screening. at SIFF, passholders happily waltz into any line at any time, and usually you can buy tickets right up until the screening, although i wouldn't recommend it!
3. getting denied. since KVIFF runs on tickets, their policy is the same: if you don't take your place 5 minutes before the screening, your ticket is void. i myself was turned away from a film i got to about ten or so minutes late because i got lost and went to the wrong theater. booo. at SIFF, it's a bit more lenient: there are some reserved seats for pass holders who show up a few minutes late.
4. no party for you. although i've heard KVIFF is one of the most laid-back film fests of its caliber, there is still quite a division between industry and the public. no one can buy tickets for opening or closing night, as it is invitation only. i LOVE the SIFF parties, where film people and film lovers can mingle. although there are a lot of bars and nightclub parties happening in the area, no official KVIFF party for you. although alex was photographed from a KVIFF partygoer from the outdoor party looking in! he was internet famous for a day.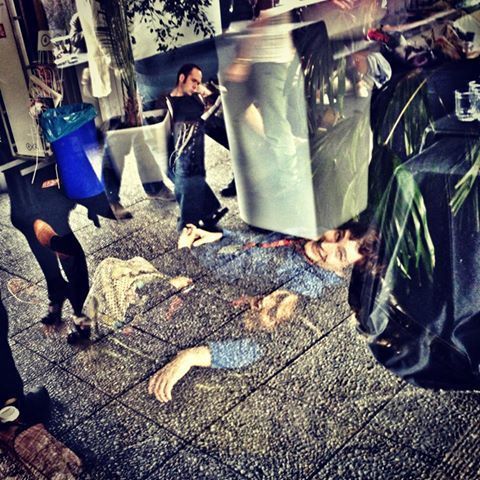 5. more reserved vibe. it could be a czech cultural thing but there was little to no film banter between pass holding strangers that i noticed. perhaps this is because everyone is a pass holder. at SIFF the pass holders are a special few and at almost every screening i went to alone i was engaged in talking about favorite films so far, how many i've seen, what i want to see…. etc. seattle chill? i disagree.
6. no cinema refreshments! i did not consume one single bag of popcorn. in some cinemas, eating and drinking wasn't even permitted at all! a far cry from the delicious chai lattes and free popcorn i get at SIFF cinemas. i'm an american, and i want my snacks!
one thing that was the same: NO SLEEP. this seems to be an overall film festival theme.
out of over 250 films, i saw only 15. (which was about a 3 film/day average) it's so crazy to have so many films and only 9 days to try and see them! there were some that i wish i had seen, and a couple i wish i hadn't. but here is a list of my top 5 films in order of preference. i recommend them all if you find 'em!
1. THE LUNCHBOX Dabba (2013, India/France/German)
this was the second to last one i saw at 9am on fourth of july morning. an unusual, quite funny romantic film set in present day mumbai that was sweet, heartwarming and lovely as can be about the phenomenon of indian women packing their husbands lunchboxes for work every day. this one left me thinking about it way after it was over. a must see for all romantics at heart.
2. LA JAULA DE ORO (2013, Mexico/Spain)
admittedly this was not on my list, but alex had chosen it and i am so glad i saw this. follows the dramatic journey of three mexican teens and their attempt to cross the US border together to start a new life. it wasn't a feel good movie– the picture it painted was a very real one, and that's what i most appreciated besides the opportunity to further understand the plight of an immigrant. a directoral debut, this screened at cannes last month with great success.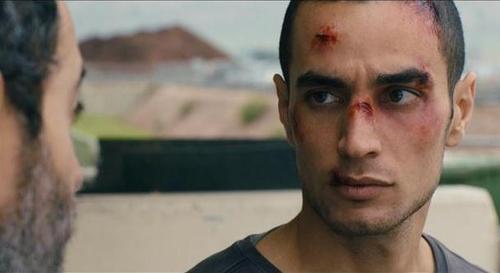 3. OMAR (2013, Palestine)
the very first film we saw, and by happy accident as we were trying to get tickets to another film that had sold out (that we actually saw later and ended up not liking as much as this). this is a drama about three friends living in the occupied palestine territories and their attempt to launch a grass-roots rebellion to free their homeland. the story was perhaps one of my absolute favorites that kept you on the edge of your seat the whole time. also extremely enlightening to see palestinian life and the daily struggles of living near the west bank.
3. SOURCES OF LIFE Quellen des Lebens (2013, Germany)
this was high on my list because i'm a fan of both german cinema and actor moritz bleibtreu (center), and it did not disappoint. at almost three hours long, this is the epic tale of three generations living in post-war germany up until the 1970's. this is also an autobiographical film written by the director and is full of unforgettable characters. great story.
5. BLUEBIRD (2013, USA)
dark and somewhat slow moving, i didn't expect to like this film as much as i did but the incredibly relateable characters and outstanding acting really drove it home. a drama set in rural maine in the winter that tells the tale of a tragic accident and how it affects the characters and the town. this film ended up carrying home a four-way tie for best actress for all the actresses involved. that should say something!