Small Kindnesses in Prague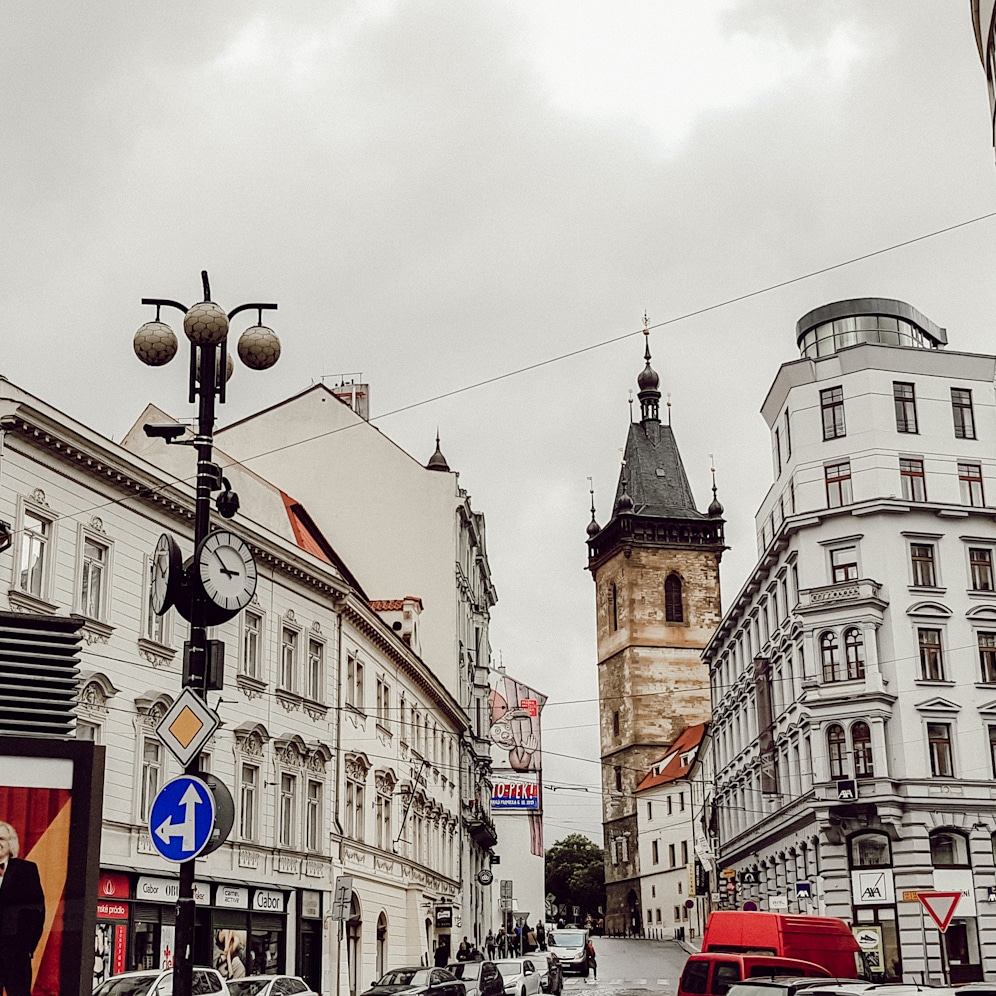 On a day early last month after recently having got back from the States, both of us had enough time to make it to Prague for an appointment and an afternoon of rainy cafe-going.

It was such a cloudy grey day but as all of our business was to take place in Nové Město (New Town), I took it as a great opportunity to poke around a few places I hadn't got around to yet, to stroll down some streets that I had never bothered to take. Even though it wasn't "leisure" that brought me to Prague, I always believe in injecting a bit of leisure in everything.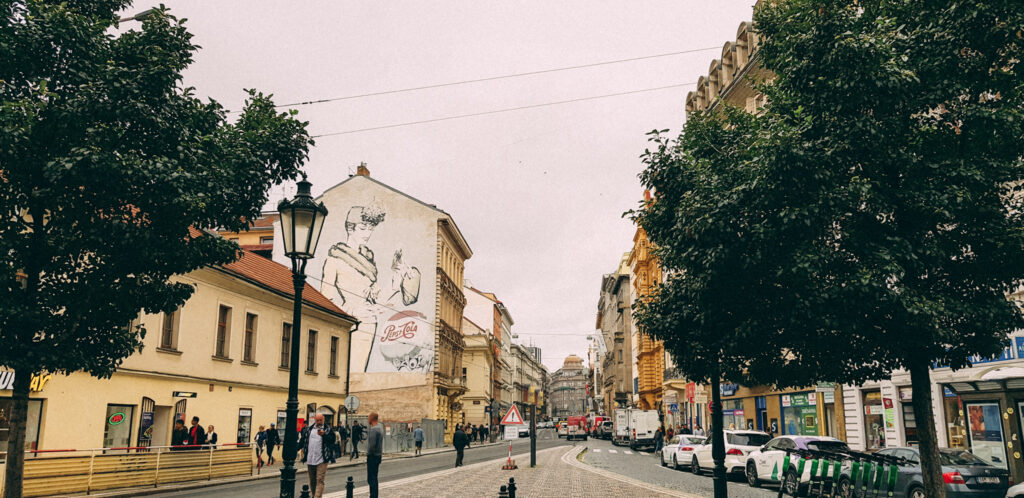 We passed the Jindřišská tower very often that day, running to lunch or back from our appointment. There was a few lunch options in mind, but I didn't mind the trek up to Dlouhá street to finally dine at the chlebíčky (open-faced sandwiches) capital of Prague, Sisters Bistro. Sisters isn't that new; it's been around awhile and it's firmly had its place on many-a-Prague food tour.
Why?
The sandwiches are out of this world.

You walk in and the nice young ladies make it known that they are there to help you choose the best sandwich. I appreciated how unpretentious it felt compared to many similar bistros and cafes of this nature in Prague! We went with a chlebíčky sampler (even though though the smaženka I sampled was amazing and would've been the perfect breakfast food – mental note to make later).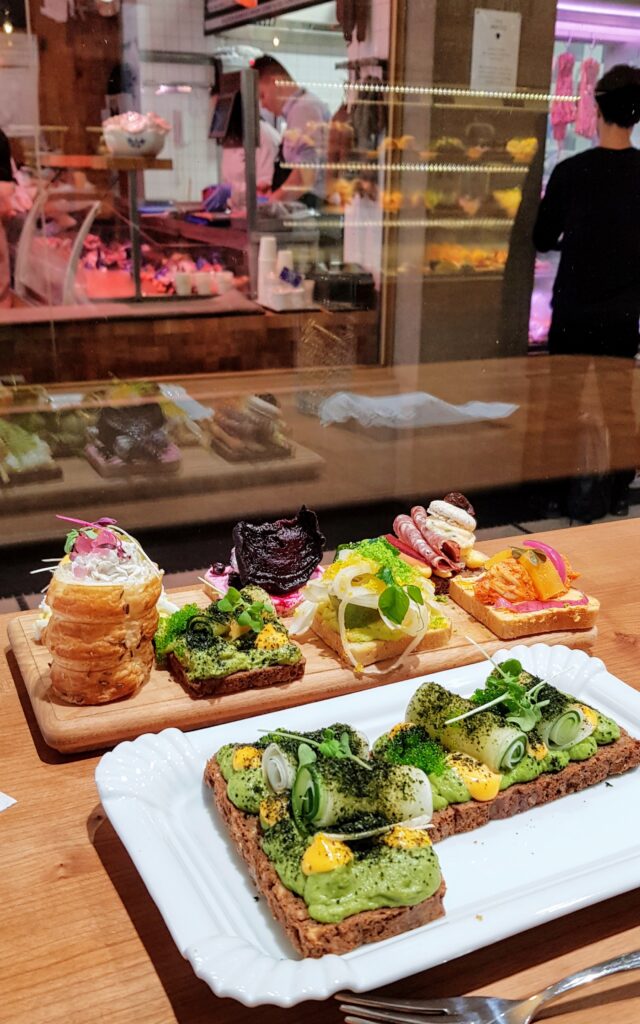 The flavors were beyond ridiculous(ly good). This ain't your grandma's chlebíčky! One of the ones that was featured on our sampler tray was Prague ham with thinly sliced smoked potato and a herbal gelatin cube. The one with salami back there was topped with a maple-syrup flavored macaron… topped with chutney! Unreal! But the one I couldn't even believe was the chicken one (at right) featured a yellow strip of what looked like yellow pepper which turned out to be… get ready for it… a yellow pepper-flavored gelatin strip. Meta. Eat your heart out, Denmark!
Fortunately they had a few good veggie options too, including their "poke" sandwich (pictured at center), which featured no meat or fish that I could see (although there could've been something in the sauce, who knows, this is the Czech Republic).
Although I was mildly disappointed there was no soup on offer to round out the meal (we managed that afterwards around the corner at a happening salad joint), Sisters Bistro is absolutely the perfect light lunch if you're in Central Prague anywhere near Wenceslas Square or the Náměstí Republiky area.
If you didn't live in the Czech Republic, you might not have known what a big part chlebíčky play in, well, general life. They are in every bakery – the perfect snack or light lunch. Reportedly, it was invented by a Czech deli chef named Jan Paukert who was requested to make something for an artist which was filling and that could be eaten with one hand in a few bites. They are the food to serve at parties – I had wondered for years: is it even a party without a tray of open-faced sandwiches? My curiosity led me to do a poll and the results were surprisingly close. The basic verdict: every good Czech gathering should have them, but there would be some foreigner forgiveness should you be so unfortunate as to not feature them at your gathering.
The Czech Republic, it seems, is not alone – I hear this sandwich is pretty big in Poland too, and obviously across Scandinavia.
But back to the day in Prague. Where were we.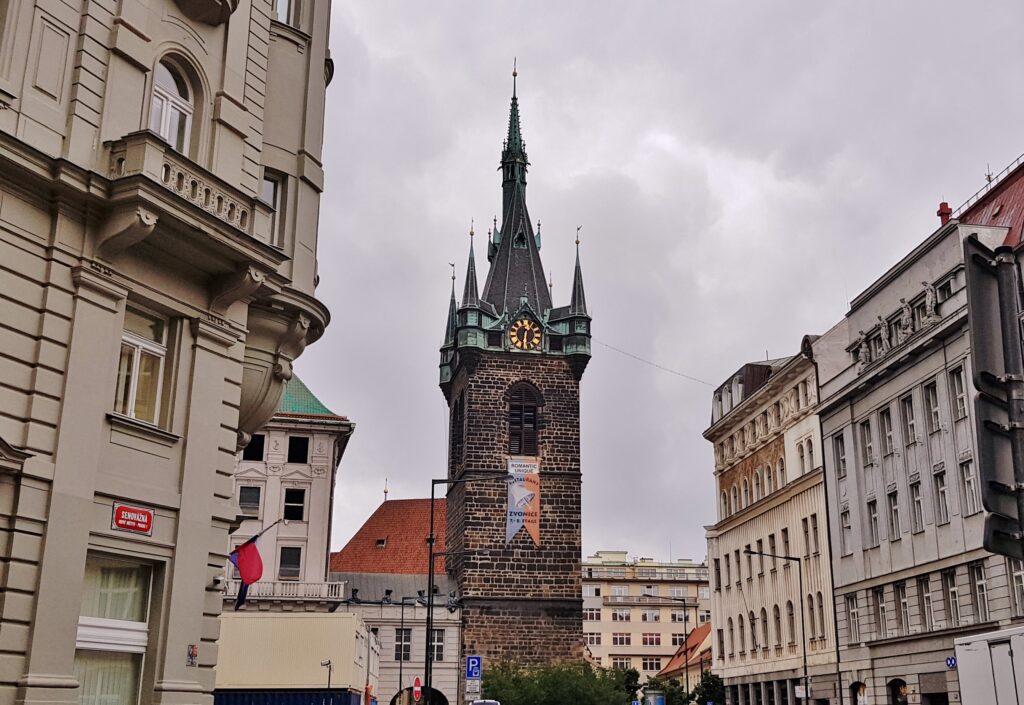 It was then time to go to our appointment, tucked just down Wenceslas Square. As we entered the reception area with our dog (because um, we are basically dog parents and can't just leave him at home), two people hanging out near the desk where like "nononononoooo dogs!" Clearly the receptionist was under some strict orders concerning this, I was not leaving without a fight. Good thing I had studied some Czech the night before, and that one of the people, a building manager probably, turned around to left before I pleaded my case.

"But we don't live here. We have an appointment and we came all the way from Budějovice!"
The kind receptionist finally let us off the hook. "But go quickly! Běž, běž!"
For all the people who complain that Prague is an unfriendly city, there is a steely receptionist who can be charmed by a long-haired dachshund, foreigners trying their best to speak their language, and a smile. I absolutely don't buy this argument anymore. After almost seven years in this country, I can say: the friendliness you receive is equal to the vibe you're putting out there. Sure, I still come across a gruff market seller who, perplexed at my lack of ability to say the right thing just doesn't even know how to deal with me. That is their problem, not mine. But generally this type is few and far between.
For the rest of the rainy afternoon, I amused myself by walking around the old streets bordering Wenceslas Square and poking my head in arcades, galleries and gardens to see what treasures of Ye Olde Prague can still be found. Turns out, a lot! Ducking into the Světozor building shows you typical Cold War-era Prague design, a famous cukrárna, and if you keep walking, church gardens hiding in back! Alex grabbed a quick presso and a delicious choco-croissant at Myšák — I already had had my coffee for the afternoon but I so wished I waited! Much lovelier than hanging out at the Starbucks down the street, that is for certain, even though the friendly baristas there even brought out a water bowl for Ferda, unasked.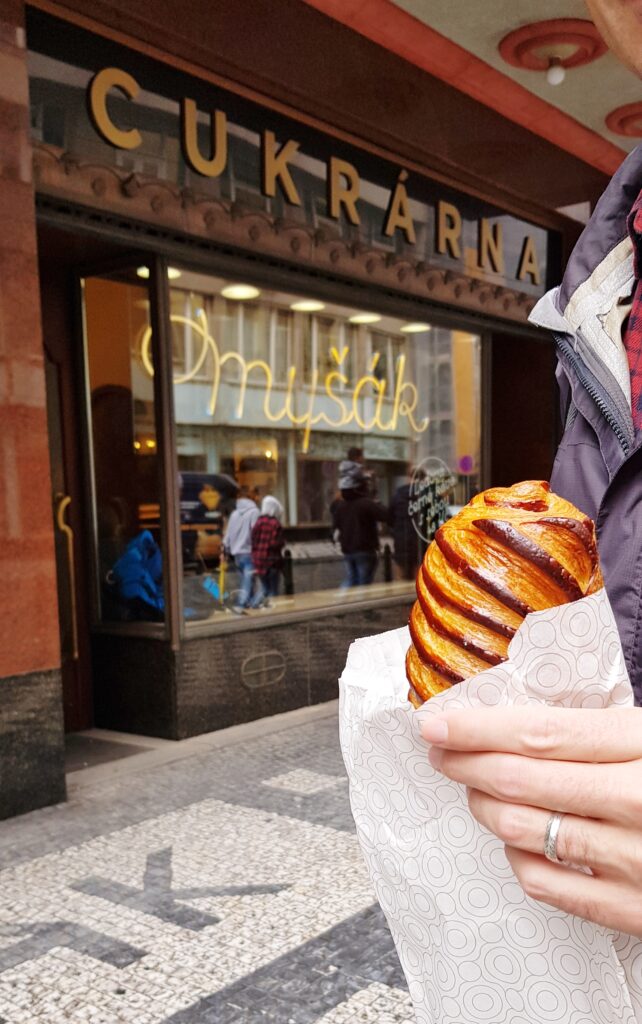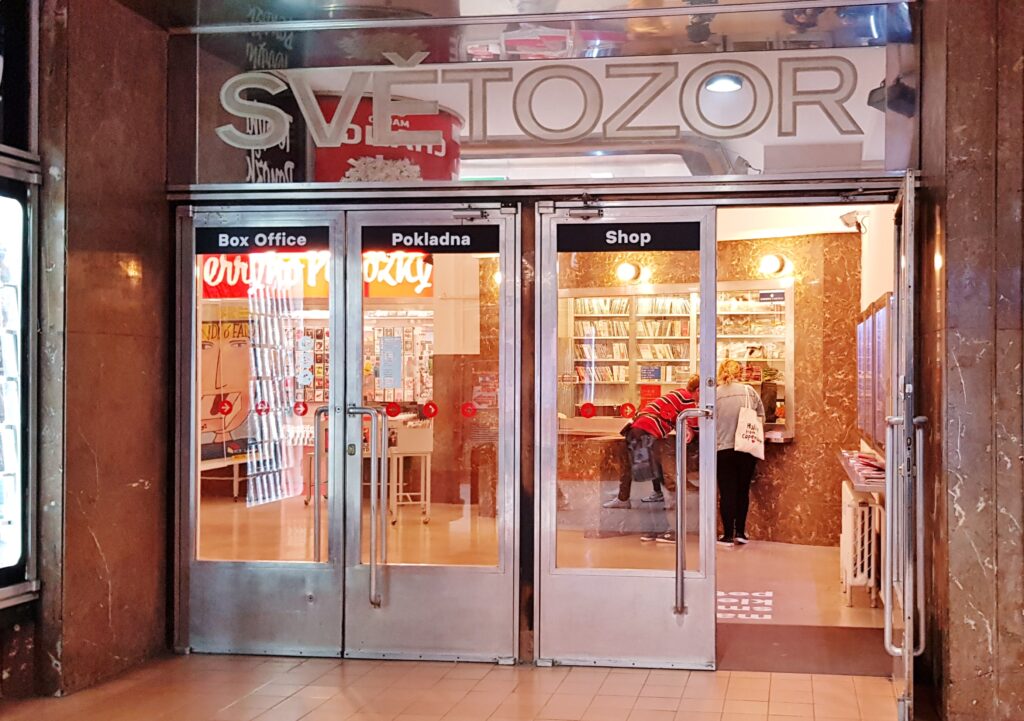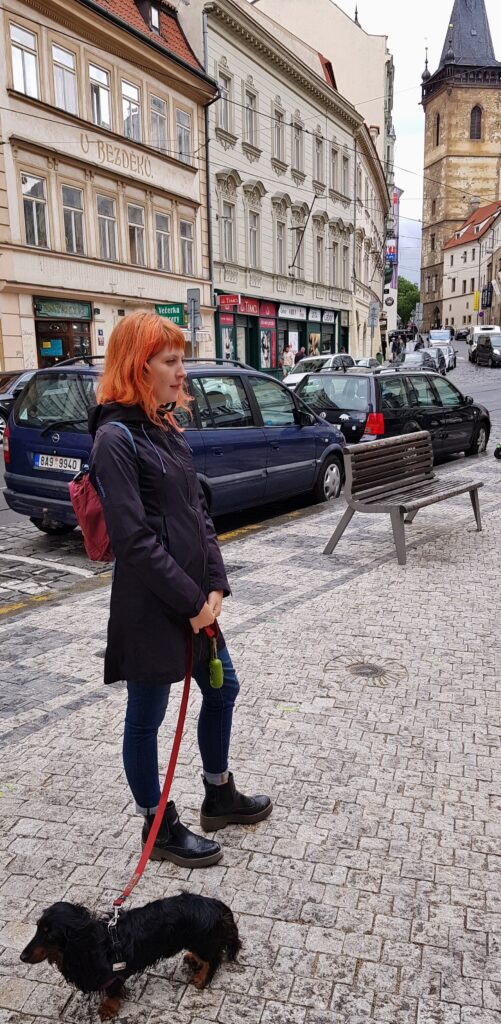 Have you ever mistaken a place for unfriendly and changed your mind? (Getting pushed by a babička on the tram seven years ago can't color a whole city and its people, I have to admit) Or you can just tell me all of the weird good or bad things that have ever happened to you in Prague. We can talk about that, too.