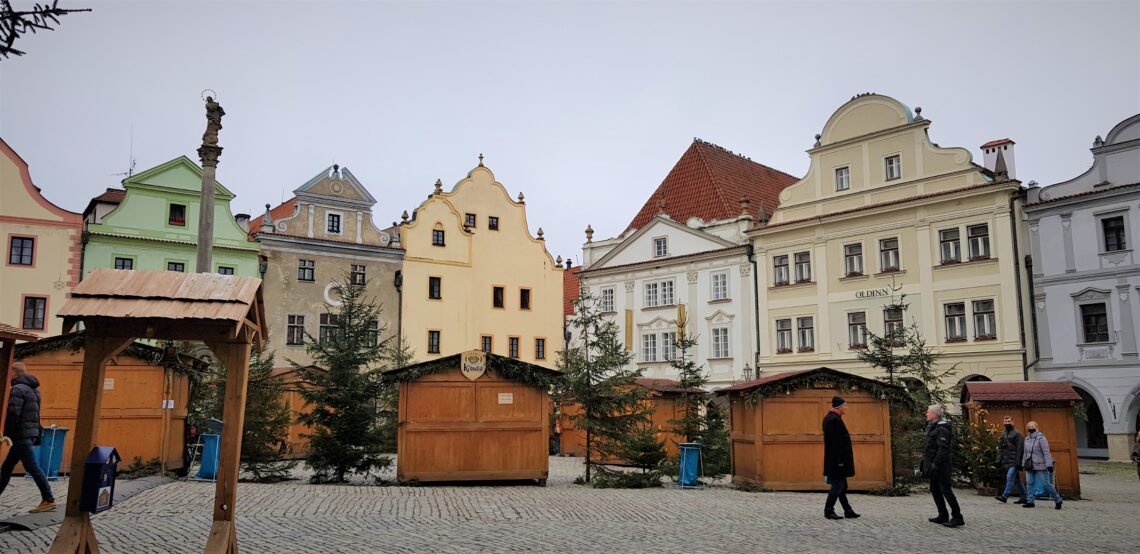 A Time of Simple Holidays
Well, it's hard to write anything without a computer, isn't it? Fortunately I feel like I have an office again, a little home again, and my brain can sort of organize itself properly. (Note: Try to avoid ever having to purchase a new computer in mid-December. It is not the time.)
Here we are in December, finally at the tail end of 2020. Funny about this year. As I've now been quite settled in České Budějovice for nearly eight years and counting, there isn't a lot of expat stuff or cultural differences that I feel compelled to write about. Most of it is no longer so novel. Add to that the thrill ride of going on very few adventures over the past year – there goes all of my favorite topics. I'm sure the year-end recap is going to be the opposite of whatever a doozy is, but do stay tuned anyway.
Celebrating Christmas in our COVID year has been odd. Much of what gives the Christmas season its sheen and gloss have largely been absent this year, as I'm sure you've noticed, fellow human living in our Coronaworld. Strangely, what I found I missed the most out of everything wasn't necessarily punch stand visits – it was the music. The sound of the season. The Czech koledy (carols) drifting out from live musicians in the square, making our city bright and merry. A few weeks ago I remembered, oh yeah, I'm in a choir. As singing in groups was actually outright banned in the beginning of October, I think I've had maybe three months of rehearsals this entire year. Usually this would be a beautiful source of favorite Czech carols to stoke the festive fire of the season in your heart.
Despite all of the changes, it has been a merry one, and about to get even more joyful now. There's been enchanting guerilla theater performances in the park, singers, guitarists and horn players along Krajinska street. Most markets were cancelled — I managed one (optimistically I pronounced it the "first of the season", how cute) before stalls and stands selling food and drink were shut down. People are still celebrating this year with very close friends or relations, or just staying home.
The snow we had at the very beginning of the month was a very merry way to start us off on the right foot! I am so thankful for that, and hopeful that we'll see some snow again very soon – perhaps even Christmas Day? (fingers crossed) Having only re-watched The Grinch (Jim Carrey version – it's better than you remember) a couple days ago, I sometimes feel like we are like little Whos in Whoville this year – something as simple as snow could jolt our Christmas spirit back to life.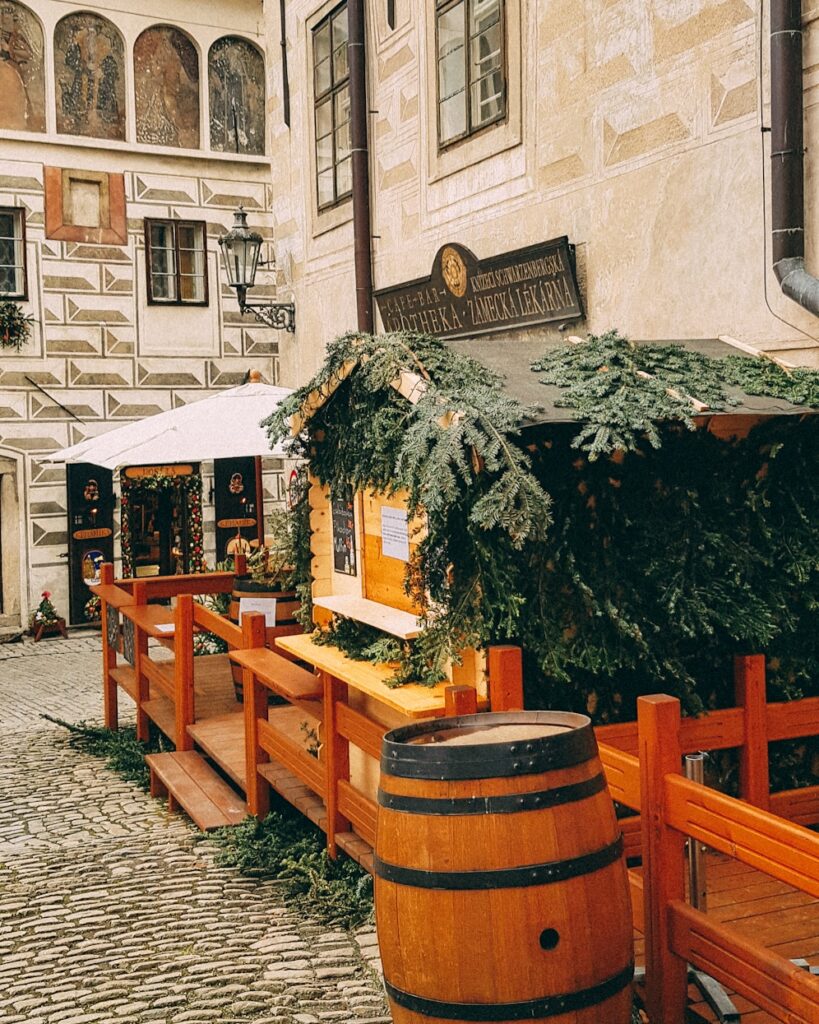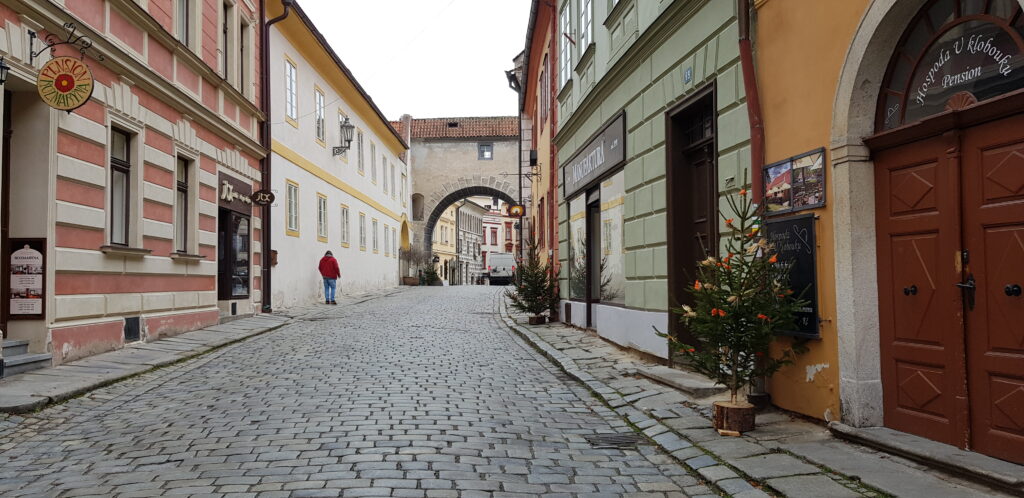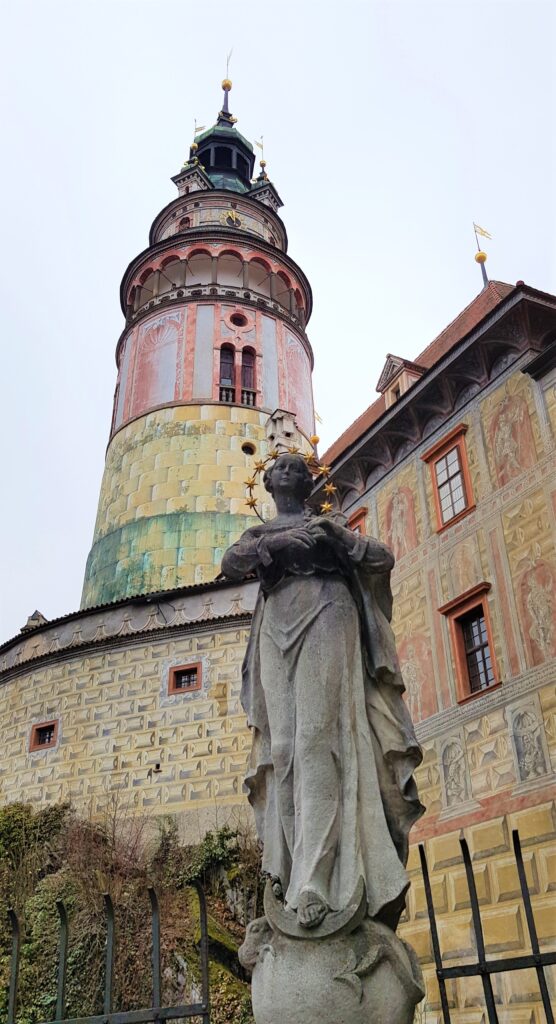 A little while ago, during the ever so brief Level 3 period in mid-December. we skipped over to see how our neighbors in Cesky Krumlov were getting on at the end of the year. The market in the main square there was nearly shut – only a few non-food stands operating – and it was the first time I had ever been in Krumlov without the tourists! Only Czechs or Czech residents were there last Saturday, and not even very many of them. Restaurants were largely empty. We paid our favorite restaurant Laibon a visit, and so glad we did – we helped the owner, David, move a bench out of storage to sit on the terrace under the grey sky and the rushing Vltava, sipping fruit teas and nibbling warming curry and soups. It was so wonderful to catch up with our old friend – it's sad to see favorite places struggling to stay in business, fortunately he had foreseen the imminent closure and had saved up some money from our relatively normal summer season for these hard times.
A great reminder to continue to order food (even by delivery) from your favorites right now. I've been here every month of the year and never seen the town as empty as a December Saturday in PES Level 3. I do love how bedecked for the holidays it always is!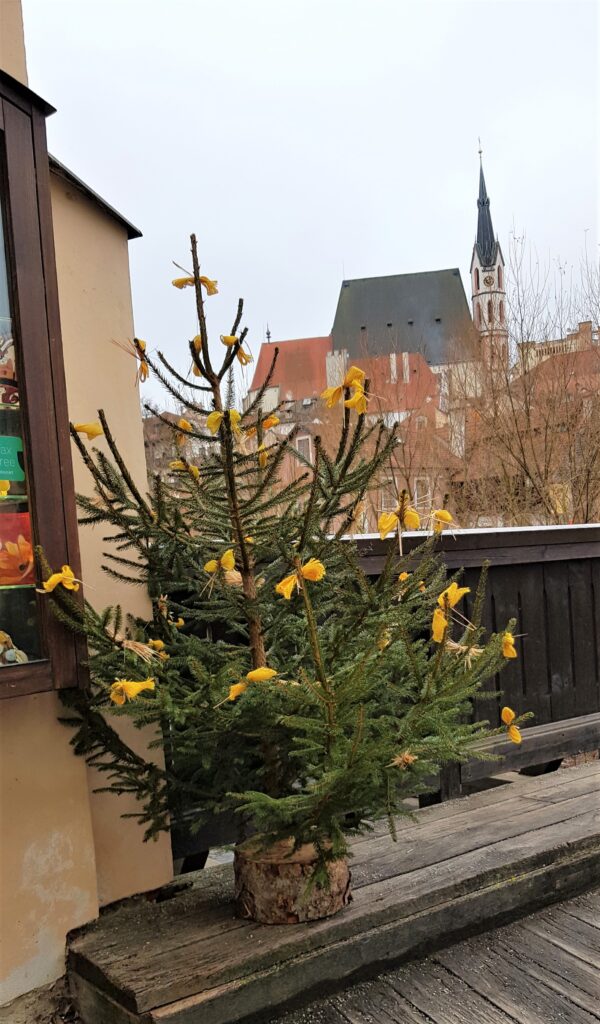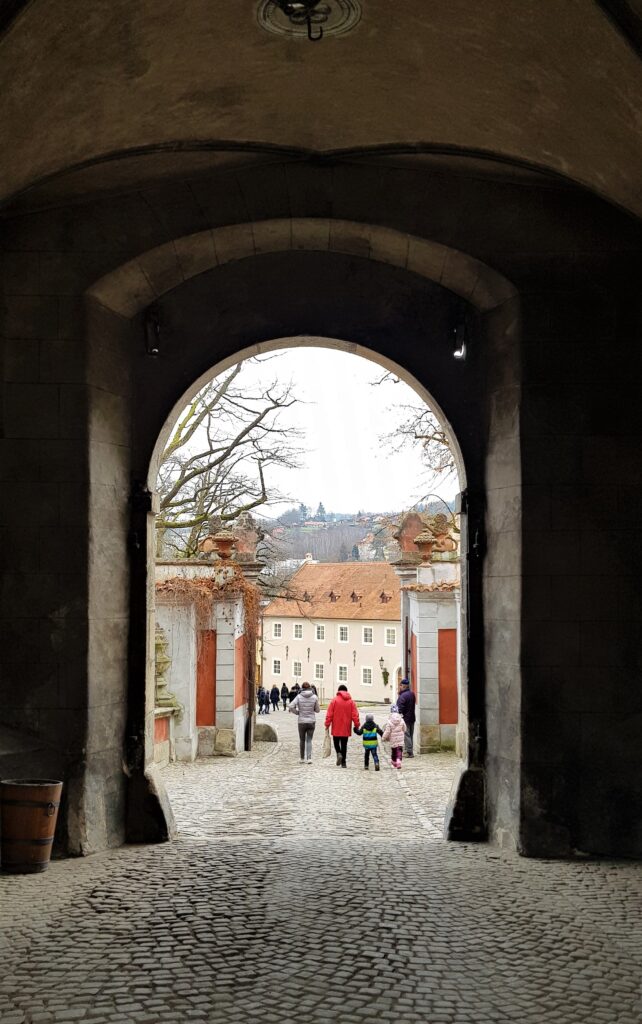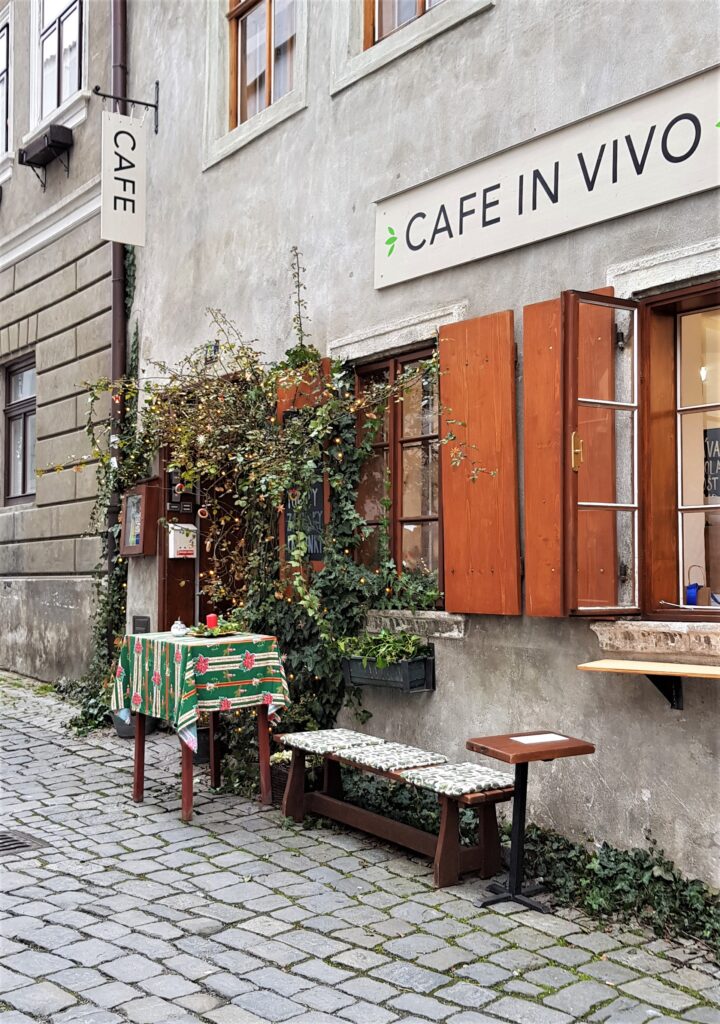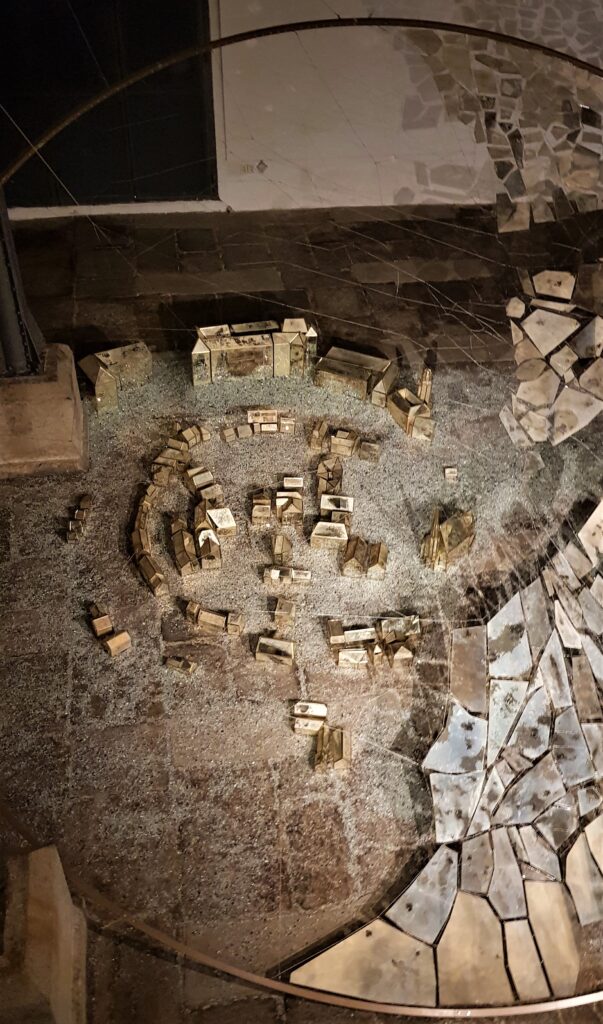 It was also the last weekend that museums and galleries were open as we entered level four again today, and glad we were able to see the wondrous exhibit at the Egon Schiele Art Centrum – all three artists with some kind of connection to Krumlov, it was a lot of fun and left us full of inspiration. My favorite piece was definitely this show-stopper (above, surreptitiously snapped) from Japanese artist Tets Ohnari who had spent a lot of time studying or doing art residencies in the Czech Republic and is fascinated by how the buildings in Krumlov look huddled together, snakelike. It is a fascinating place to be, this little town. And the museum, for that matter! There were perhaps two other patrons we passed during our whole two hours there – it was freezing in the dead of December, but we really had the whole space to ourself. If you're local, I definitely recommend checking out the exhibition once the museum reopens at Level 3 again.
Chatting (masked-up, of course) with the other shopkeepers and fine folks in this city always reminds me of how at home I feel there. For a town so completely dependent on foreign tourism, this will be a huge test. I hope that somehow, what is taken away from this is that these beloved towns can be for the Czech people again, not only for foreigners. That the lovely lady who works at Rosmarinus herbal shop and lives just around the corner doesn't have to drive all the way out of the city just to go to a hypermarket for groceries, as it seems all there is in the center are expensive potraviny.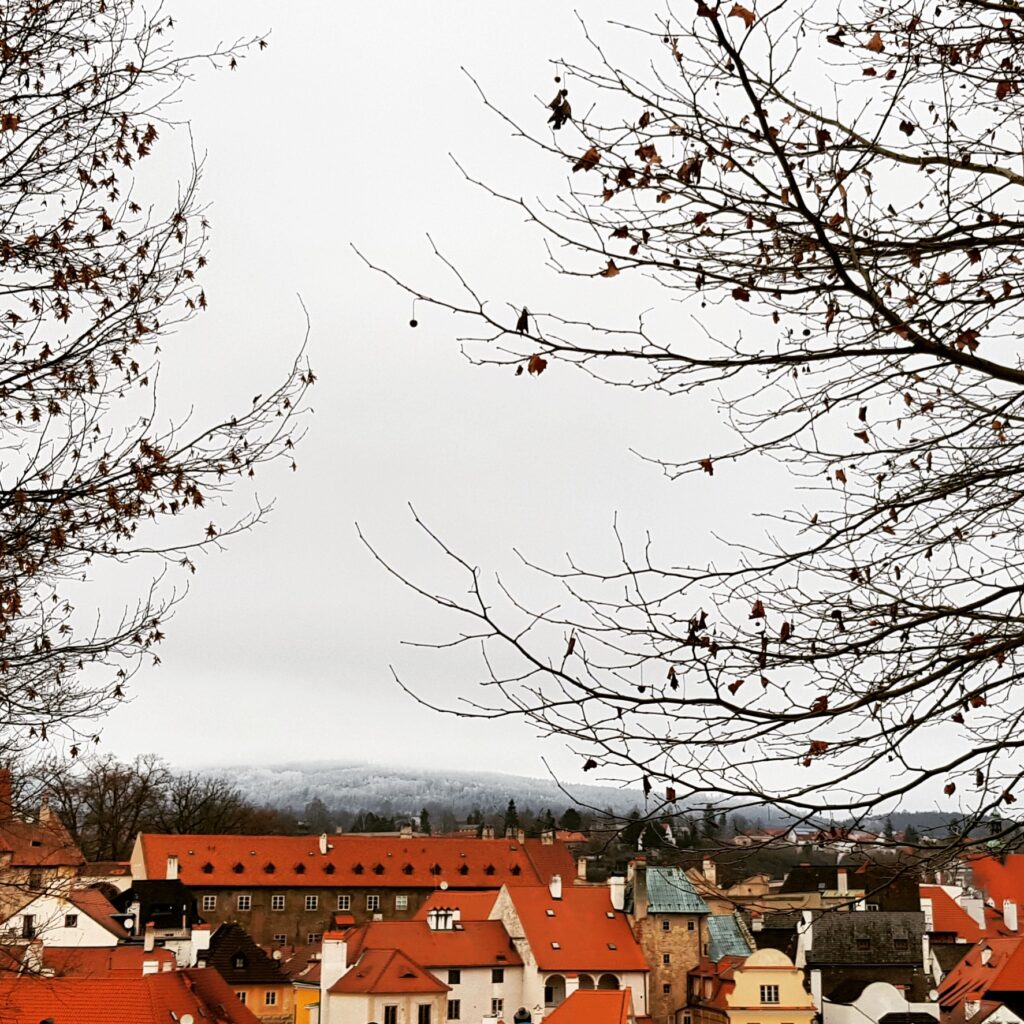 As for now, I am so perfectly content to stay at home for the holidays, even though it wasn't my first (or even second) wish. Christmas holidays at home are actually incredibly pleasant, this time with much fewer social engagements, but after the year we've had, I only wish to give myself permission just to let go and be. I'm almost through reading a fantastic book called Wintering: The Power of Rest and Retreat by Katherine May and it is just the kind of thing I needed to read right now. Looking forward to cracking open Dickens' The Christmas Carol later tonight, perhaps, if we have time between the Scottish Ballet's presentation of The Secret Theatre. Also copious mugs of spicy masala chai (recipe soonish!) and eggnog.
Happy Yuletide and Christmas to all celebrating! And special wishes and thoughts to those who wish they were with their friends, loved ones or elsewhere this year. All we can do is show up to the present moment and count our blessings. Leaving you with this absolutely beautiful modern Czech Christmas song, Půlnoční by Václav Neckář. Stay healthy and safe. Lots of love.
ps, Some past "holidays at home" inspiration from 2016 & 2018.