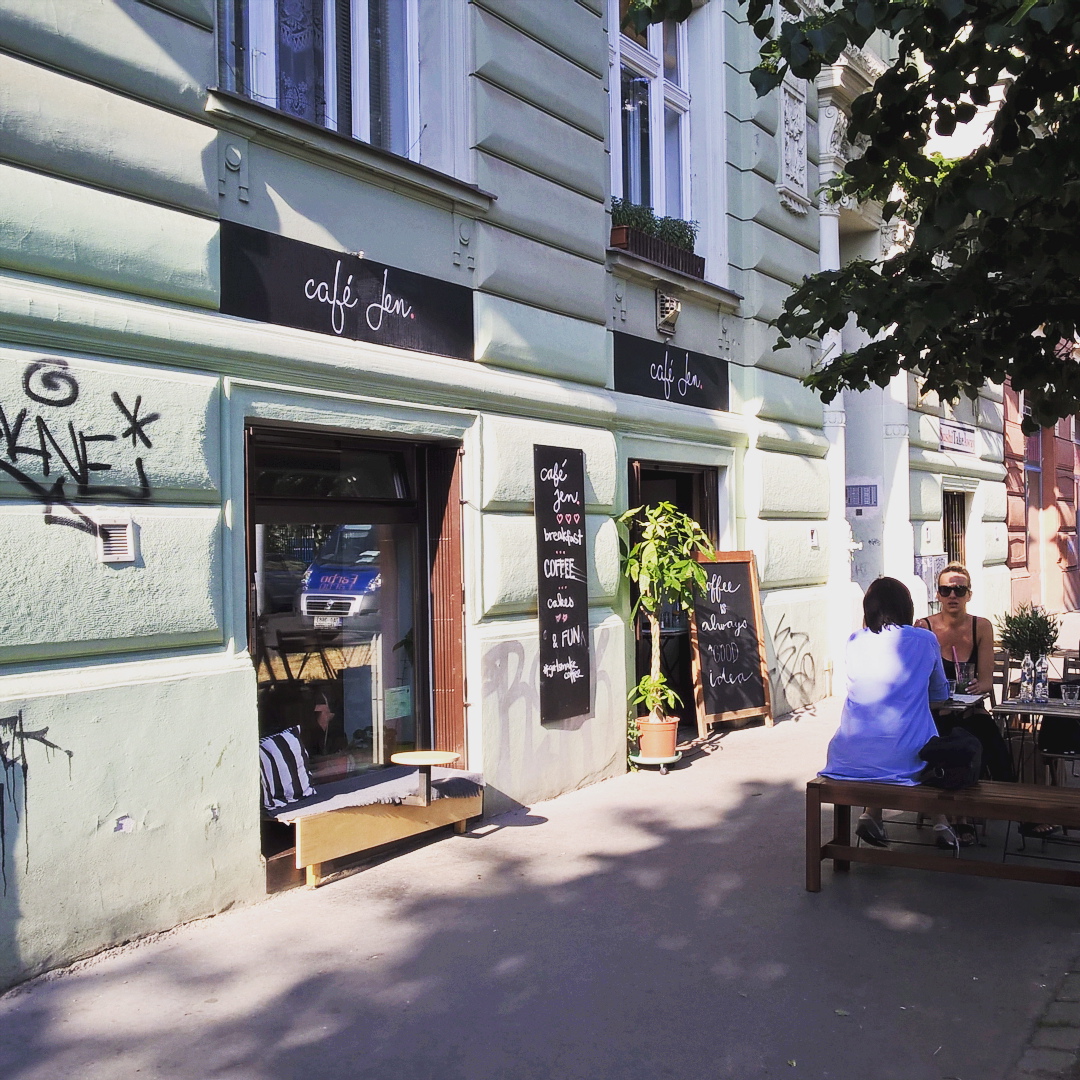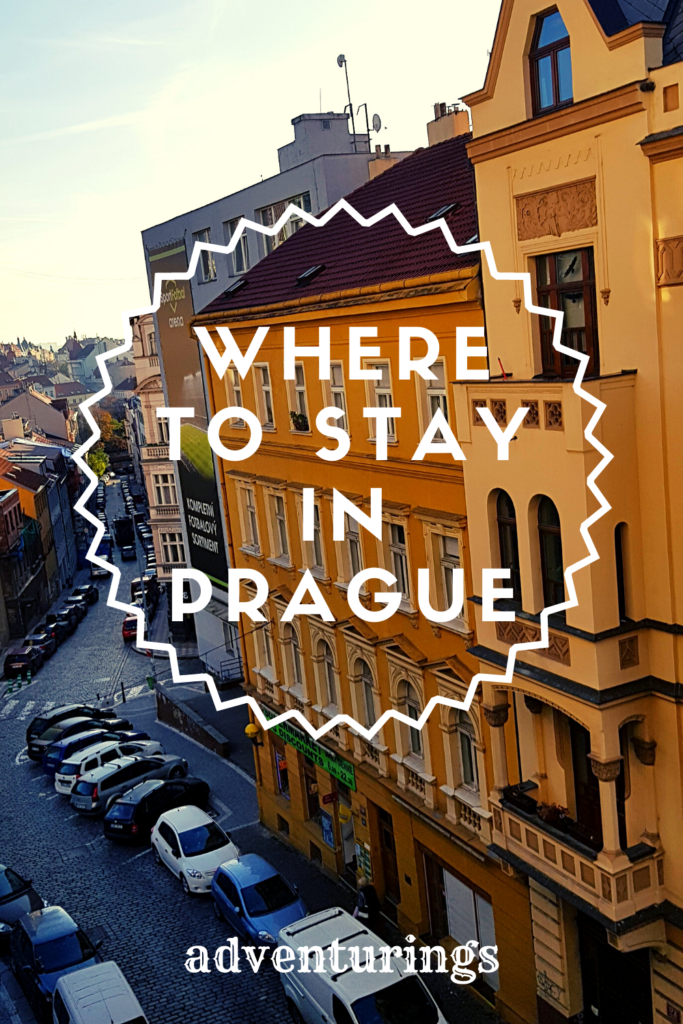 You may know that accommodations are now open again all over the Czech Republic – we've even had our first overnight stay (in eight months!!) in nearby Český Krumlov last week which was just luscious. In the spirit of the re-opening of travel, I thought I'd put together this list of recommendable hostels and hotels I've stayed in on my many stays in Prague, from super budget to splurge plus some details about why you might want to stay in that specific neighborhood, whether it's your first time in Prague or tenth.
HOTELS
The Archibald (Kampa Island, Mala Strana, Prague 1) $$$
What I like about the Archibald is that it is situated on Kampa Island. If you don't know, it's a tiny island which is considered part of Malá Strana (on the left bank of the river – widely regarded as the most beautiful area in Prague), just off of Charles Bridge. In fact, if you jumped off of Charles Bridge near the end, you'd land on Kampa. It's such a quiet, picturesque, and centrally-located spot that I would whole-heartedly recommend it to anyone who wanted to be away from the hustle and bustle of downtown city living yet wants to be near all the romantic areas with a killer view of the Charles Bridge. The hotel is located in Kampa's little "downtown" – just a small row of other hotels, restaurants and cafes which give it a homey, neighborhood feeling. The Kampa Art Museum is also located in the area as well is a lovely riverside park and some weird Černý babies.
This hotel's got tasteful and spacious rooms, housed in a typical old old Czech building (well, it's Prague) and I deeply enjoyed the rich breakfasts in its restaurant – additionally, the atmosphere of the typical Czech brick arched ceilings can't be beat. The staff is wonderful.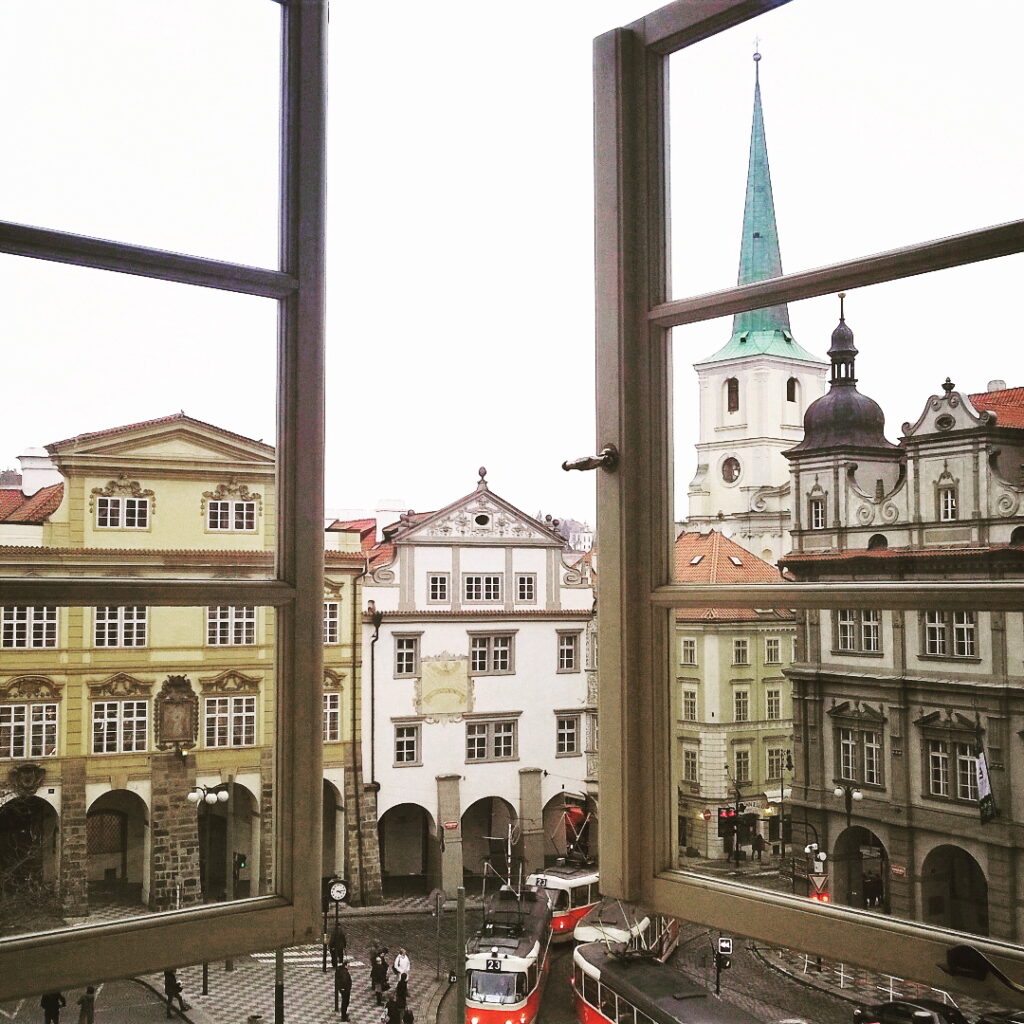 The Nicholas Hotel Residence (Mala Strana, Prague 1) $$$
If you're planning a romantic weekend in Prague with your partner, or maybe a trip with your parents and you'd like a place with a little something extra to make it all sparkle, The Nicholas is absolutely your place. The unbelievable location right on Malostranské náměstí (Lesser Quarter Square) in the heart of Malá Strana (the aforementioned most romantic and beautiful area of Prague) is a stunner — your views will look over the pretty square and you will ooh and ahh. I was presented with a basket of goodies and wine upon arrival and personal greeting from the manager and the staff — bar none, the best staff experience I've ever had in Prague… and there's been a lot of good ones!
The room had a lofted bed above a living room area with a kitchenette (too cool!) and this feature which I've never yet experienced before: the breakfast is set out in the hall right outside the room, and you get to go out and take what you want, then bring it in and dine in your room at your table! So private, so cozy, but you still don't have to cook.
I surely wouldn't hesitate to book here again – this is without a doubt my favorite property in Malá Strana (minutes on foot from Charles Bridge and Prague Castle) and the best choice for a fabulous first-time visit to Prague. Pet friendly.
Hotel Tyl (I.P. Pavlova, Prague 2) $
This central hotel is just off of I.P. Pavlova in the heart of busy Nové Město (New Town) and across the street from my favorite Starbucks in town, and down the street for my top recommendation for Czech food and beer. We stayed here because we wanted somewhere nice, dog-friendly, within walking distance of everything, but also budget friendly.
Our suite was really beautiful! The room was one of the biggest I've ever stayed in in Prague, decorated with antique furniture, but yet seemed squeaky clean down to the shiny carpet. on the top floor, the second bed of our triple room was in its own private bedroom, which is ideal when traveling with someone that either wants some space to themselves or is recovering from jet lag and would like some separation for more sleep.
The breakfast was great too — I highly recommend this hotel and look forward to more stays with them when I want to be within walking distance to all the restaurants, cafes, concert venues and shopping that Nové Město has to offer. Pet friendly.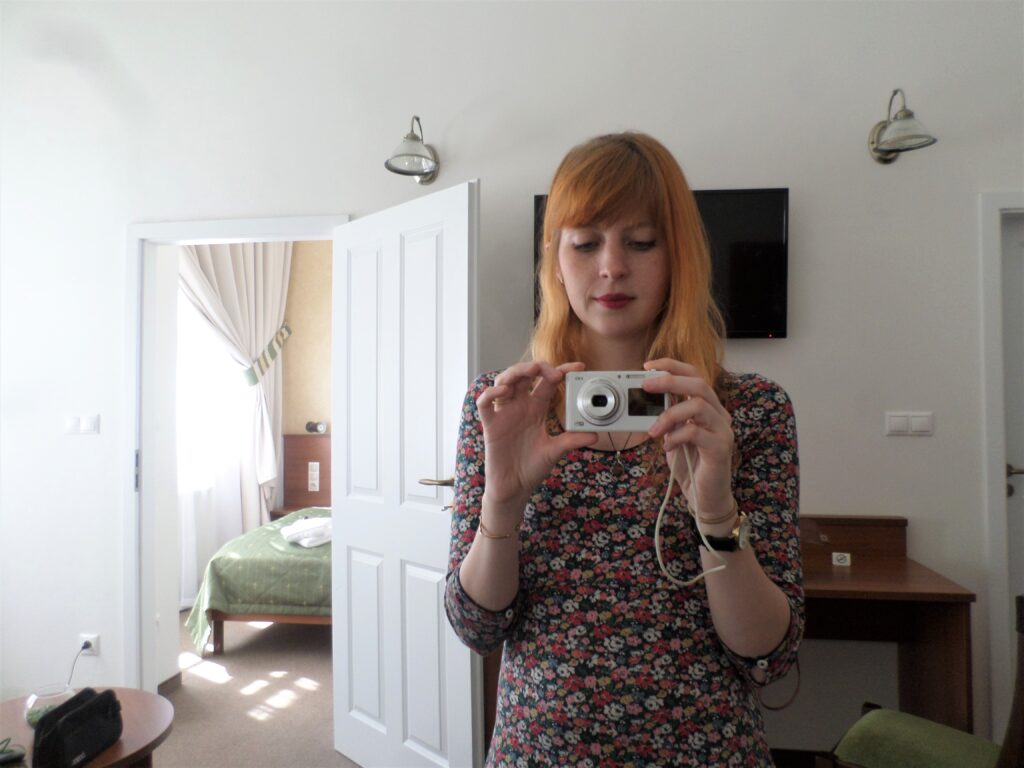 Hotel U Svateho Jana (St. John) (Charles Square, Prague 2) $$
I very fondly recall my stay at this property, located a stone's throw from Charles Square (Karlovo náměstí) near the Botanical Garden and Charles University campus. This is an area I had never had a reason to venture down to, and boy, was it lovely in the spring time! The staff were so kind and friendly (going above and beyond with tips I didn't even know I wanted and great conversation) and the rooms were quiet, cool, spacious and full of amenities. I didn't realize upon booking that we'd get an entire separate living room area, but voila. It felt like a million bucks for only about €100 per night.
I always try to see about staying at Svateho Jana when I can — unless they are booked up, which they often are.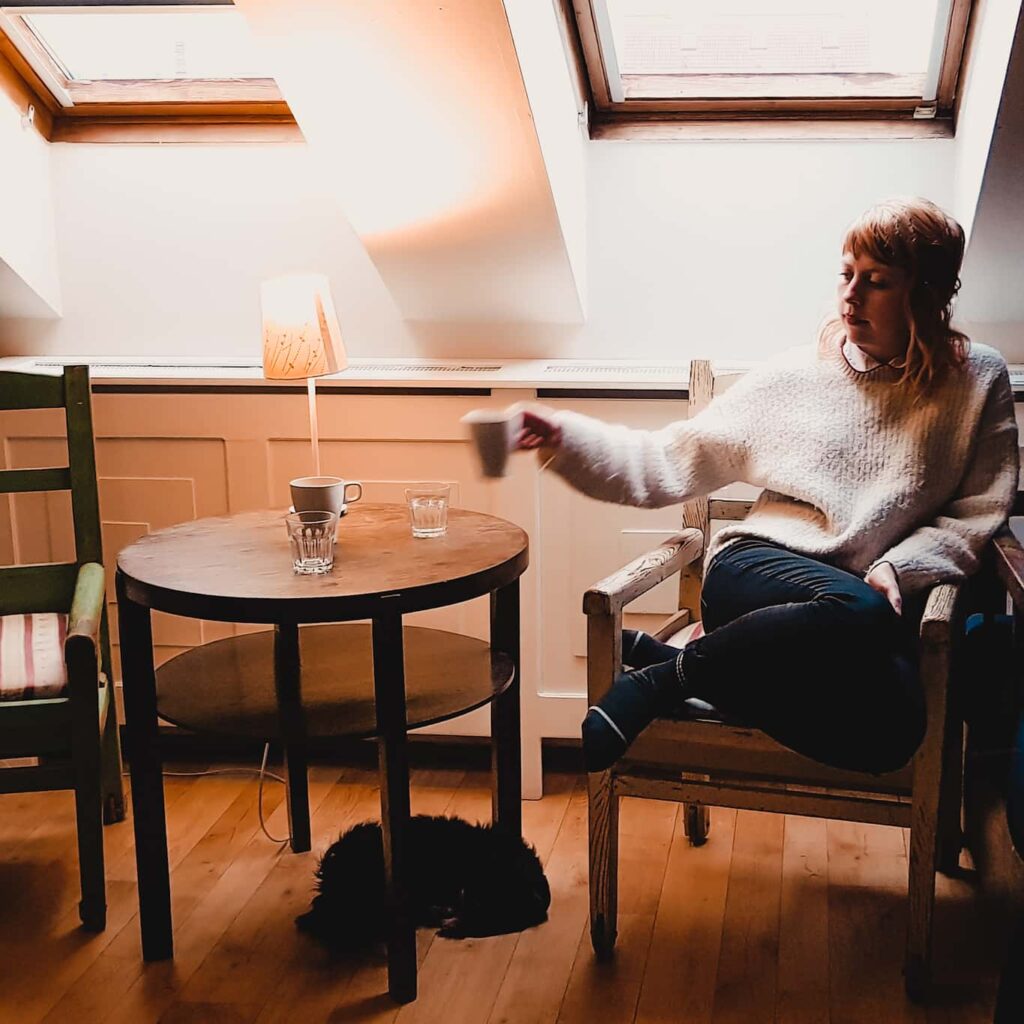 HOSTELS
Sir Toby's Hostel (Eastern Holešovice, Prague 7) $
This is a fun hostel with a history (I believe they bill themselves as one of the first in Prague?) with really lovely staff and a decent breakfast, lively basement pub and a sweet little garden/courtyard area out back that is really nice in the summer. The private rooms are really affordable, simple and quite beautiful in an old-fashioned way and I enjoy staying here. The eastern Holešovice location, however, is quite out of the way of all the Prague sights, but you will love staying here if: 1) You don't mind getting to know a new-to-you area of Prague better and are okay hanging out mostly in that area, 2) You're going to the fantastic nearby DOX Museum, a concert or festival at Výstaviště, a convention at the Pražská tržnice (Prague Market complex) or the zoo or botanical garden in Troja which are within spitting distance and easily accessible from the Holešovice train station.
The tram connections are pretty good from there and run frequently (stop: Delnicka), but it's not well connected by metro. When you arrive, get off at the Prague-Holešovice train station instead of Hlavní nádraží (Central Station) to save time. Pet friendly.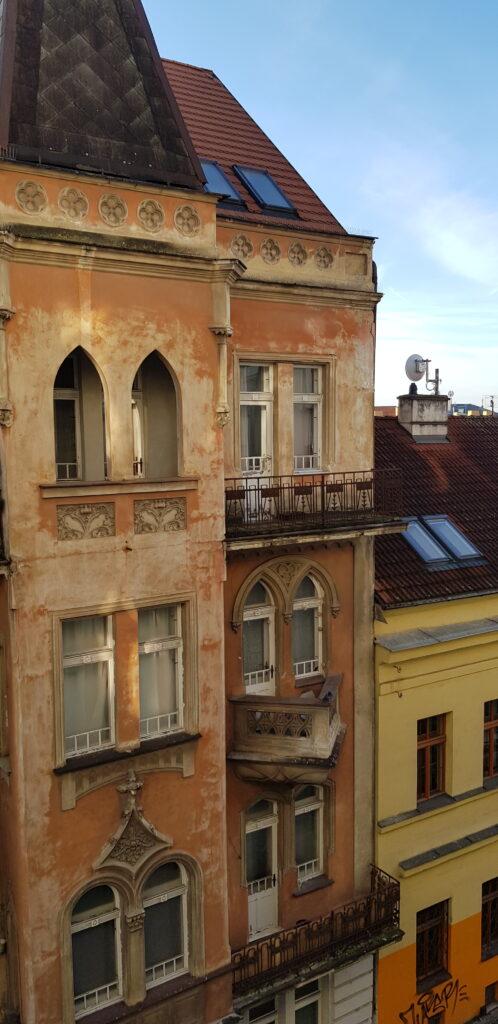 Czech Inn (Vinohrady-Vršovice, Prague 10) $$
This is a sweet place! A double private room with ensuite bathrooms runs about 2,300kc a night which I think is a bit spendy for Prague, honestly, but the location at the top of Krymska, where Vinohrady meets Vršovice is full of local interest (lots of cool places around, not touristy) while still within striking distance on foot to many great Prague sights in New Town. The café there is a really nice place to chill and enjoy a cappuccino, and I really enjoy the breakfast in the basement. Price could be cheaper, but for a Vinohrady-Vršovice base or getting to know this area more, it really can't be beat. There are so many fantastic restaurants in the area and fun bars and cafes, bakeries, cider bars, and hip cinemas to check out – all this within walking distance of New Town sights: you won't be bored. May be pet friendly – confirm with reception.
Hotel Leon (Near Prague-Holešovice Train Station, Prague 7)
This is one of the cheapest private rooms I could find in Prague (I paid only €41!), located a stone's throw away from the Holešovice train station at Ortenovo náměstí, I can recommend this very budget-conscious and friendly hotel and hostel. It's pretty bare bones, but if you're in Prague for a night and just need a place to lay your head, it fits the bill just fine. Close to Pražská tržnice, a block from the DOX Museum, near some nice brunch or lunch options, the staff is very friendly and it's cheeeap. Eastern Holešovice seems a bit isolated but if you don't mind, the transport connections are actually pretty good. I would prefer the similarly located Sir Toby's if you don't mind paying a little bit more and don't mind more of a lively hostel vibe. Pet friendly.
We're actually headed Prague-wards this weekend and I am overjoyed to spend some quality time in the city for the first time since the pandemic. This page will be updated with new recommendations or edits as necessary. If you're headed to Prague too, I wish you a lovely time and happy planning!
PS, That time that I wrote a huge list of all my favorite places to go / eat / see / do in Prague.