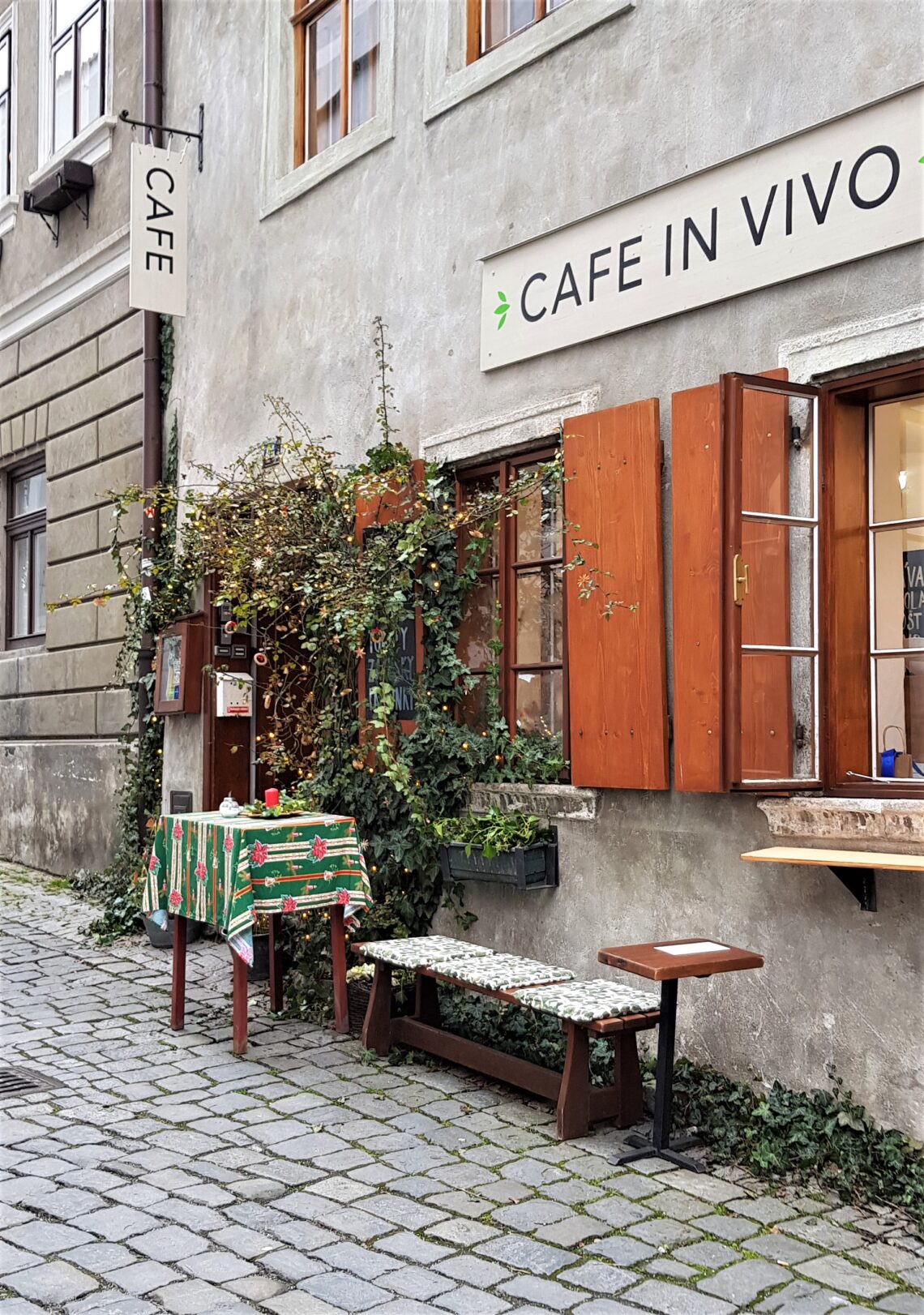 Can Český Krumlov Survive the Pandemic?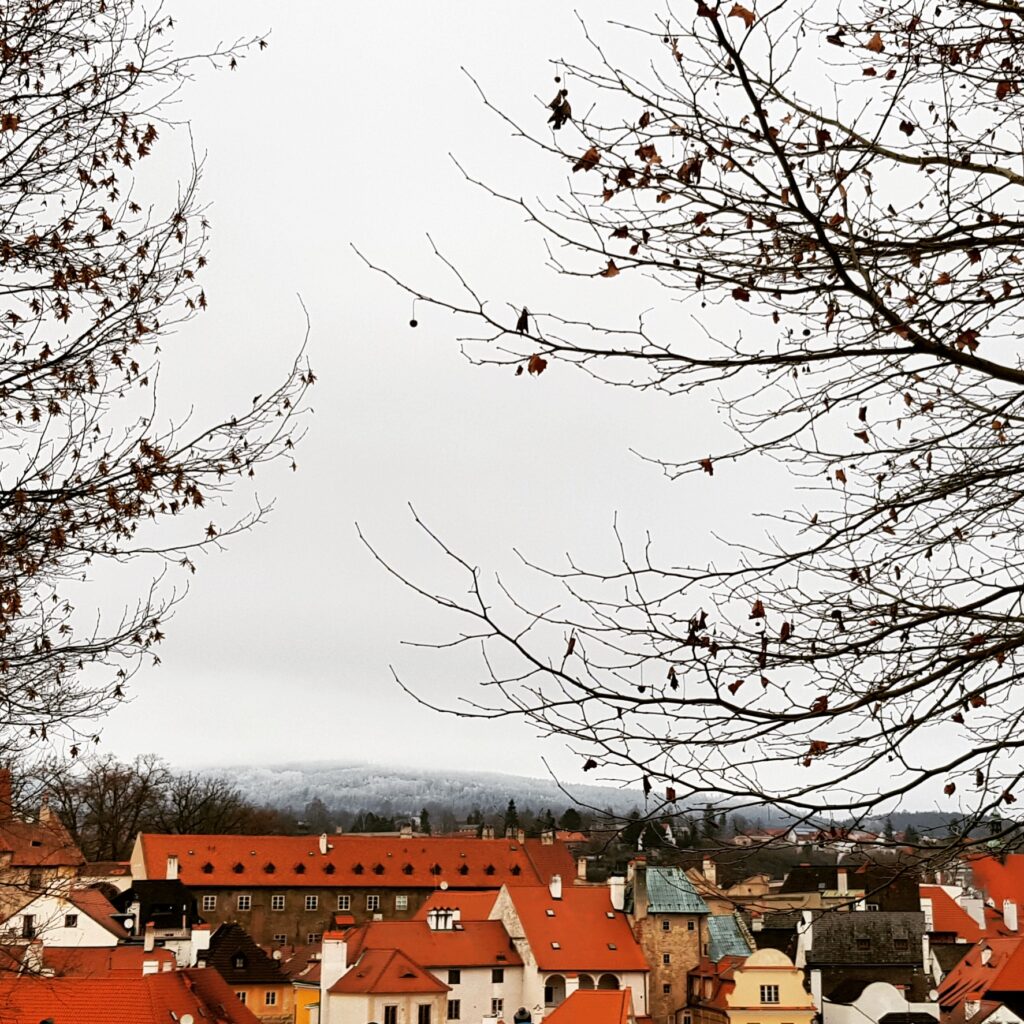 Not sure if I was just in a Really Good Mood or if the pandemic is (kinda, sorta, maybe) winding down enough to actually ponder these thoughts, but two years out, I was just thinking about those early days of the pandemic and, dare I say it, even feeling a little nostalgic?
I know it's kind of terrible and it all happened because of a contagious virus, but there are some things about that spring 2020 that for some reason, I look fondly upon.
The initial figuring out how you're still going to do your job remotely thing and that, like, four days of not working I had.
The eerie way almost nobody was out and about. The daily sirens announcing new measures.
The way everyone banded together to save local businesses, the arts. Ordering delivery from your favorite cafe and someone who works there running it personally to your door. All of the incredible live streaming theater and music performances (although I did once swear off live streaming concerts "forever").
Online gatherings or happy hours with friends that you would normally see in person.
The way it brought the people in your household closer together (and hopefully not further apart!).
Playing a lot of Animal Crossing: New Horizons.
Sitting in a chair next to a sunny window because sitting on park benches were discouraged and it was just starting to get really nice out.
Both of our pandemic birthdays (as we are both spring babies here) actually feeling really special and cool and not weird or lonely.
I've been thinking of the more memorable parts of being in lockdown lately, and a stark reminder of the effects of the pandemic can especially be seen when one goes to nearby Český Krumlov. We like to go there every so often when the need for a nice, sweet little afternoon to somewhere not so far away calls. The past two times I've visited it was so plain to see how much the town has changed in two years time. It is, of course, the second-most visited place in the Czech Republic besides Prague and you can see clearly how much they have come to depend on tourism over the past twenty years. Some days were downright madness, with tour groups left and right and barely a free space or moment to yourself in the crowded center (unless, of course, you know where to look!).
When we were there earlier this month, it was busier than I imagined with individual tourists, but gone are the days of large groups.
We went to enjoy a wintery day, take some photos and climb Křížový vrch hill, on top of which you'll find an absolutely beautiful and very well-taken care of chapel. When we got to the top of the hill, I went in alone and took in the quiet, calm, lit a candle for relatives of mine that have passed, had a small cup of tea. It was a really special experience and so well-kept for passing pilgrims that it was touching, really. It started to snow heavily as soon as we started our descent back into the town.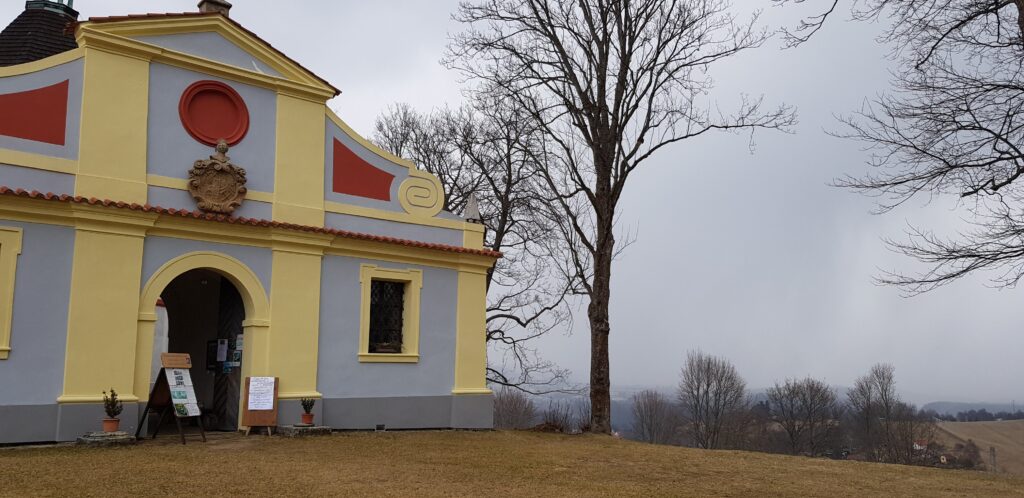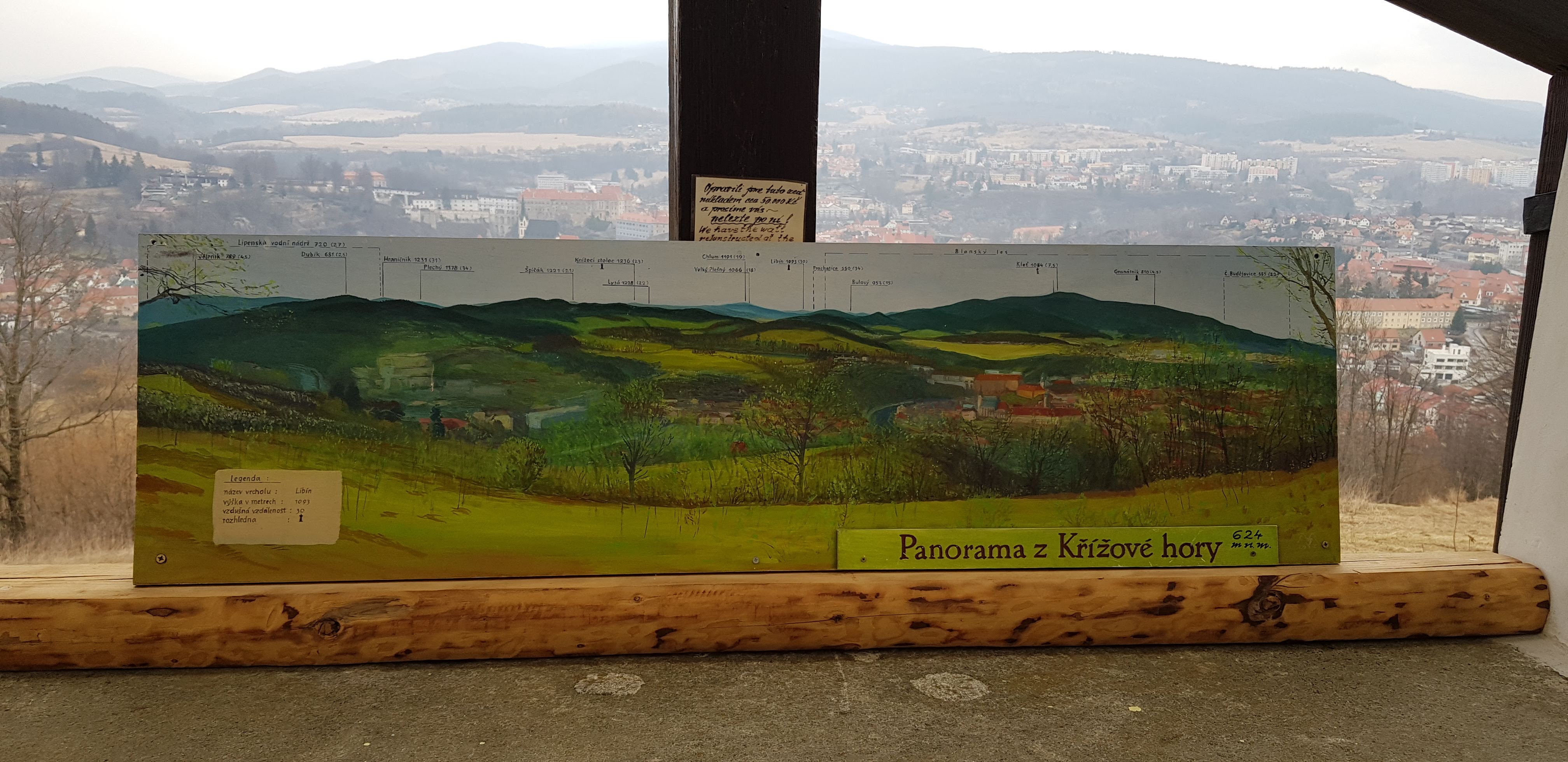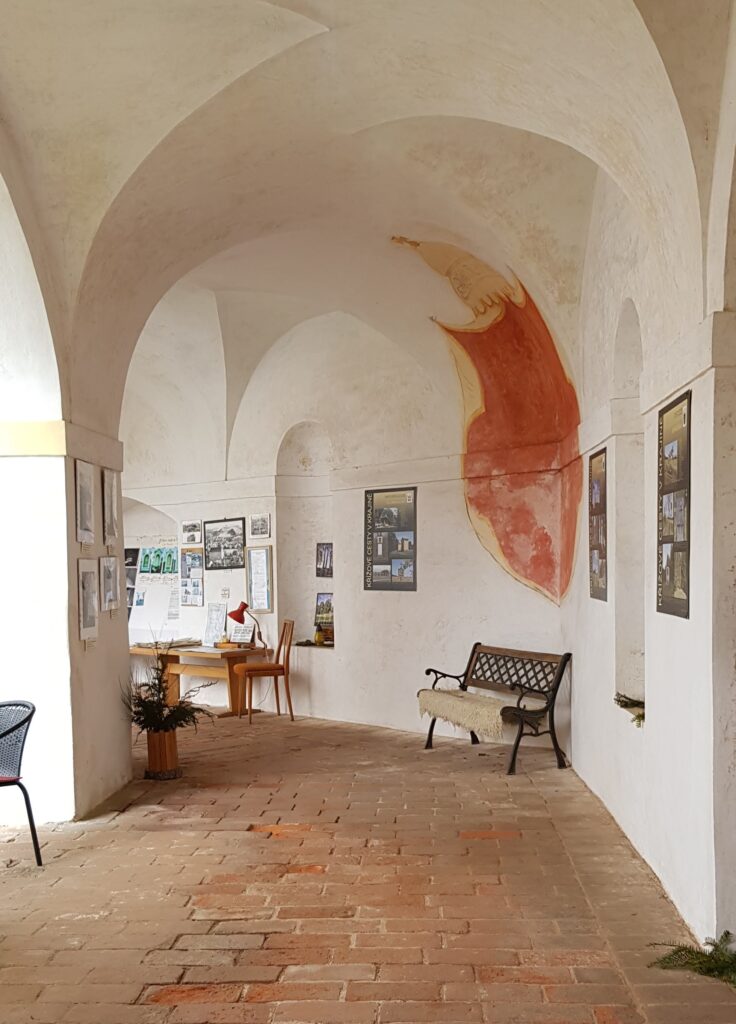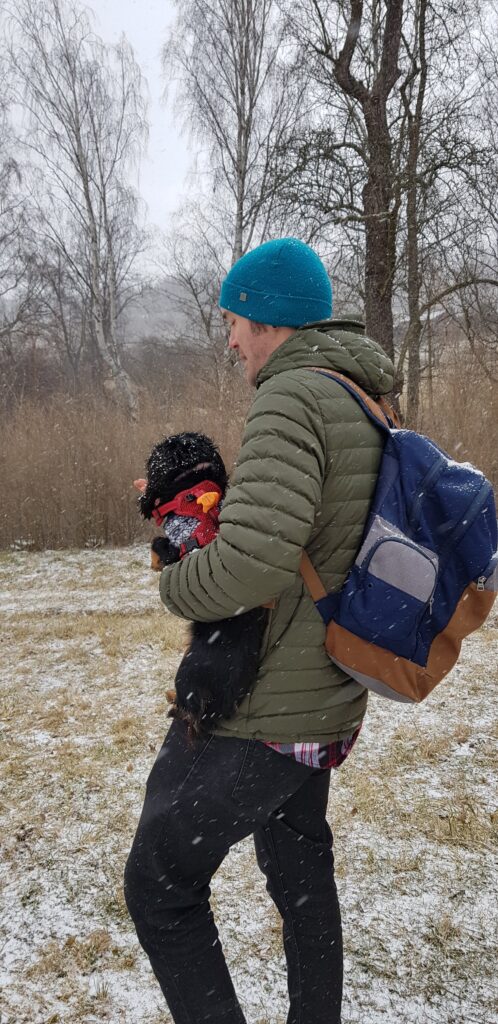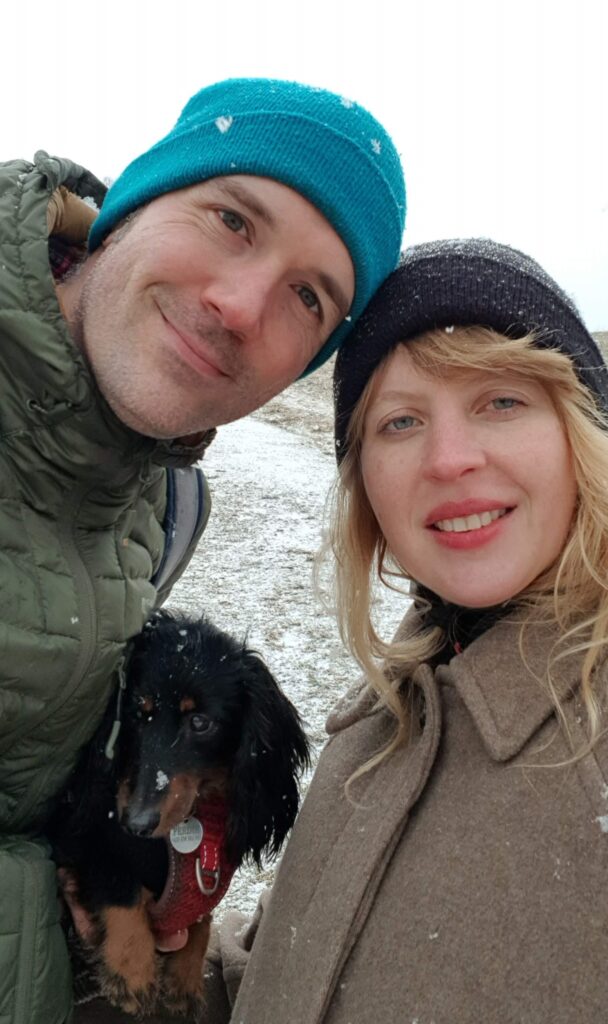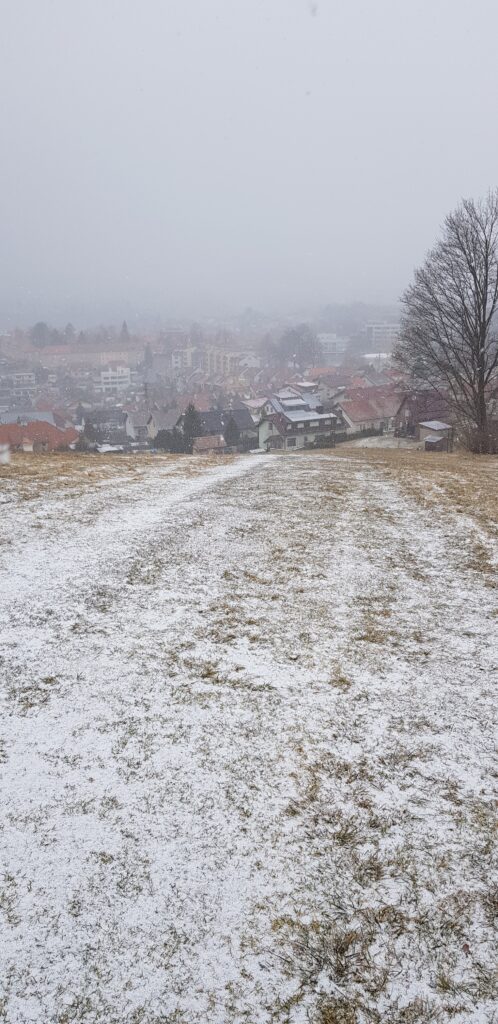 That's where the good ended that day. We were both absolutely shocked to find out that one of our all-time favorite restaurants in the entire country, Laibon (which I've written about here countless times) appeared very much closed. If you've been to Laibon, you know. David, the owner, always remembered us and greeted us as though we were close friends. I've brought both of my parents here, celebrated special occasions and made wonderful memories. Not to mention it is sadly the only solidly vegetarian restaurant option in town, it would be an extremely sad loss for Krumlov. Fortunately, it seems as though we just caught them at a bad time as they were only temporarily closed for perhaps a month or so in the winter — they are back and ready for spring and summer business! What a relief. Time to go give them your business and enjoy some tasty food! As we both ate our pasta dishes that day at nearby Papa's Living Restaurant, we couldn't help but feel the mood was dampened.
A similar story seemed to be unfolding at one of my favorite shops, Botanicus, a natural cosmetics shop which also has outposts in Prague. Botanicus in Krumlov has relied almost exclusively on large buses of Asian tourists passing through, each piling their basket high with product – it made me realize maybe they know something we didn't, which is how I first really got tipped off to this great shop.
Since the pandemic, they've been having massive sales of unsold product, and this time we visited, a third of their shop was just being used as storage. The sales were plentiful and the products they did have on their shelves were as sparse as I'd ever seen. I know their location in Prague's Old Town will continue to prosper, but without the influx of tourists, I really hope Botanicus in South Bohemia can hold on.
Although Český Krumlov still is very much visited by Czechs and European tourists, the hard hit from losing their Asian tourist base makes you feel a lot of different feelings. It's such a small town that without them, luxury goods shops (many shop fronts were empty!) and restaurants simply cannot survive, especially through the tough winter season.
What is the answer to cases like this? Certainly, a great deal has been made of the completely out-of-control tourism in this town over the past few years, as has been parodied by Czech artist Kateřina Šedá and her UNES-CO (not UNESCO) related projects. It has been well-noted that locals are priced out of the center of the town, and not only that, perhaps they wouldn't even want to live there due to the lack of decently-priced supermarkets available there and other daily living services. We could start seeing lower prices due to more available buildings in the center, and I hope some young, spirited locals are able to move in and reinvigorate it, but some businesses more catered to tourists will simply be lost.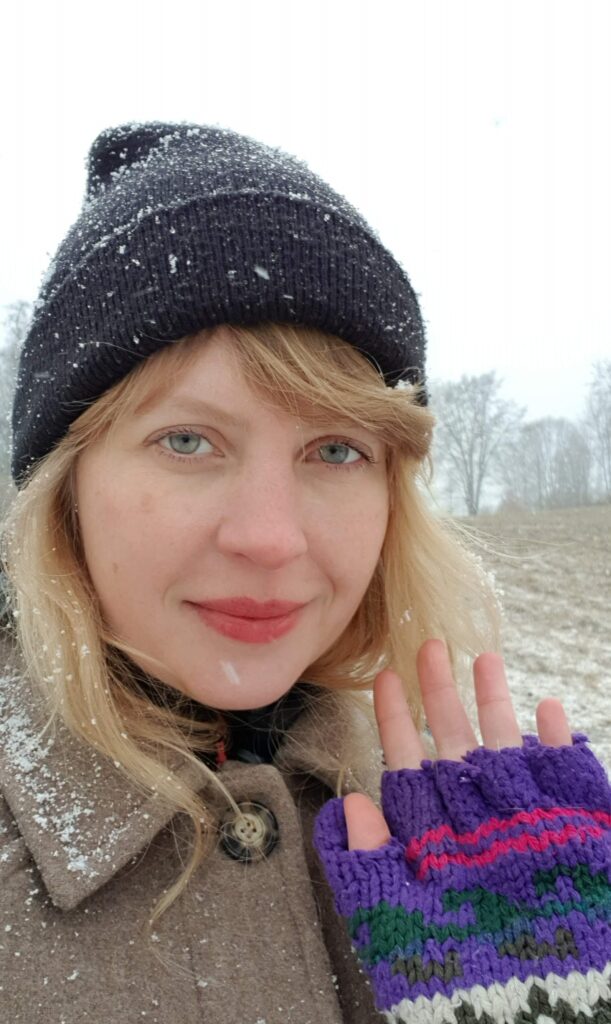 Thanks very much for your kind comments on my last post. This is going to be one exciting year!
I have two different certificates I'm studying for this spring (basically: absolute mad productivity rush before maternity leave starts) so please excuse the stillness around here this season. I'm sure I will want to pop in with a life lately/pregnancy update sometime + a couple very Czech Republic-related posts, as well as that promised Cotswolds village post.
Happy spring!