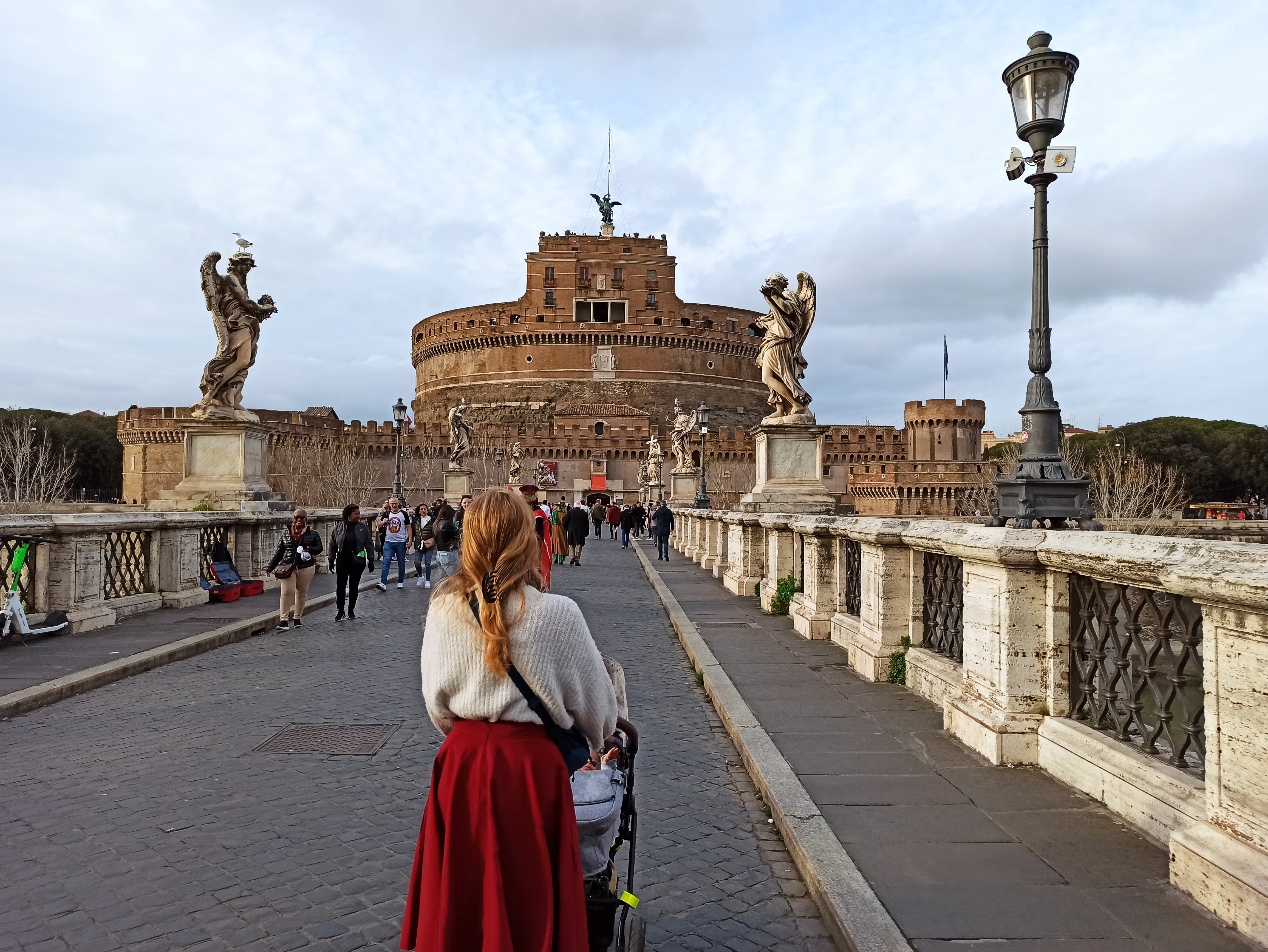 Going to Rome With a Baby! Our Experience & Tips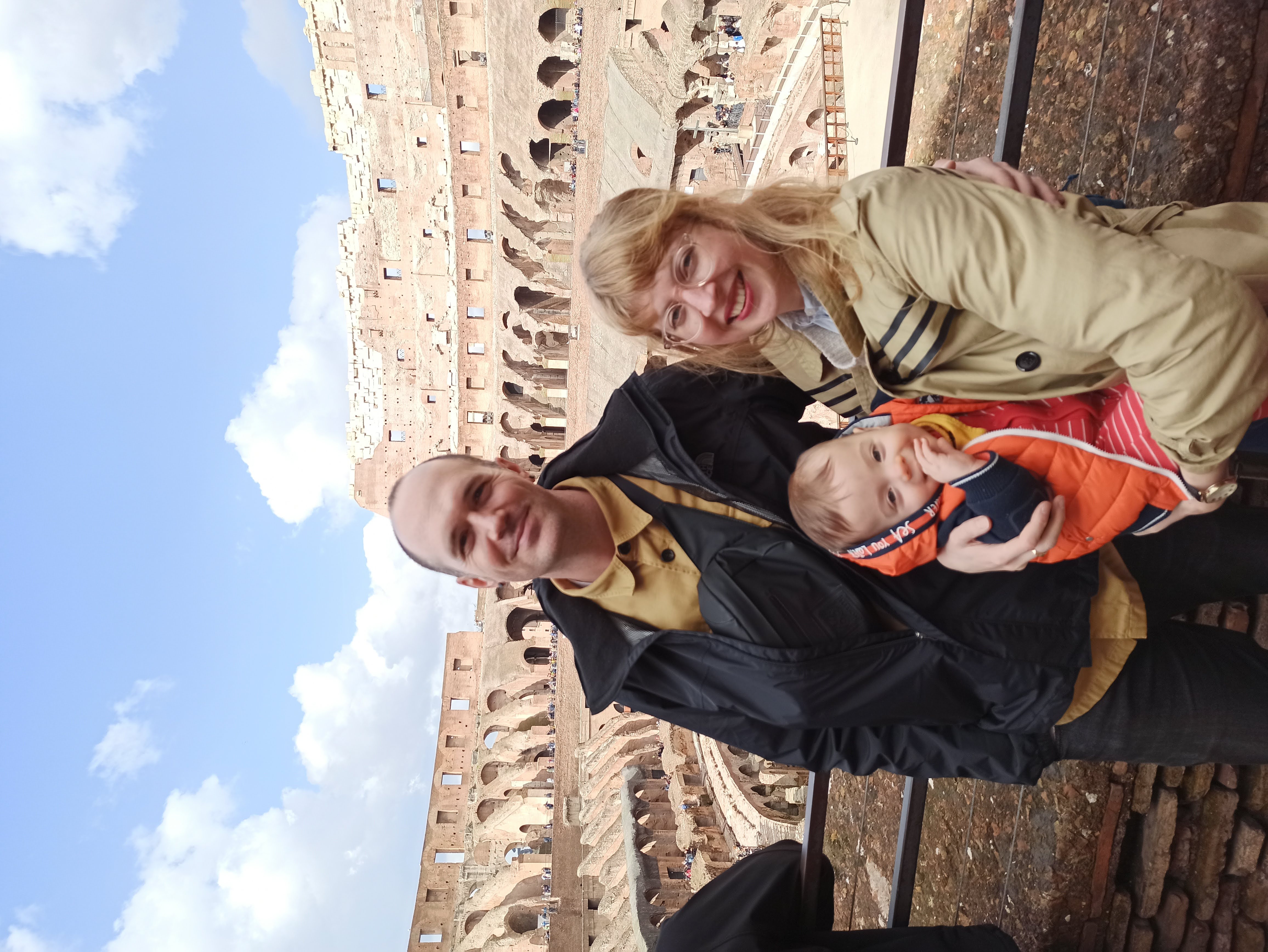 Ciao, all! We had our first family vacation that was just the three of us last month. Sadly, Ferdie couldn't come as we were headed to ROME, home to some of the best museums in the world and managing it with a dog plus a nine-month-old wasn't the most relaxing-sounding thing. It was a wonderful trip! I'd been dreaming of returning to Italy for a long while now… and then the pandemic happened. As of last summer, things are running pretty normally in Italy and even though we couldn't have our babymoon there as I wanted, it was so fun taking Baby M there and enjoying it as a family. Travel with a baby really can work! Here, I'll share how it went and maybe some tips in case you are planning to do the same.
First off, flying with our nine-month-old went pretty well. Not quite as easy as five months old as now he wants to touch everything, but the short flights were pretty easy-peasy. We brought anti-bacterial wipes and gave everything around a quick swipe (arm rests, seat belt buckles, tray table, wall) a quick swipe before really settling in. I found that it's best to nurse baby during the flight (still buckled up, of course), not only to alleviate any issues with pressure changes that may come up but so that he is in good form when you disembark the plane. During the descent on the way there I noticed he seemed a bit fussy – could have very well been from a pressure change (whereas during the trip to/from Iceland at five months I didn't notice anything unusual).
Something big that really set the tone of the trip was booking a private airport transfer to/from the airport. It's amazing because it's for such a short part of your trip time-wise but it makes it feel so much easier and more luxurious than navigating public transport to the accommodation. Seeing as we were traveling with an infant and our apartment was not the easiest to get to, it was definitely the right choice for us! (We went with woman-owned Lady Taxi which I can highly recommend!)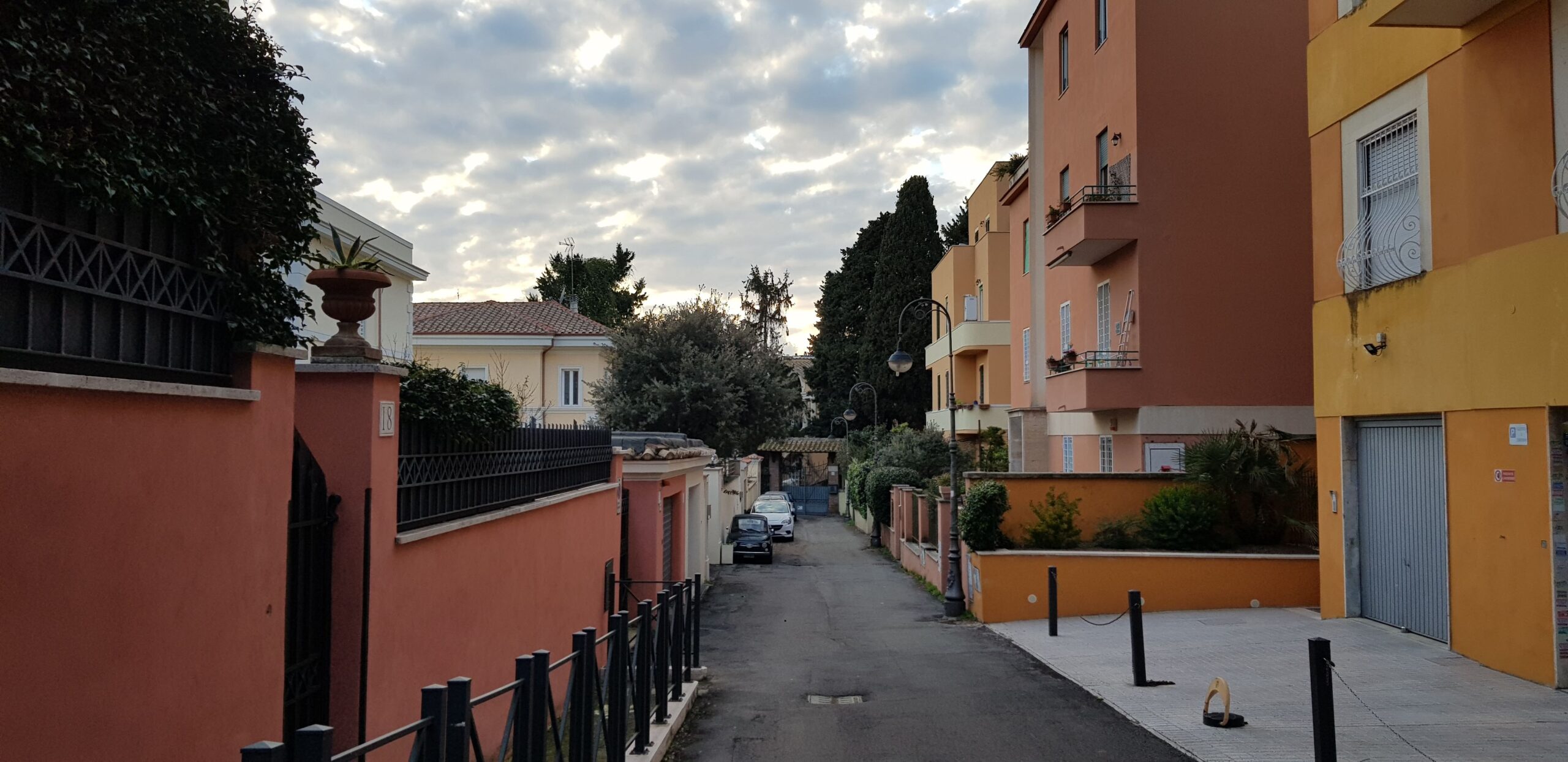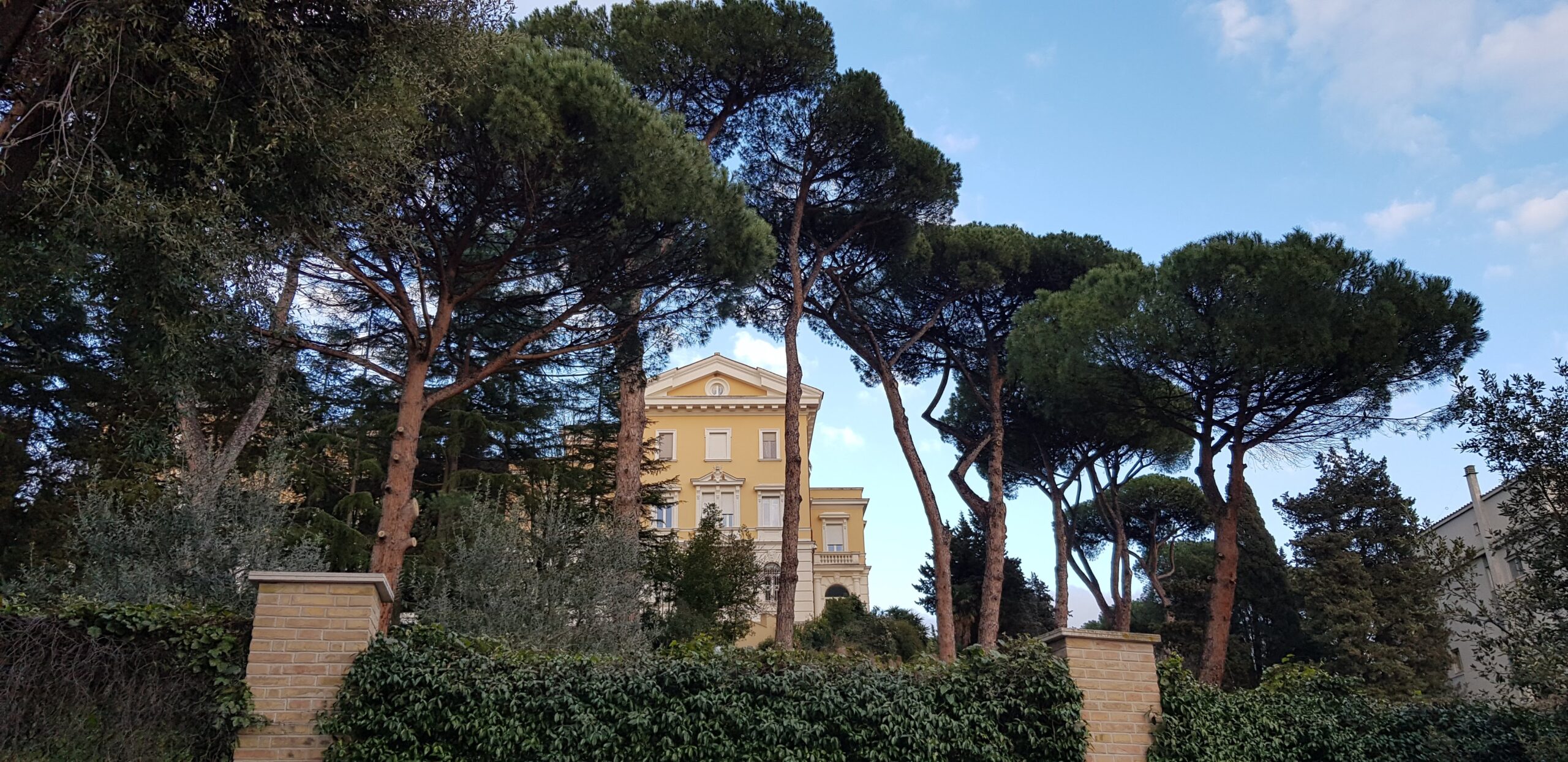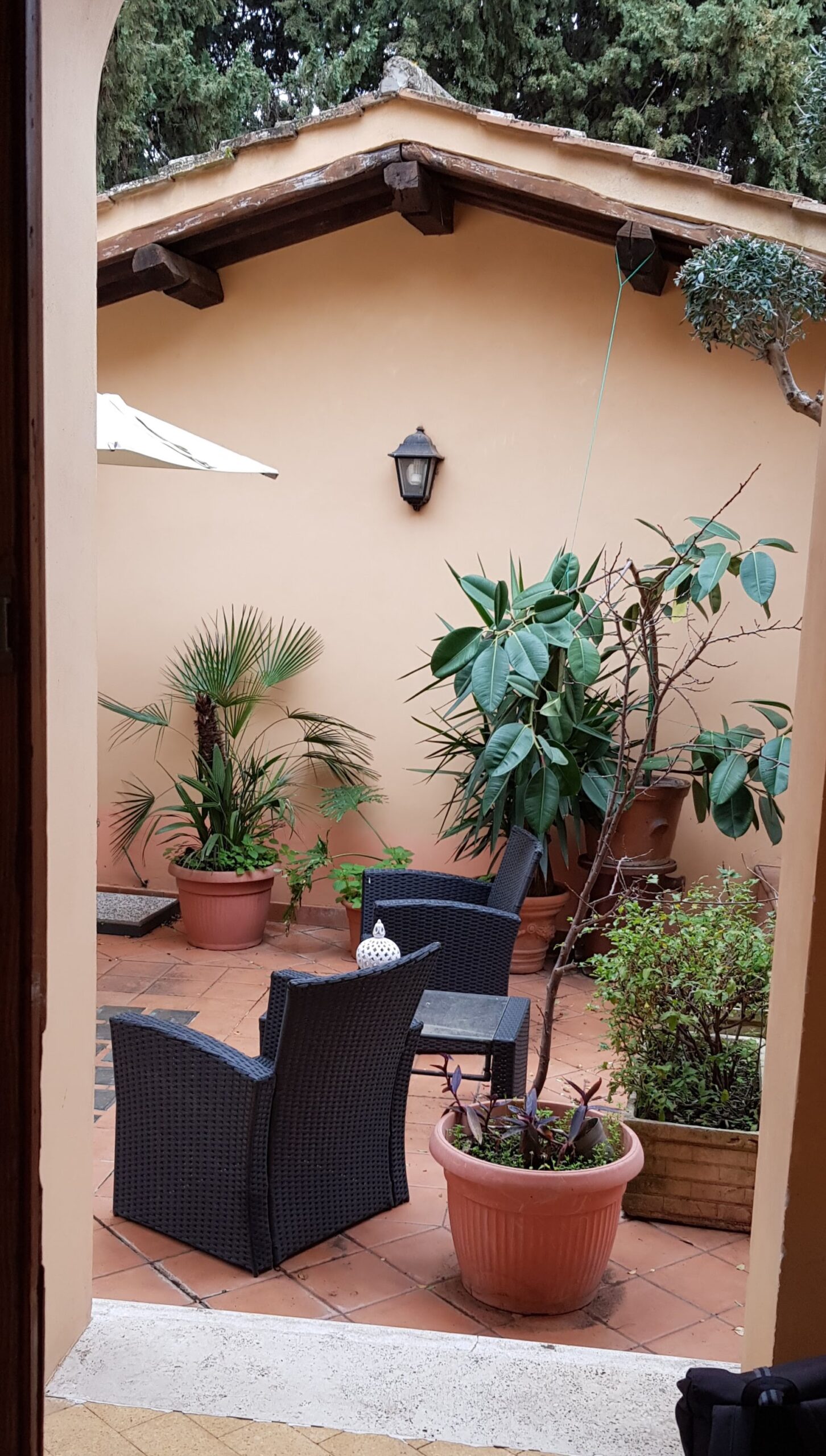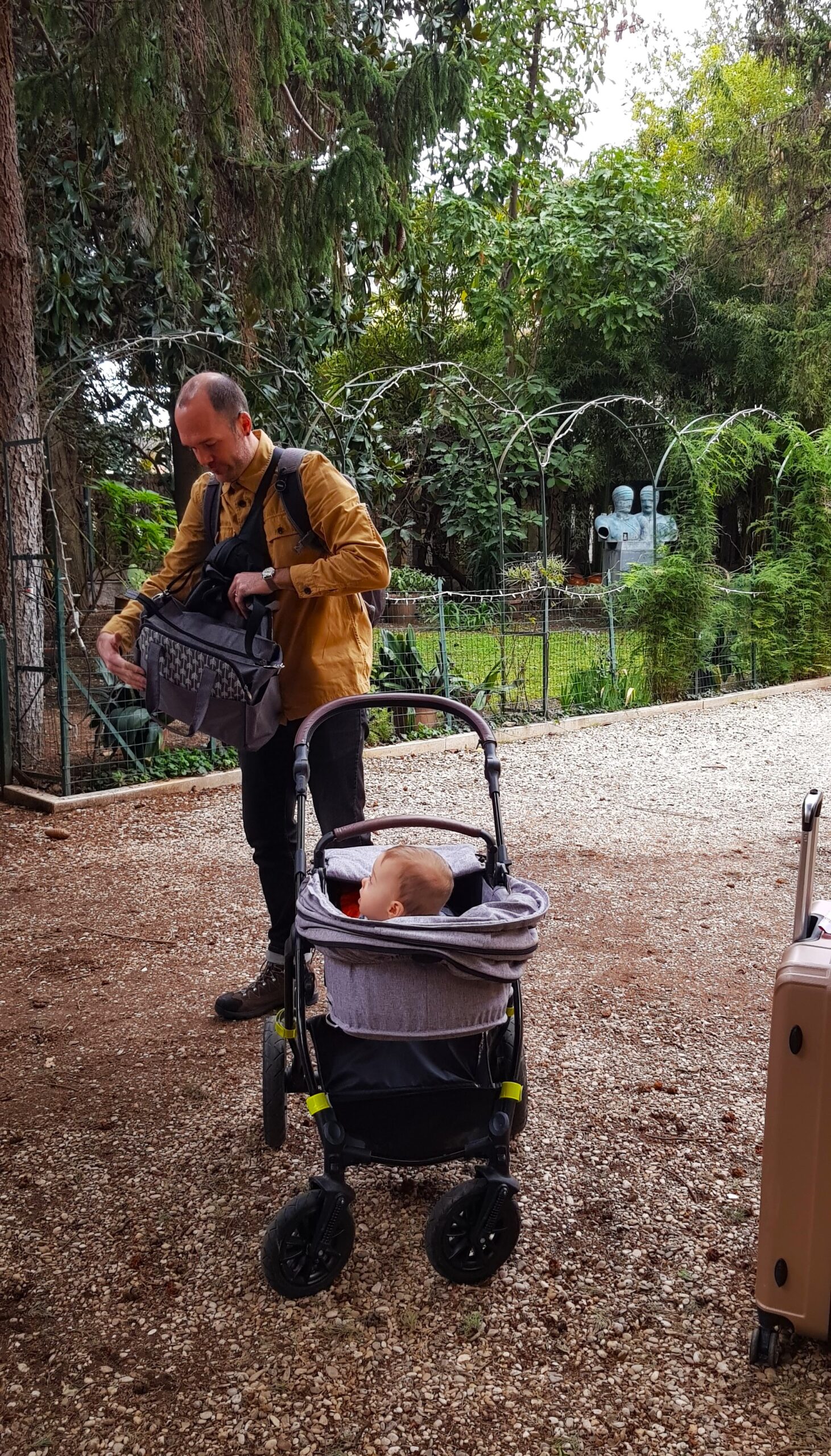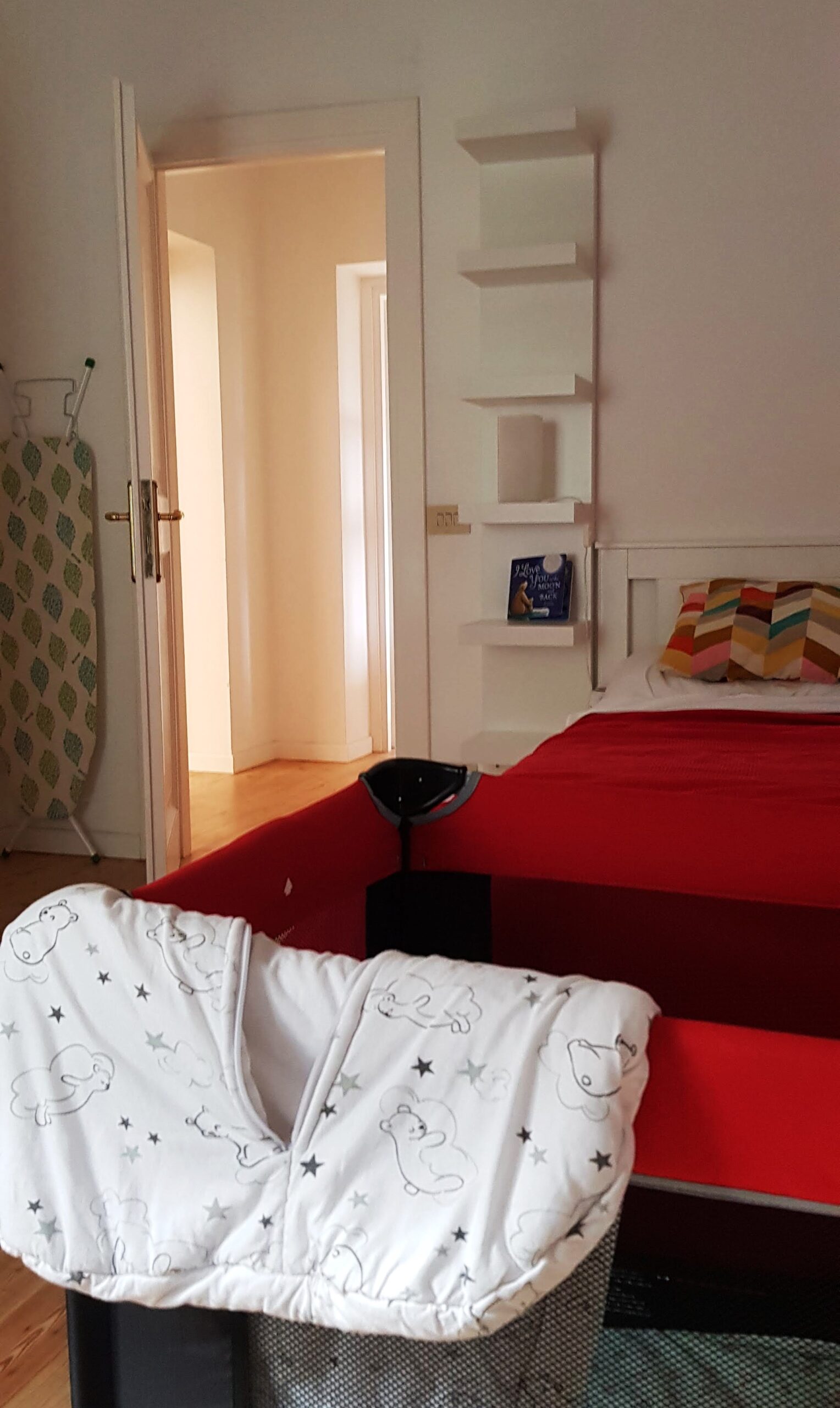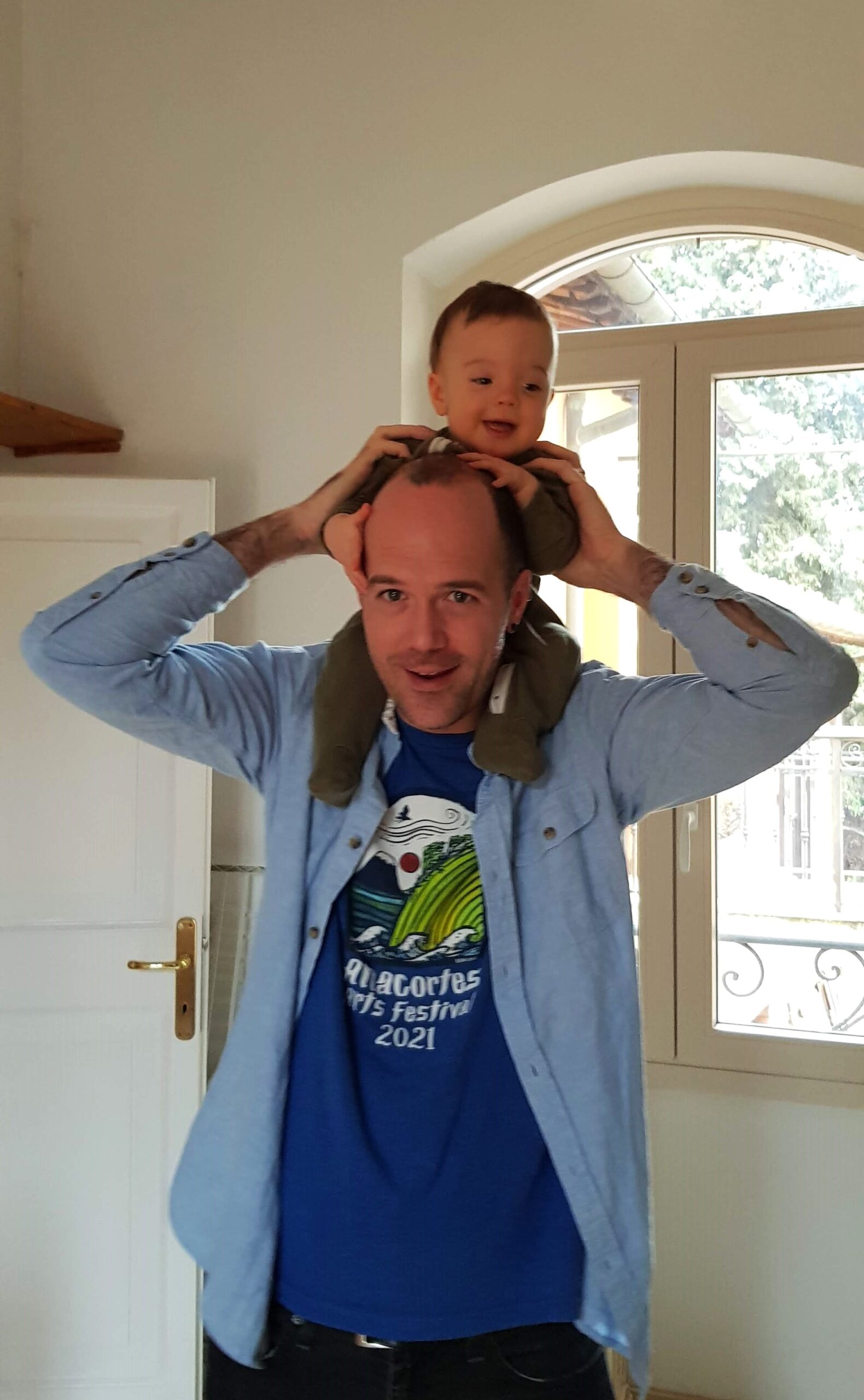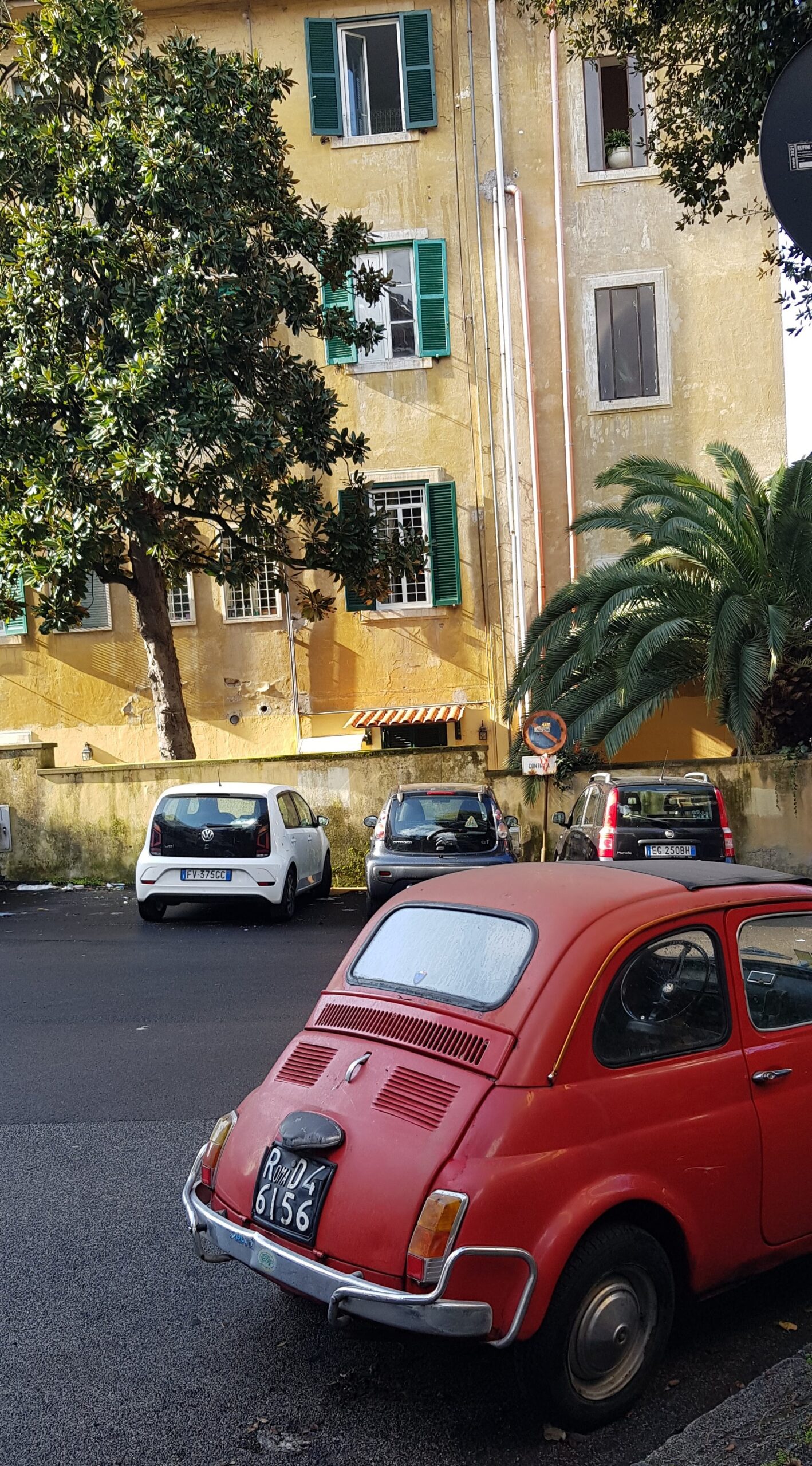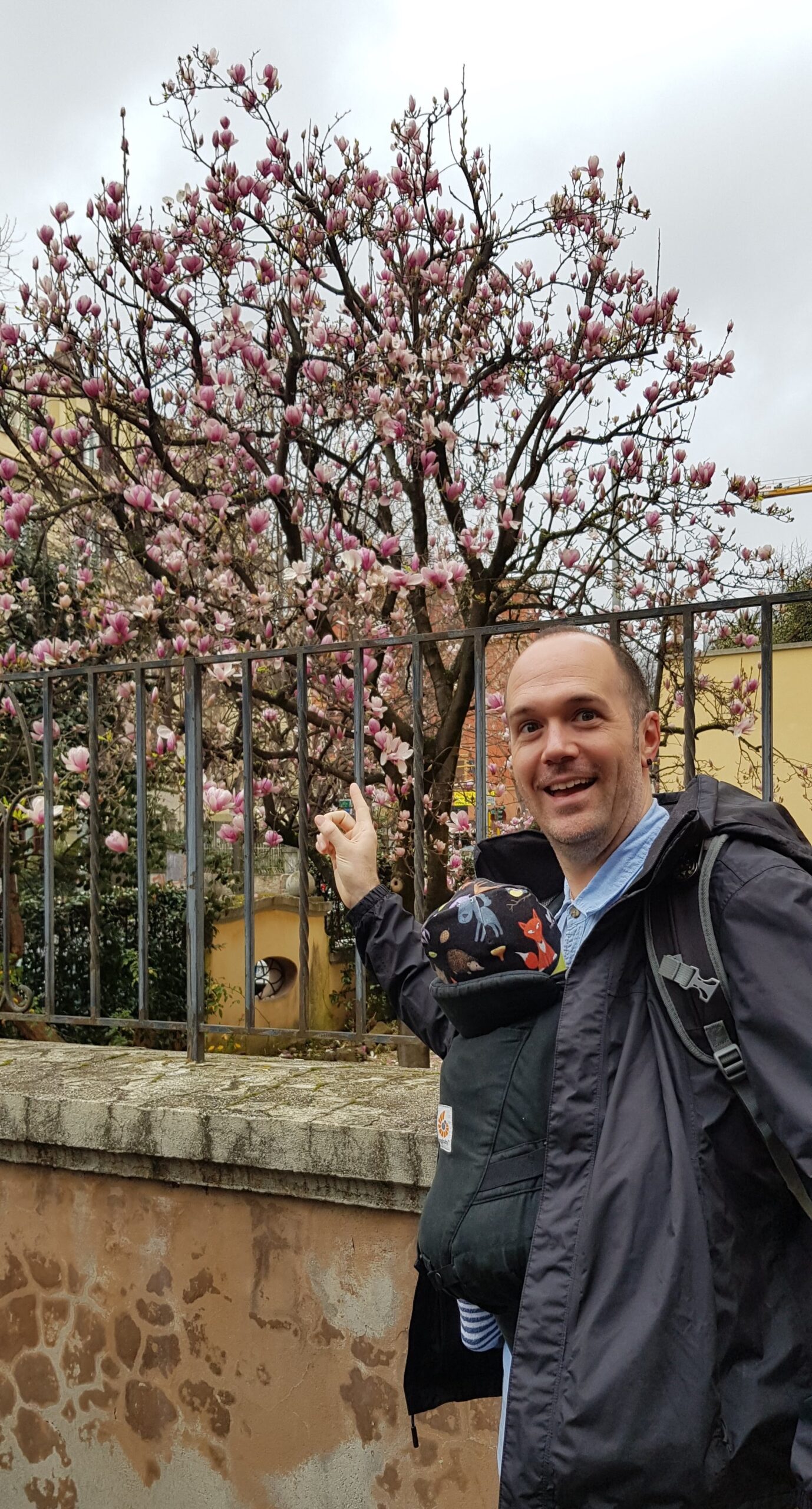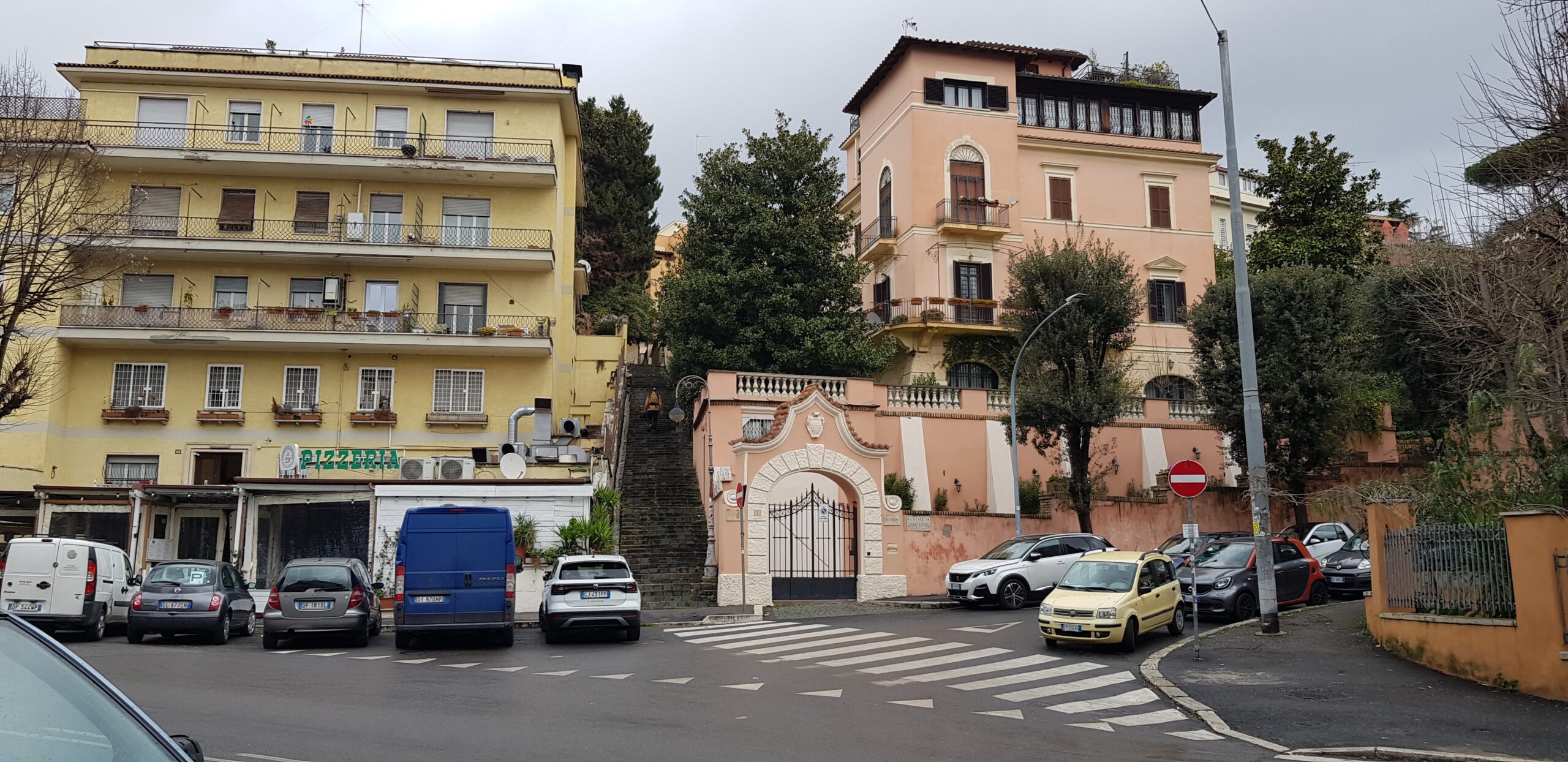 Staying in a holiday apartment vs. hotel or pension this time was a no-brainer for me. As those with a baby know, having more than one room to spend time in is crucial. Although a bit out of the center, we stayed in the Balduina/Trifonale district north of but within walking distance of the Vatican. The Balduina area is full of gorgeous historical villas and it was fun to stay in (part of) one! The gated property was full of beautiful flora and fauna and it was nice having use of the private terrace, even though we were mostly too busy for it. For Rome, I was a bit surprised at how expensive the accommodations were and how few good choices there seemed to be. It is absolutely necessary to book as much as possible in advance as many of my top choices were booked out two months before, but I was happy with our choice in the end.
Upon touching down, the emerald green countryside of Lazio was striking! A balm for the eyes, especially this time of year. After we dropped our bags, we set out to a nearby supermarket for provisions and I was truly in awe of the offerings of even a smaller-medium sized store. I walked past strawberries whose aroma followed me into the vegetable aisle where there were vegetables I hadn't seen in over a year! Everything looked wonderful. There was a display of seafood with delicious-looking fresh fish on display in ice… nearby were cartons of fresh pasta, packets of different kinds of focaccia… jewels of little pastries whose sugar-crusted exterior sparkled. And oh, the beer selection, with both imports and so many Italian lagers to try. (Can I just please stay? Maybe?) It was all a sight for sore eyes and a feast for the senses. I suppose that is Italy for you.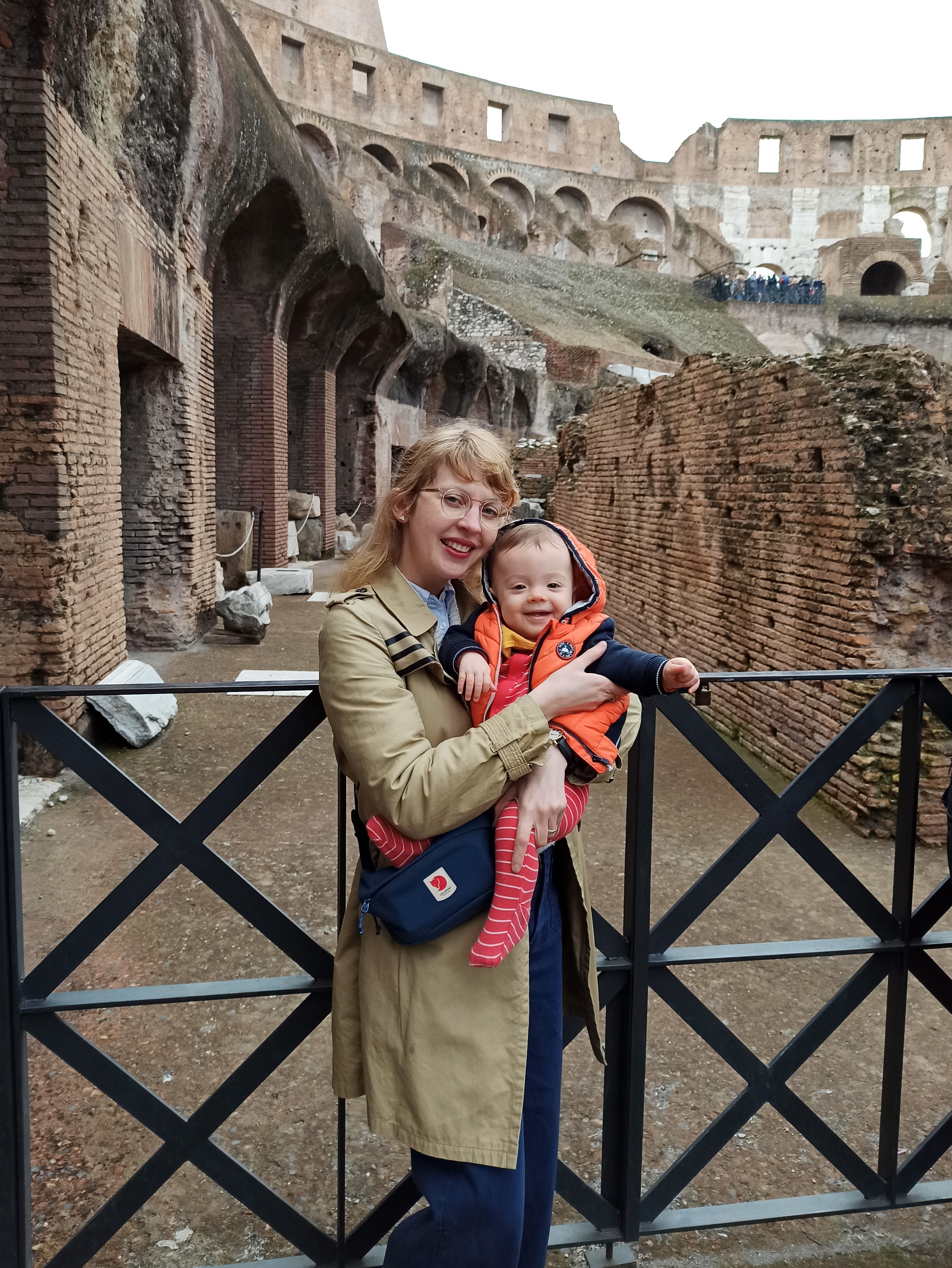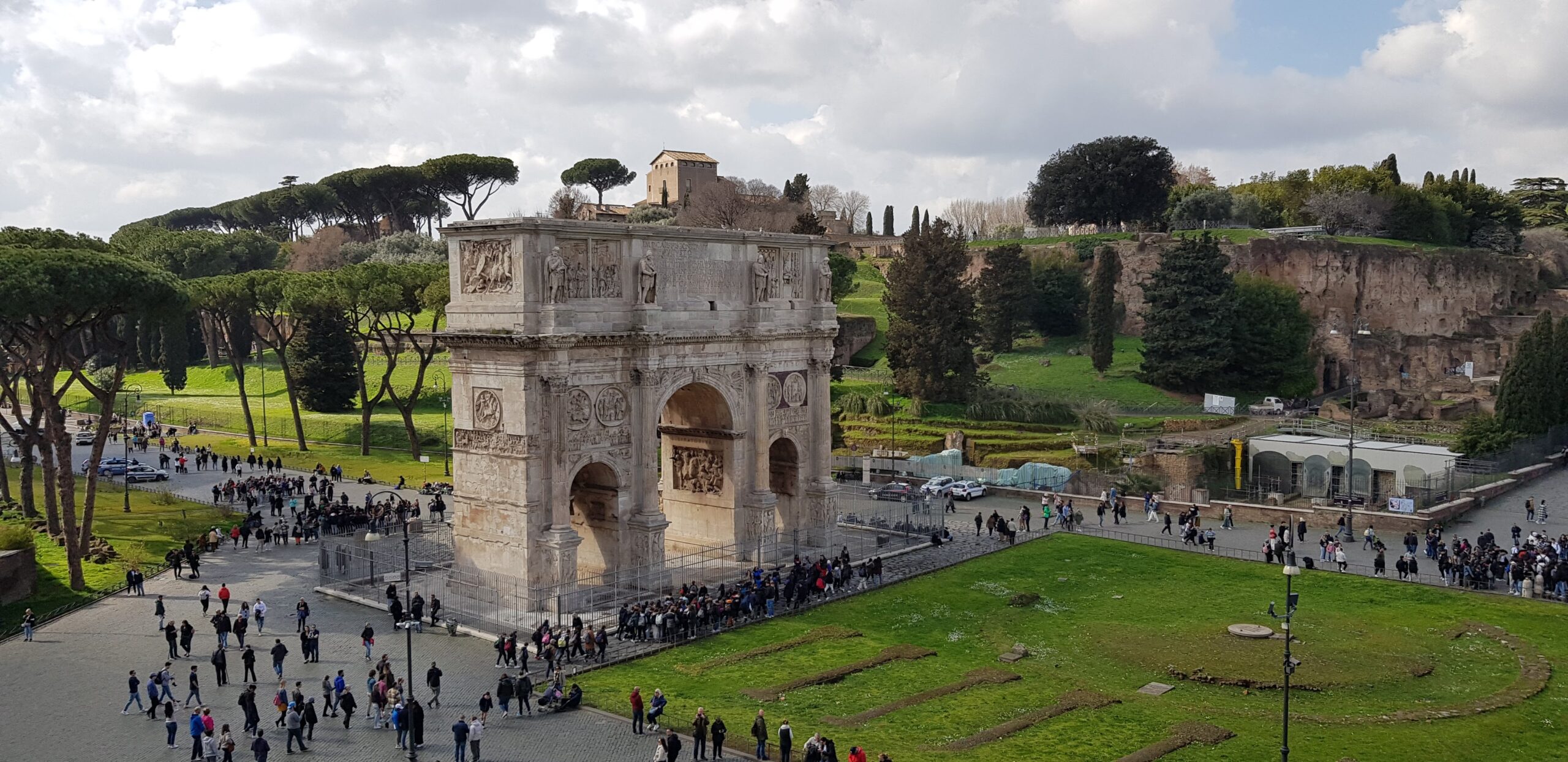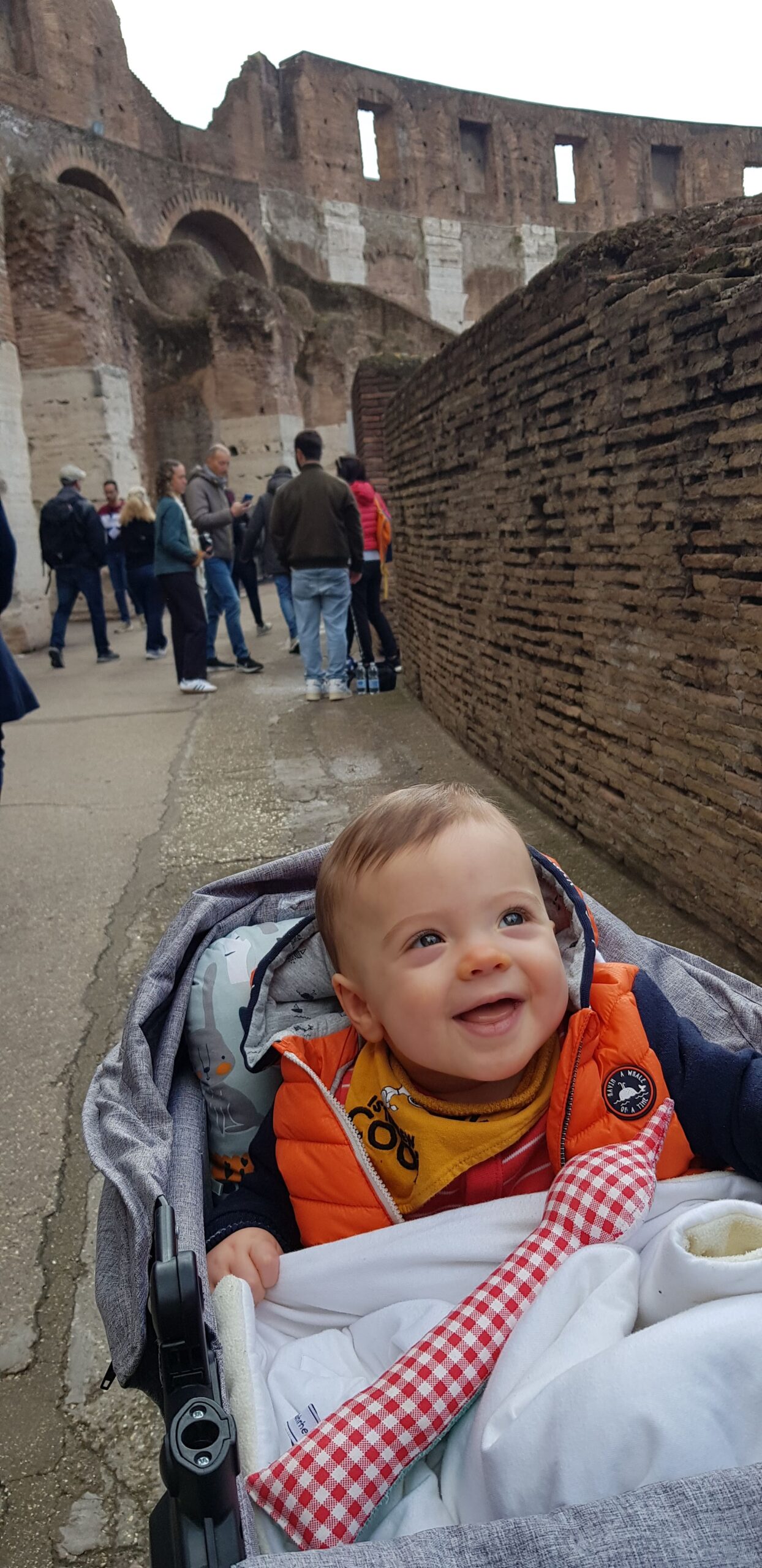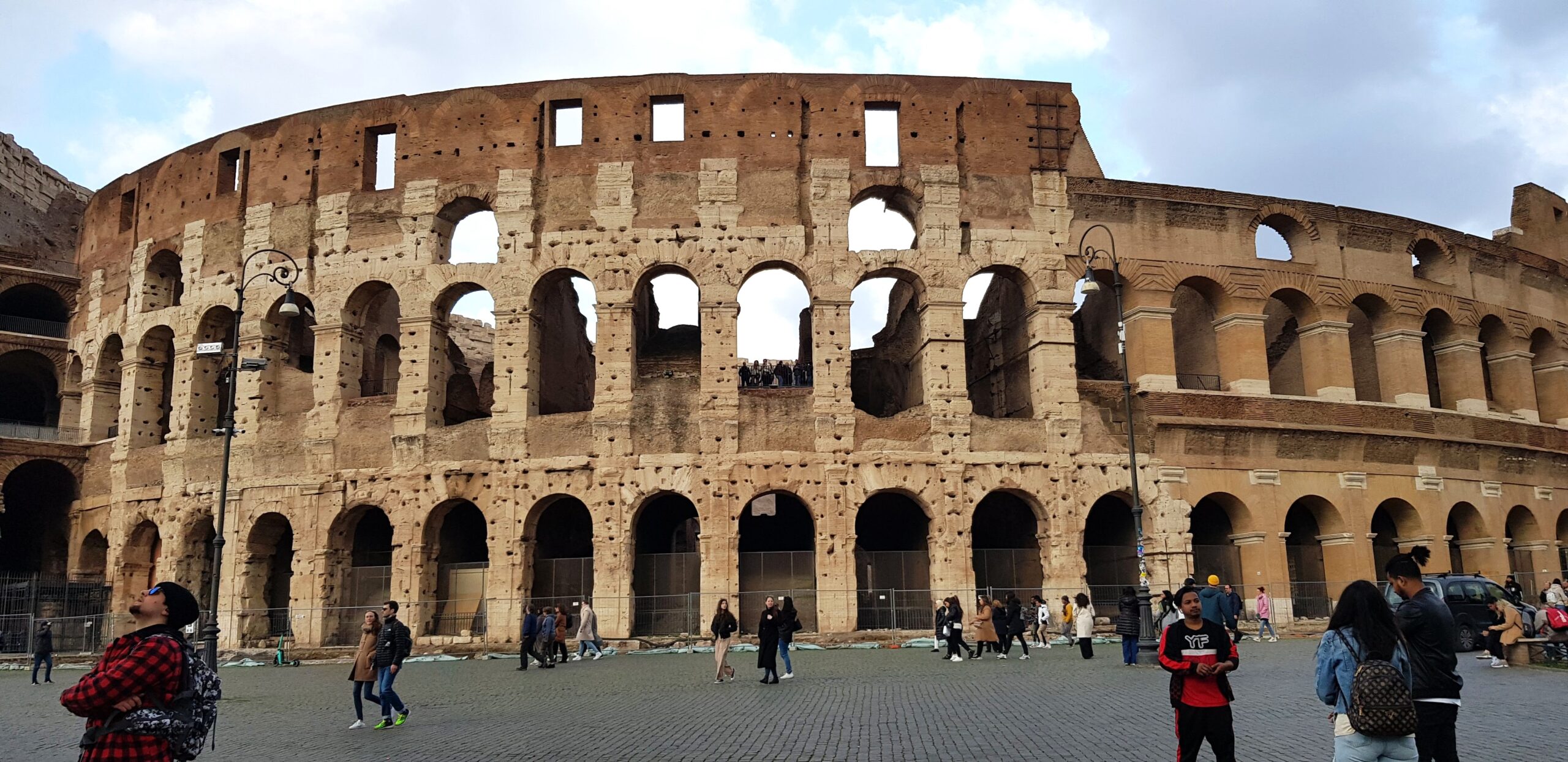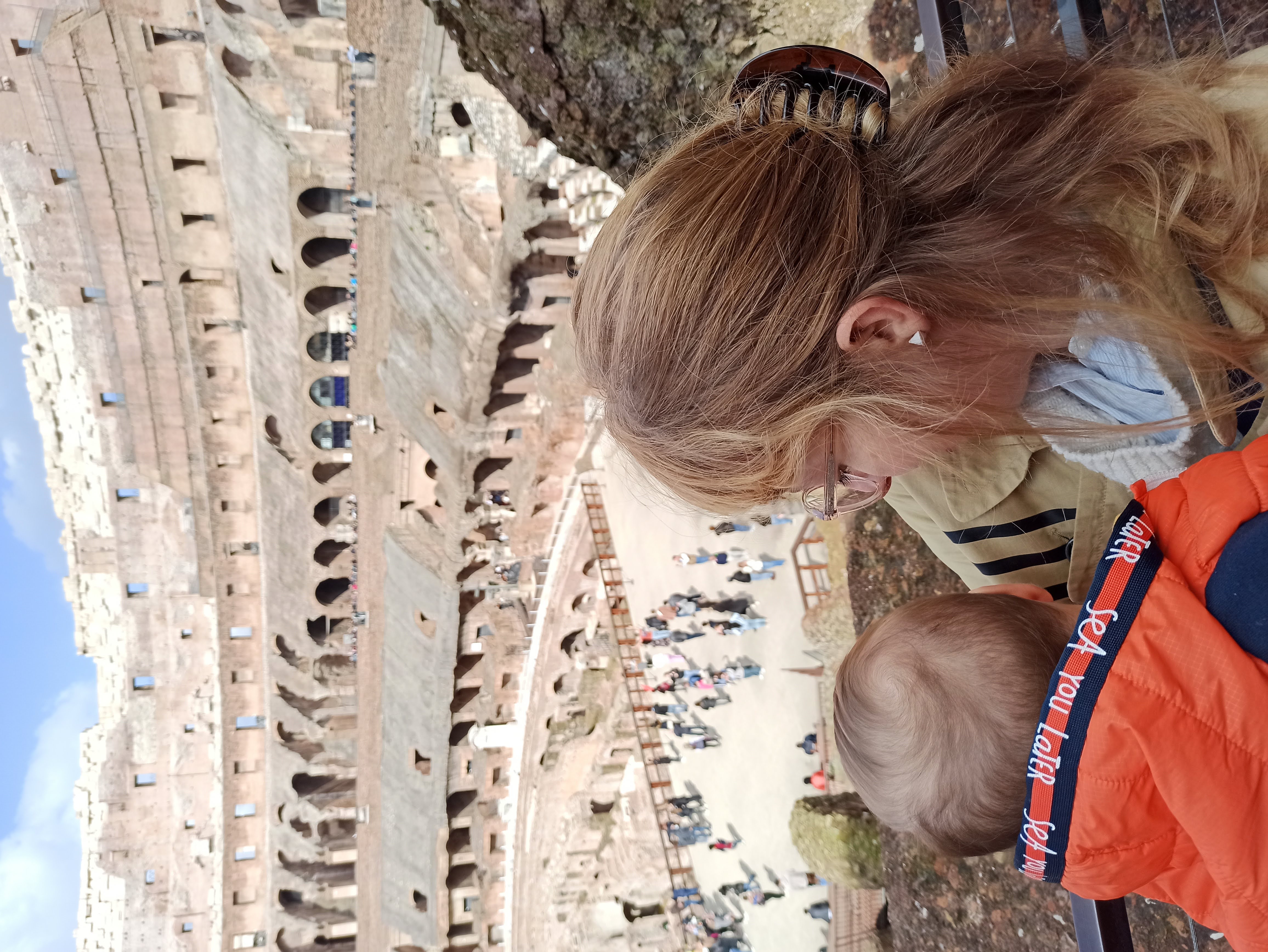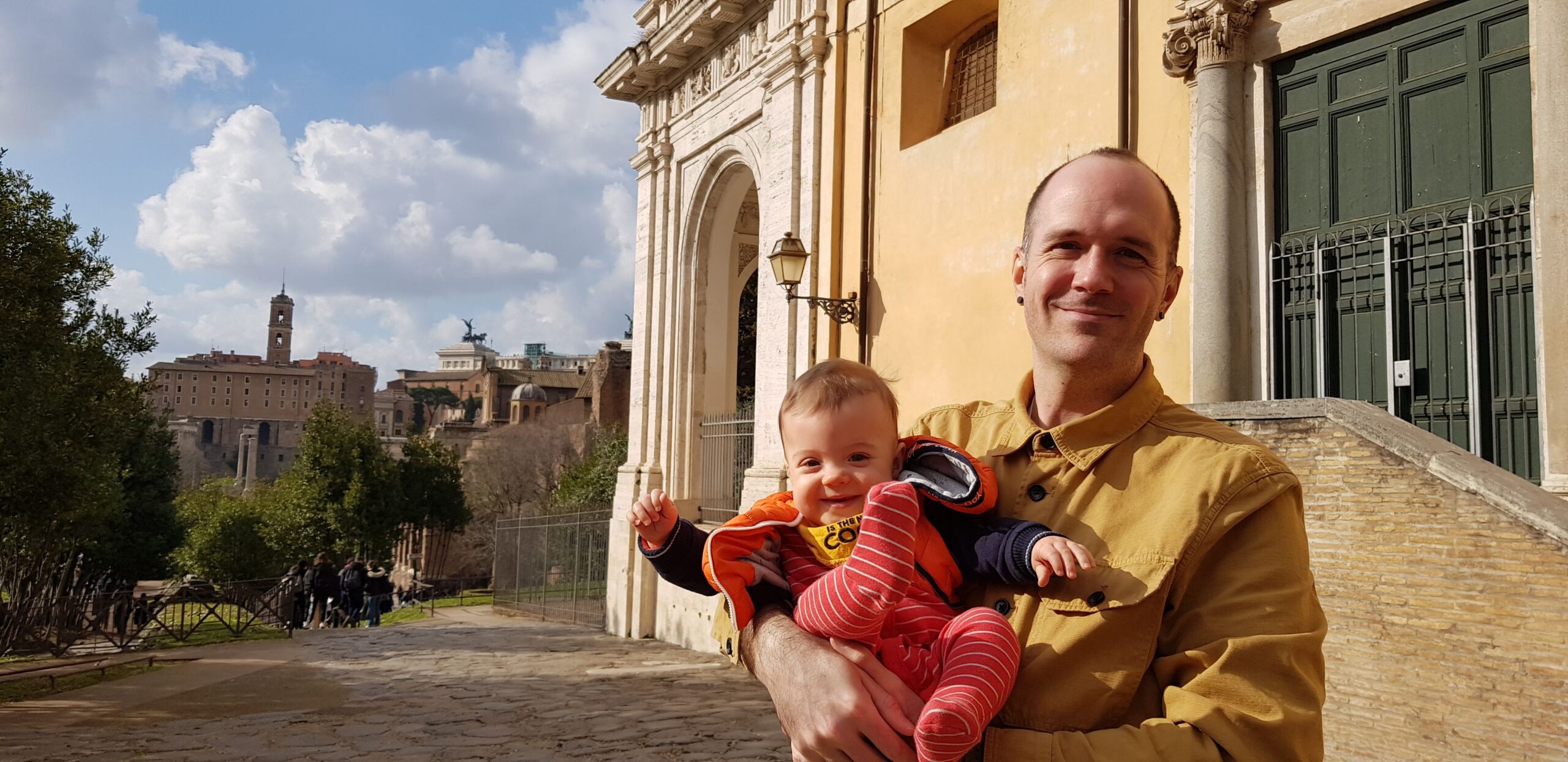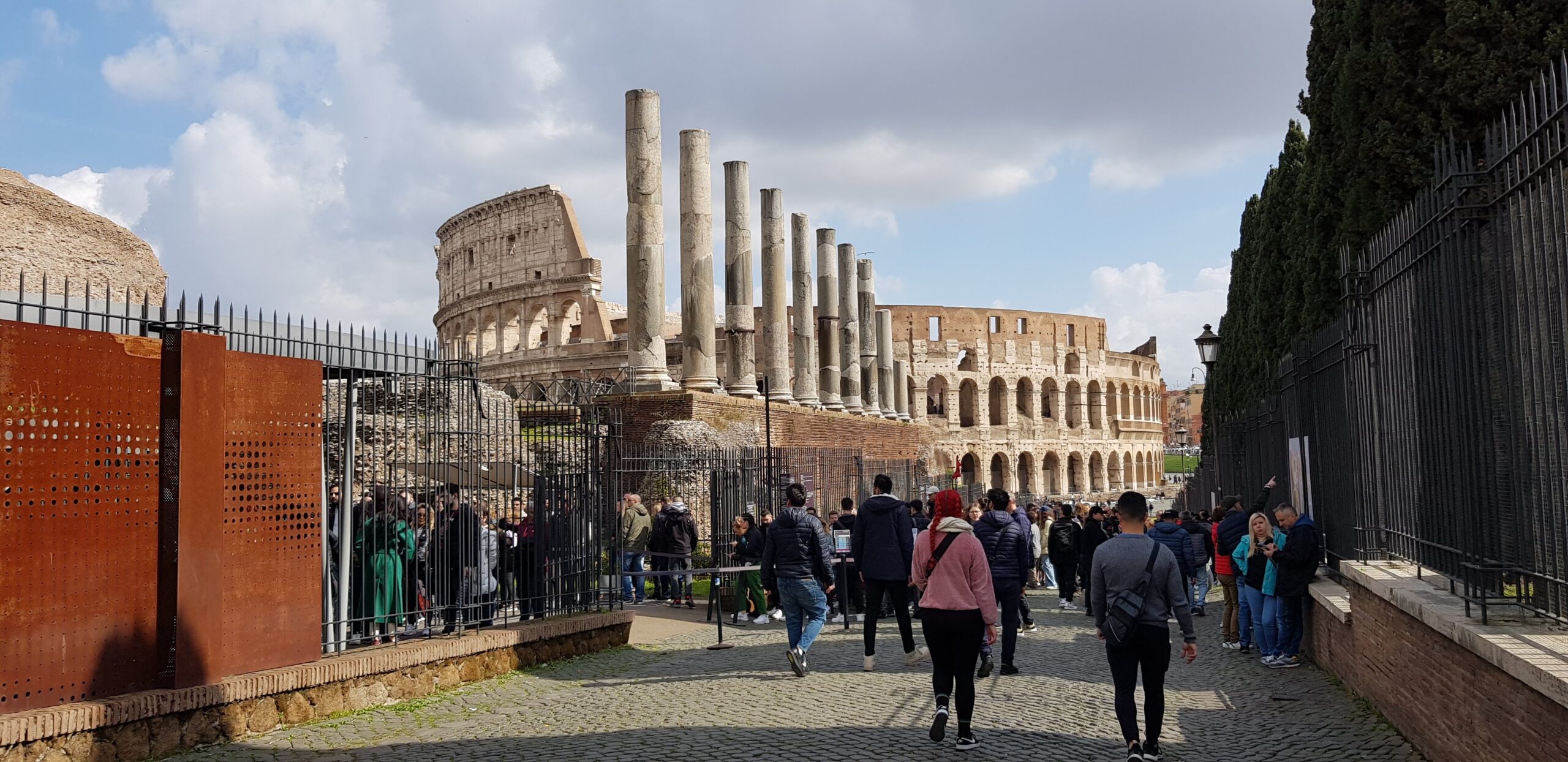 As it was my first time in Rome, we had to visit the sights of Ancient Rome! The Colosseum on the first day was a fun outing and very pram accessible (smooth floors, lifts). On the second floor there is even a fantastic private changing and nursing area (see above photos) which we happily utilized. The staff in general are very available for any questions and were just top-notch. We enjoyed this so much! The Roman Forum and Palatine Hill were nice as well (and included in the Colosseum/Forum/Palatine combo ticket) – they are doable with a pram. (Ticket buying tip: They release Colosseum tickets in different time increments such as one month before, one week before, one day before – be there ready to book online to get your preferred entry time!)
On our second day we walked to the Vatican (first time walking into a different country!) from our apartment in time to attend the papal audience at 9am! Most Wednesdays, the Pope holds an audience outside of St. Peter's Basilica which lasts for an hour or so. It was so fun to receive our invitation to this exclusive-seeming event from the Swiss guards in an envelope with my name on it and see the Pope ride around the square in his "pope-mobile" before his speeches. Afterwards the queue to get into St. Peter's Basilica was so long and unruly so we took an early lunch at nearby Forno Feliziani (a tavola calda – sort of an upscale Italian deli frequented by many locals) and had what was my favorite meal of the trip: a cheesy-spinach rigatoni dish with breaded eggplant. So good. An early lunch turned out to be the best decision as the queue was manageable for the basilica afterwards and wow – such an impressive, massive place. It was hard to take your eyes off of it all.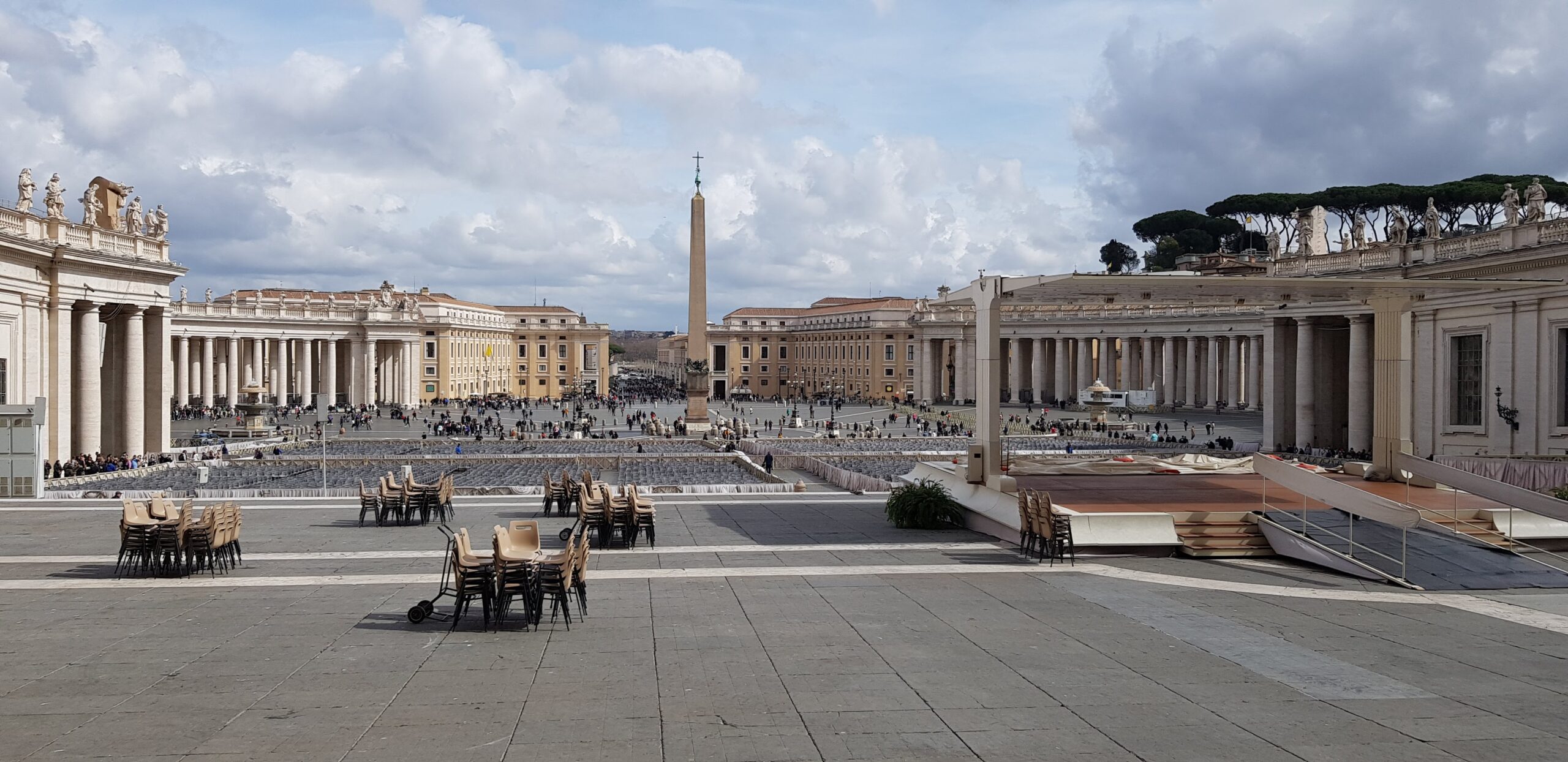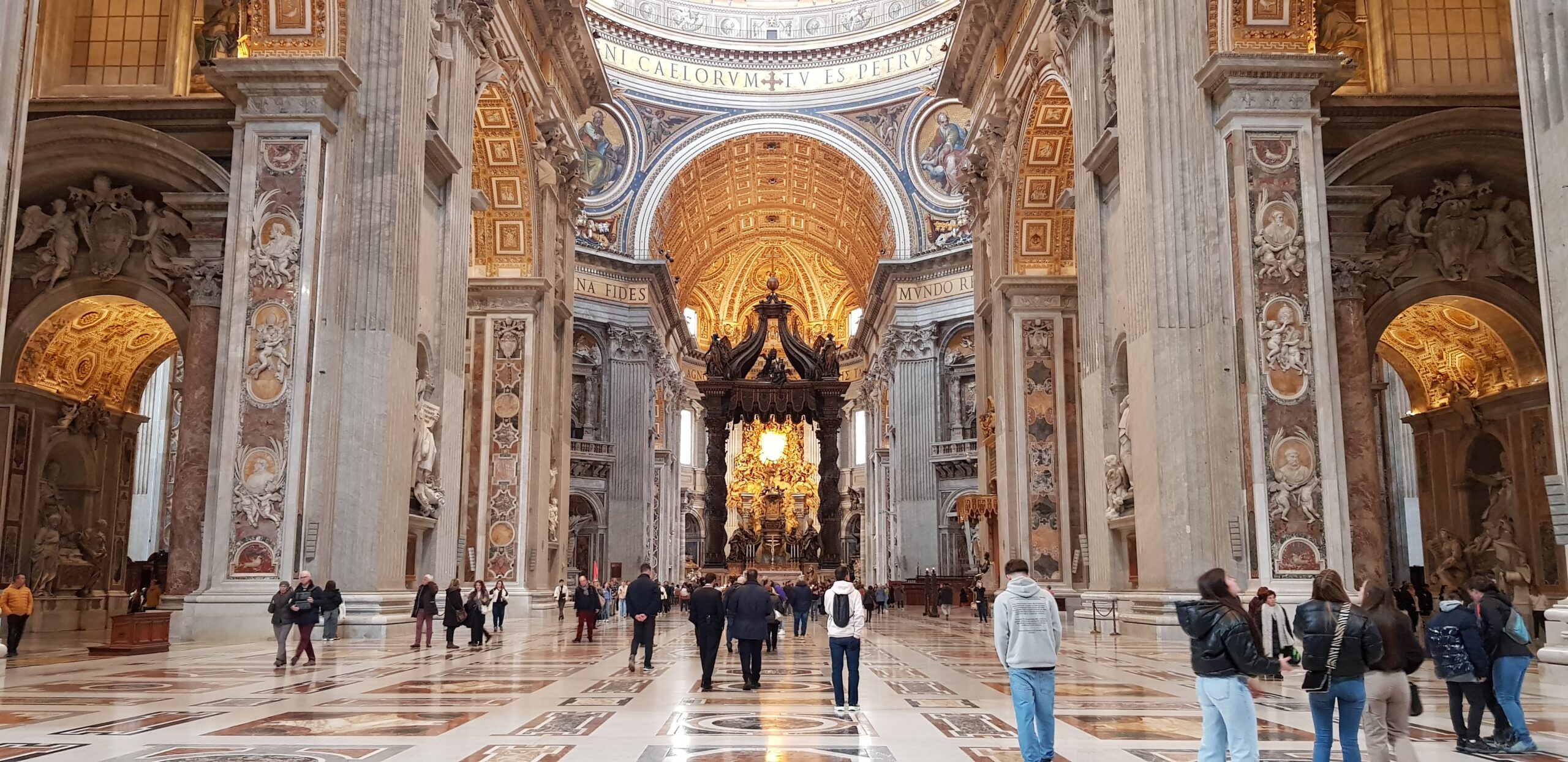 The Sistine Chapel is part of the Vatican Museums complex and is, of course, very worth the visit. Michealangelo's Last Judgement and the ceiling depicting the book of Genesis was mesmerizing! With a baby, of course it is possible (no problems!) however you should definitely use a carrier and do not bring your pram to the Vatican Museum. It would have been an utmost miserable experience had we done so due to not only the crowds but the museum runs in a labyrinthine, IKEA-like path in which you cannot really skip ahead (although there are a few choices/forks in the road). You also often go up and down small staircases and it would be stressful to navigate it with wheels unless you have no other choice.
Although three (!!!) different staff members told me "no, a family room does not exist", it actually does exist, however it is only located near the restrooms at the very end of them IKEA-like tour of the museum… not very useful when your baby is hungry at the beginning. Also, it was locked without a single attendant nearby and looked like it hadn't been used in awhile. Very different to our experience at the Colosseum. There are plenty of benches just inside the entrance, however, including some out on the terrace with a pretty nice view of the dome of St. Peter's, where we ended up… even though non-stop tour group after group passed on by. Nobody seemed to mind, and neither did we. Sort of a funny International Women's Day.
(Ticket buying tip: Book way in advance for Vatican Museum tickets if you prefer to buy online to skip the queue! One month didn't cut it – I would do two or three months ahead of time. If you don't mind waiting a little in the queue, however, you can go whenever you want and buy your ticket from the cashier)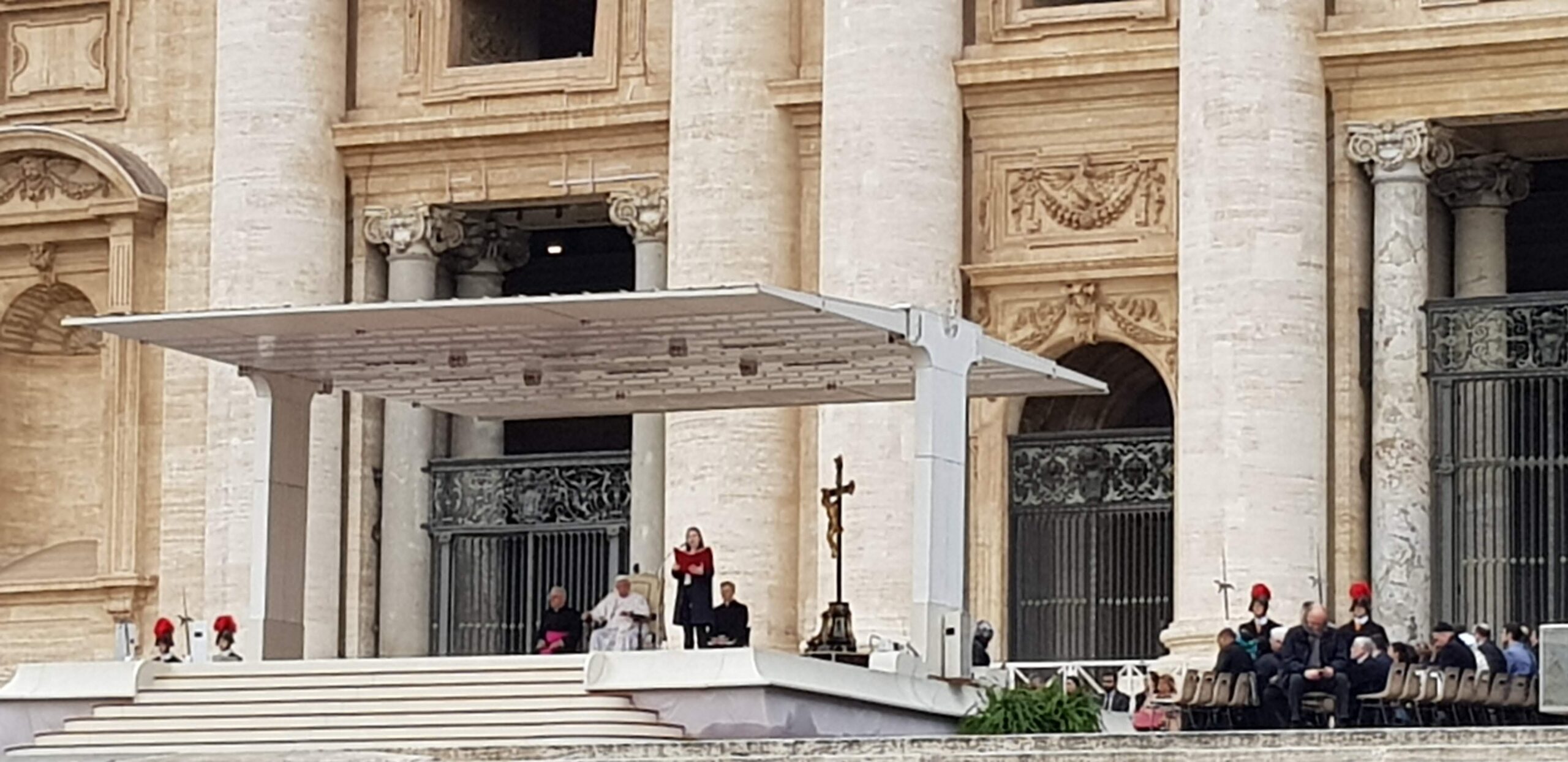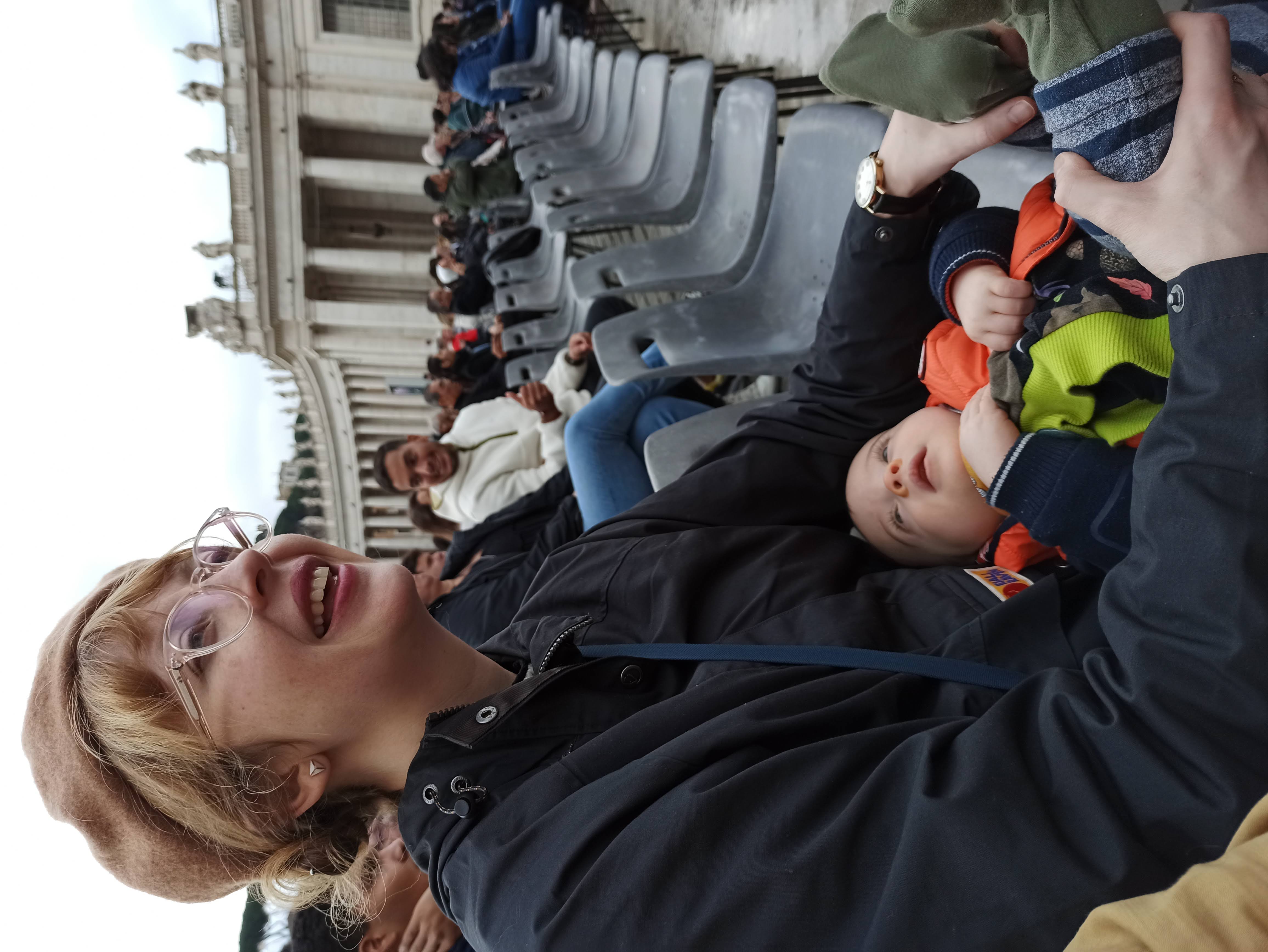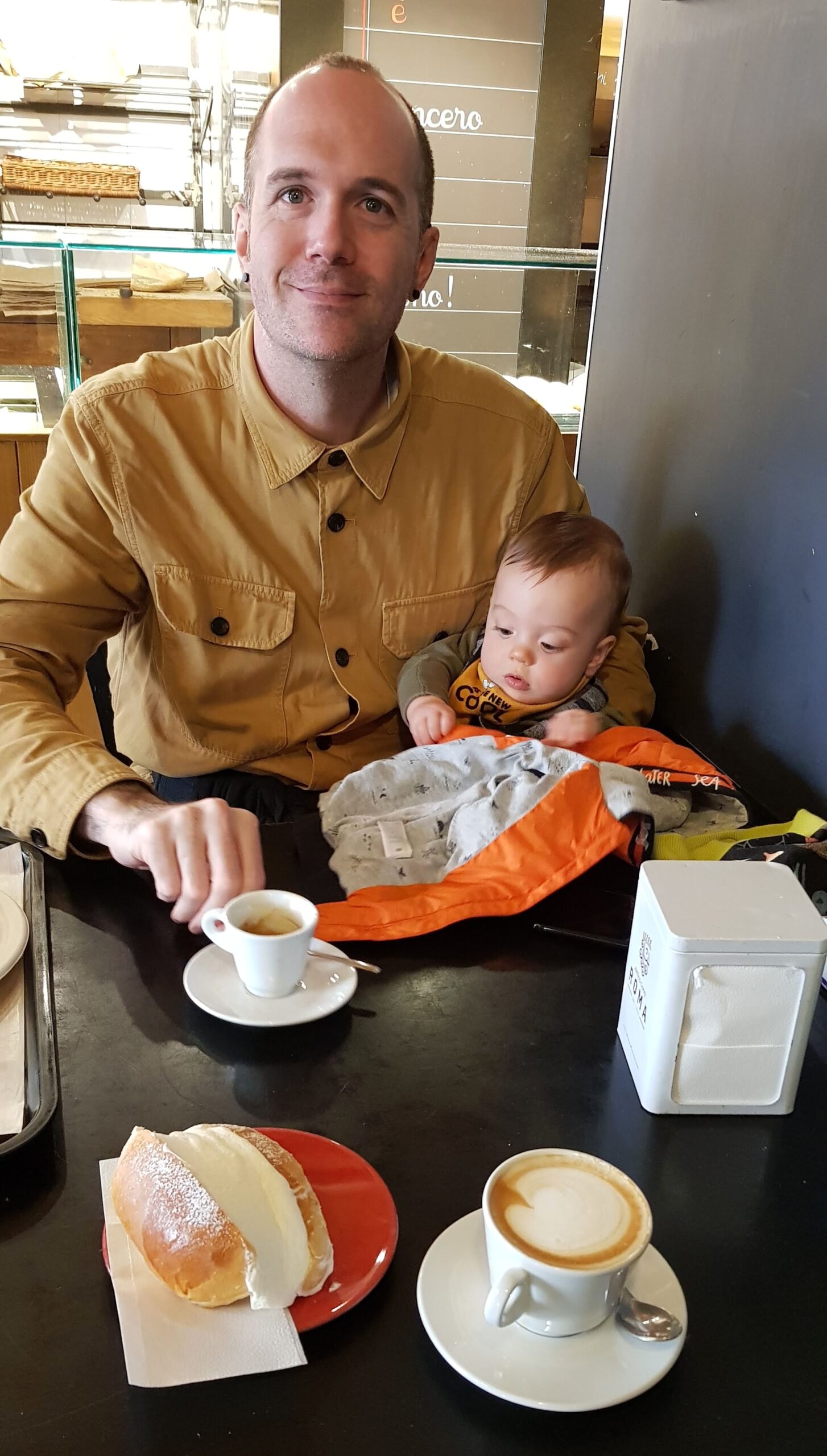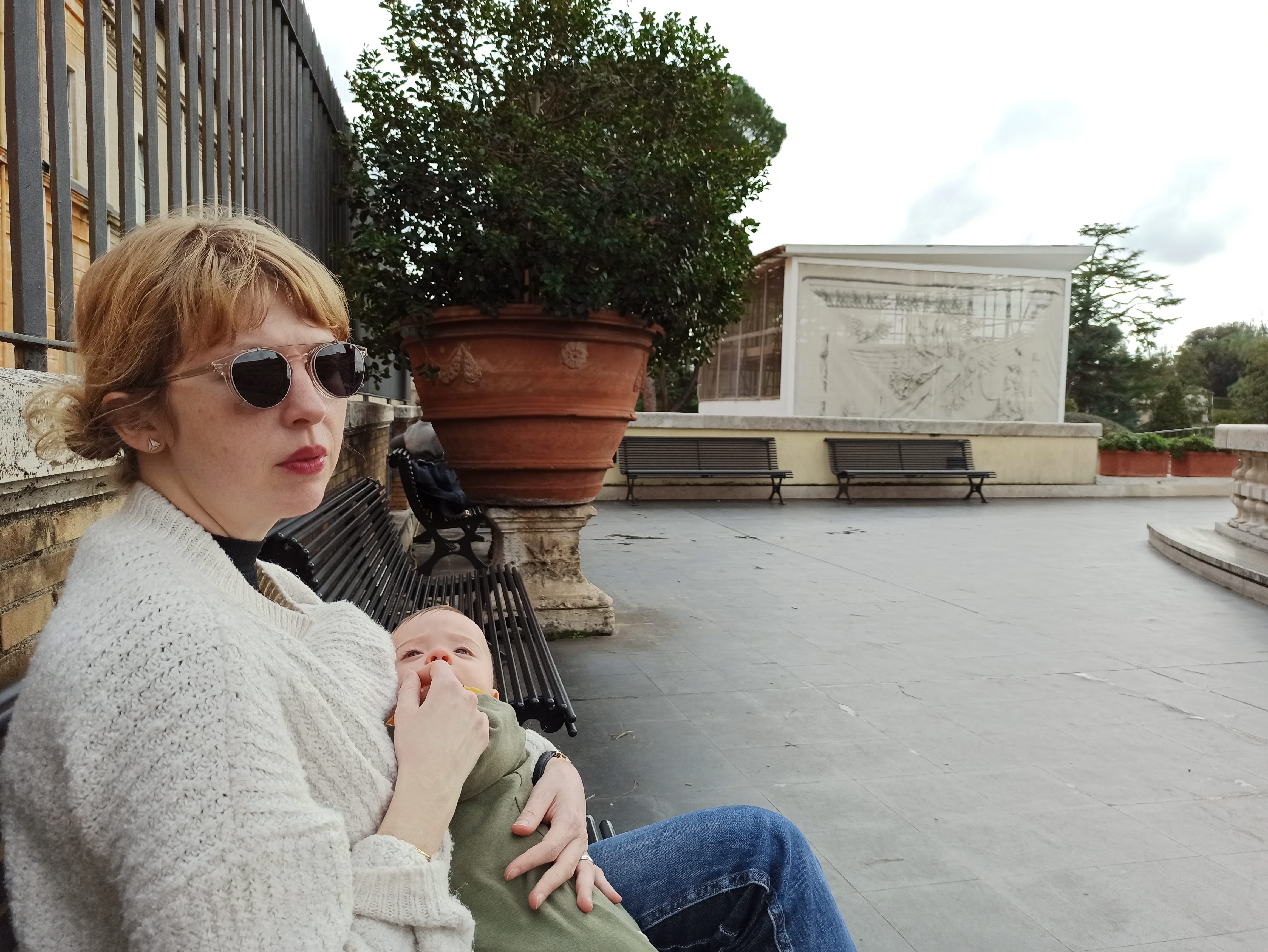 The remaining two days of our trip, we tried simply to "take it easy" without a set schedule or any museum entry times. We wandered from Castel Sant'Angelo across the bridge to the Pointe area of the old historic center and wandered the streets slowly eastward, peeking in on shops and stumbling upon Frigidarium for gelato to enjoy in a nearby piazza. There's just something very holiday-ish about getting ice cream before noon. Incredibly decadent-feeling and just exactly what we need at some times in our life! That's really what this trip was all about, frankly.
We hung out in Piazza Navona for a long while (feeding baby on a bench while people-watching and gazing into the fountains), dodged the aggressive sellers in Campo di Fiori and both days found cute lunch spots for a bit of antipasti and pasta. I wasn't prioritizing "baby-friendly" joints necessarily but sometimes the waiter would bring out a high-chair, unasked. People were generally really kind and friendly, even when we had a mini-meltdown at a restaurant on our last day. You hear stories about people feeding their baby alongside them while they eat their restaurant meal and I thought I'd give it a try. But, you see, my baby is pretty unhappy if he gets a taste of something nice and he doesn't get to have any more of it! It was a bit rough-going and embarrassing, but the fact that we were not the only ones with a crying baby in a restaurant helped soften the blow! Lessons were learned.
Random observations: Still sooo many Christmas decorations up in March! And the Centro Storico definitely gave me Old Town Prague vibes, say what you will. Also, how are people not talking about how beautiful this city is? You hear loads about Paris, London, Florence but not so much about Rome. Very underrated beauty to the geography, the historical city and its people.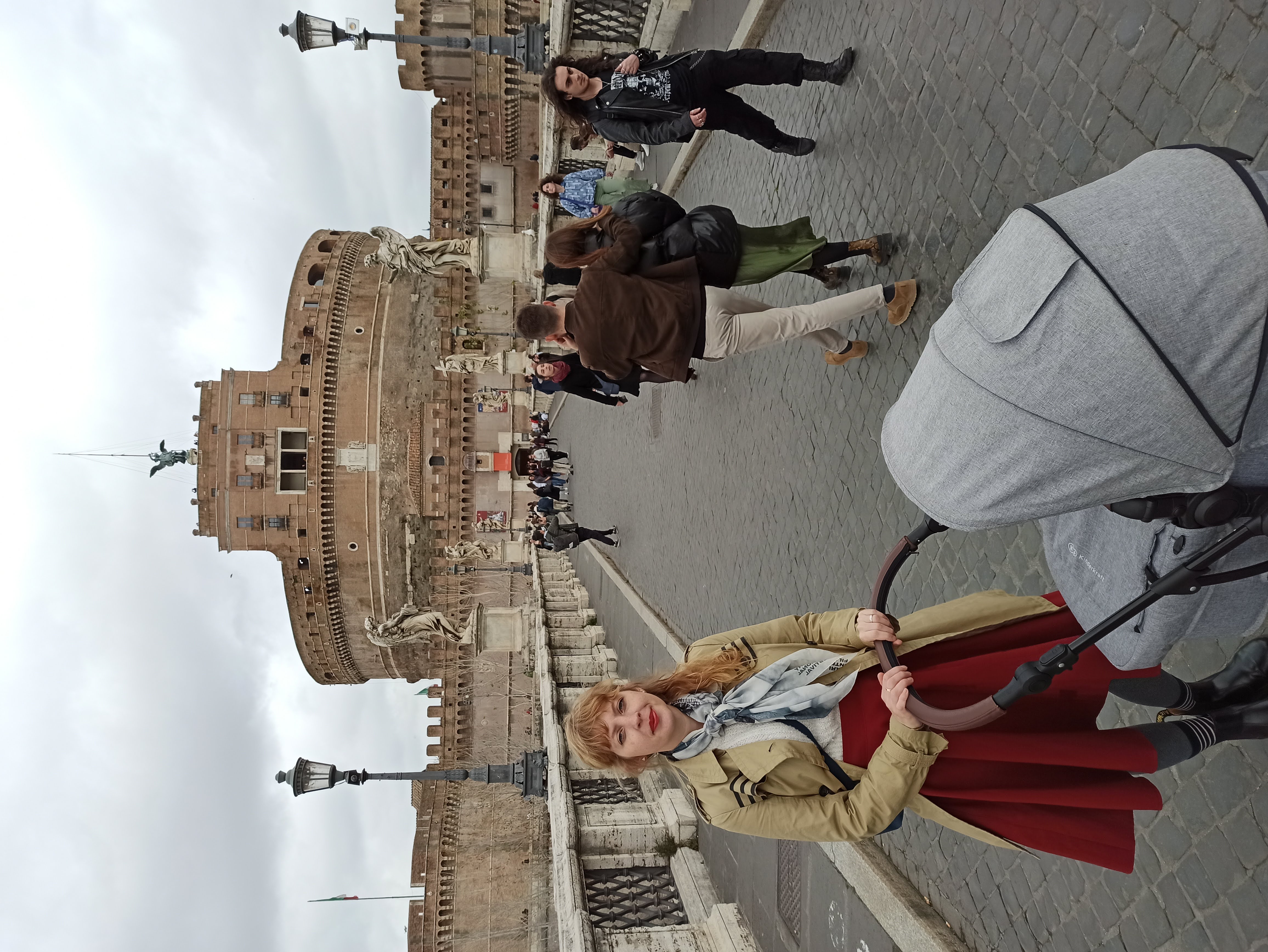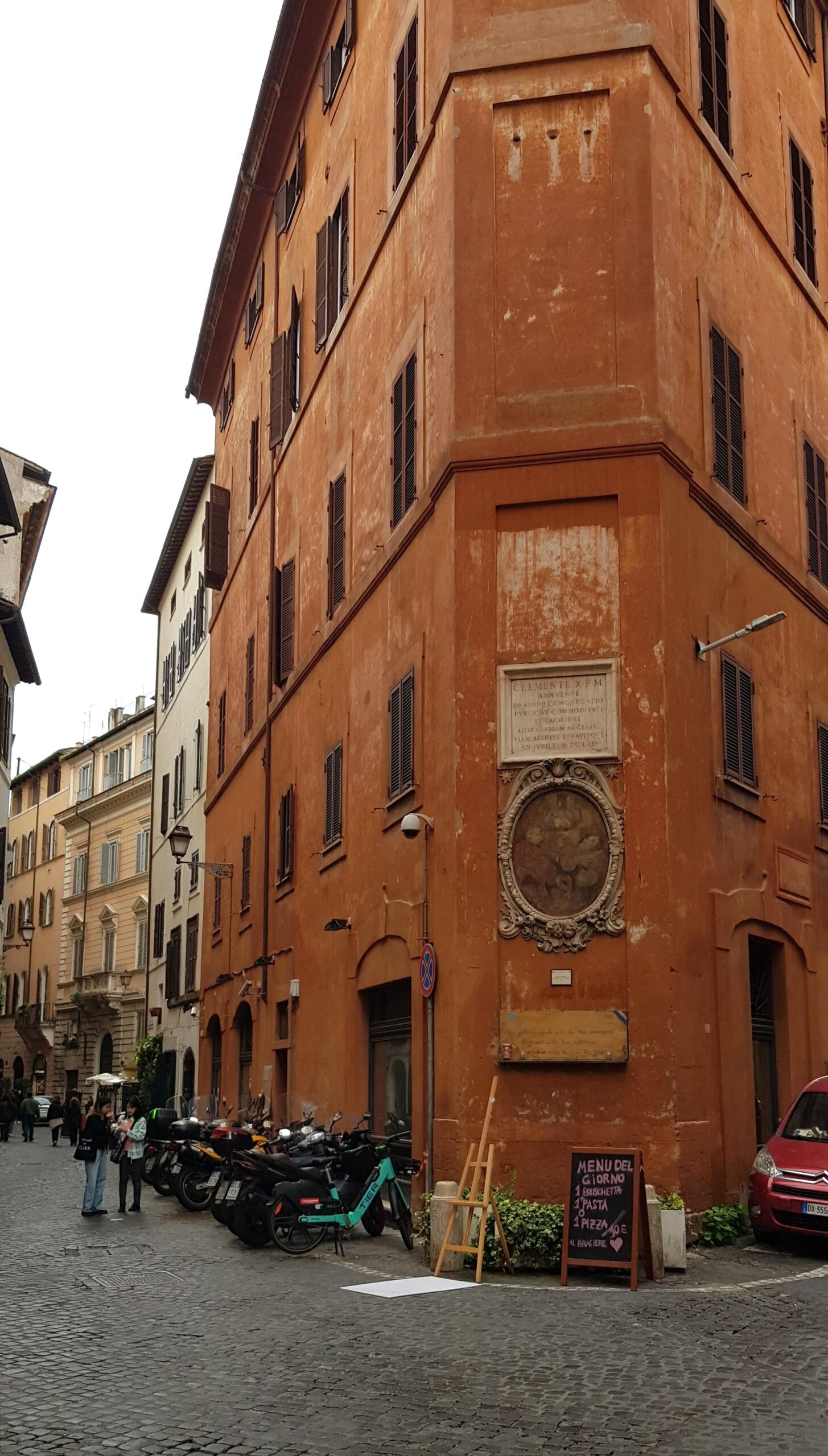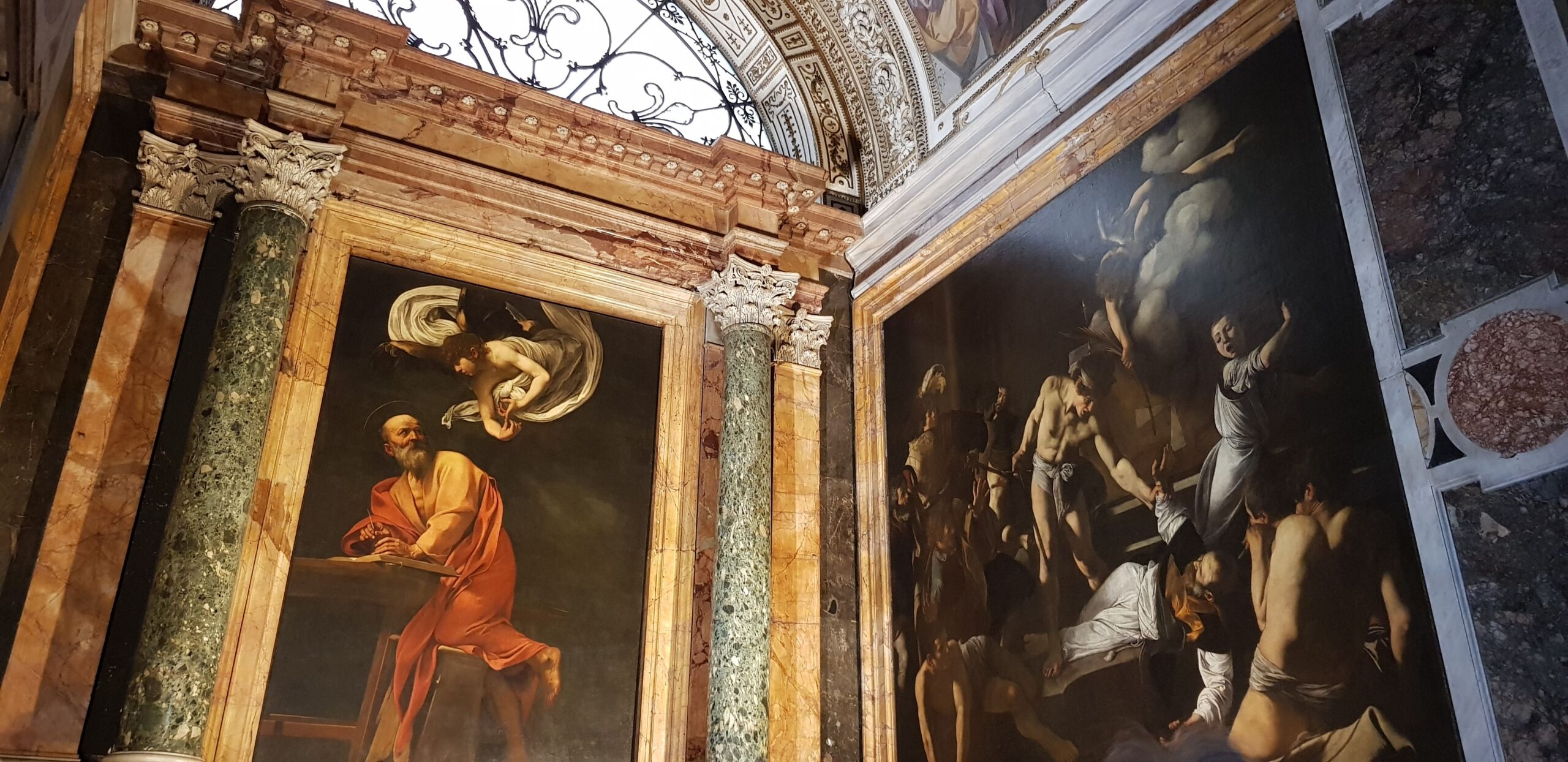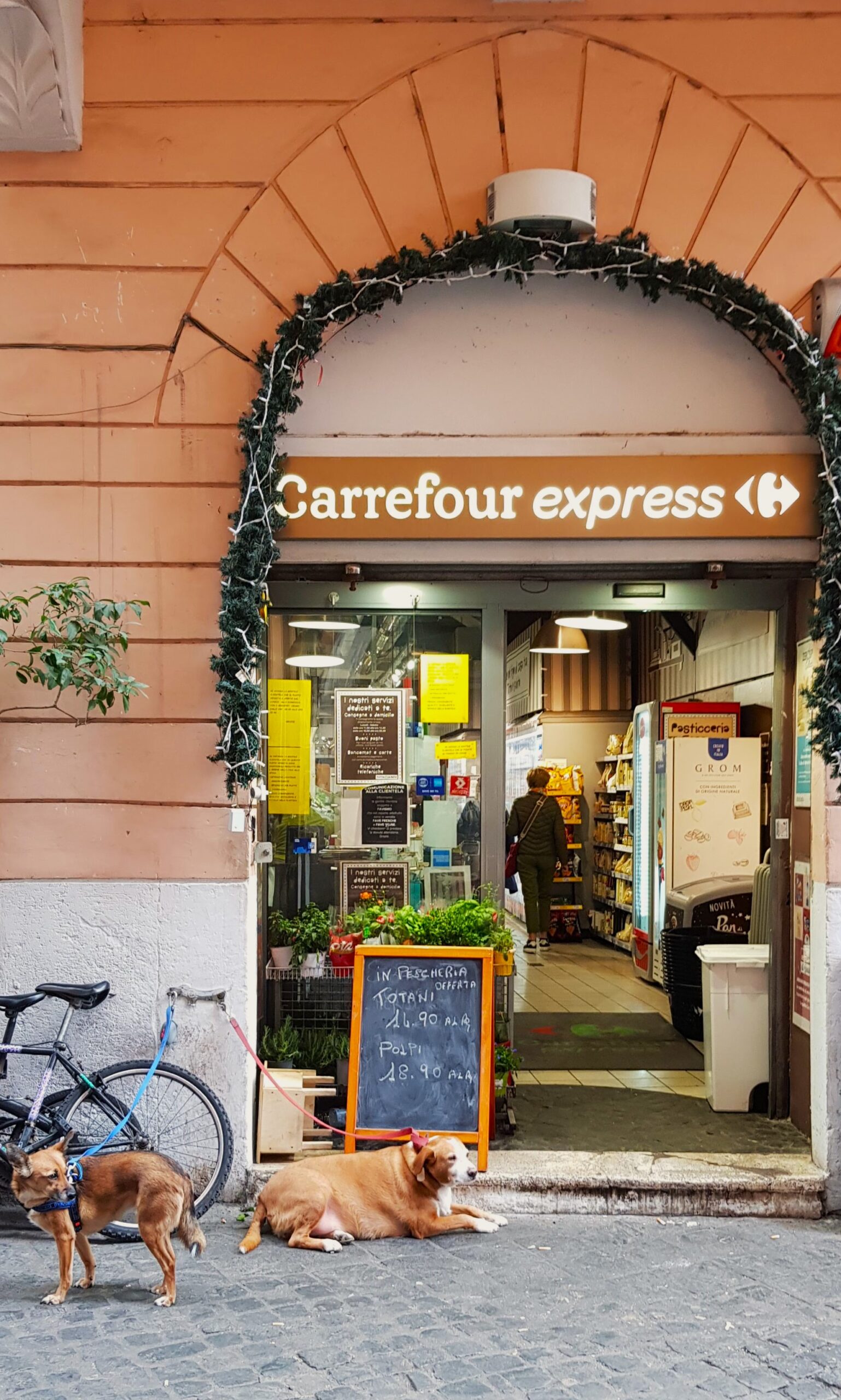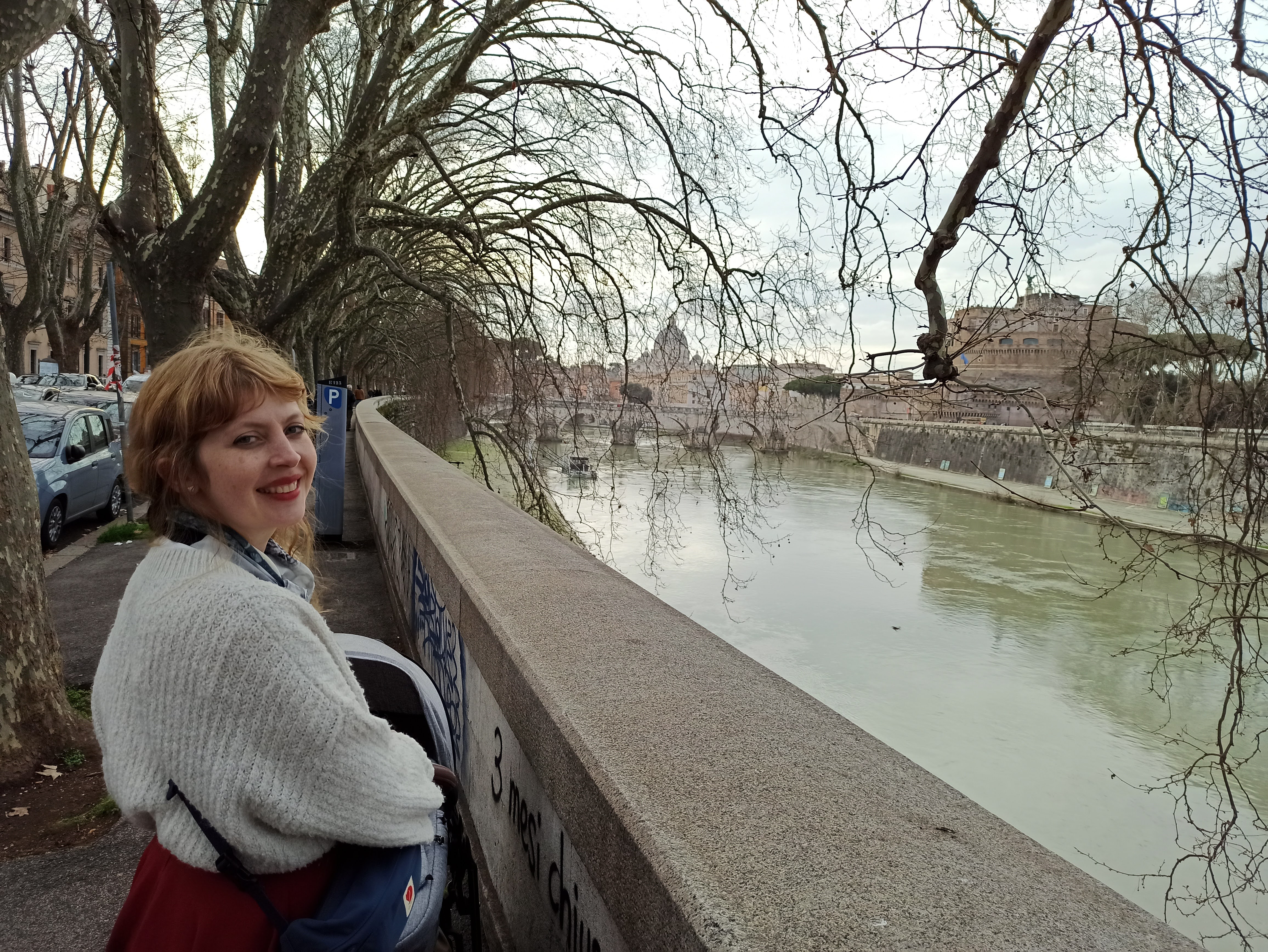 That second day we walked up a little hill from our apartment to get some sweeping views of the nearby Vatican then made our way south from Piazza del Popolo, popping in basilicas to check out the striking Caravaggio paintings that were installed within (oh, Rome!). We strolled down il Margutta and tried to imagine Audrey Hepburn as Princess Ann and Gregory Peck as Joe Bradley getting dropped off at midnight by a taxi here at number 51 in Roman Holiday. We had baby in our Ergobaby carrier that day as we knew we would eventually stumble upon the famous Spanish Steps, which we climbed up and down again just because. But before that, we made an after lunch stop for fancy coffees at the legendary 18th century Antico Caffè Greco. I breastfed our little Mouse seated on a velvet cushioned chair sipping fancy coffees on a silver tray, and it was completely worth it. We took funny photos of our baby and joked that he was having a spot of milk, following in the footsteps of famous patrons of the cafe (who probably actually had coffee instead) such as Byron and Keats, who lived only a few steps away.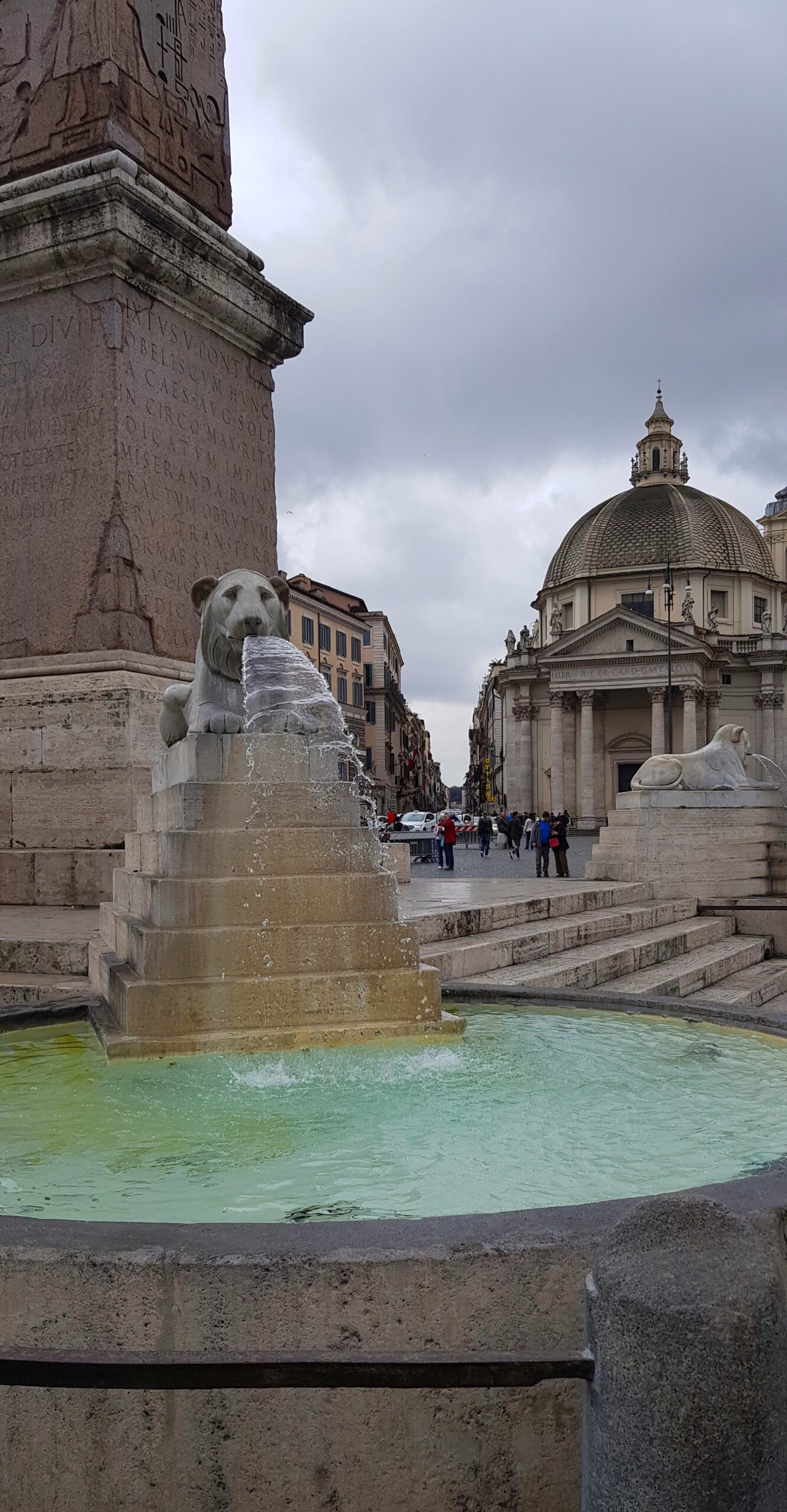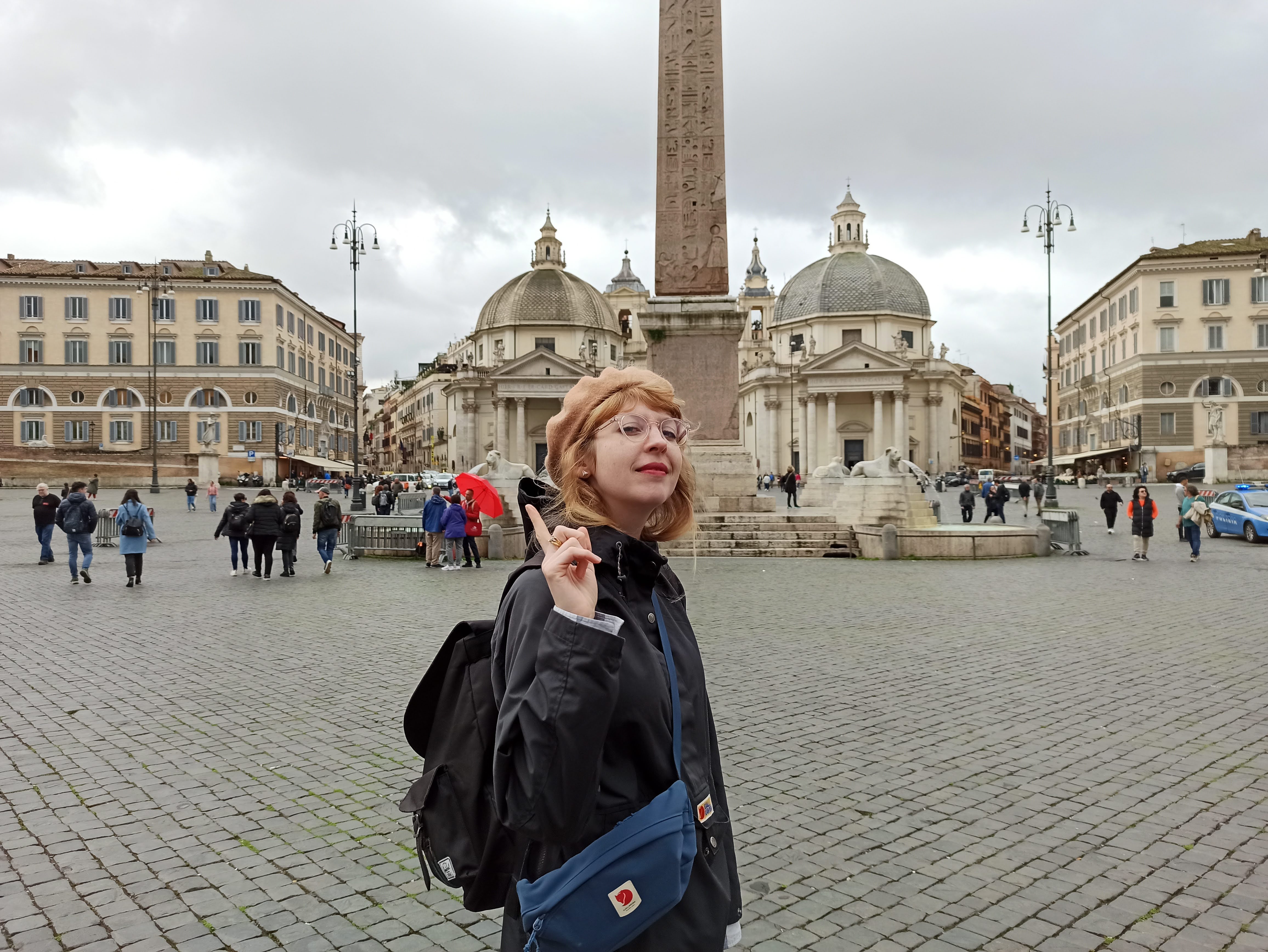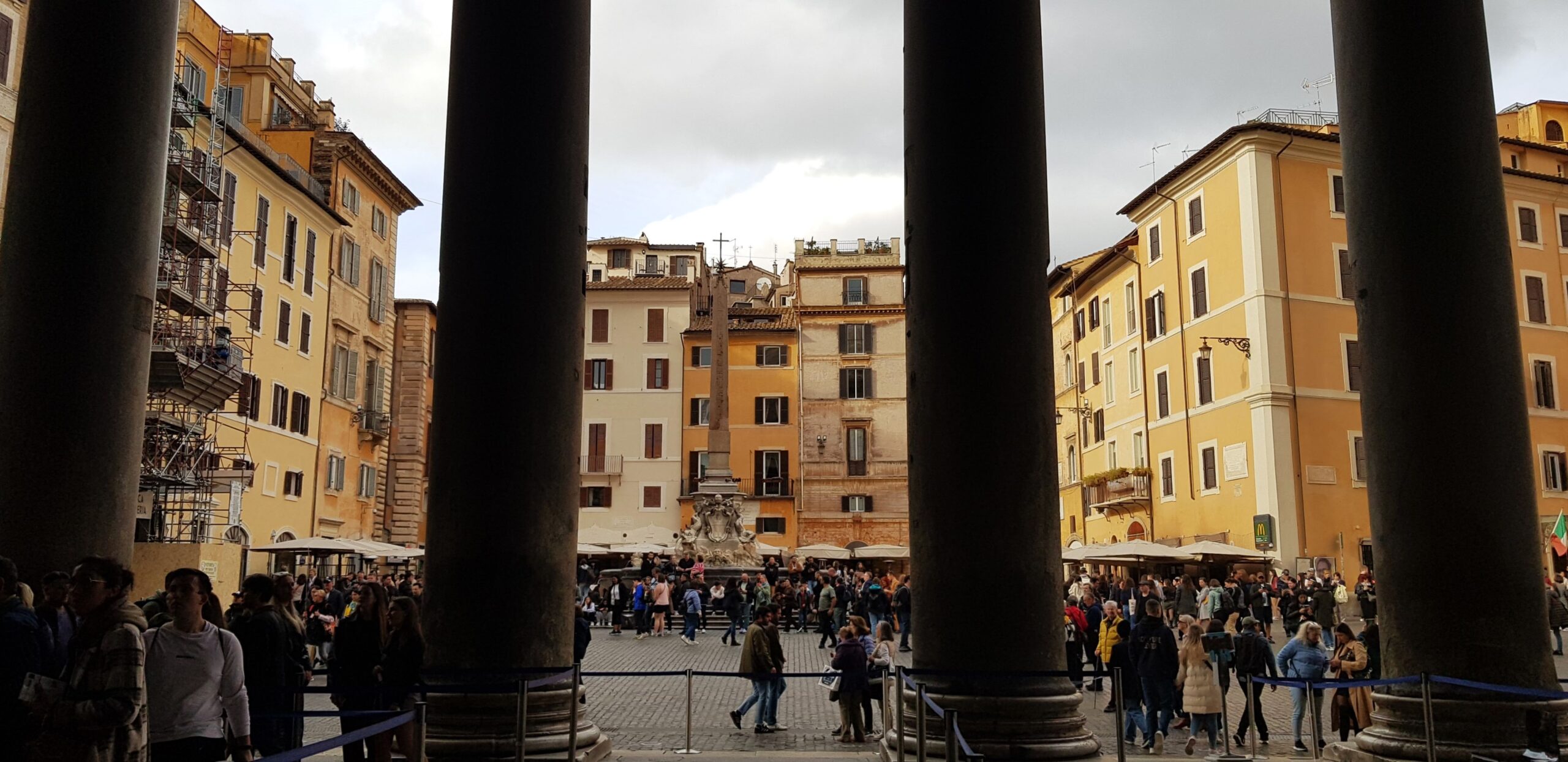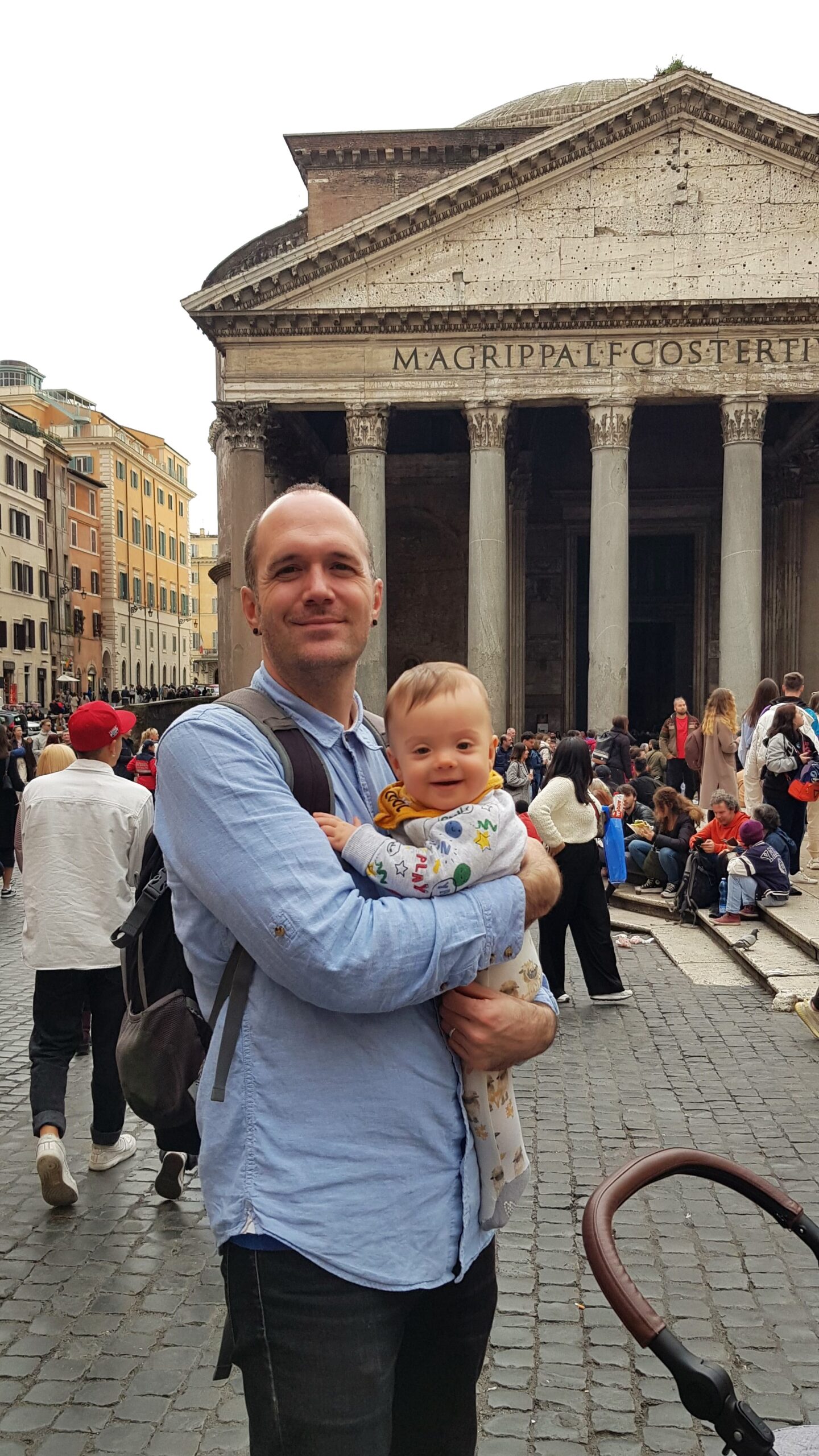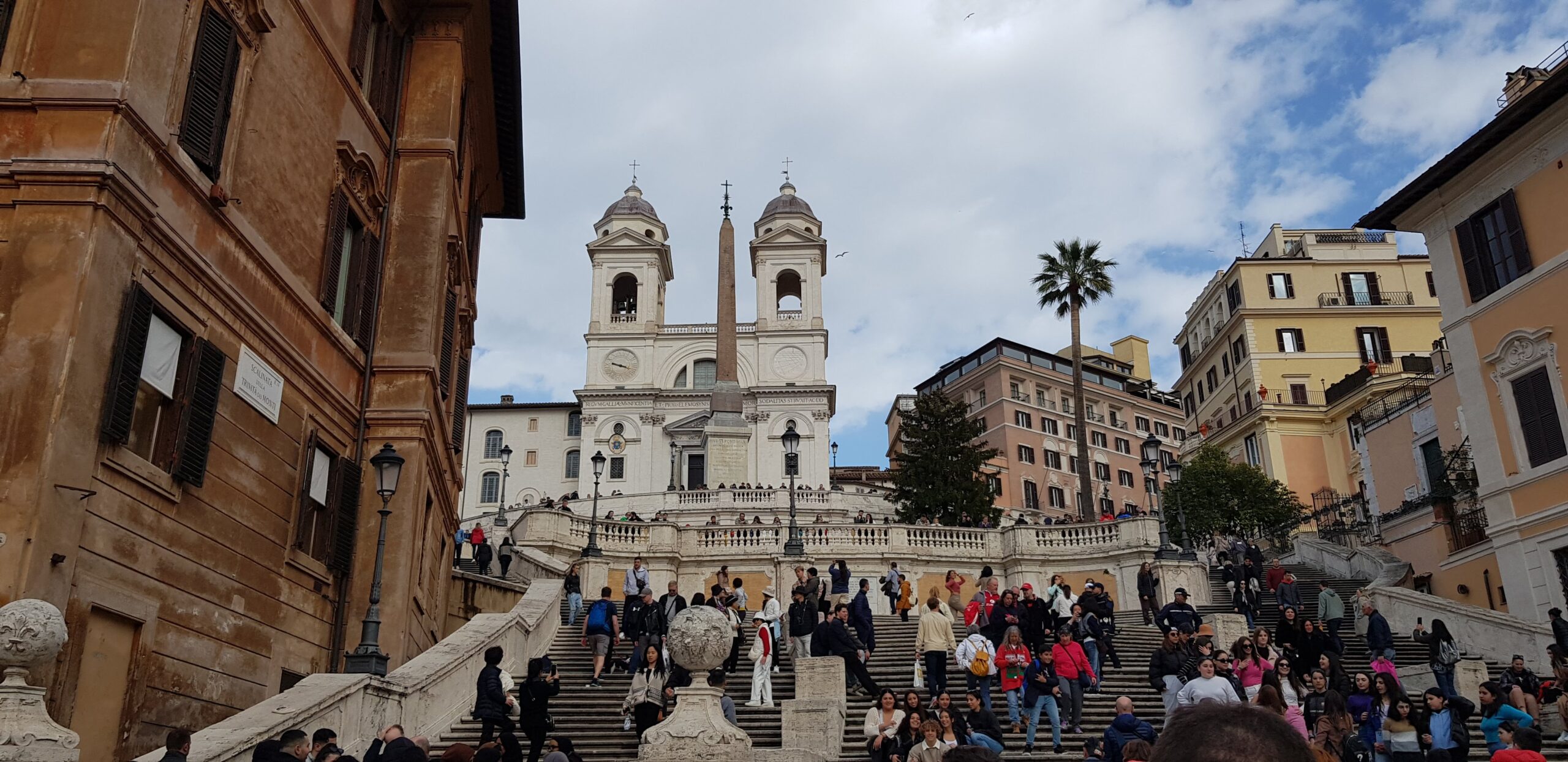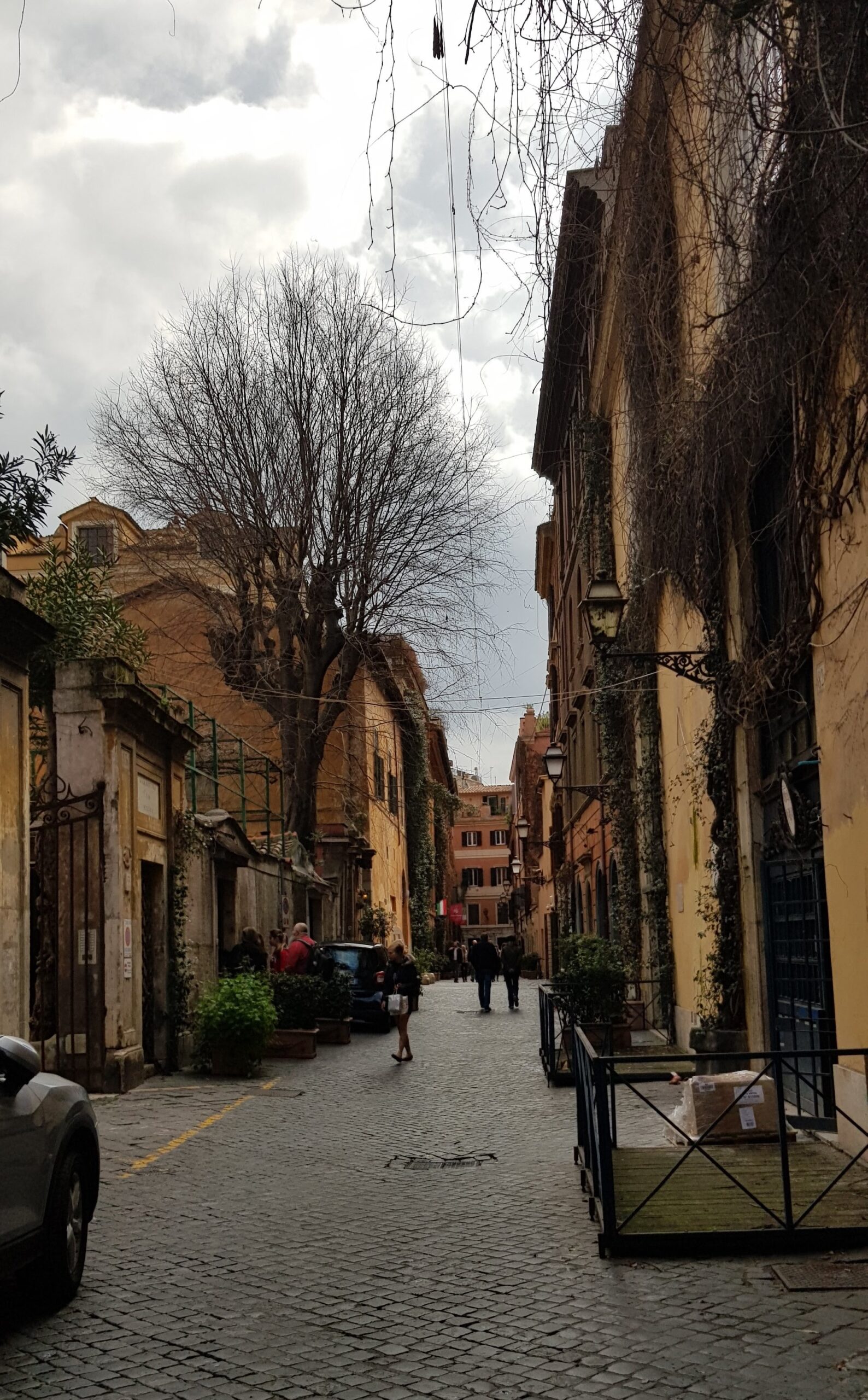 Rome's coffee culture was a big point of interest for us. We had quite a few caffès wherever we went, but my very favorite was Sant 'Eustachio Il Caffè, located near the Pantheon. It was a great opportunity to have one of their delicious coffees standing at the bar and reinvigorate ourselves for more sightseeing.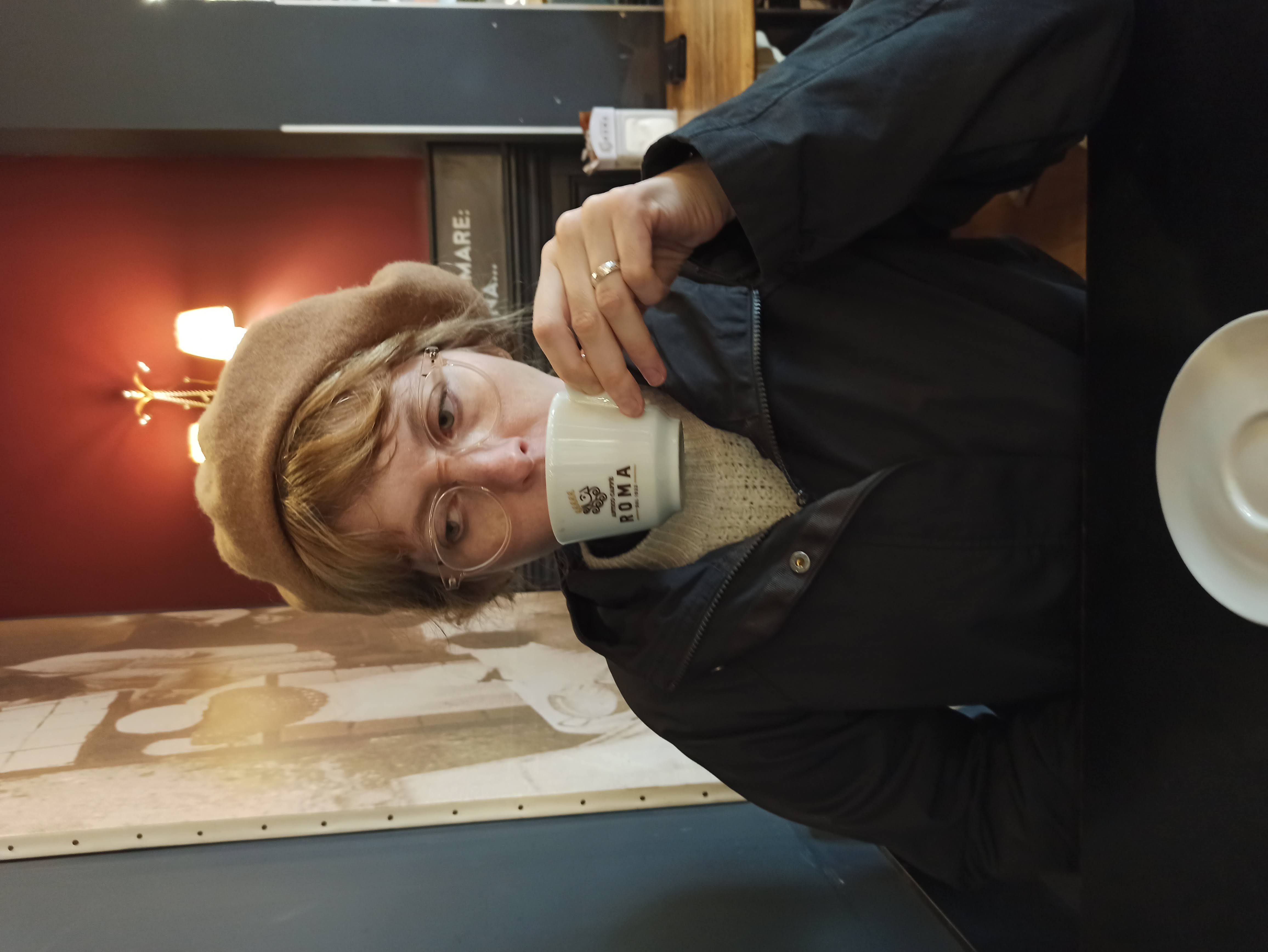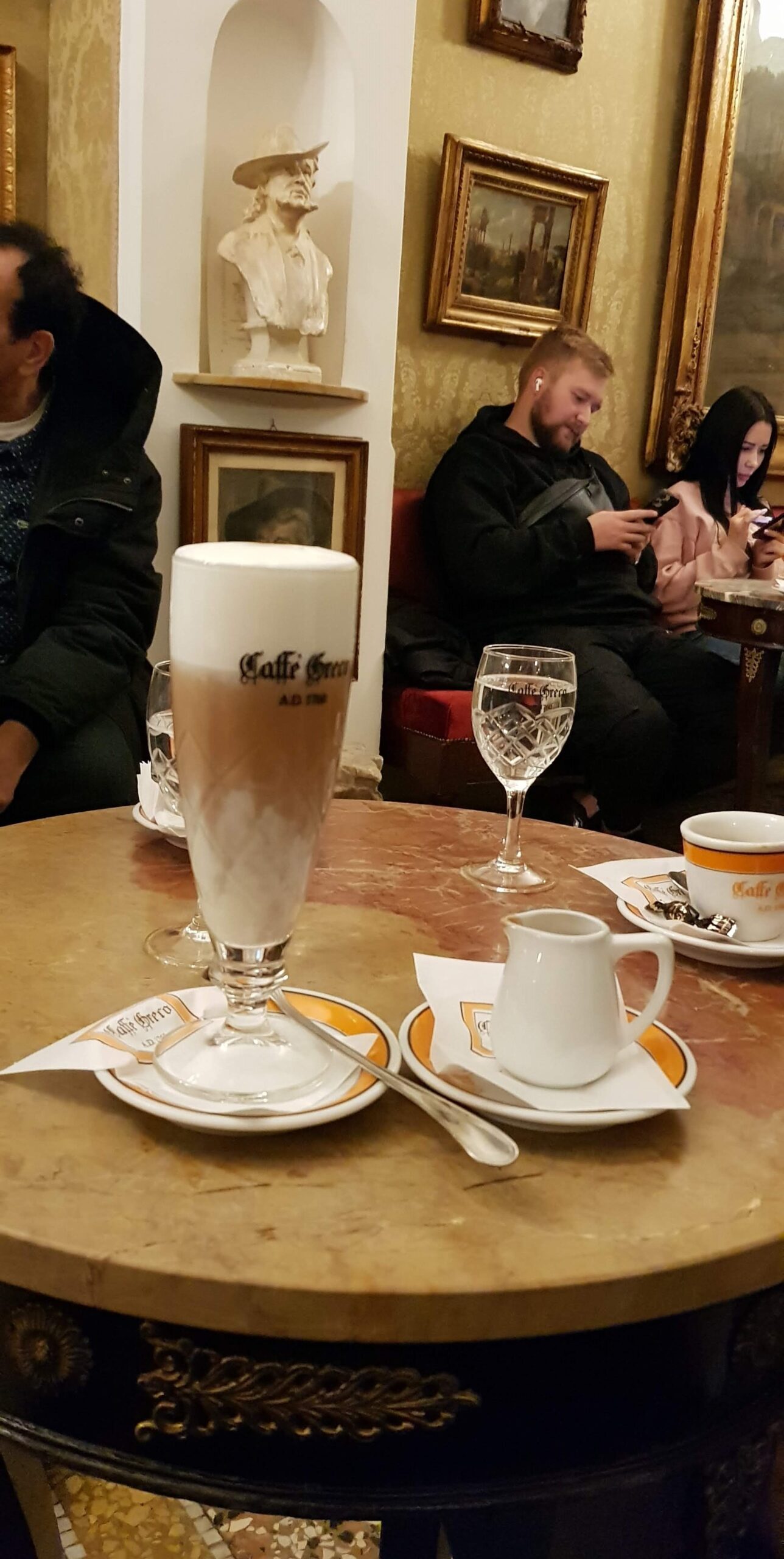 Of course we popped through Fontana di Trevi so I could make a wish and secure my one-day return to Rome, breezed through the Pantheon (spying a casual Rafael tomb!), stood in unseemly queues in front of Venchi and Giolotti for gelato.
Baby-wise, things were doable because we left the house sometime around 10am and were back around 5:30 or 6:00pm every day to ensure our little one could get enough sleep. He napped just fine in the pram or carrier but I did find that the final two days in Rome, mostly walking through the historical center that the general noise level was a bit too high for our nine-month old in that he didn't settle well and take naps during that time – far too much to see. The previous days involved a lot of more exciting for us/boring for him museum time which was much more conducive to napping on the go. Changing tables were sometimes found, but we typically changed him in his pram when we had it with us for the day. Taking a mix of a pram some days and carrier the next was a hugely strategic victory – knowing what sort of sights you can get by with wheels and when it is just completely inconvenient to have them.
Another important baby/pram(stroller) tip: There are very few Metro stations in Rome with an elevator/lift and fortunately for us, these included Cipro and Termini. However, most do not (including Colosseo) which means if you decide to bring your pram, you'll likely be lifting it up stairs or doing really sketchy things to get it on the escalator.
Our holiday apartment provided a travel cot but we brought a baby mat with us. It would have been next level to bring a travel high chair (something we are considering purchasing for the future) but we survived not having one.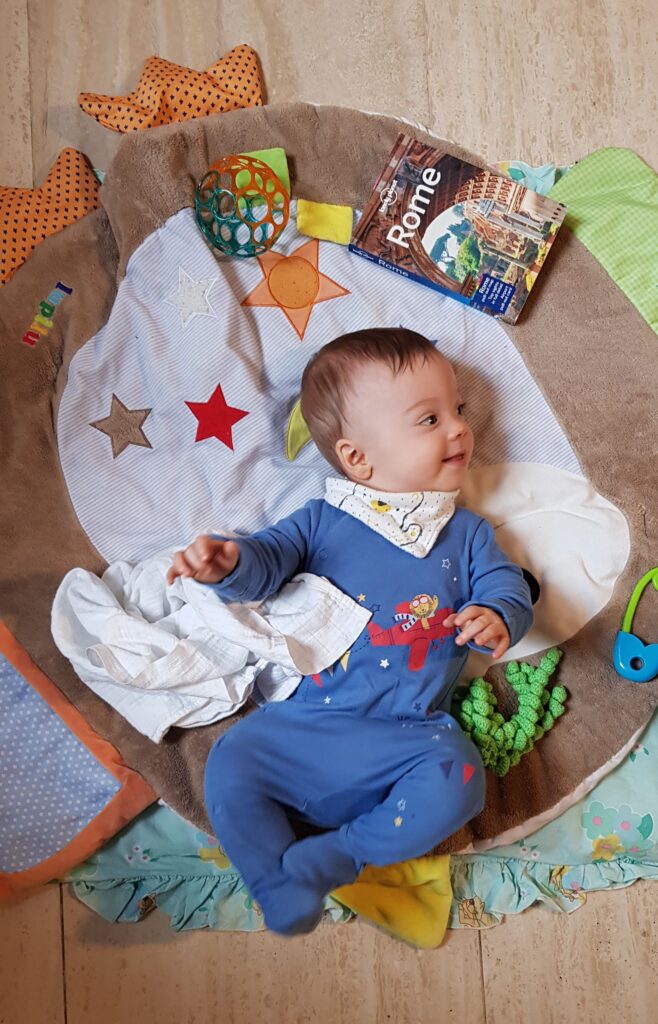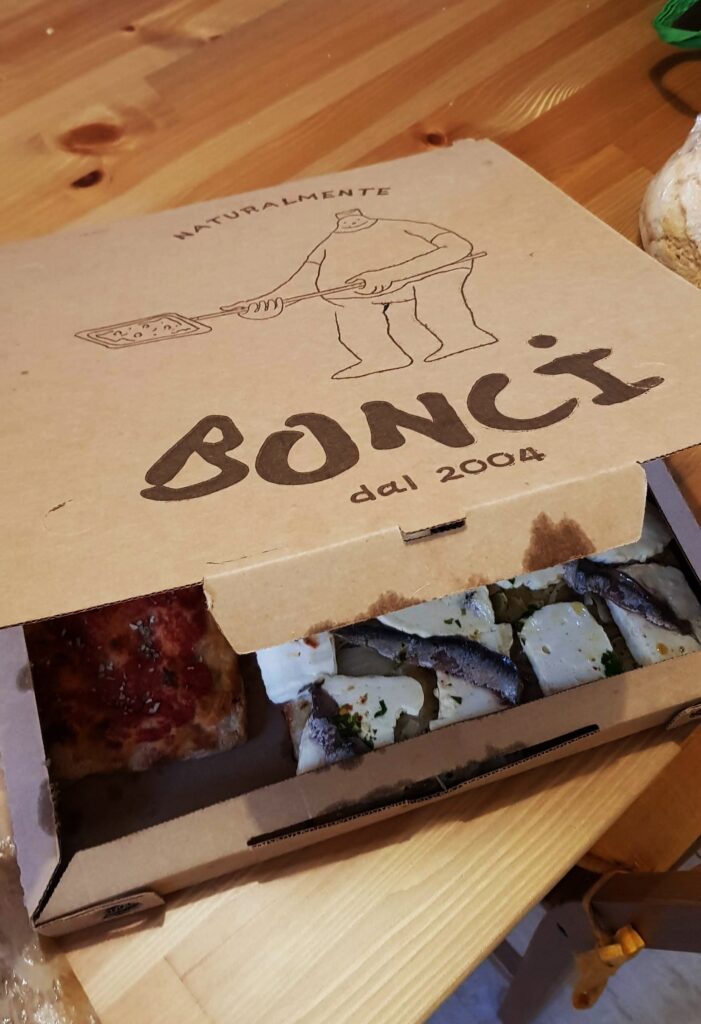 Aside from the pasta, gelato, delicious pastries and coffee… we loved Bonci Pizzarium, near Cipro metro station not far from our accommodation. As we made lunch our main meal out, for dinner we munched on picnic charcuterie type items from our beloved Conad City supermarket or pizza takeout which was easy to bring back and eat while feeding baby back at the apartment – best idea. I can't recommend Bonci pizza enough – rectangular slices that the staff cut for your with scissors and sell it by its weight, and these slices are stacked with toppings… yet the crust is sturdy enough to still retain a slight crunch to it. The toppings were also varied and fun – I enjoyed delicious porcini mushrooms with cheese and their spinach, tomato and onion variety while Alex went for the fish options. Even Mouse got into the excitement.
I actually did not have a single glass of Italian wine (I know) during the holiday but instead enjoyed a variety of Italian and other European import beers that are hard to find in the Czech Republic after baby went to bed. While the weather was quite good in early March (highs from 15-19 degrees Celsius during the day/in the 60's Fahrenheit), the sun still set before 6:30pm rushing us indoors rather than spending time outside on the beautiful terrace, but still I can very much recommend Rome in early March. It felt like a bit of delicious spring at a time when it was freezing back where we live. Dressing with loads of layers for all of us was the key to cool mornings and sunny afternoons!
Although I don't regret much, I think in the future I would book an accommodation closer to the historic center with a baby – it would've maximized sightseeing opportunities instead of having to head back across the river, but it worked out relatively well to be out for the whole day and pack accordingly. It is possible to make Rome your living room and I think even if we'd stayed in the center, I wouldn't have wanted to pop back in during the day. There's far too much to do and see out there… one reason that city trips are never the most relaxing, but they certainly are so much fun, especially for a first timer in Rome!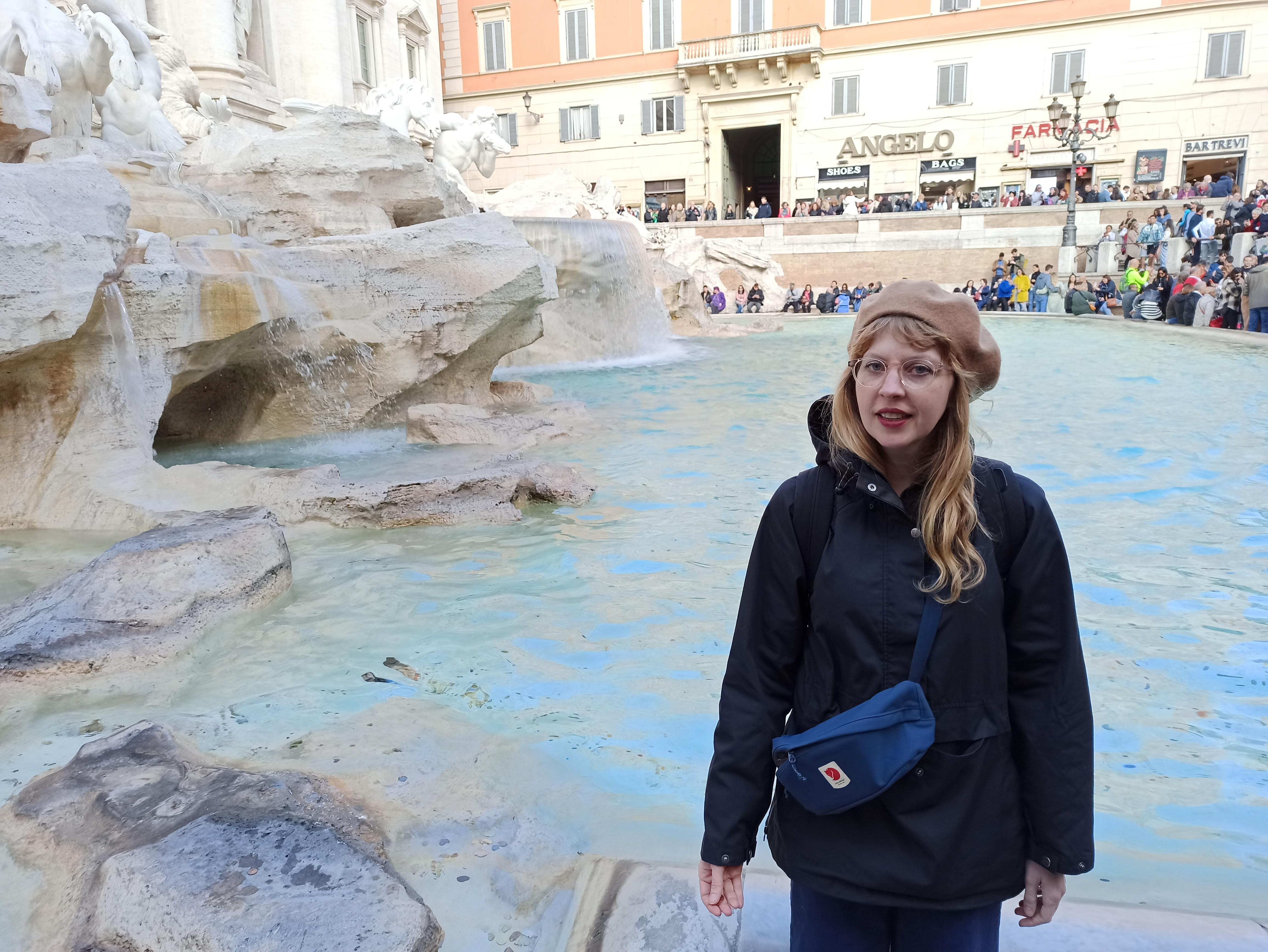 To Wear for March in Rome
I don't know about you but if I'm going to a new area in a pretty unknown-to-me season, I need to know what to pack! I packed a rain jacket and a light trench coat as well as a neutral sweater for warmth and that was truly perfect. I also mostly wore trousers but once or twice I wore a skirt with tights on warmer days. A scarf is a must when in Rome, some nice button downs or blouses and I swear by comfortable black Chelsea-style leather boots for nearly every season when on a city trip. They've never let me down yet, whether hiking or tromping down cobblestones.
Baby was fine in a zip-up jacket for cooler days, knit hat and variety of long sleeved onesies which include "footies" as to not worry about socks. On warmer days he wore a sweatshirt over his onesie — perfect spring transition item. For babies as well as adults, layers in these shoulder seasons are key.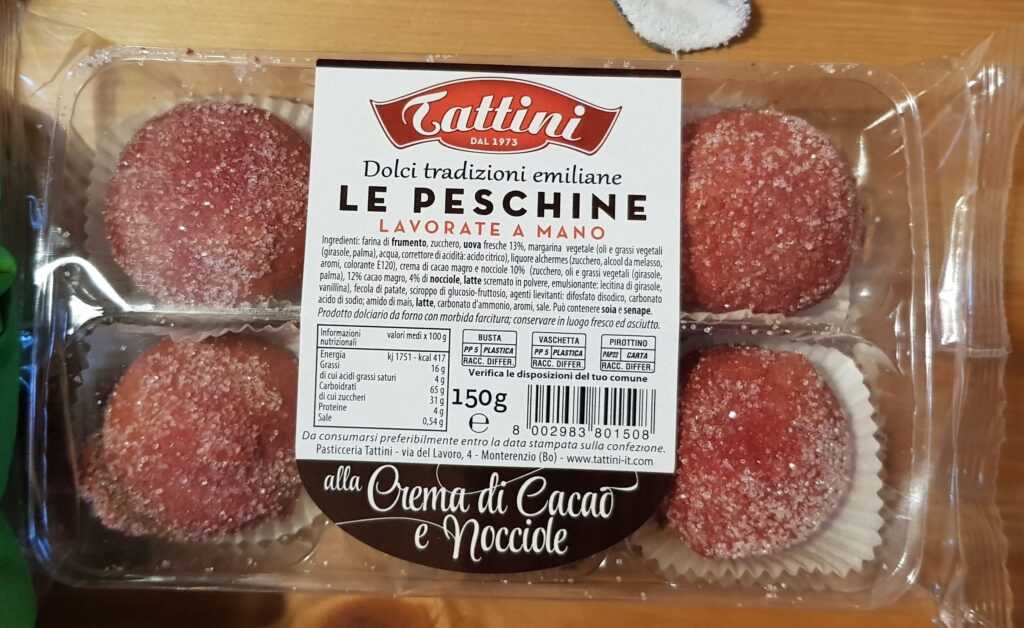 To Bring Back…
I am a big functional/edible souvenir gal, especially of the edible variety and something that you would use a lot in your daily life to remember your great travels, so I made sure to come home with some Italian olive oil and balsamic vinegar, plenty of pastries, Acqua di Rose from Santa Maria Novella, and lots of coffee from Sant 'Eustachio Il Caffè for that taste of Rome that keeps on giving after you return, as well as a flashy mug for Alex for his recent birthday. If you are looking for last minute edible goodies, the duty-free shop at the airport on the way out did not disappoint! I think I've regretted bringing tasty goodies home with me from trips about, oh, zero times. And who doesn't love being reminded of their favorite cafe nearly every day they pull their mug out of the cupboard?
What a special trip as our first one as just us – family of three – with our sweet new baby and here's to so much more fun experiences to come. We already started fantasizing about what a future "non first time" Rome trip would look like for us. Italy, great to see you again and we will be back!
Happy to answer any questions about traveling with a baby to Rome in the comments! Have you been to Rome before?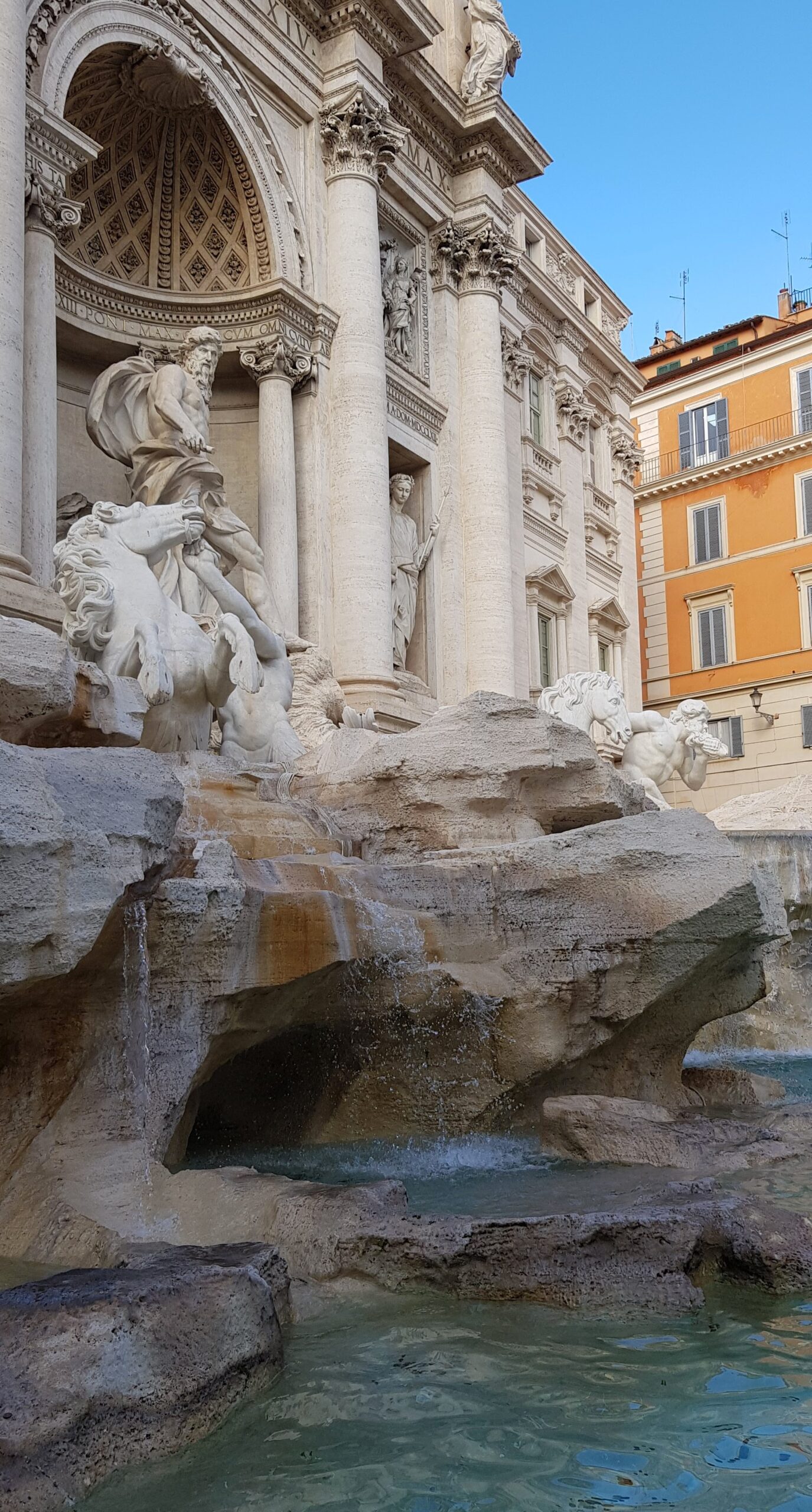 Pardon the delay on this post! I would've had it out loads sooner but I'm having camera/computer connectivity troubles these days – for a post intended to be photo-heavy it's a nightmare.
And hey! You know what sucks now? Bloglovin. You know what doesn't suck? Following Adventurings on Feedly! Get in. I'm so glad I've switched over!