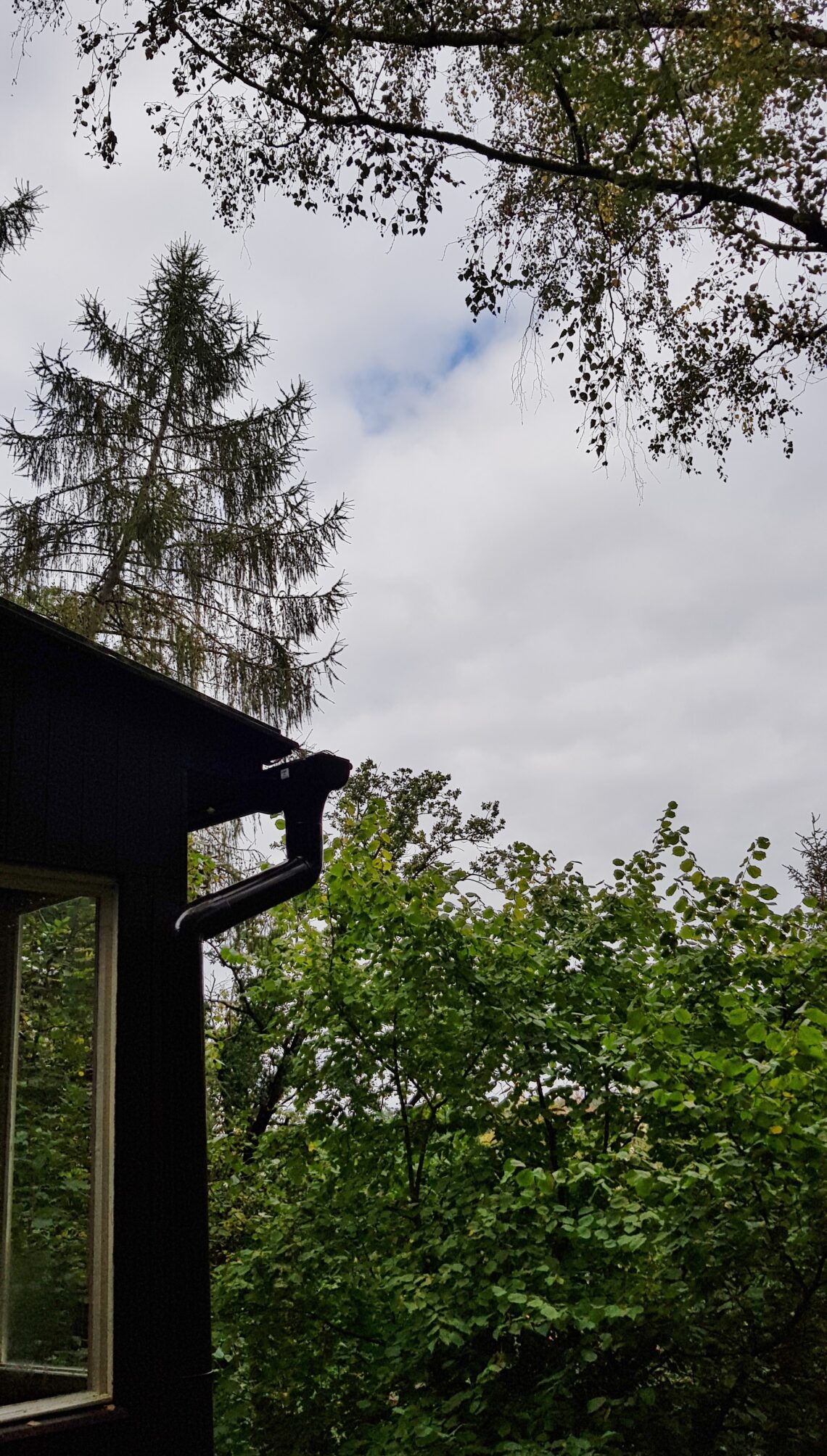 Little Cottage in the Woods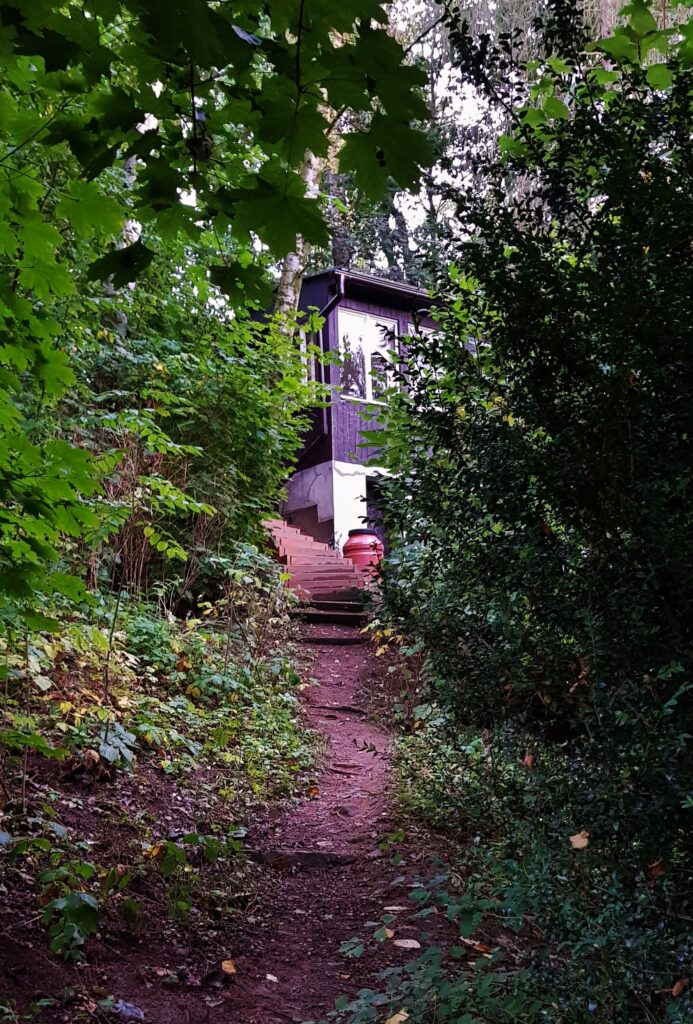 Even though the weather forecast for our early autumn cottage holiday weekend looked comically grim, there wasn't a thought in my mind to cancel. We'd been hoping to go for an unplugged, off-the-grid weekend since late summer, but after returning from Croatia in August, we decided it would be much better appreciated if we waited until the long weekend at the end of September.
Fortunately I packed for the cold — lots of woolly knits — and I'm so glad I did because it just did not stop raining. We arrived in the dark on Friday evening to pouring rain, which continued straight until early Sunday morning. When you stay in a cottage which is only heated by a small wood stove, knits are your greatest friend because the kind of chill a cold floor on a chilly wet day brings can cut straight to the bone.
It was actually such a memorably cozy day on Saturday, despite the chill. We got a bit drenched in the pouring rain going out for groceries (sadly, no St. Wenceslas celebrations were to be attended even though you could hear blare of brass instruments, surely from the poor musicians taking cover under an awning, ring through Popovice). I made some warming soup and sandwiches and we removed our wet clothes to dry by the fire. We talked about childhood memories, Alex had a toasty nap and I cuddled our chilled Ferdie-dog and read my "day book" as the rain pelted the window behind me.
I do love the climate here in the Czech Republic – there's just enough of everything, but sometimes I even miss the rain as its frequency here understandably comes nowhere as close as it does in Washington State. A cozy read listening to the rain and watching the trees sway in the wind, with a cup of tea, of course – this is just my kind of afternoon.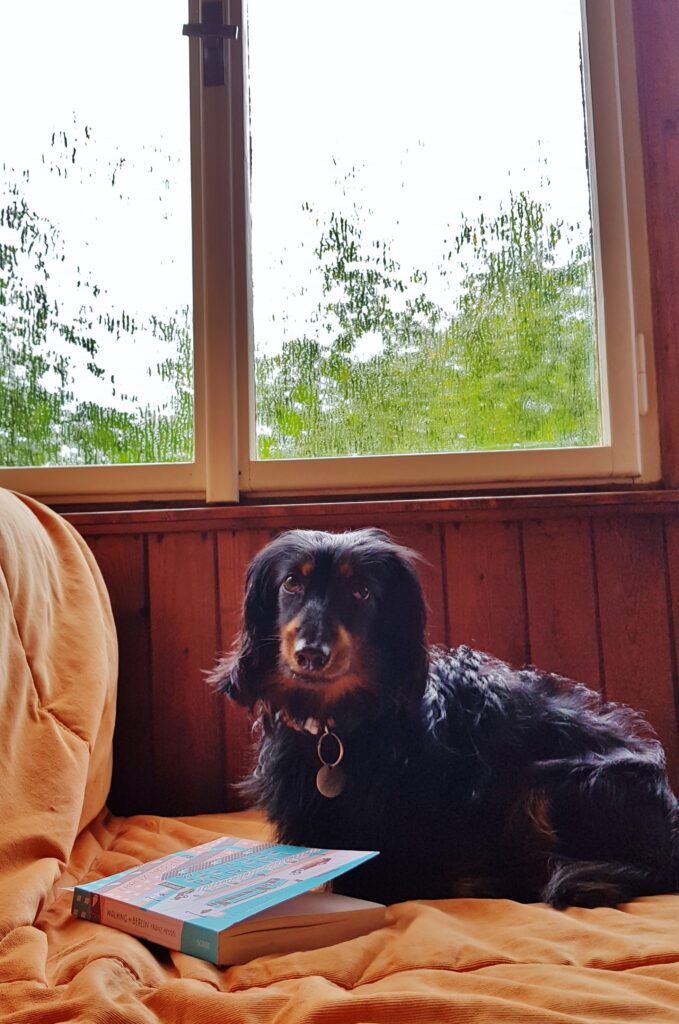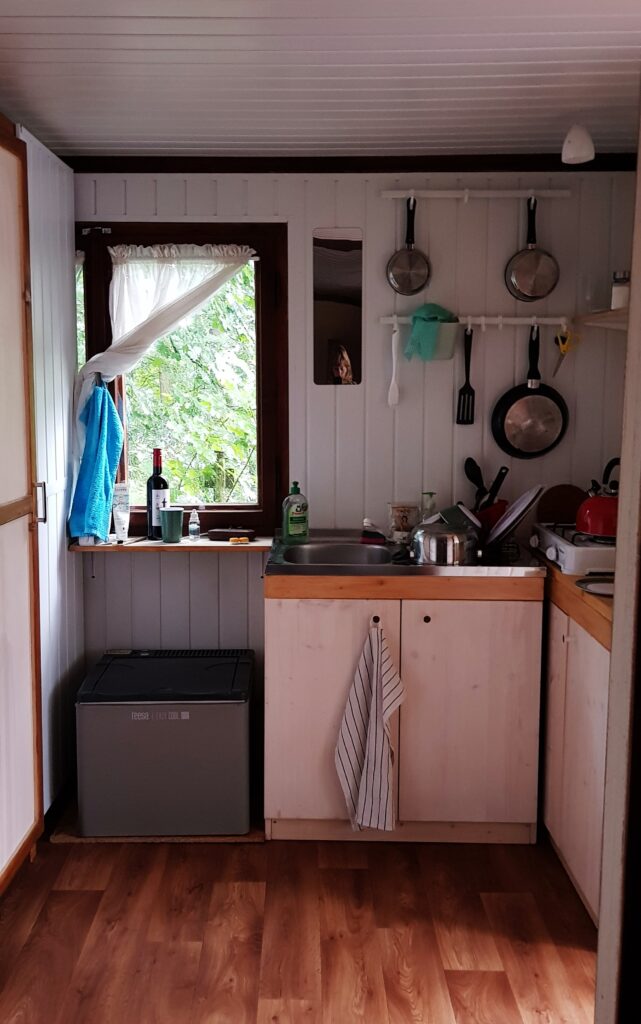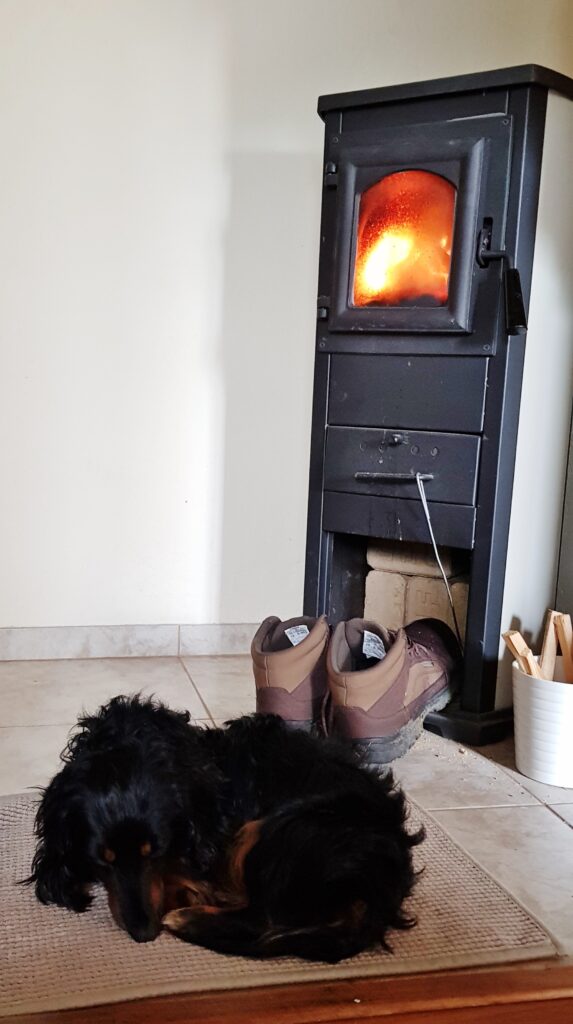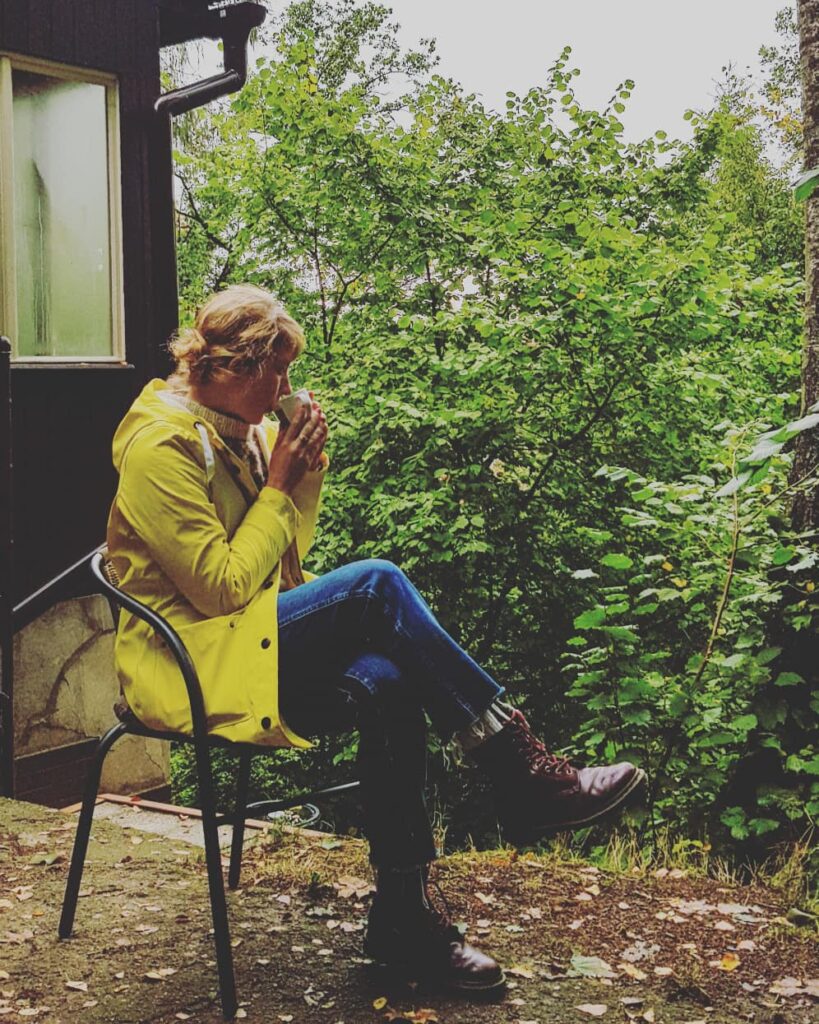 In the evenings we dined out at the modest local restaurants and returned back to the cottage, now lit with candles and battery-powered fairy lights (a must-have when there's no electricity!) and read a play out-loud together while having a glass or two of wine. We happened to have copies laying around of the well-known Tennessee Williams' drama, Cat on a Hot Tin Roof for years but I haven't read a play with someone else outside of rehearsals or high school English class. Let me tell you — it is so much fun. (if you're into to theatre and being silly) Next best thing to actually seeing theater or being in a play. You really get to know a play by reading and acting it through, certainly far more than if you'd just seen it.
On Sunday the rain mercifully subsided and I finally got to enjoy my morning tea outdoors, just as I was hoping I'd be able to. This moment, captured by the photo above really was one of my favorites from this quiet, relaxed weekend. Just the fallen leaves, birdsong.
For lunch we barbecued! I was so pleased the weather was finally acceptable enough to do so. We'd brought delicious (veggie) sausages and "hobo packets": chopped vegetables like potato, onion, pepper, etc wrapped in aluminum foil and steamed over the fire. (What are your go-to barbecue meals?)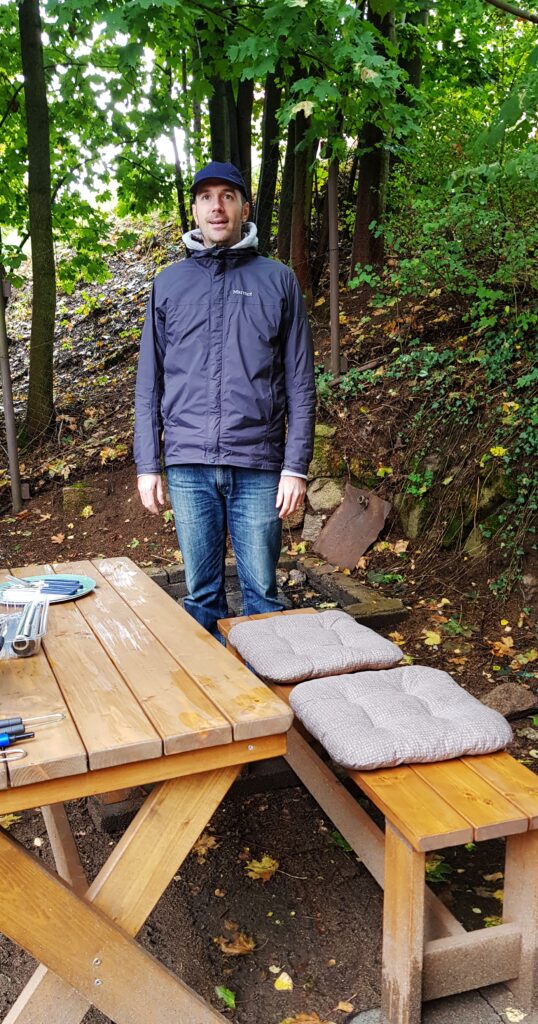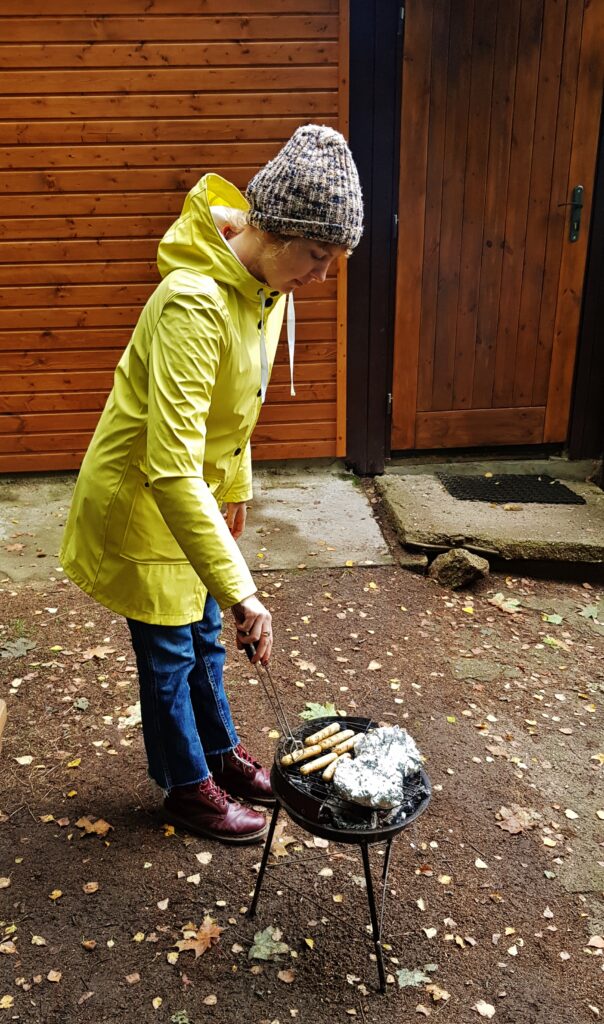 Our cottage happened to be in Velké Popovice, Central Bohemia. If you've been here in the Czech Republic awhile, that will mean one thing to you: beer. Specifically Kozel, one of the most-known breweries in the country. Unfortunately the brewery was closed to visitors due to Corona, but we visited the famous goats, including Olda, the official Kozel goat.
We also took a nice long walk in the afternoon (the sun came out!!!) to a chateau, not too far away. It was just nice to see a little bit of the Central Bohemian landscape, and I returned with my rain jacket pockets full of hawthorn berries, currently in season here.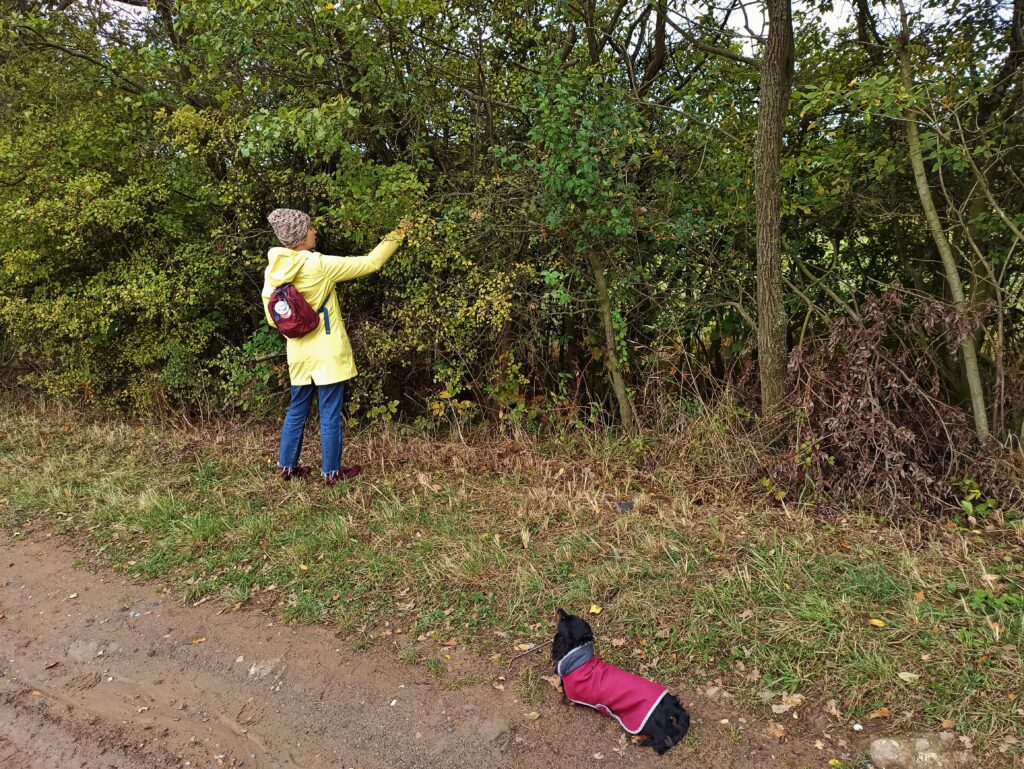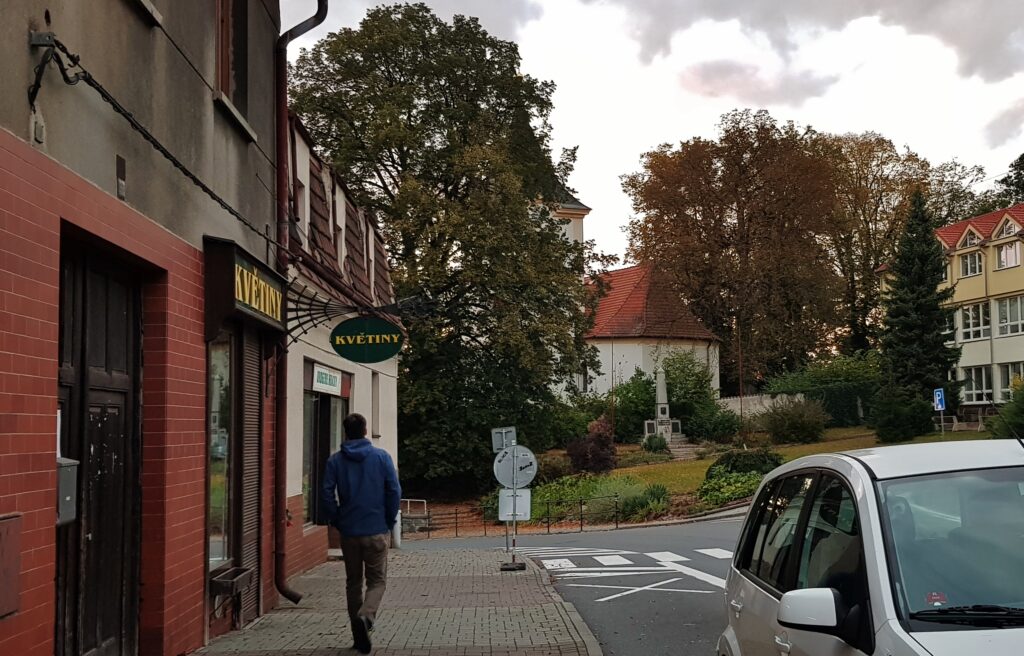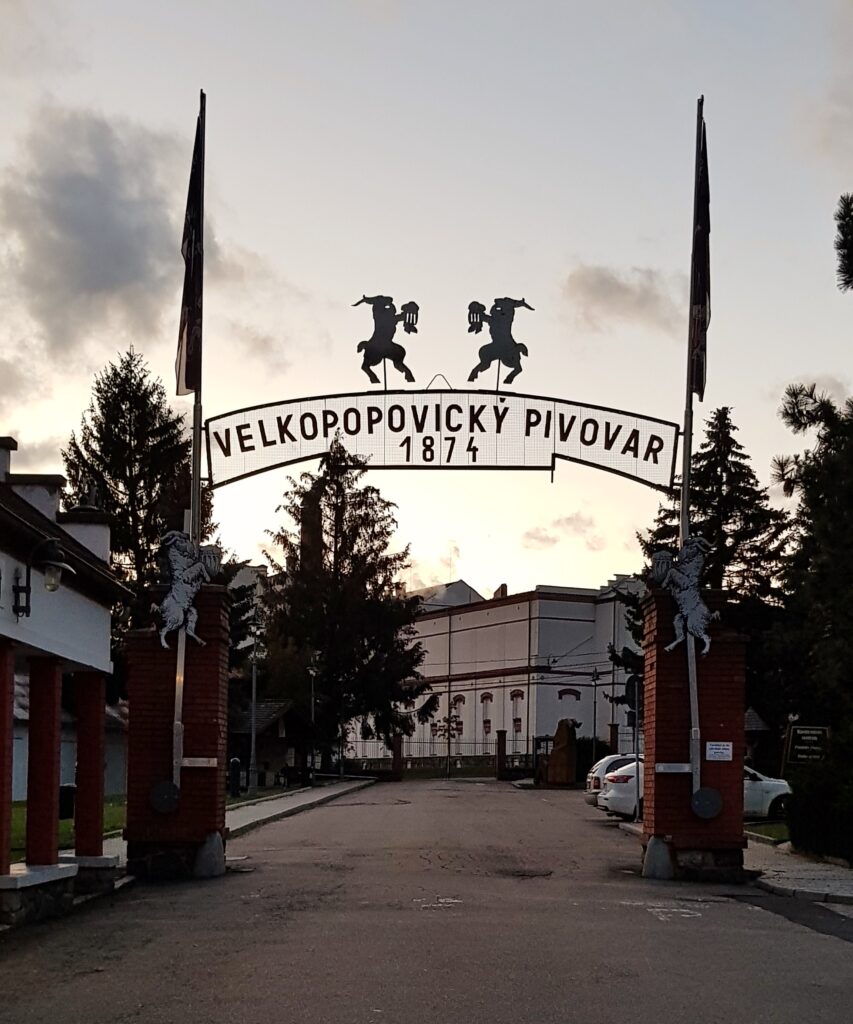 What stood out to me while I was there – the overwhelming feeling was that of simplicity, as if it was a release on any complexity whatsoever. I haven't felt that since the time we moved into our new flat in Budejovice in 2013. That feeling was the most present when we were work-staying, especially when we stayed in a cottage in Arisaig, Scotland for three weeks. The days were simple, there wasn't much around in terms of things besides one book to read, one teapot in which to make tea and a whole lot of beautiful landscape to explore. I think having fewer possessions, distractions, and well, less internet really was the key here. The pervasiveness of the Internet in all facets of our life make things a bit different, but it's hard to refuse it if it's just… there.
We decided we'd like to do one Internet-less day or evening per week going forward! Since this trip, I have also implemented turning my phone on silent (or airplane mode) and placing it across the room on weekend mornings. Although I'm not yet brave enough to do this on weekdays, weekend mornings are better without the Internet for me. No news (remember when reading the newspaper on a Sunday morning was fun?), no social media. Turns out, you don't (usually) miss too much taking three or four days off from being online.
For some, I imagine this sort of cottage trip would be cold, dark and boring but for us, it was such an enriching time to connect back to the things that really matter, just in time for the new school year.