Mushroom Foraging on St. Wenceslas Day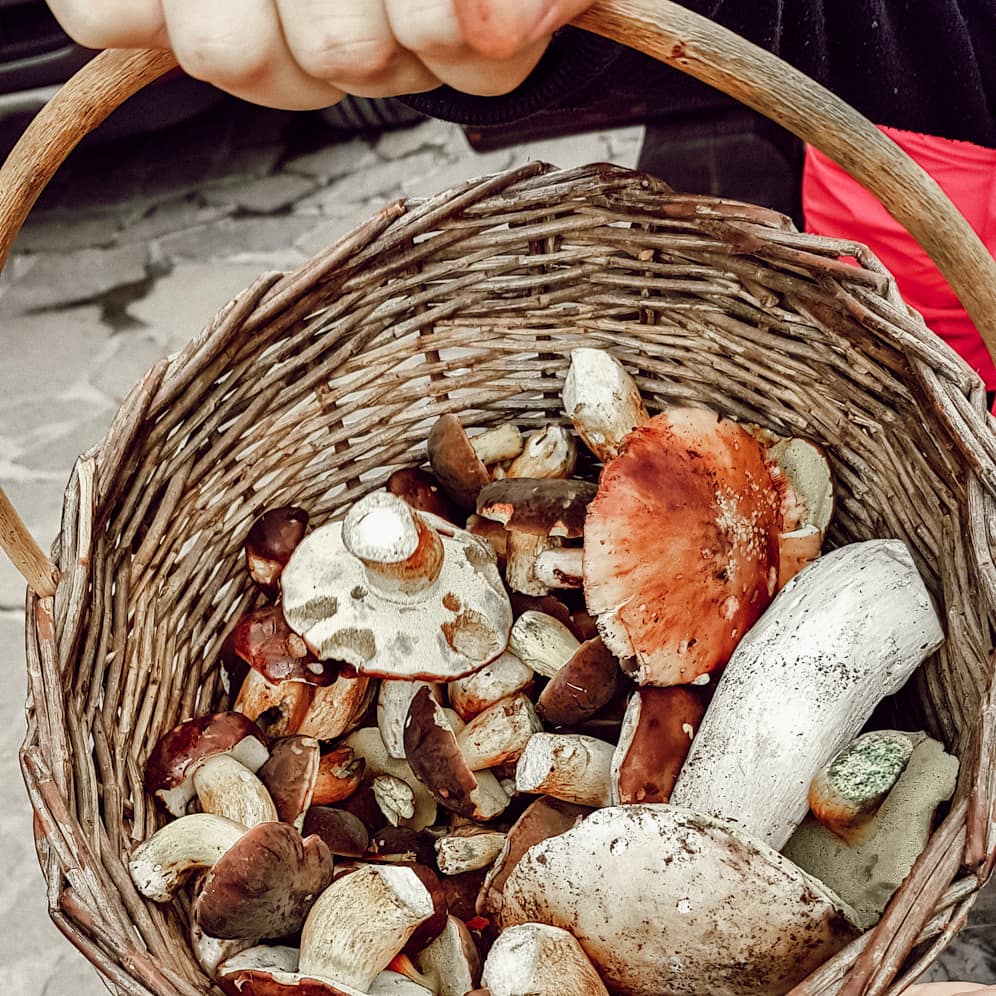 "Our Czech forests are overflowing with mushrooms."

— an actual line from a local news report
St. Wenceslas Day (Sv. Václav) is one of my favorite Czech holidays. It's right after the official turn to autumn, the school year's right about to get into the usual swing except for this last holiday weekend to enjoy the simpler things about the start of the season. Normally, I like to visit some sort of happening to watch folk-dancing, browse the craft markets, have a glass of wine or if I'm lucky, burčák (Federweisser aka "fermented alcoholic grape juice" – a wine byproduct). I had every intention of doing that as we started our day with another one of our favorite autumn excursions, a trip up Klet' hill.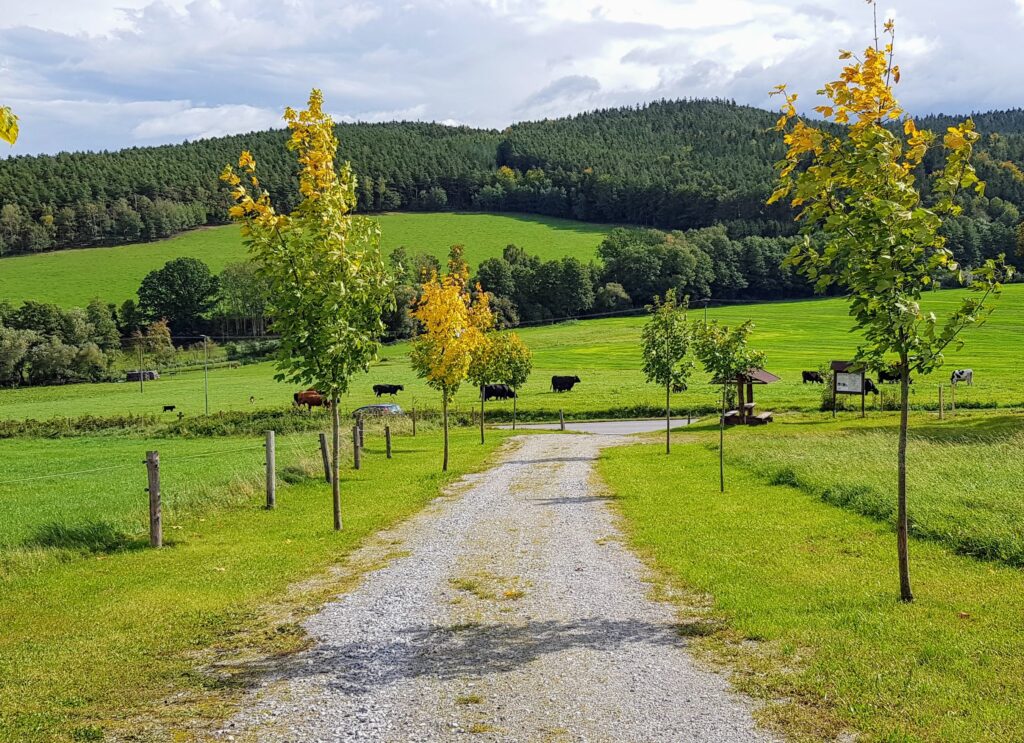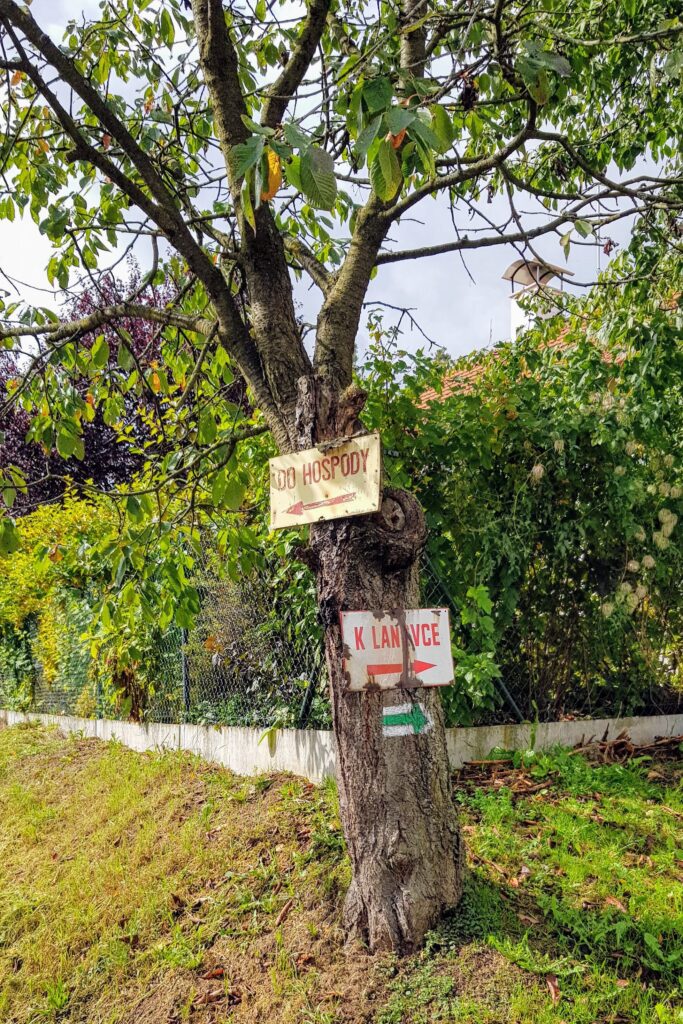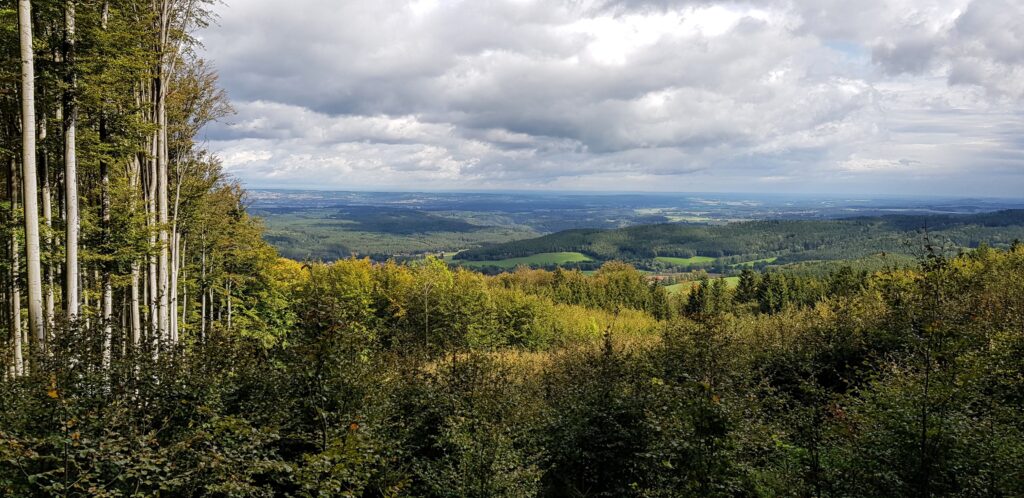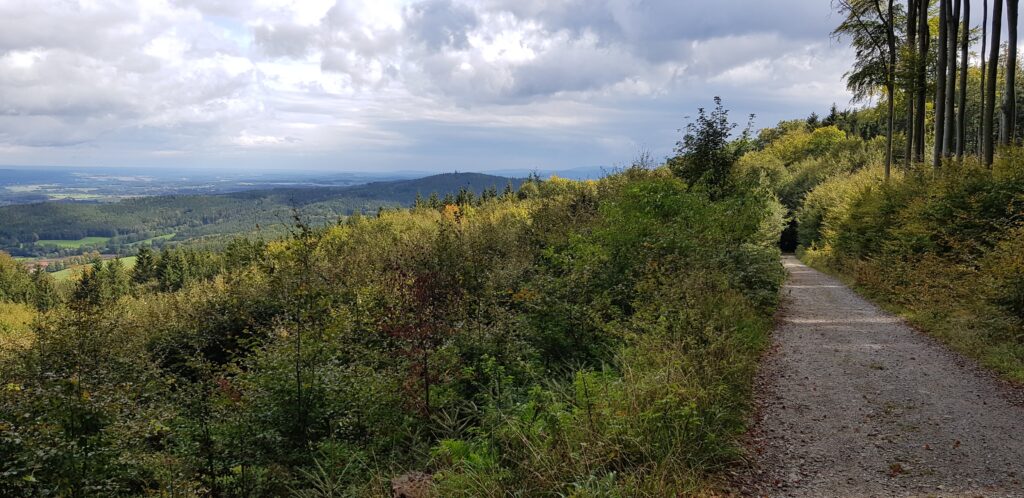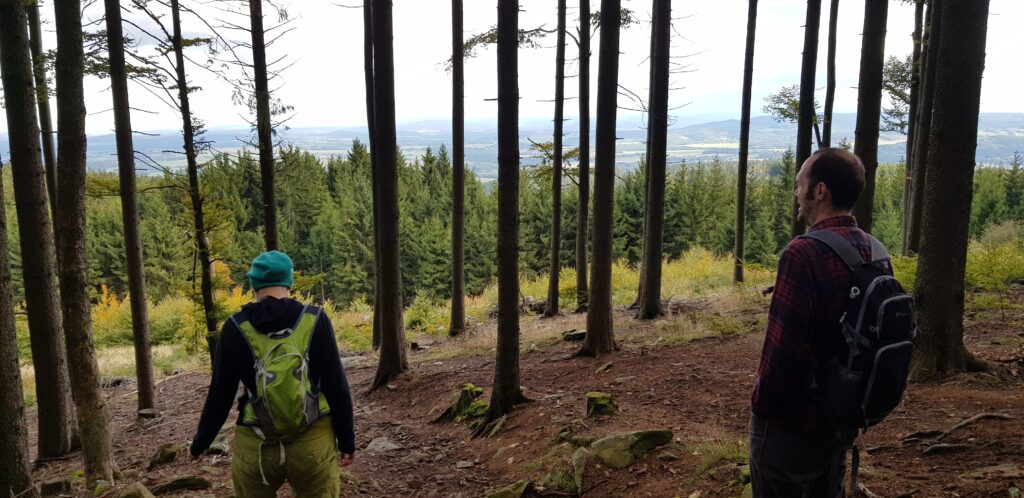 On the way up and down the hill however, we got a little bit side-tracked as I asked our friend Markéta if she wouldn't mind pointing out a few mushrooms she was familiar with. Clearly, I asked the right person! Markéta is always picking something in the local forests, and although she loves picking mushrooms, she isn't a fan of eating them. (Bingo.)
As most Americans probably are, I too am a bit wary about picking the right kind of mushrooms, but fortunately this sort of thing seems to be common knowledge for Czechs, usually passed down to children from their grandparents. (or a random man in the woods, as I told in this story last year)
I was delighted that it wasn't too hard to tell the differences! After this afternoon, I feel confident that I know two to three varieties– the hříbek (porcini), the modrák , and the babka that are same and delicious to eat. We rolled up to the restaurant on top of Klet', ready for a giant beer and a big plate of something good with a huge, heavy bag of them! We also met up with some others who were just as pleased with their haul and told us they were lucky enough to find lišky (chantrelles) a week or so ago! Apparently, this week everyone is tired of eating mushrooms so they're just lying around the forests. I think it's a combination of this beautiful mild babí léto weather we had been having — not too cold with a healthy mix of both sun and rain. (I still remember the really dry autumn we had a few years ago when everyone complained there were no mushrooms in the forests)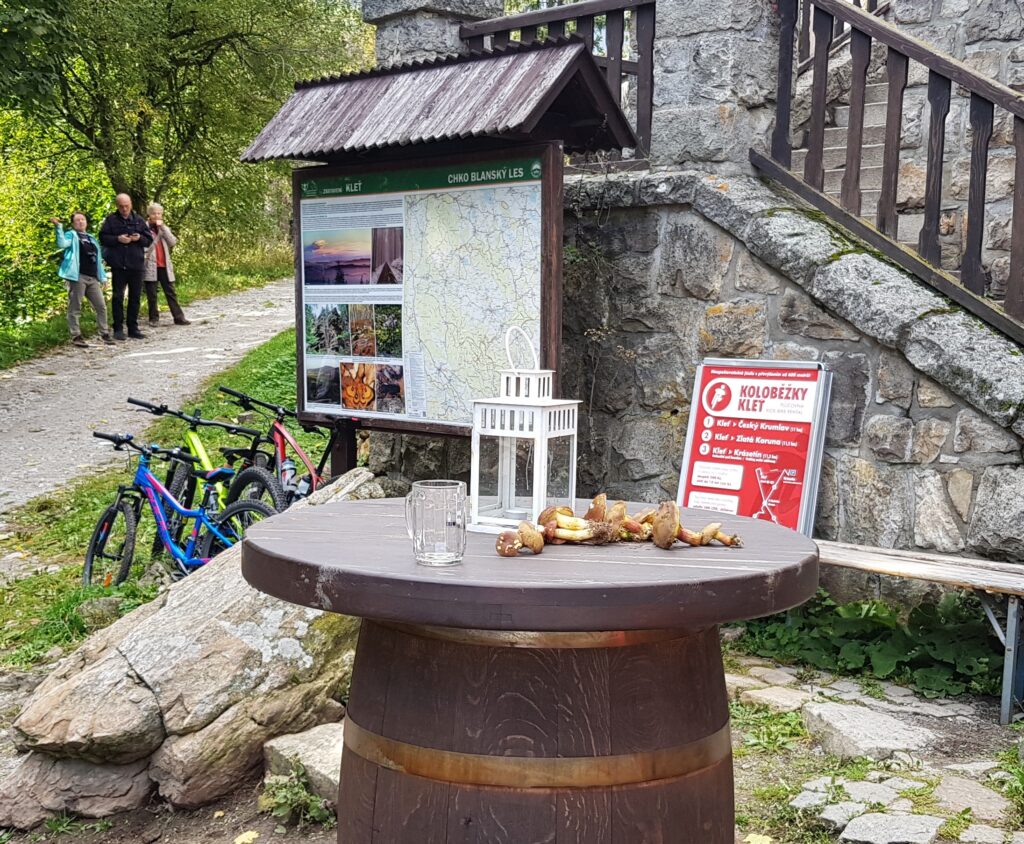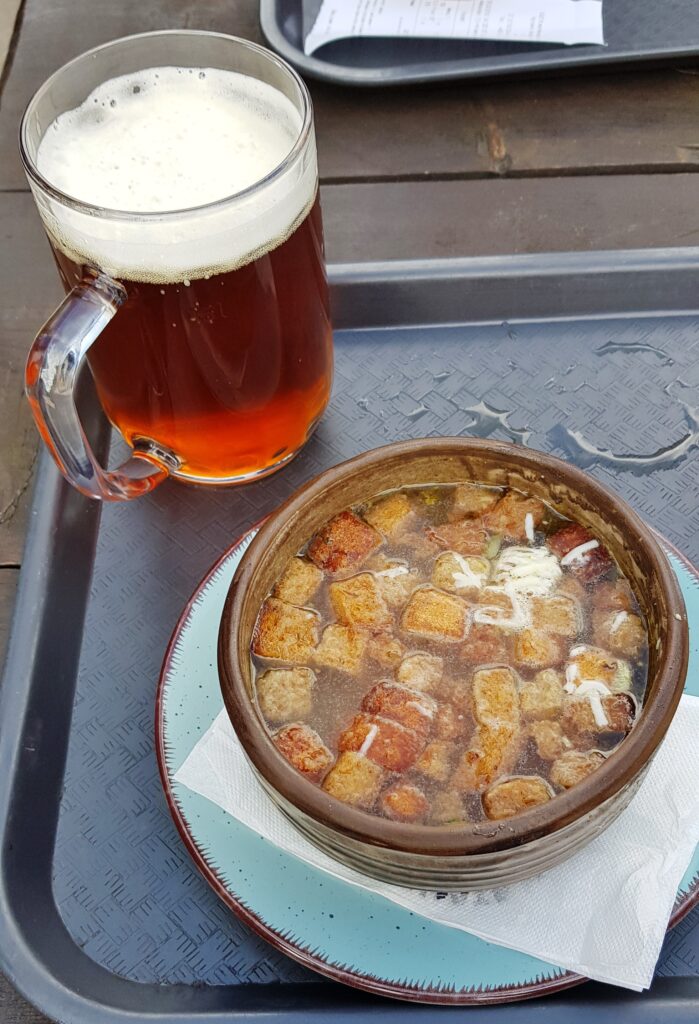 I didn't even make it to the Wenceslas Festival, but man, if it wasn't worth it to have a fun day out around Klet' with good company, and then make it home just as the sun was setting and pinks and peaches were dazzling the sky.
Preparing the Mushrooms
Now comes the preparation! Upon arriving back with your mushrooms, it's essential that you clean and inspect them (the same day) for worms or other critters. To do this, it's best to have a bowl of water (or a stopped wash basin), a clean cloth or towel, and a little brush. Mushrooms should never be submerged all the way in water as it dilutes the flavor. They should only be washed if extremely dirty, otherwise, wipe them with a cloth and slice them in half to check for signs of worm damage. It's not worth it to keep a mushroom with signs of worm holes as the worms could spread to the rest and ruin the whole bunch. I store mine in a paper bag in the fridge (breathable, let's them air out and dry) — never store mushrooms in plastic bags.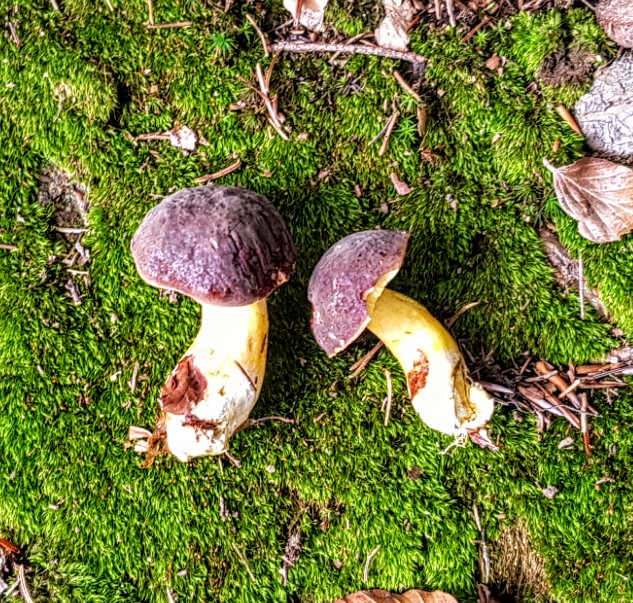 Mushrooms in the Kitchen
What to do with all these mushrooms? Possibilities are endless. What can't you do with them? Mushrooms should be cooked or dried before consumption, although raw mushrooms won't hurt you, there is no nutritional benefits to be unlocked. When they're cooked, the nutritional benefits are almost unending!
A few meals I've tried or am planning to try include putting them in omelets, making smaženice (an egg, cheese, onion and mushroom dish), slicing them into soups, a classic mushroom risotto (what I ended up doing), and drying the rest to save through the winter. I love mushrooms (like shiitakes, enoki or chantrelles) in an Asian noodly soup. Potato and mushroom soup is traditional here in the Czech Republic. Oyster mushrooms (or similar) seared in oil on a hot pan for a few minutes (each side) are amazing in corn tacos with spiced, roasted sweet potato pieces and salsa.
You can dry mushrooms by 1) using a dehydrator (they'll dry overnight and be ready by morning), or 2) the oven method: slice thinly on wax paper on a baking sheet, lowest temperature your oven goes to, check periodically. Some people leave the oven door cracked during this process.
Some of the other mushroom recipes I often cook from… (all culled from my Pinterest)
Creamy Mushroom Fettuccine via Pinch of Yum
Saucy Miso Mushrooms with Udon Noodles via BBC Good Food
White Lentil Risotto with Mushrooms via My New Roots
Lentil & Mushroom Spaghetti Bolognese via Oh She Glows Every Day (cookbook)

Medicinal Mushrooms
It's funny that this excursion should come at this particular time after so many years of wishing to go mushroom foraging because earlier this year, I had jokingly dubbed it "The Year of the Mushroom", mostly because of how that's basically all I've been about in terms of my herbal and plant interests these days. Just ask my friend Julie who I dragged all over downtown Seattle looking for dried mushrooms. (no, I don't want capsules!) I've been drinking this delicious Five Mushroom Chocolate Elixir I ordered from the amazing Harmonic Arts Herbal Dispensary on Vancouver Island, B.C., home to one of my herbal heroes, Yarrow Willard. It might seem silly to be drinking mushrooms (I've definitely got a few looks when I've said I'm having my "mushroom drink"), but the health benefits are absolutely astounding. Just in that cocoa alone, check out these benefits:
Reishi: Grounding to the heart and mind, countless benefits
Cordyceps: Builds stamina and strength
Lion's Mane: Supports healthy brain function, enhances focus and motivation
Chaga: Boosts immunity and defense system
Turkey Tail: Restorative and liver-supportive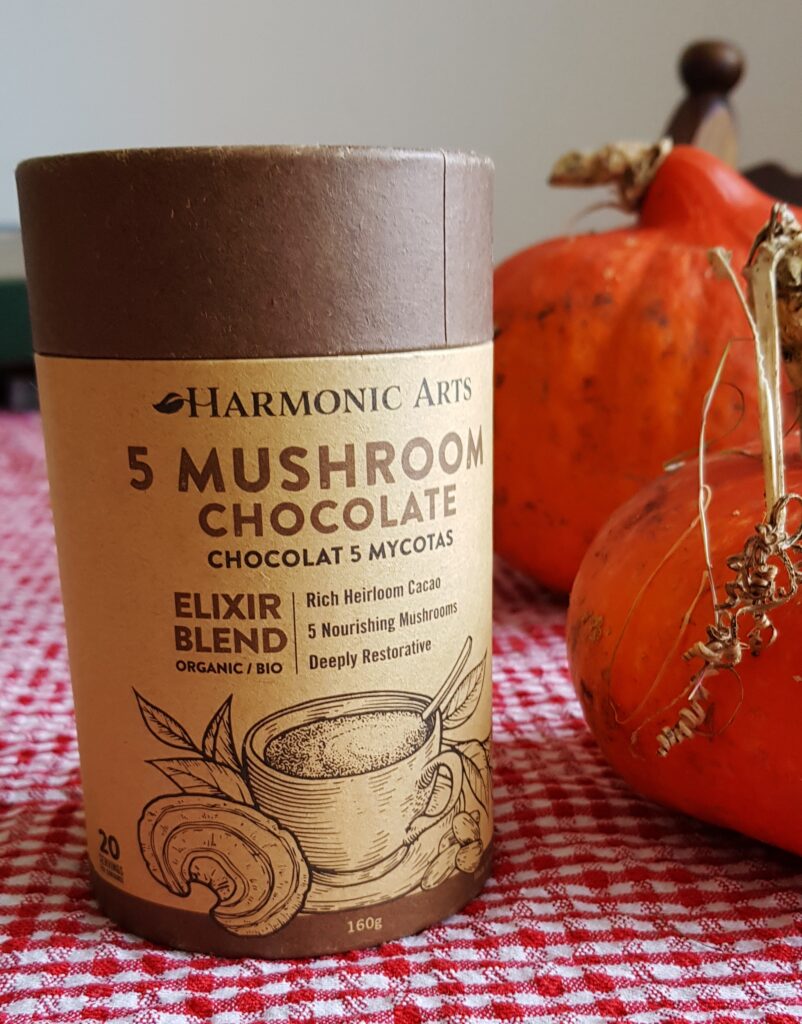 I am going to be so bummed when this cocoa runs out (you Canadians out there are so lucky!), although at which point, I'll just be making chaga cocoa using a tea made from the chaga mushroom* and raw cacao. Becoming aware of all the health benefits of mushrooms and how delicious they can be has sort of dulled my enthusiasm for drinking coffee in the past several months, to be honest. (Tea though, I shall never tire of!)
So goes my mushroom year. I hope you are enjoying this harvest and foraging season! The forests and fields are full of so much bounty if you know where to look.
Do you like mushrooms? What's your favorite? If you're a mushroom hater, I firmly believe you just haven't found the right mushroom yet. But that's okay, just give them to me 🙂
Disclaimer: Please don't go mushroom foraging without the proper knowledge or guide and only pick what you are 100% sure of.

*a mushroom which grows in the wilds of Canada and Alaska. I order them online here.