Sunday Baking: Pumpkin-Spiced Babka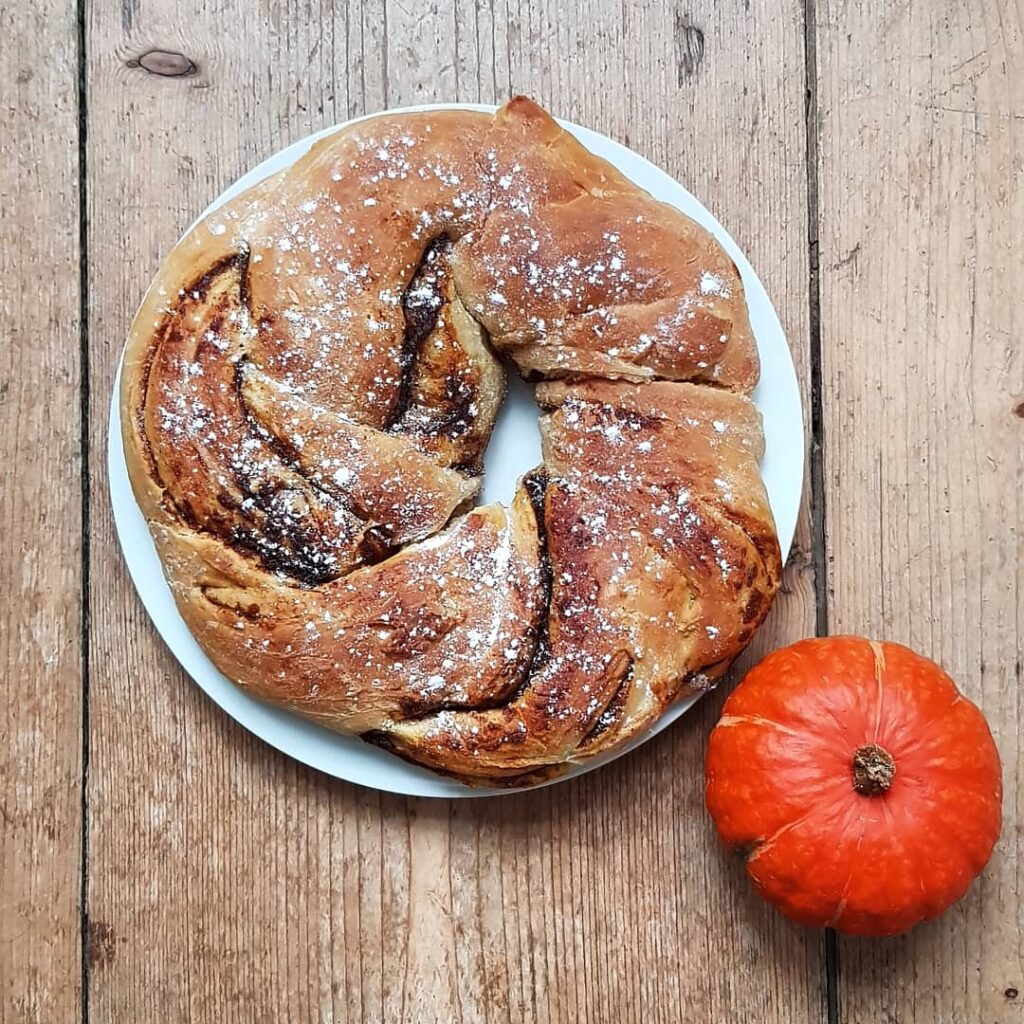 I've been pottering around the Internet so long that I've been cooking from recipes and cooking blogs that now have ceased to exist. (Does anyone remember Whole Living, circa 2010ish? Goodbye, all those recipes!) This moment is a bit of a tragedy when you really need that recipe that you've been using forever, but is suddenly unavailable.
So (by request!), I wanted to share with you a fantastic seasonal baking recipe I've been baking from for the past couple of years. To be fair, this year's Great British Bake Off reminded me about babkas during the annual Bread Week, but this one's in a beautiful, festive wreath shape. If you need something kind of like a cinnamon roll but also pumpkin, this is your project. The original recipe is by Kate of Lublyou, a Russian girl now living in New York City, but her website recently has sort of simplified down to its bare bones and I couldn't find all of my favorite recipes of hers anymore (also, am terrified of losing it!), so consider this post preserving her absolutely delicious and authentic pumpkin-spiced babka with a slight adaptation. You probably have everything you need for this in your cupboards already!
It might be possible to veganize it, although I am not sure about its efficacy without using egg yolks in the recipe. If you know of a good recipe for vegan cinnamon rolls, however, it uses the same type of dough, so you might be able to get away with using that dough instead, but braiding it like a babka and using the pumpkin-spiced filling.
Fluffy, sweet, salty, heavenly and pillowy soft – this is the perfect autumn treat. Bake on a Sunday and you'll have little snacks or breakfast all week long… or you know, until it's gone.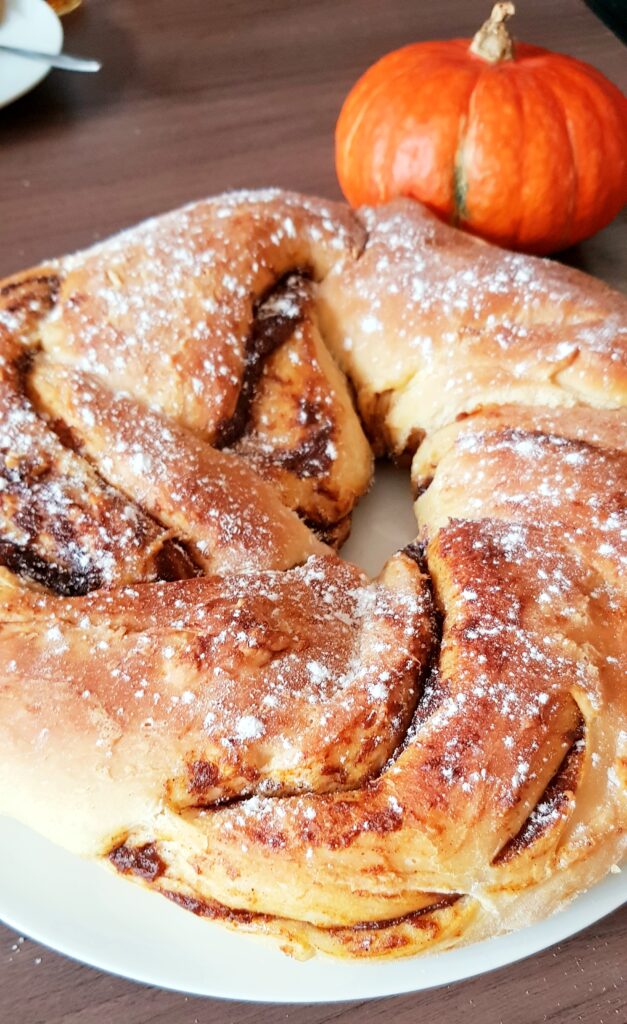 Pumpkin-Spiced Babka
Adapted from Lublyou, Updated 11/2021
You'll need: (for the dough…)
1 1/2 tsp active dry yeast (I use a 7g sachet)
1/3 cup warm water
1/2 cup warm milk (or plant milk)
1/4 cup (60 g) unsalted (regular or vegan) butter, melted
2 egg yolks
2 3/4 cups all-purpose flour
1/4 cup sugar (I used "raw" sugar)
1 tsp salt
powdered sugar for a light dusting at the end

Filling:
1/3 cup pumpkin puree
1/2 cup brown sugar
2 tsp cinnamon or pumpkin spice blend
1/2 tsp ground cloves
1/4 tsp ground nutmeg
a healthy pinch of fine-grain sea salt
Instructions:
 1. Mix the yeast packet with the warm water in a large bowl (or the bowl of a stand mixer, of using) and leave in a warm place until slightly frothy (usually about 10 minutes).

2. Add your warm milk, melted butter and egg yolks to the warm water and yeast mixture and mix lightly. Then add the flour, salt and sugar and knead in the bowl (or on a large surface) until the dough is smooth and stops sticking to your hands, using a bit of extra flour if necessary. For this step, you can attach the dough hook to your mixer, if using.

3. Cover the dough in the bowl with a slightly damp towel and set in a warm place to rise for about 1 hour. I usually put it on top of my radiator or in a recently used (slightly warm) oven :)

4. Stir all filling ingredients together in a smaller bowl.

5. Roll out the dough on a lightly floured surface into a large, thin rectangle.

6. Spread the pumpkin filling over the dough, leaving about a 3/4 inch border around the edges.

7. Roll up the rectangle into a thick log, laying it seam side up. Use a sharp knife to cut the log lengthwise in half, so you've got two separate strips.

8. Position the cut sides of the strips face up, showing the filling, and lift the left half and over the right half, then the right half over the left half, forming a braid. Continue the braid until you run out of dough, and tuck and pinch the ends together, doing the best you can to hide them. Be careful to make sure braid retains the same thickness throughout and try to avoid the "thicker in the middle" phenomenon by trying not to stretch it out as you shape it.

9. Carefully transfer to a baking sheet lined with parchment paper. Cover with the towel and let rise for 1 more hour.

10. Preheat oven to 160C (fan oven: 140C) or 325F on the center rack. Bake until babka is golden brown, about 35-40 minutes. After having cooled slightly, dust the babka with a bit of powdered sugar (to your liking).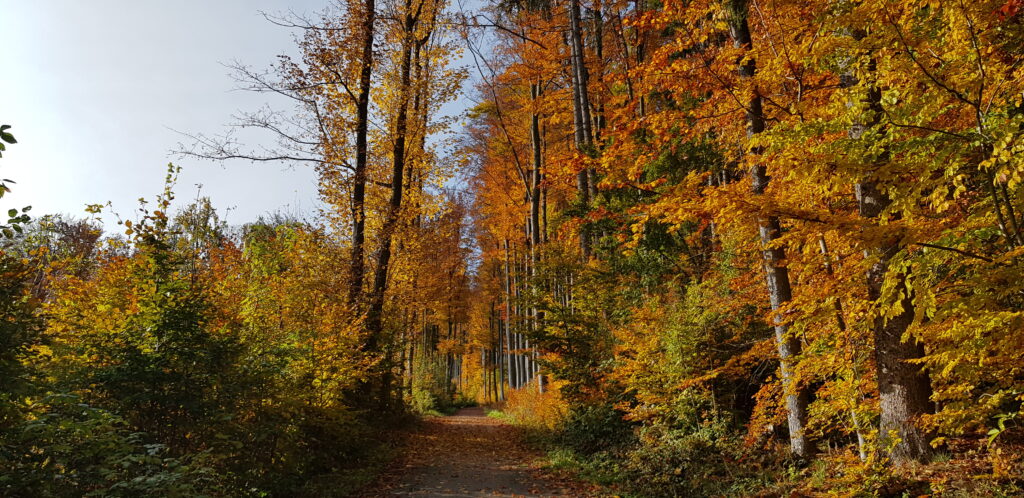 I hope you enjoy making it every autumn as much as I have over the past handful of years and I'm so glad I can share it with you. Perfect to have with coffee or tea on a cold, frosty November morning.
Will you be making it this weekend? What are your November baking plans?