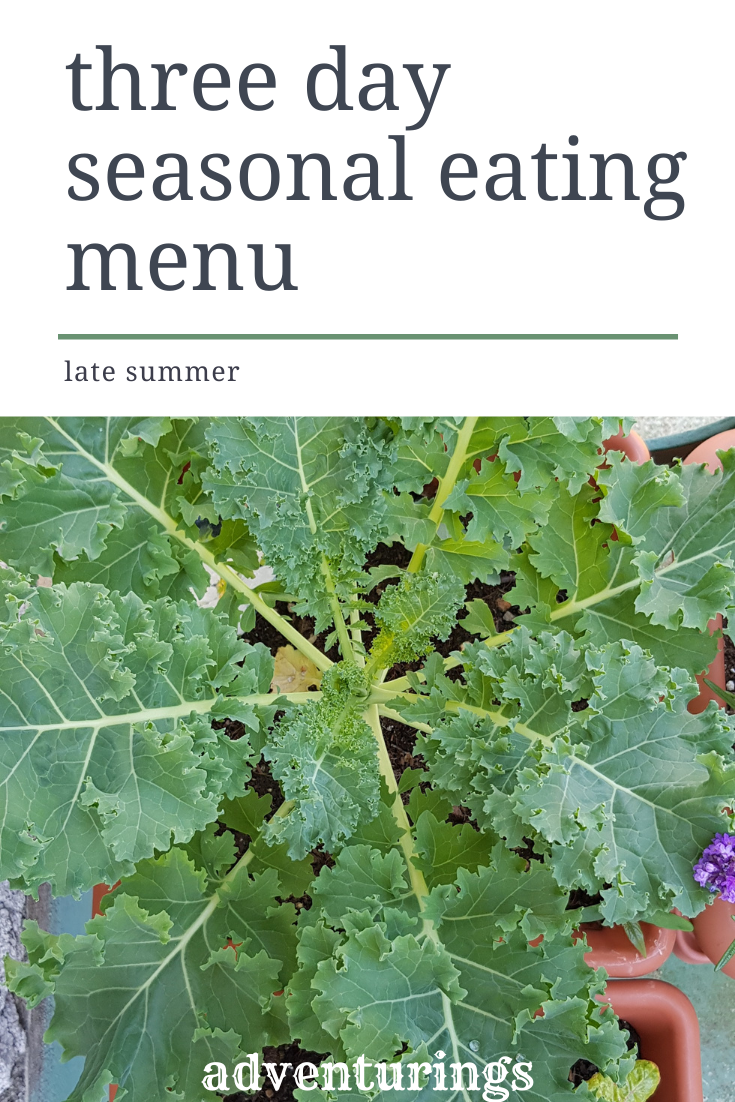 Three-Day Seasonal Eating Menu: Late Summer
Here in South Bohemia, like many other parts of the country (and maybe where you live, too), we are lucky to have a bounty of gorgeous vegetables in season this time of year. Five or six years ago I subscribed to our CSA (community-supported agriculture) vegetable box which is usually only available about May-late October, and it has provided us with such delicious organic produce over the years, some vegetables that were totally unknown to me before coming here. (Achocha? Kohlrabi? I had never eaten both in my life!) In between boxes, I'm always at the bi-weekly farmer's market picking up eggs (especially), fruit and whatever else looks good or is needed for a recipe.
In early September as it is now, I'm seeing loads of greens, summer squash, beets, tomatoes, green onions, kale, green beans and the first pumpkins and winter squashes are appearing. As far as fruit, it's definitely stone fruit season, blackberries, raspberries are having their day, and early apples are appearing – really, it's the best time of year for fresh produce! No more mushy, bruised apples from last year!
This post actually started as an assignment for my course, but I thought you would enjoy seeing the menu as well! So, with the inspiration of this season's bountiful harvest and what I've been seeing lately in my corner of the world, I present to you, a three-day menu of nutritional pescatarian meals made almost only with whole foods only, which are available this time of year. Most of these are my own recipes but I've made a few from my favorite cookbooks. I hope it inspires you and that you might decide to give one recipe a go!
Day One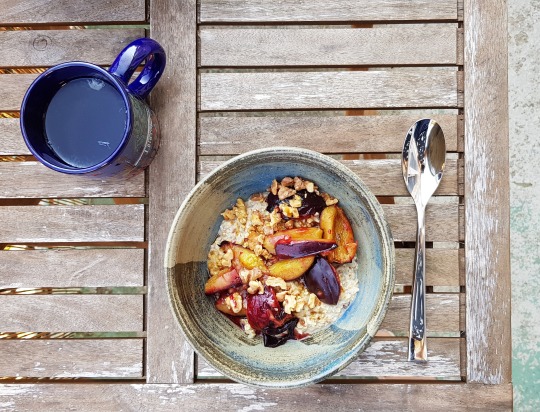 Breakfast
Starting right off the bat with my favorite late summer breakfast, Cardamom-spiced Roasted Plum Oatmeal. (if you're not a cardamom fan, you could replace it with cinnamon, but why not give it a try?) If plums aren't in season yet, try your favorite stone fruit: peaches, nectarines or apricots.
Lunch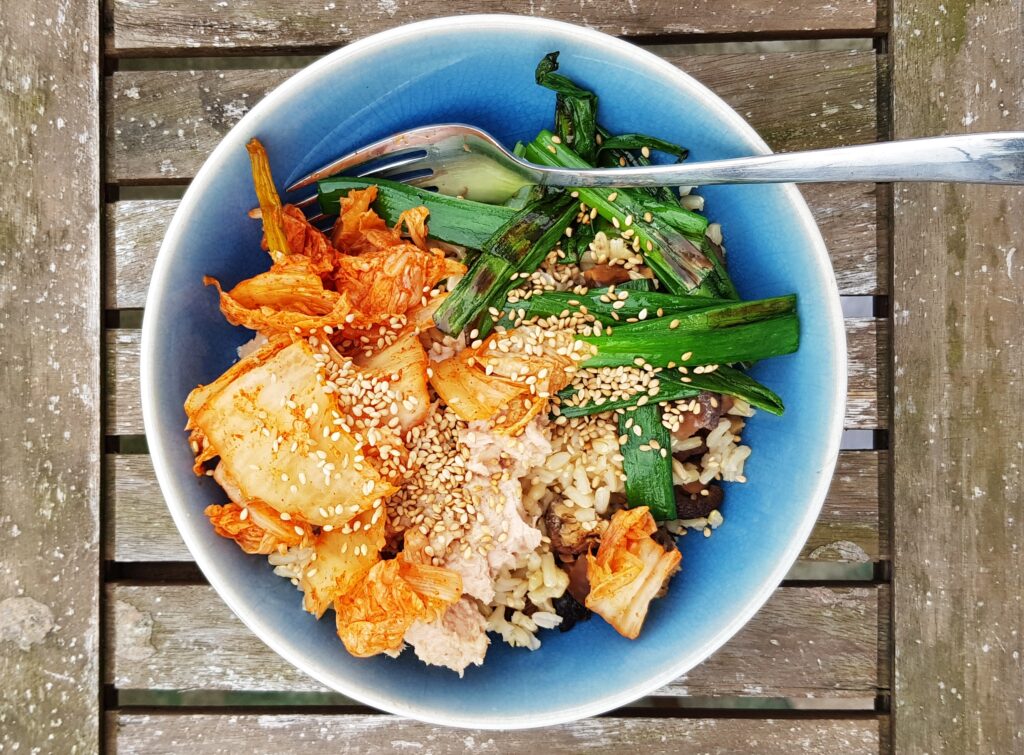 It's green onion (scallion) season! I've got so many in my fridge now just lurking, waiting for this dish to happen again. This is kimchi and tuna over brown rice! But so much more. It's basically a pantry meal besides the green onions and is definitely my default lunch more often than not. It's delicious. It's as fast as brown rice takes to cook. Here's how I do it:
Get a portion of brown rice cooking and throw in some dried shiitake mushrooms (to taste – I do about a handful) into the mix along with a pinch of salt. The mushrooms give the rice-cooking water a nice flavor.
Roughly cut up some green onion tops and cook them in a frying pan with a little coconut oil for a couple minutes. Remove from heat.
When rice is cooked, spoon it into a bowl. Top with: cold kimchi (spicy pickled cabbage, nommm), a drizzle of sesame oil and soy sauce, a small can of tuna, the green onions, and sprinkle it all with toasted sesame seeds to finish.
Oooh, I know what I'm having tonight! Feel free to omit the fish or add in your choice of protein.
Dinner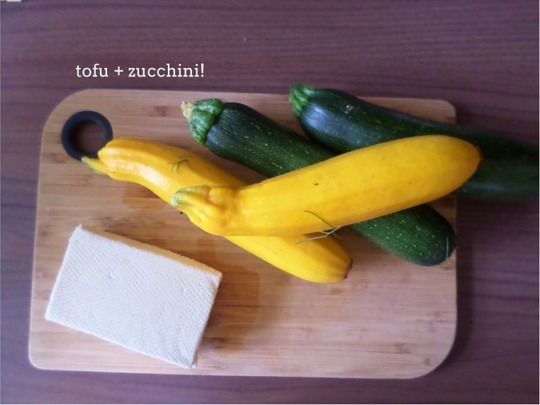 Spicy & Sour Zucchini Noodle Stir-Fry. This recipe was born of my first summer, dealing with a zucchini in my vegetable box and feeling obligated to do something with it to transform it into something I liked. I can credit this recipe with making a zucchini-eater out of me, and Alex was happy because he had no prior problems with the vegetable at all. Omit the chili flakes and I'm pretty sure kids would love this too! Make it "whole foods" or vegan by using brown rice or noodles instead of egg noodles. You can also alter the noodle to vegetable ratio and have it be more like half and half – frankly, the more vegetables, the better. It may seem like a lot when you're throwing it all into the pan, but it's not once it all reduces.
Day Two
Breakfast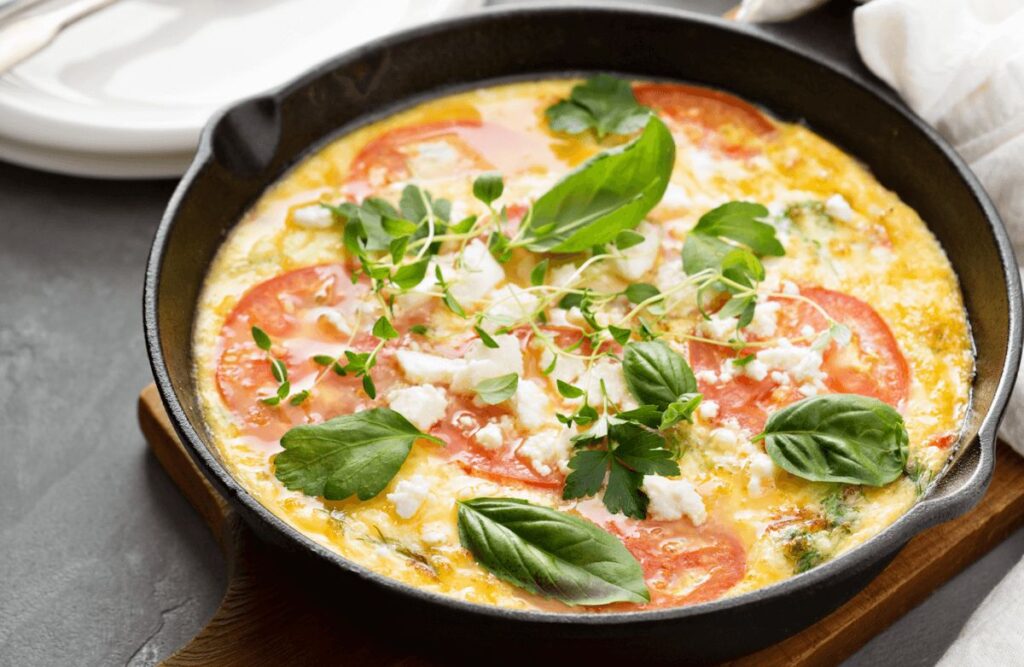 It's the perfect time of year for a Greek-style Omelet — eggs are still bountiful, juicy ripe tomatoes are in their prime form. I always feel great after this protein-rich breakfast, and it always reminds me of the breakfasts from our honeymoon in Santorini where I first had Greek omelets. Method:
Simply whisk your desired amount of (preferably local, farm-fresh) eggs (I recommend two to three) in a bowl, give a sprinkle of pepper, salt, and whatever dried or fresh herbs you have laying around (oregano or basil is a supreme choice). Set aside.
Chop your fresh tomatoes. Depending on size, you may have to half or quarter them. Loosely slice and pit your favorite olives (I use Kalamata). Add both tomatoes and olives to a hot, oiled pan over low-medium heat for about 3-4 minutes.
Give your eggs one more good whisk right before you pour them over the slightly sizzled tomatoes in the pan. This is the time to sprinkle over small pieces of feta cheese, if desired.
Cook until the omelet is solid enough to flip, flip that sucker using your best spatula, and let the other side cook for about 30 seconds before plating and serving hot!
Lunch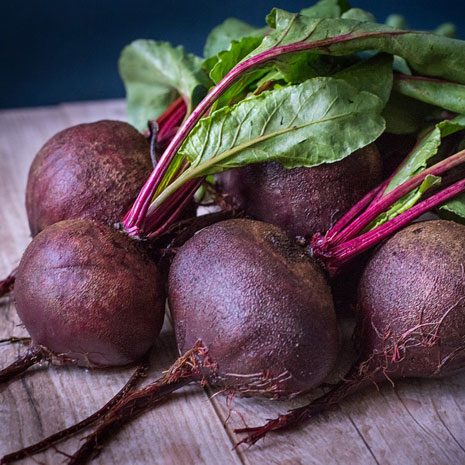 Roasted Beet Salad with Feta, Walnuts and Apple. Roasting vegetables on some of the warmest days of the summer may feel silly, but refrigerate your roasted beets and you've got yourself a cool, refreshing and incredibly healthy vegetable that will taste great in this salad with fresh greens.
The night before: Wash your beets, remove stems and wrap with aluminum foil. Roast in a pre-heated oven at 200'C/400'F for about one hour (check the done-ness by inserting a fork or knife – if it goes in easily, they're ready). Unwrap and place in refrigerator.
The day of: Slip off the beet skins (they should come off generally without peeling) and chop loosely. Place on a bed of washed greens (whatever you've got) and sprinkle chunks of feta around. Add broken-up pieces of toasted walnuts and chopped apple pieces.
Drizzle your favorite dressing, or take two minutes and whip up my "house dressing": 1/4 cup of olive oil, 3 tablespoons red wine vinegar, two garlic gloves (grated), 1 teaspoon dijon mustard, 1 teaspoon honey (or maple syrup), healthy pinch of salt and freshly-grated pepper. Pour in a jar, shake, use. It's always lovely to have this in the fridge ready to go!
Dinner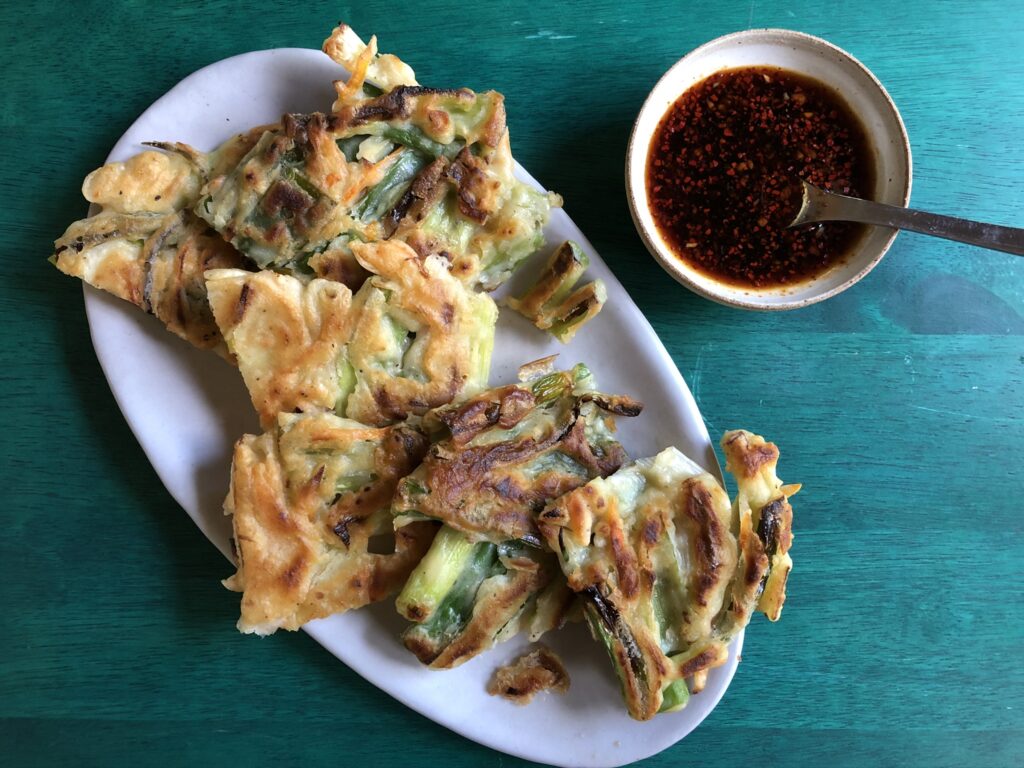 More green onion love: Korean-style scallion pancakes (pajeon). I learned this from a Korean friend of mine during our uni days in Berlin, but in the big city we could just run down to the Asian goods store to pick up a packet of Korean pancake mix.
Lacking that, I've been making my own extremely haphazard version ever since using a wheat flour, egg and water mixture, ladling a scoop of the batter onto a hot, oiled pan and placing 3″ish pieces of green onions/scallions – as many as you can press in the batter. Flip, warm, and in the end, serve with soy sauce and sriracha on the side. A delicious way to use up the fresh green onions currently in season. If you're not into my haphazard instructions (can't blame you), here's a tasty-looking recipe for pajeon here.
Day Three
Breakfast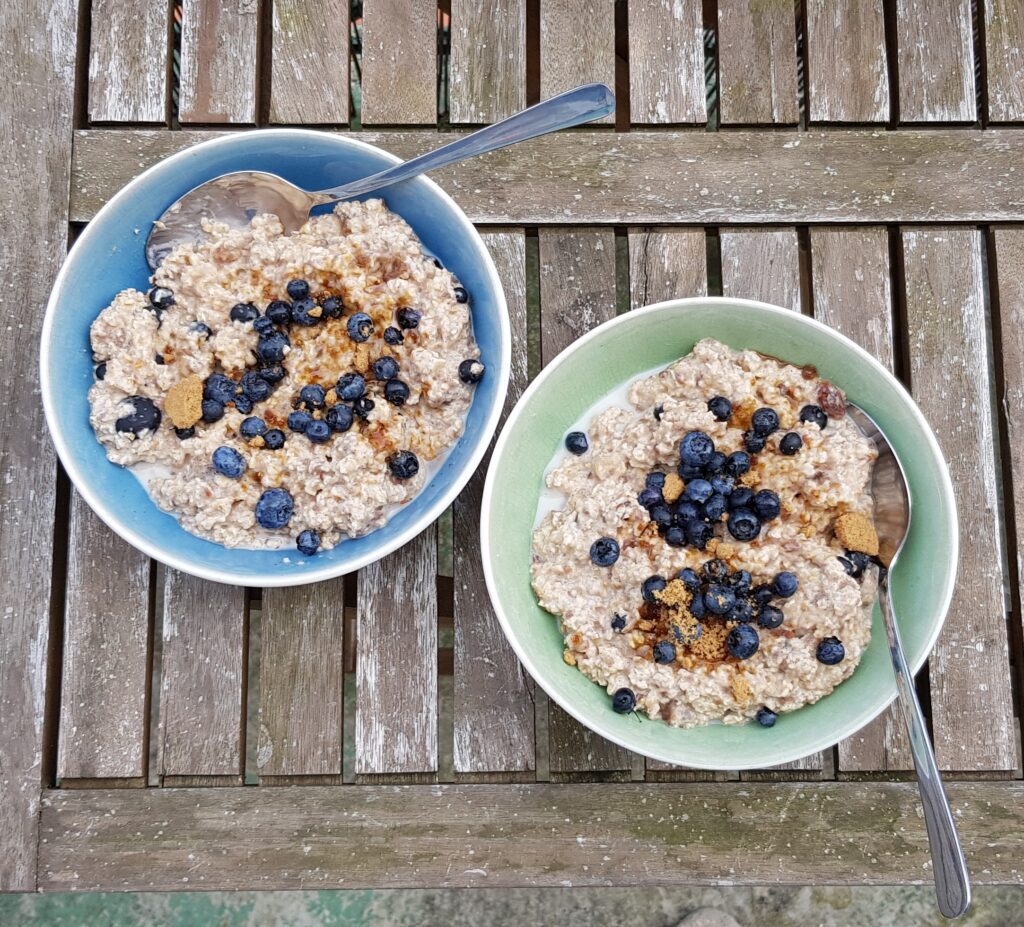 No matter the season, I'm always just really into oatmeal (porridge) for breakfast when I want to have something healthy and filling. Since I've already got two different pancake recipes going on this post, let's just keep it simple, use what's in season and have a berry oatmeal. First, I always get my nuts (usually walnuts) toasting in the oven. I use three-quarters cup of quick-cooking oats per person and add twice as much water or (alternative) milk, chia seeds, flax seeds, and a good shake of whatever berries are fresh that week (my favorite is blueberry!). When the oatmeal is the consistency you like (and is hot!), remove from heat and spoon into bowls. Then remove the nuts from the oven, chop up, and sprinkle on the oatmeal. Sprinkle with even more berries if desired.
Lunch
The Official Late Summer Lunch Sandwich (above)! It simply involves two slices of delicious bread, roasted tomato slices, roasted aubergine(eggplant) slices, and a few slices of mozzarella, lightly pan-fried for just a minute or two. Add in some leafs of spinach, basil, and/or whatever you have on hand, and you'll have the most delicious summer sandwich in existence. Supermarket tomatoes are not the best choice here – try to use tomatoes from the garden, a neighbor or the farmer's market if at all possible. Note: This could also be incredible with halloumi.
Dinner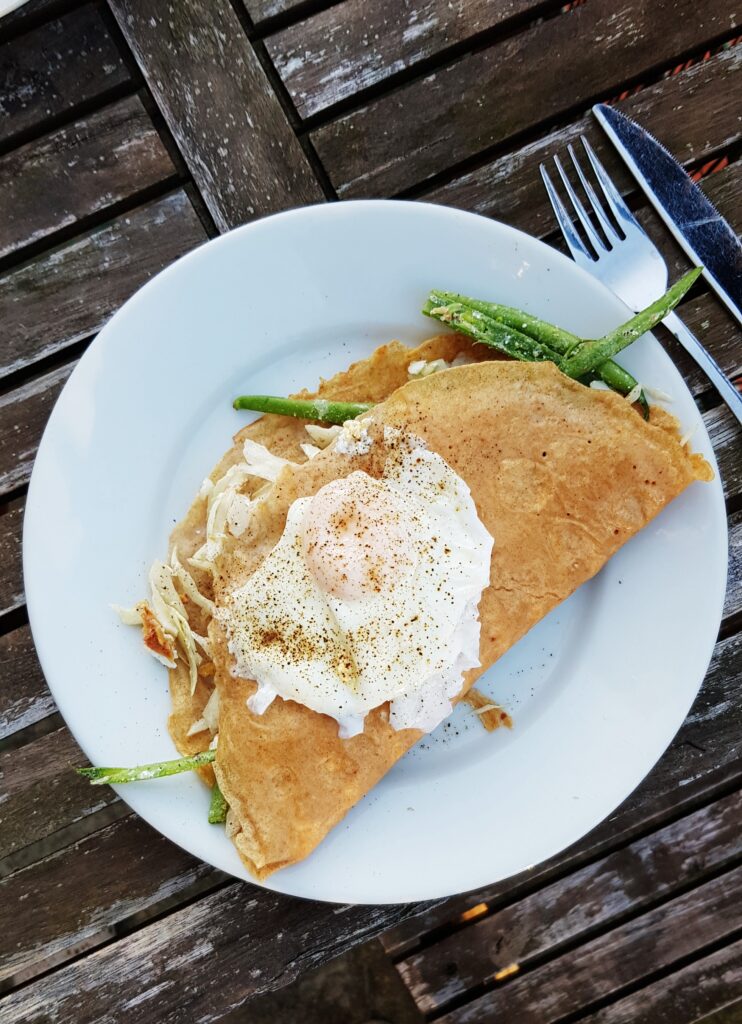 Buckwheat (or Spelt Flour) Crêpes with Green Bean coleslaw, topped with a poached egg. This is the only recipe on the page that isn't of my own creation (My hero Sarah B takes full credit for this one from her cookbook). What a fantastic way to use fresh green beans which are now in season – and raw, too! So crunchy in a flavorsome dressing with cabbage left to marinate while you mix up a crêpe. The poached egg is obviously optional, but it definitely rounds out this dish making it much more hearty (and adds several more levels of amazing).
---
I hope this post brings you some inspiration of different things to try with this season's produce. How has it been this season – is your local market still running? What is a staple late summer dish you make?