Recipe: Chaga Masala Chai Tea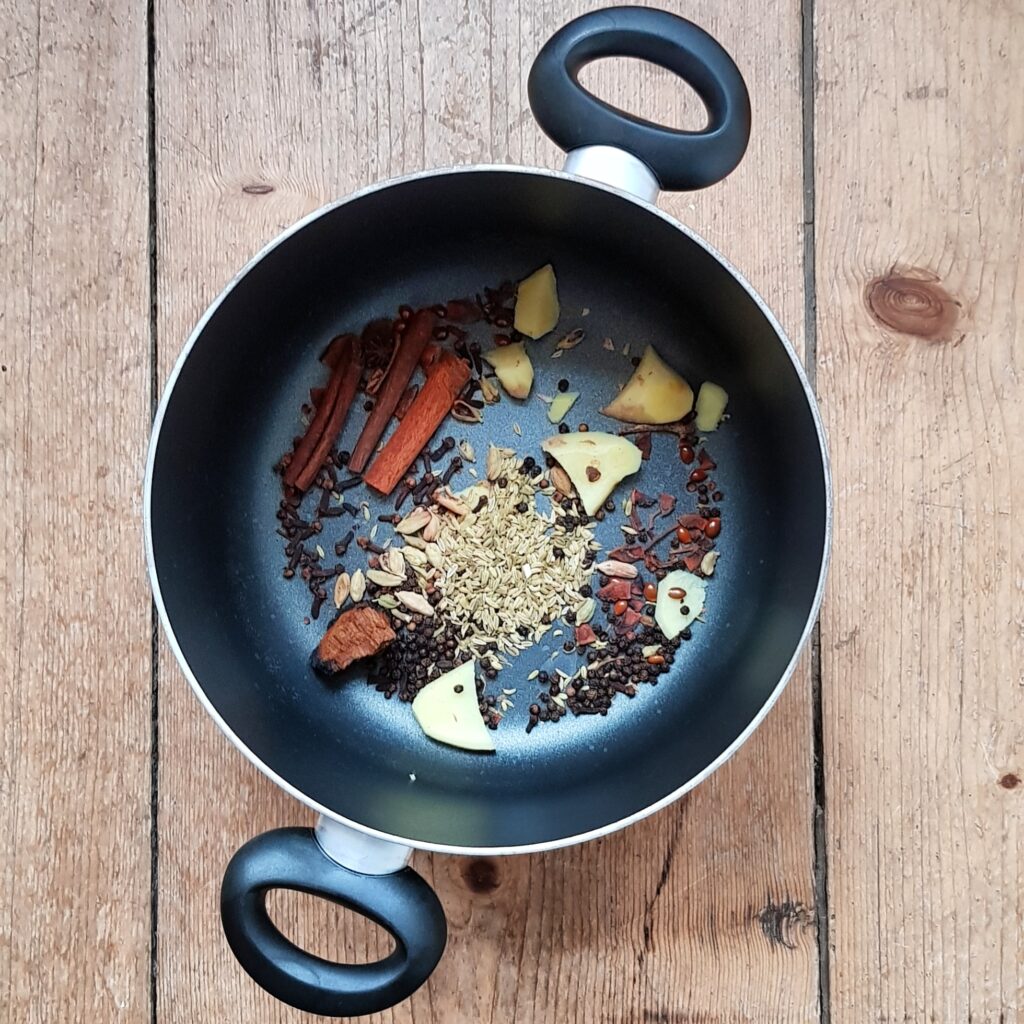 This past December I was all about 'dat chai. I was constantly cooking up batches of this delicious, spicy and warming masala chai to enjoy in the evenings mostly, but even in the day time as an alternative to coffee.
See… here's the sad news. I had recently come to the realization that coffee is no friend to me. Maybe one of those frenemies, but not a true friend. I had also been doing a lot of research about healing my hormones and found that I ought to drastically reduce both coffee and processed soy consumption. I'm more of a black tea person anyway, so this wasn't the worst news, but something dark, spicy and milky really does help take away that coffee craving, whether it's morning or evening.
Enter, delicious masala chai! I decided to make the chai totally from scratch and set about collecting fresh whole herbs and spices as to get more power and punch from the ingredients, which are actually a kind of herbal medicine (would you use ten year old medicine? probably not). These ingredients have been used for thousands of years for digestive-related issues. As most of the spices listed are carminative, meaning they can help to soothe the walls of the gastrointestinal tract, ease cramping in the intestines associated with indigestion and other similar maladies, and remove flatulence from the digestive system, so this is the absolute perfect after-dinner tea to make.
Not only that, but I added my not-so-secret ingredient of chaga mushroom, which typically grows on birches in Canada or Alaska. I know that some people raised their eyebrows when I suggested adding mushroom to this chai blend, but hear me out! I generally want to shout the praises of medicinal mushrooms from the rooftops as they are, in my opinion, the single healthiest thing you could start to consume. Different types of mushrooms have their different benefits, but almost all of them are huge boosters of the immune system (they contain polysaccharides which stimulate the body's immune response). Chaga is also full of vitamins and minerals, and is considered adaptogenic, which means that it helps protect your body against outsider stressors (whether physical, chemical or biological). There are even studies which have found it effective for cancer prevention. It is an amazing little 'shroom.
So knowing this, when you brew a chaga tea, it basically tastes (in my opinion) like nothing. Maybe slightly earthy. Combined with the flavorful ingredients in this tea, it simply improves this digestive blend even more.
Chaga Masala Chai
Makes 1 liter of tea. You'll need…
3 cinnamon sticks
2 heaping tsp cardamom pods
3 whole star anise
1 Tbsp fennel seeds
35g fresh ginger, sliced
2 heaping tsp whole cloves
1 Tbsp black peppercorns
1/4 cup dried chaga mushroom chunks (or 20-30g)
1.2 L filtered water
Instructions:
1. Place all ingredients in a large pot and add 1.2 L (filtered if possible) water.

2. Bring mixture to a boil, then turn the heat down and leave it to simmer uncovered for 45-60 minutes. Turn off the heat and leave the tea to cool.

3. Using a small strainer and a funnel (if you have one - or you can just pour from the pot into a pitcher), strain the mixture into a 1 L glass bottle or pitcher.

4. Make sure the tea is completely cool before storing in the fridge, or add a generous splash of milk, stir in some honey and enjoy immediately! This chai is begging to be enjoyed with milk and a splash of sweetness.

Keeps in the fridge for a week.

Note: Both the chaga chunks and the cinnamon sticks can be used for multiple infusions! They're considered tapped out when the chaga no longer gives any significant color and when the flavor of the cinnamon is significantly weakened.
Not only does this chai full of nutrition and is delicious, it also contains all warming spices which are incredible for this time of year if you're someone who tends to run cold like I am (a vata type, often have cold feet, hands, or nose). If you are a warm type of person, maybe this will be a winter-only recipe for you, as the spices may otherwise be too warming.
In any case, I hope you try it out (with or without the chaga) and enjoy it! For those who really do need that caffeine boost, you could heat the tea and infuse black tea leaves in it, but I think you should try it without first — you might be shocked at how it doesn't want for anything.
Happy wintering!
PS, More about medicinal mushrooms and when I learned how to mushroom in Czech forests.
Sources: The Herbal Academy, Intermediate Course, Unit 3, Lesson 2; Tamim Teas, Canadian Pine Pollen.