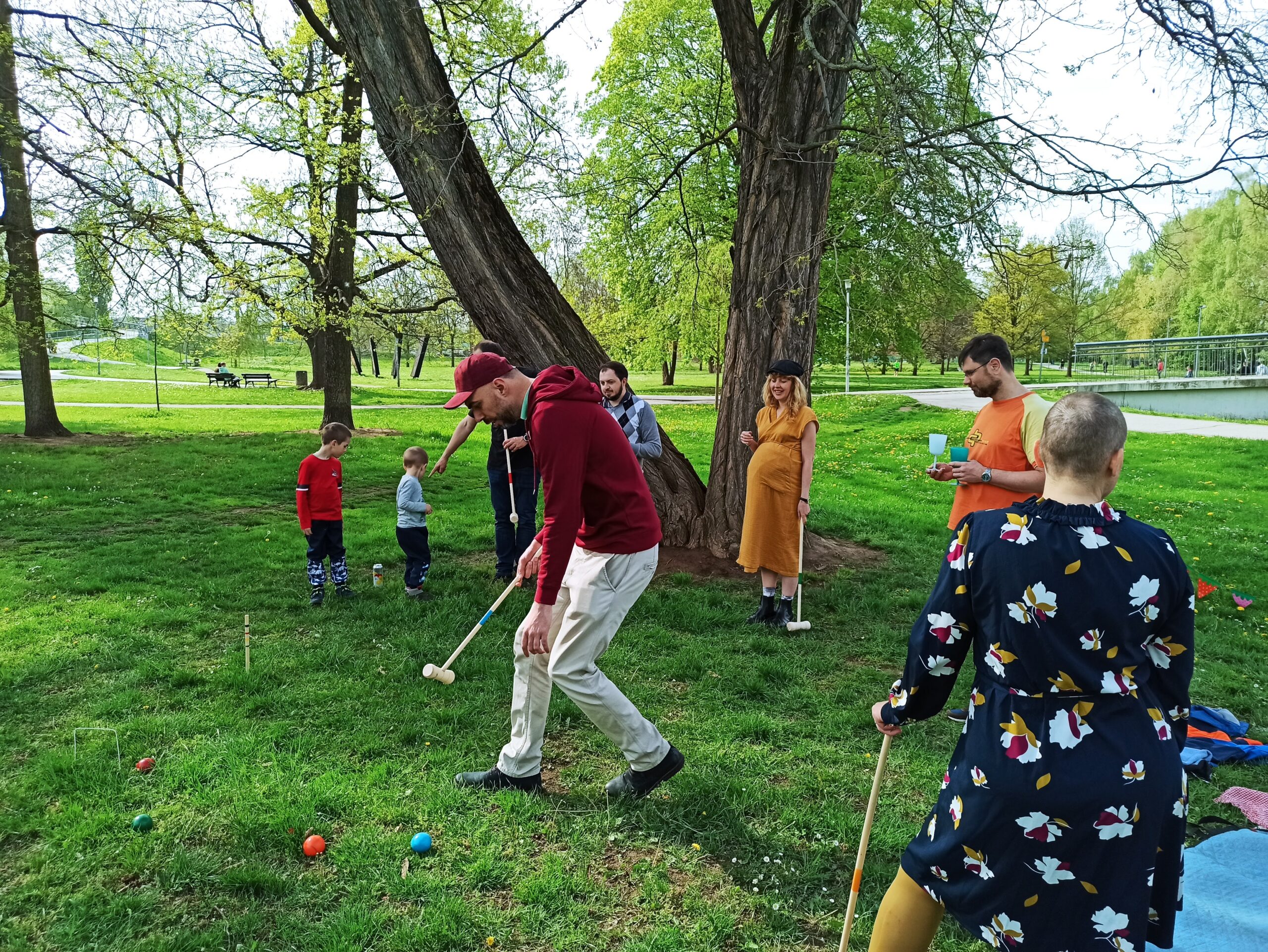 Year of Life & Travels: 2022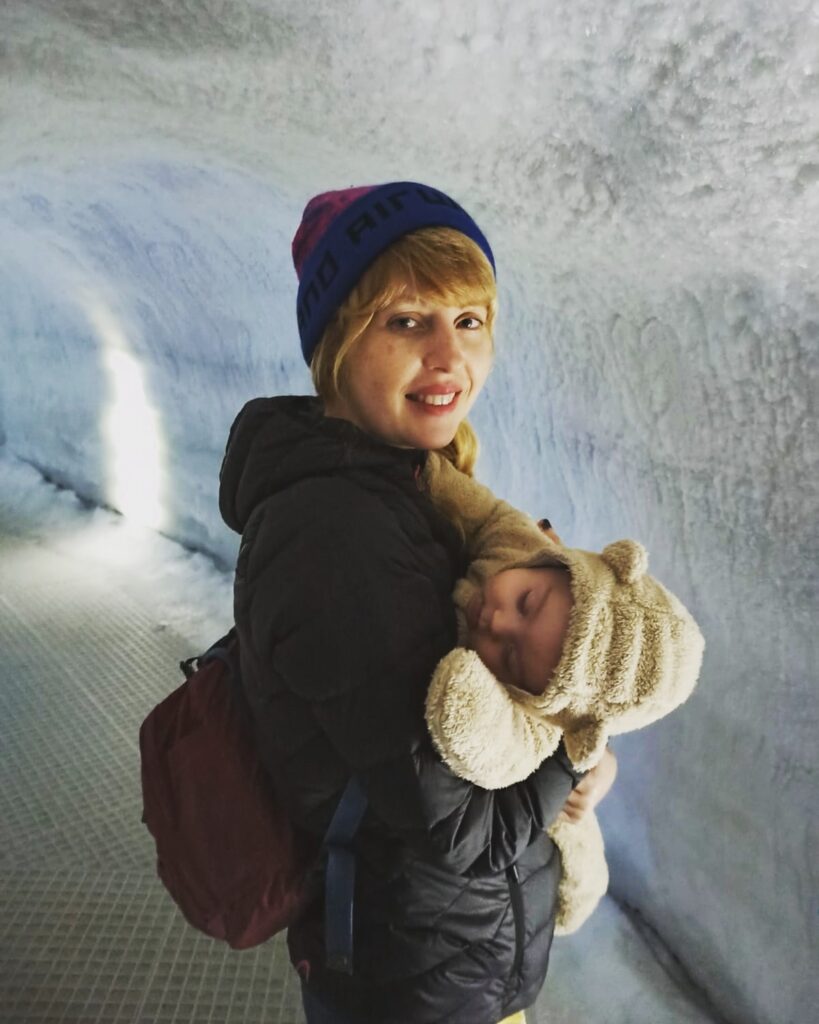 2022 was such a big beautiful year, especially compared with the two that came before it. This was the year I finished out my first full school year (not online at all!) at my new place of work. I worked my little booty off, knowing it would be the end of my free time, earning both an Intermediate Certificate in Herbalism (two years of work!) in late April and a B2 Certificate (Upper-Intermediate) in German language achievement from the Goethe-Zentrum in early June.
But obviously, the biggest thing – I spent the first half of the year growing a baby! In the middle of the year, giving birth, and the entire second half of the year falling more and more in love with our little Mouse. It was one of the most beautiful years that also challenged me a lot – mentally, physically and emotionally. And at the year's end, it was all a huge success and all so worth it. If there is a motto that defined the year for me, it is "trust your body". Our bodies contain infinite wisdom.
But let's go by month…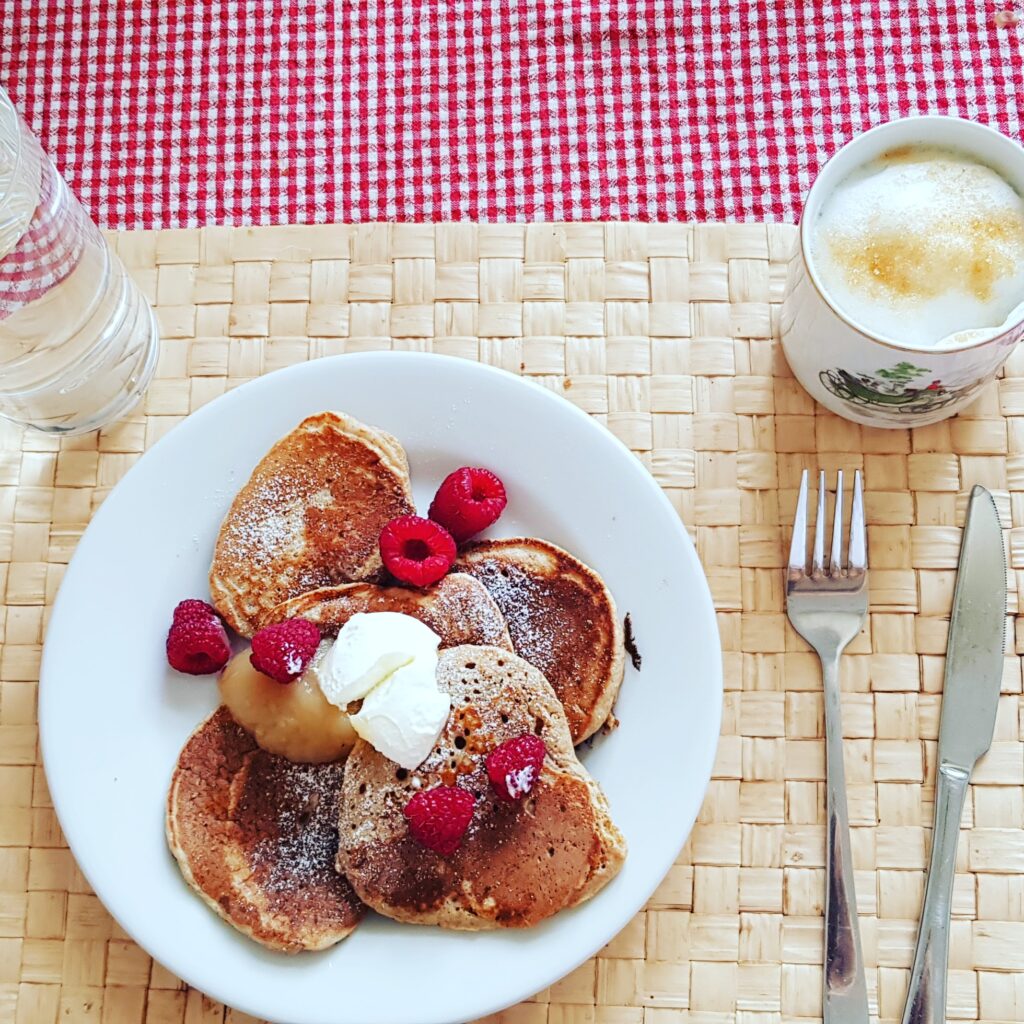 In January, I flew from Amsterdam to Prague at the tail end of our Christmas adventures in England, just absolutely relieved that 2021 was finally behind us! I spent much of the month hiding out at home, correcting loads of final essays as it was the half-term break and extremely Covid-y outside; I, just having starting my second trimester started feeling a lot better and started yoga again! I also shared my pregnancy news just with my closest friends. All of us everywhere in the world shared our Wordles of the day, an excellent pandemic winter distraction. January is also tailor-made for lingering around a weekend brunch at the kitchen table for hours, and my appetite was back, so game on.
On an early February Saturday morning, Alex suffered a head-trauma incident at home and we spent the day the ER, not knowing then that he would be admitted for the night. It was a scary situation; one that would go on to diminish his hearing even more and change a lot of things for him going forward. Outside the house and not too far away, Putin waited until after the Winter Olympics finished up before attacking Ukraine near the end of the month. The mood was (and I cannot state this enough) very grim here – e-mail greetings finished off like "Have a nice day, if it's possible." People were scared and angry (and frankly, still are). Even with all this swirling around, I had my secret… one which made me incredibly optimistic and hopeful as my belly swelled to new proportions. It was also in February we had the big anatomy scan and found out that M would be a boy, which made me feel more an more confident in the course of my pregnancy (and telling more people!) Cue the deluge of boy name ideas. (Is František a good, normal boy name or have I just been in CZ too long?) I studied up, not only with my study pursuits (herbalism, Czech, German) but preparing for teaching the summer semester in person, including teaching an early morning drama class.
It was in March that generally everyone knew – no hiding it any longer! I experienced a lot of second trimester aches (kind of like a side ache, but in the front), probably some kind of ligament pain, but it made me walk very very slow that month. I hobbled to and from work… a lot. We had a snowy Krumlov day, managing to huff to the top of Křížový vrch hill (baby steps, literally) to the chapel for beautiful snowy views! We started buying the big-ticket baby purchases, like our crib and pram. We met with our doula. It was all really happening!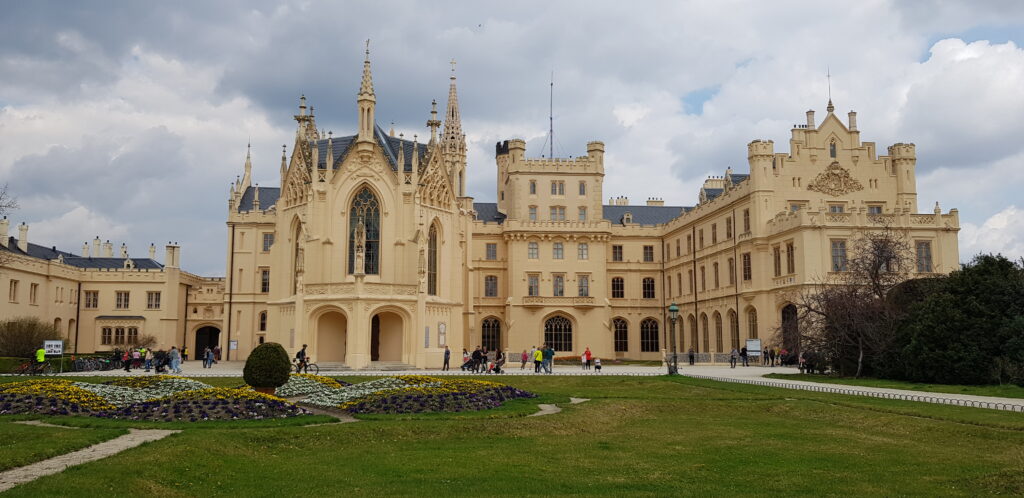 April started off with a dumping of snow and then gave in to our first day in sandals by Easter! (In Central Europe they say, April, April, der weiß nicht, was er will) We weren't able to travel outside of the country for pandemic-related reasons, but we had a nice Easter babymoon in Southern Moravia, staying in the Pavlov which is in the center of the Palava wine region. I will never travel to a wine region while pregnant ever again… however Moravia is always so beautiful that it was hard to be mad! We had a Disneyland-level day out at picture-perfect Lednice Chateau (above) and as I was feeling excellent (no aches anymore!) I was able to do some hiking in the hills – the last hike before baby! It was the best I had felt since the beginning of the second trimester. Entering the third trimester, however brought a lot of new challenges…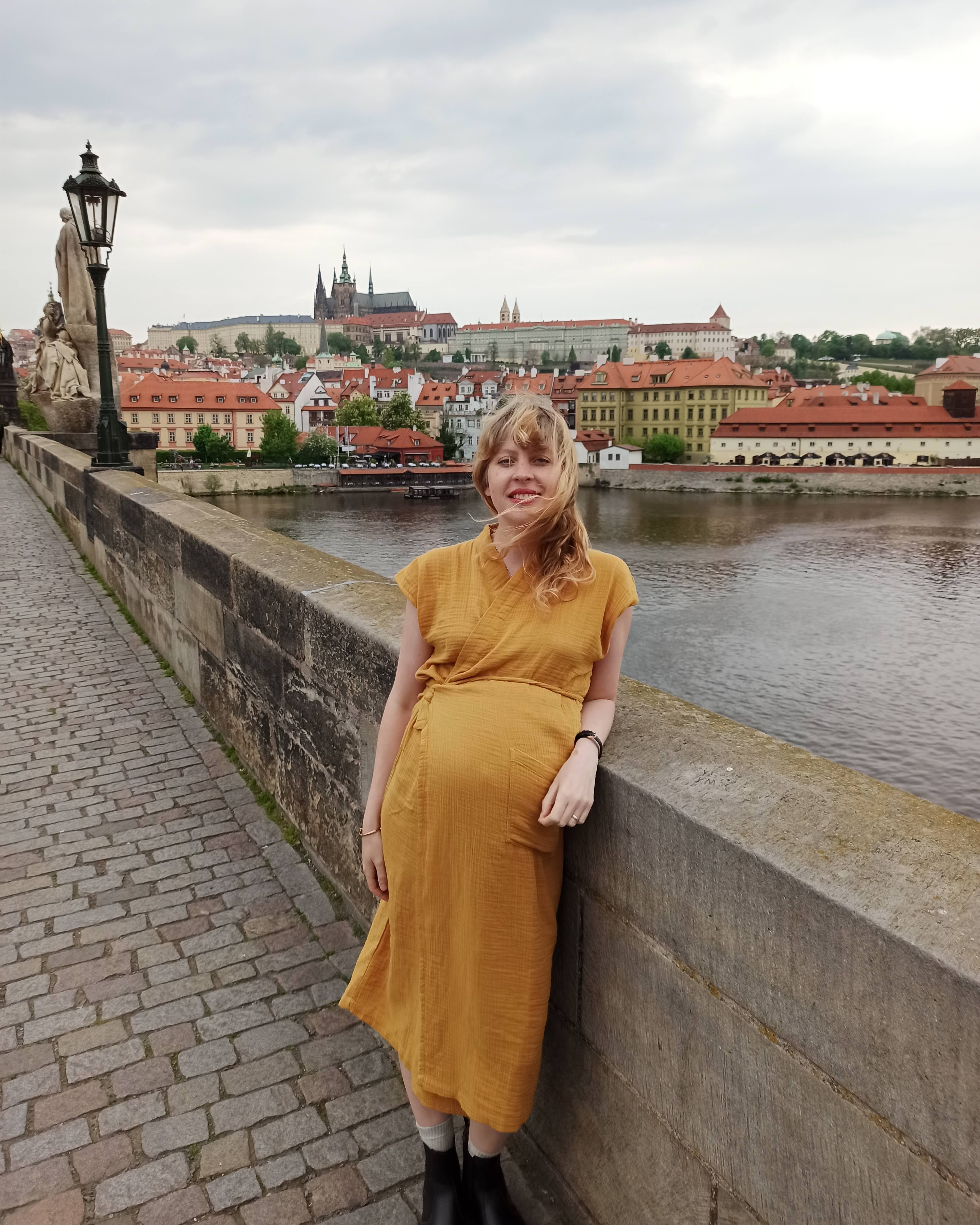 I had such a nice birthday weekend in early May! We had the last night away before baby staying near Old Town Square in Prague and I enjoyed over a three-hour birthday dinner (!!) at Sansho, an Asian-fusion restaurant I had loved a lot several years ago and was happy to be back. Lord knows those three-hour restaurant meals are on pause for now, so I'm really glad to have done that! (I secretly loved seeing Alex's frustration at the length of the meal when inside, as a slow-eater and Taurus, I was loving how drawn out it all was) We came back to Budejovice and I had a croquet birthday picnic with friends, which was fantastic and I felt very loved the whole day! I am now resolved to play croquet as much as I can manage in the nicer months. Also – ever see a six and a half month pregnant lady try to maneuver herself on a picnic blanket?
Meanwhile, I was getting used to a new third trimester lifestyle after being diagnosed with two separate but equally serious health issues at the end of my pregnancy. It was incredibly difficult to learn how to completely change my diet and I did the best I could with what I knew. While all that was going on, I was studying all month long for my Goethe (German) exam and taking it very seriously with serials, lots of podcasts and radio, practice tests… and spent the entirety of a precious, gorgeous warm and sunny Saturday taking it. The things I do for you, language learning!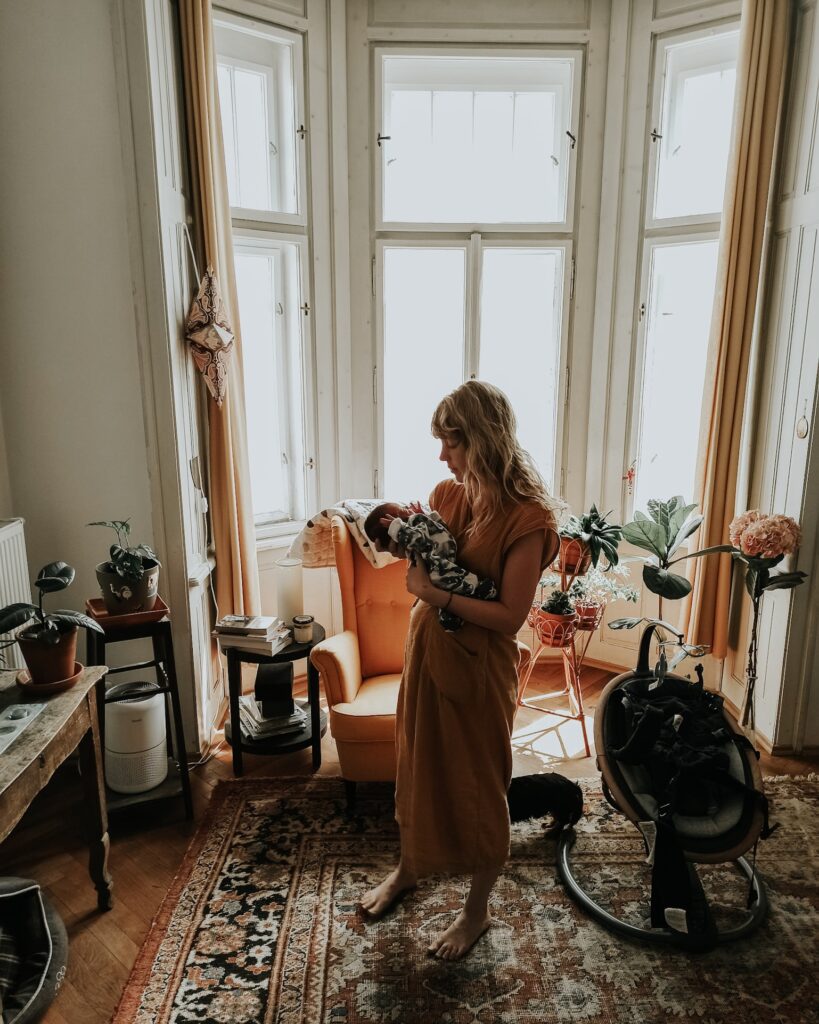 June was a total rollercoaster adventure ride. The same day after teaching my last full day and getting ready to really go on maternity leave and generally take the last six weeks to prepare for birth, my water broke on an unsuspecting Wednesday evening and off to the hospital I went, in complete shock. Our little Mouse was born on June 10th on a beautiful Friday evening just as the sun was setting and I had such a positive labor, even though the before and after were little confusing! Then, the total Czech hospital experience (aka "Czech baby boot camp"), spending most of the month there to support my little M in the neonatal ward. After two weeks staying with baby, on Friday, June 24th (one of the best days of my life), we were discharged and went home. The most unsettling part was not knowing how long I would be in hospital and no one was able to give me a straight answer. It was nice to have that time in hospital to recover and heal myself, as my main duties were basically to sit and lie in bed and I didn't have to cook! I truly missed Alex, Ferdie and our life at home a lot, but I was glad to be there with my new little one. As soon as I got home though, we made up for lost time. I was ready to get out of the building and into the world with my new tiny one.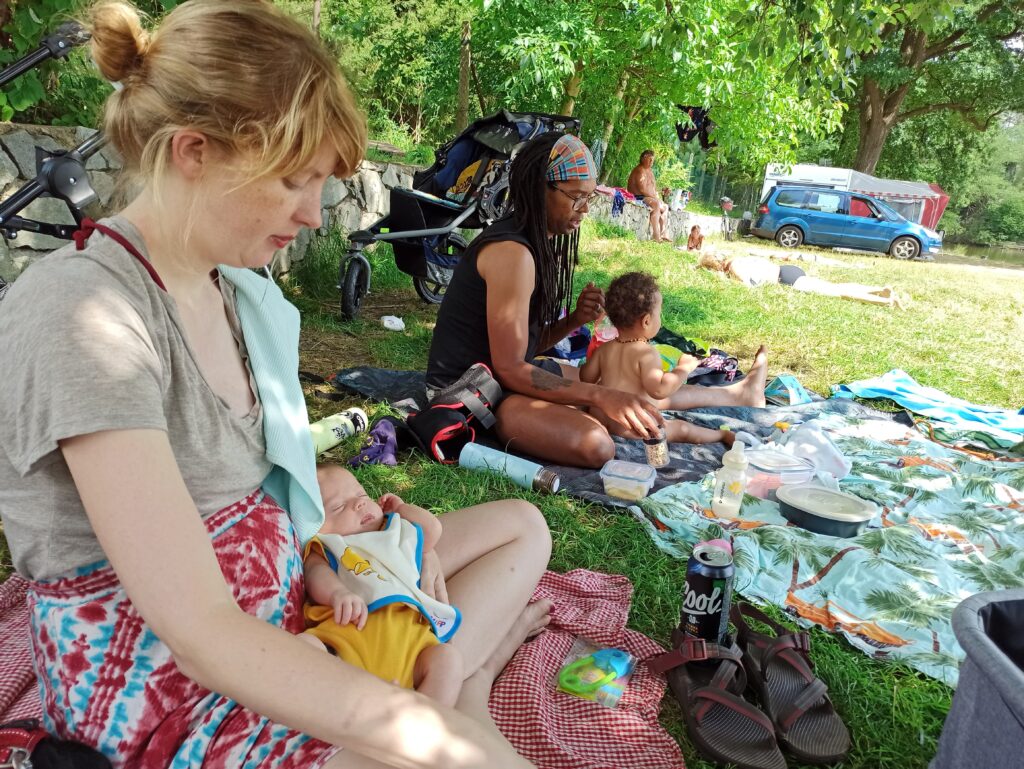 July and August were wonderful and strange in equal measures. My favorite time of the year, I was sort of torn between trying to enjoy the fleeting season but also caring for my newborn. In the end I managed both – a nice, quiet summer at home and some very sweet baby and family moments. I perfected the art of the "breakfast picnic", slept when the baby slept, lots of doctors appointments (as you do with a newborn), went on a few day trips and little hikes around South Bohemia, a fair amount of swims, and met friends. I think after over two weeks cooped up during beautiful June in the hospital I was simply ready to get out and enjoy life with our little family. Adjusting to life with the three of us (plus dog) was surprisingly low-key and uneventful. Just to be there and marvel at our squeaky little Mouse was sometimes enough.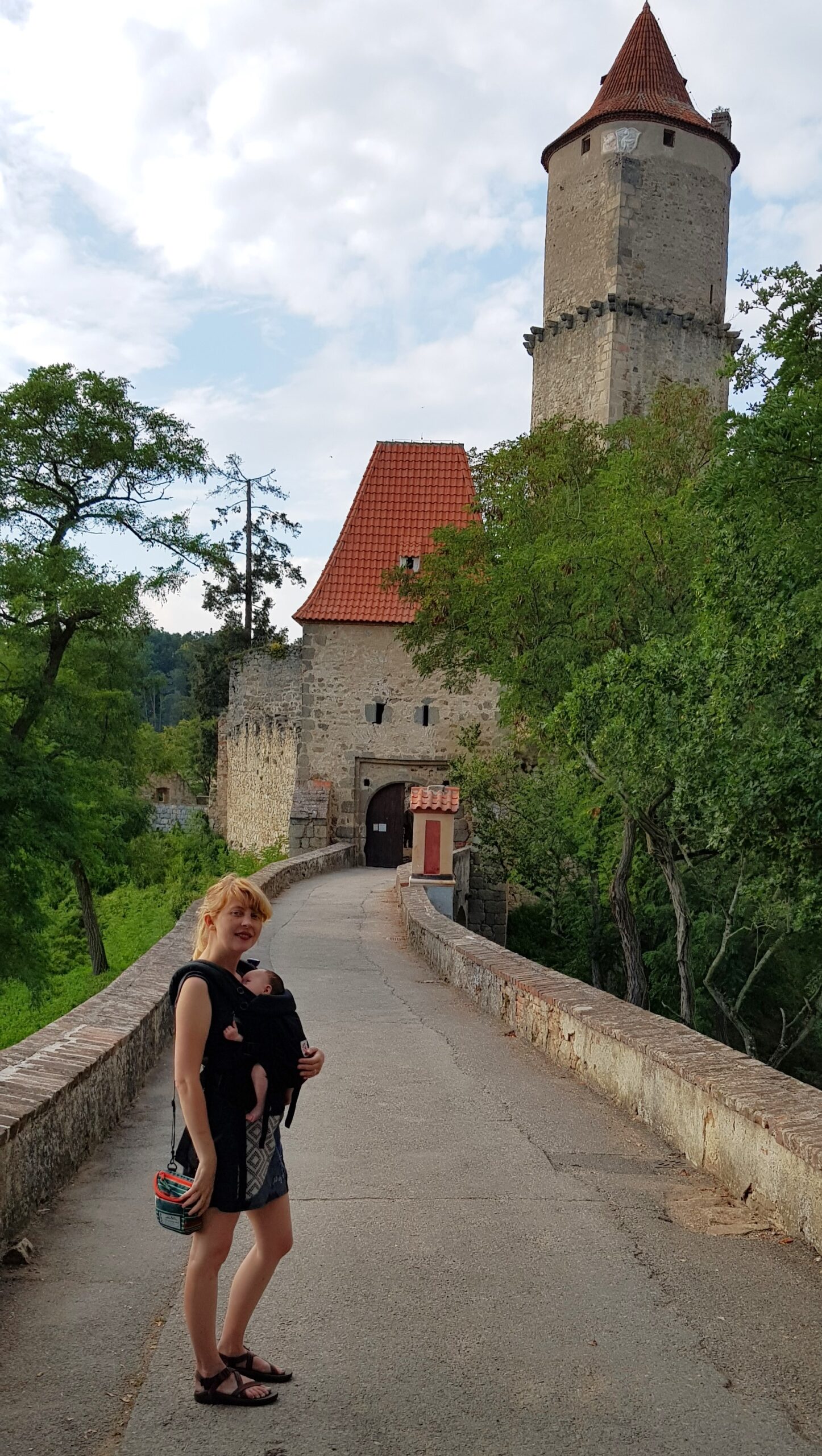 In early September, we took what would be our only little summer holiday, staying at a little cottage in South Bohemia, not far from Pisek. We took baby on a hike to Zvikov castle, I swam in the pool, laid out in the last of the warm summer sun and did yoga on the grass and we ate farm-fresh eggs, bread, butter and jam for breakfast. It was such a beautiful few days and Mouse's first trip – I cherish this memory so much! This month also brought an end to Alex's summer vacation and he went back to work while I tried to figure out how to "do this thing by myself" for real this time.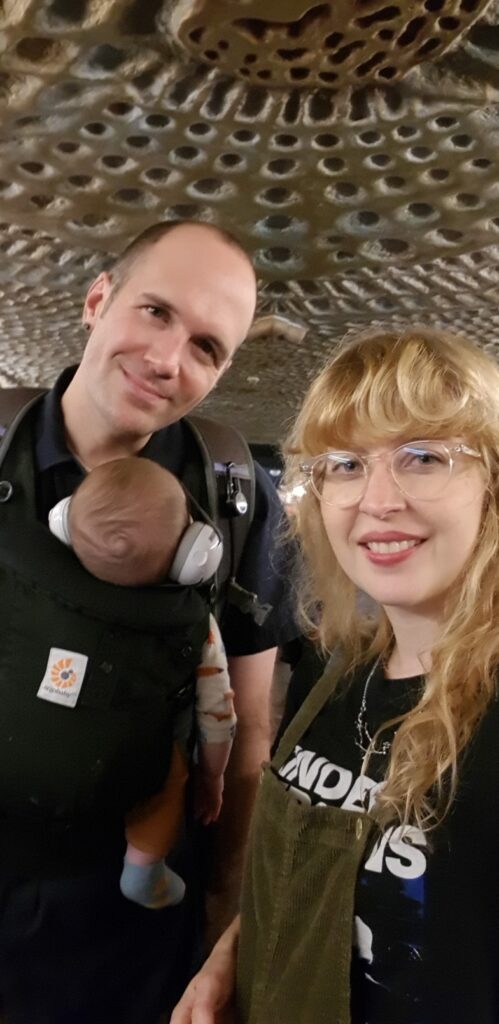 October brought warm days to contrast our cold September. We took baby for his first Klet' hike, he attended a baby opera and a punk concert as well as received his passport and became a real, registered American! Meanwhile I started a couple private lessons that I would teach again and continued to figure out my days alone with a baby which meant a lot of contact naps. I continued to enjoy my maternity leave while totally stressing out that I still wasn't registered for the financial maternity benefit, but a friend helped me out big time this month sorting it out. I am so thankful for her help! Getting by here really does take a village. On Halloween we all flew to Reykjavik, Iceland and baby's first flights went very well (but let's not mention the little meltdown running around Zurich airport). On Halloween night, we got pho takeout from Hlemmur Mathöll and retired back to our hotel room with our happy travel baby.
In November we met my mother in Reykjavik, Iceland (the second time we have ever done so but first with a baby!) which was absolutely lovely. We spent an unforgettable afternoon at the new Sky Lagoon, enjoying the sauna, the swim-up bar, staring into the bay for what felt like an hour and we actually did not talk about the baby! We also spent that week going to Airwaves Festival concerts… just not going as hard as we usually would, but still very much worth the trip. We enjoyed a day at Perlan (now a huge center with loads of things for tourists to do such as an ice cave, museums, a planetarium) and of course, wandered up and down Laugavegur and stopped for Braud & Co cinnamon buns.
My mother flew back home to Czech Republic with us and we spent the last nice warm week of autumn hanging out with baby, sitting at outdoor cafes, shopping… generally living our best lives together. What a great idea for a hybrid trip! We got out to travel (finally!) and still spent time at home; a very long time since my mother last visited us here.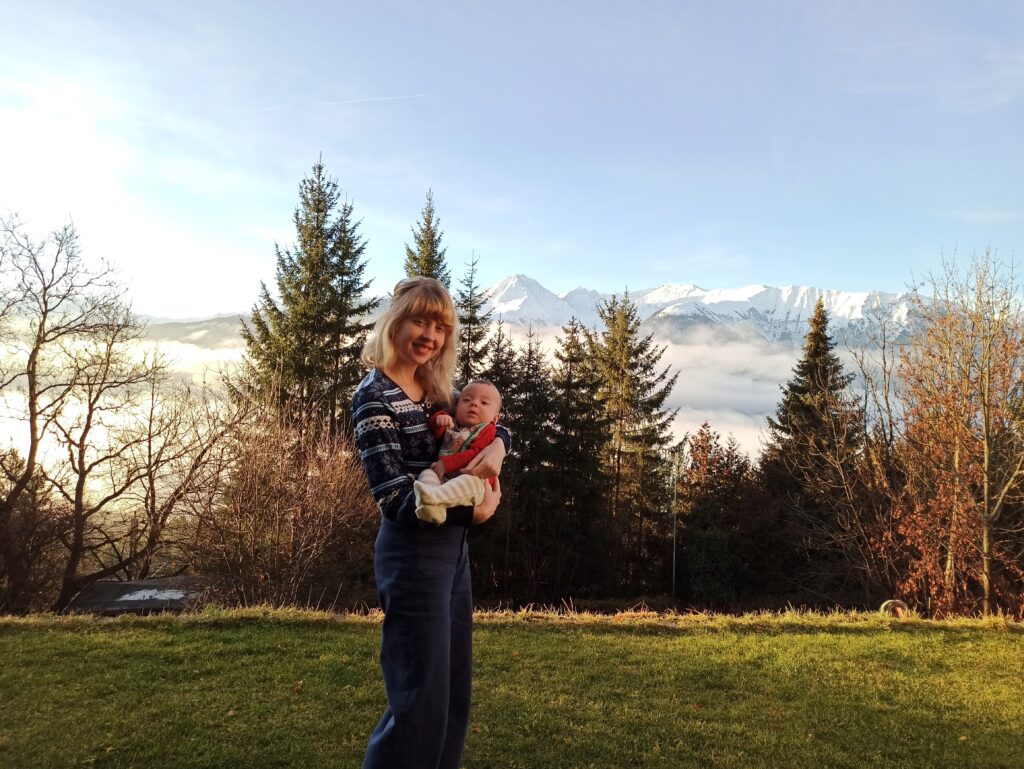 The end of our year was quite travel-heavy as we headed to Tirol, Austria for Christmas this December! Long-time readers may know we have often gone on Christmas trips and we weren't sure how that would change with a baby, but it turns out that a six-month-old is still relatively easy to travel with so we decided to just go for it; also the fact that my mother-in-law was visiting and hadn't yet been to Austria.
There's no way to tell how these things will go but it was very easy to get to from southwest Czech Republic and the mountains and views are just enchanting. Innsbruck blew my expectations away and was even older and grander than I could have expected! We stayed in nearby Reith (mountains for days!) and even took a little day trip into neighboring Seefeld, as well as an invigorating walk through a pine forest with incredible mountain views… all pram friendly. Sipping Apfelpunsch at a Christkindlsmarkt, I felt so grateful that this Christmas truly felt like the first normal one in years. I got my Christmas spirit back, and M's first Christmas was a wonderful one.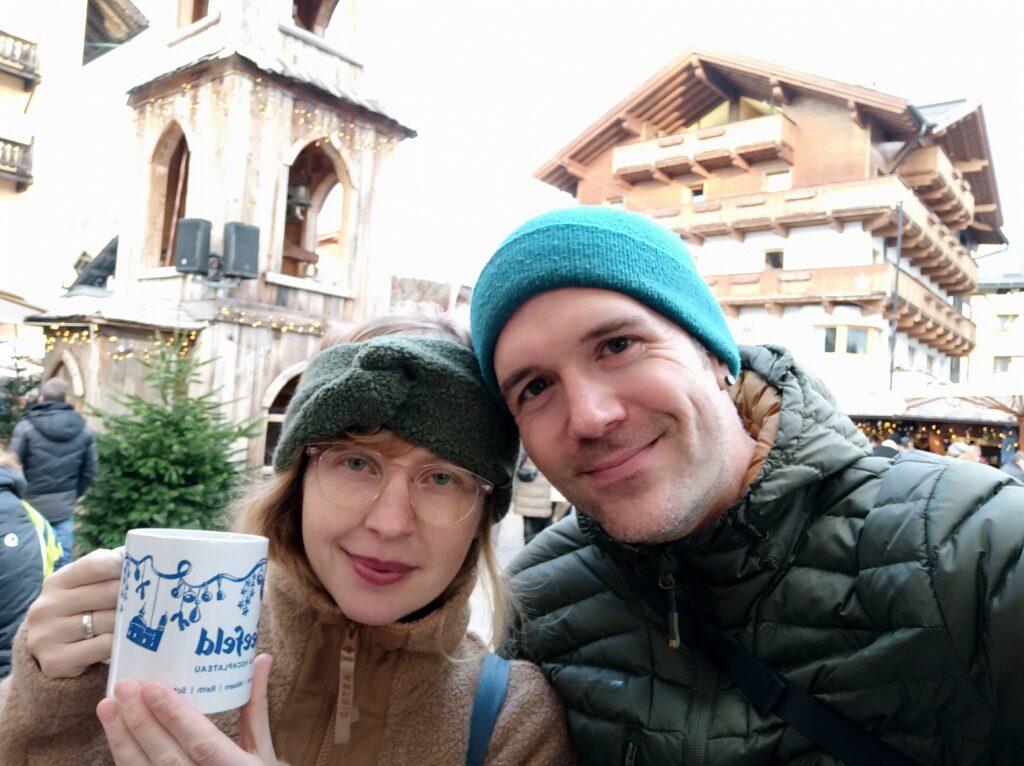 Plans in 2023?
We actually do have a couple plans so far! We are bent on getting to Rome in the spring, both of our first time back to Italy in over a decade! We also plan our triumphant return to our favorite annual festival in Karlovy Vary in the summer. I have missed it so much! And yes, we're going to make a film festival work with a one-year-old…. somehow. That's about as far forward as we can say at this point! Every month these days brings something special watching our baby grow. It is all-consuming and delightful… and I'm feeling really thankful for all of it.
Lessons Learned
As I stated above: TRUST YOUR BODY. Only you know your body! Sometimes, not even doctors know what's up, fer real.
Forget comparing yourself to your peers, continue walking to the beat of your own special drum.
If you really want it, you'll find a way.
And a big one! (especially for BIPOC, LGBTQ+ folks, women, immigrants, marginalized individuals) You are worth taking up space. Take up all the space you want and need.
Favorites in 2022
I listened to a lot of new PUP, Militarie Gun and Drug Church this year, and we really got into the Eurovision entries as usual, so I think baby heard a lot of interesting things while in the womb!
The best TV show I watched this year was the BBC adaptation of Adam Kay's incredible memoir, This Is Going To Hurt starring my favorite, Ben Whishaw, although I also really enjoyed The Beatles: Get Back – what a treasure trove of footage that I'm so glad finally saw the light of day… and it was fun to watch it in January as that is when most of the action in the film takes place. I also read a glut of books, not realizing how much I'd actually get through in 2022, but that's the next post up!
I wore my Oddbird dress and lounge separates this year like my life depended on it – I can't wait to continue to wearing these quality pieces for years to come.
State of the Blog
Only fourteen posts in 2022… most in the first half of the year, which makes a lot of sense. This year I want to focus on posting more but perhaps shorter, less photo-intensive posts. I'd rather get it up and on than to have something be perfect, but do nothing. (maybe this goes deeper than just the blog? oof)
I was happy to partner with Culture Smart! Guides this year to give away the Czech Republic guide. My mother-in-law so enjoyed using it during her recent visit here.
My favorite post was the one all about my Czech hospital experience. Because man, was that an experience. Unforgettable.
The most popular post this year for some reason was this one from last year: Is the Czech Republic the Most Dog-Friendly Country In Europe? with an account of our trip to Zoo Praha… with our dog. Go figure!
And that's how our year played out! I wish you a very Happy New Year (PF 2023!) and hope to see you around these parts in the coming year. Leave me a comment and say hi! I know there are still some blog readers out there in 2023. I mean, the internet still works 🙂
PS, You might enjoy past editions of Year of Life & Travels: 2021. 2020, 2019, 2018, 2017, 2016, 2015, 2014.